New Age Islam News Bureau
29 Aug 2012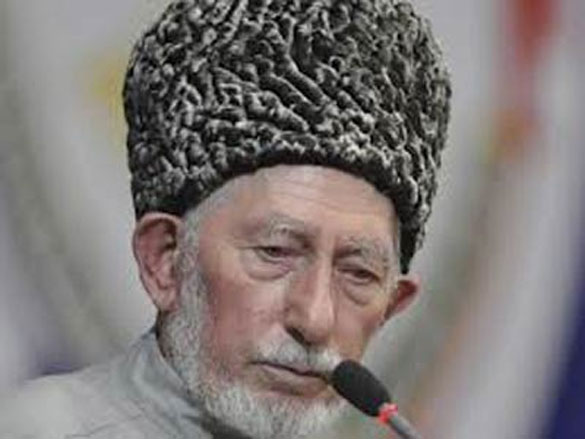 • Muslim clerics urge fairness for Rimsha Masih
• Lawyers Seek the Release of a Christian Girl Charged With Blasphemy in Pakistan
• Nigerian church bans towering headwraps
• Heavily made-up girl in a hijab provokes storm of complaints as BBC is accused of insulting Muslims with new sitcom Citizen Khan
• Nato names 'ambassador for women'
• School blown up in Swabi: Pakistan
• Dr Afia's illegal detention creating anti-US feelings: Malik
• Indian woman confined in Pak for 12 yrs
• Faheem's wife elated over his acquittal by SC in 26/11 attack
• Women's commission gets teeth after 12 years
• Corrie family loses case; deeply troubled over Israel ruling
Compiled by New Age Islam News Bureau
Photo: Female bomber kills Islamic scholar among seven as Putin urges calm
URL: https://newageislam.com/islam-women-feminism/female-bomber-kills-islamic-scholar/d/8463
-----------
Female bomber kills Islamic scholar among seven as Putin urges calm
August 29, 2012
MOSCOW: A female suicide bomber posing as a Muslim pilgrim killed a leading Islamic scholar and at least five others on Tuesday in Russia's restive Muslim region of Dagestan.
The attack was reported just as President Vladimir Putin began delivering a keynote address devoted to an assassination attempt last month against another top moderate cleric in a different republic that killed his former deputy.
The rapid succession of assassination is likely to set off alarms in the Kremlin amid signs that its strategy of winning over the North Caucasus by backing less radical forces is coming under direct militant attack.
Dagestan's interior ministry said Tuesday's attack claimed the life of one of the Caspian Sea region's most respected religious leaders who had worked for most of his life against the rise of radical Islam.
Its official statement said a woman "posing as a pilgrim" walked into the home of Sheikh Said Afandi and detonated a suicide belt.
The federal Investigative Committee said Afandi was one of seven people instantly killed by the bomber.
"The woman's identity is now being established," the Investigative Committee said in its own statement.
The scholar is a Dagestani native who was born in 1937 and had studied Islam in the Soviet era before establishing warm relations with the current Russian authorities.
The latest high-profile slaying occurred just weeks after militants claimed a car bombing and shooting in the main Muslim region of Tatarstan — held up as an example of religious tolerance — that targeted its own religious leaders.
The Tatarstan clerics and Afandi were all Sufis who promoted a form of cooperation with the authorities, having strongly backed Putin before.
The first attack prompted the Russian strongman to call an emergency security meeting just two months into his new term as president and then deliver a series of big speeches preaching inter-ethnic peace.
Putin flew to Tatarstan on Tuesday to deliver some more prepared remarks on the dangers of separatist sentiment and the strength of a unified Russia.
But his message aired on national television just as the first reports of the Dagestan blast filtered in through Russian news agencies.
Putin never referred to Dagestan directly while vowing that "you cannot defeat the united, multi-ethnic and powerful Russian people."
"We have truth and justice on our side — and millions of people," he said in the emotional appeal.
"And these are people who are not afraid, who cannot be frightened, and who know the value of peace."
There was no immediate claim of responsibility for the attack.
But it came just days after Russia's most feared militant commander — the long-wanted warlord Doku Umarov of the Caucasus Emirate group — appointed two new top deputies in charge of Dagestan.
One was a new field commander directly responsible for orchestrating attacks against both Russian state and security targets as well as those who promote more tolerant Muslim religious views.
Russian authorities meanwhile said they suspected that a border guard who killed seven of his fellow servicemen at a Dagestani outpost earlier in the day before being shot dead himself may have had ties to the militant movement.
"According to preliminary information, the border guard who opened fire on his colleagues had been recruited by the bandits," Interfax quoted a local security source as saying.
The unnamed soldier shot dead two soldiers guarding the barracks of an outpost near the coastal Caspian Sea city of Derbent before entering the building and killing five more people.
http://tribune.com.pk/story/427561/female-bomber-kills-islamic-scholar-among-seven-as-putin-urges-calm/
-----------
Muslim clerics urge fairness for Rimsha Masih
August 29, 2012
LAHORE: The head of Pakistan's leading body of Muslim clerics Tuesday came to the defence of a young Christian girl accused of blasphemy, demanding her case be handled fairly and impartially.
Allama Tahir Ashrafi, chairman of the All Pakistan Ulema Council, said if Rimsha, accused of burning papers containing verses from the Quran, were found to be innocent, her accusers should face justice.
The cleric said protesters who demonstrated to demand punishment for Rimsha, who reportedly suffers from Down's Syndrome, were following the "law of the jungle".
Rimsha has been held since August 16 under the strict blasphemy laws, prompting concern from Western governments, the Vatican and rights groups.
On Monday Rimsha was taken from prison to hospital for tests to determine how old she was, a senior doctor told AFP, after conflicting reports about her age.
Around 120 uniformed police officers guarded the hospital, the doctor said.
Ashrafi urged the government to take action to protect Christians in the poor Islamabad suburb of Mehrabad, where Rimsha lives, and encourage Christian families who fled in fear after the incident to return.
"This is inhuman that those who have nothing to do with the case or are not a party to it are also being harassed," Ashrafi told AFP.
"It is just like the law of jungle that 500 people approached a police station and got a report forcibly lodged with the police."
Ashrafi said Rimsha's case should be a watershed for Pakistan's blasphemy laws.
"We demand an impartial and thorough investigation into the case. Strict action should be taken against all those accusing the girl if she is found innocent," he said.
"The government should make this case an example so that nobody will dare misuse the blasphemy law in future."
Rimsha's mental age below true age, says medical report
According to a medical report seen Tuesday by AFP, the young Pakistani Christian girl appears to have a mental age below her true age and to be "uneducated".
A panel of doctors examined Rimsha on Monday to determine her age, which had been the subject of some dispute.
The medics' report said that based on factors including her height, build and teeth, Rimsha appeared to be "approximately 14 years", and gave details of her apparent mental abilities.
"She appears uneducated and her mental age appears below her chronological age," the single-page report said.
Rimsha's lawyer Tahir Naveed Chaudhry said they had applied to have her case proceed under juvenile law.
At a brief hearing in the case on Tuesday, Judge Raja Jawad Hassan adjourned proceedings until Thursday after defence lawyers submitted a bail application.
Blasphemy is an extremely sensitive subject in the nation of 180 million people, 97 per cent of whom are Muslims, and those convicted of defaming Islam or desecrating the Quran can face life imprisonment or even the death penalty.
Human rights activists claim the laws are often used to settle personal vendettas and last year two prominent politicians were assassinated apparently for speaking out against the legislation.
http://dawn.com/2012/08/28/pakistani-christian-girl-accused-of-blasphemy-ruled-minor-lawyer/
-----------
Lawyers Seek the Release of a Christian Girl Charged With Blasphemy in Pakistan
By DECLAN WALSH
August 29, 2012
ISLAMABAD, Pakistan — The fate of a Pakistani Christian girl at the center of a contentious blasphemy case hung in the balance on Tuesday, as lawyers applied for her release from jail and an influential Muslim cleric offered his support.
The Pakistani authorities have held the girl, Rimsha Masih, in a high-security jail since Aug. 16, when hundreds of Muslim protesters, angered over claims that she had burned pages from an Islamic holy book, surrounded a police station here in Islamabad to demand that she face prosecution.
Fearing violence, the police filed blasphemy charges against Ms. Masih. Relatives and human rights workers said she was 11 years old and had Down syndrome, and should therefore be exempt from the blasphemy laws. The girl, who comes from an impoverished family of Christian sweepers, was said to have been seen holding a burned copy of the Noorani Qaida, a religious textbook used to teach the Koran to children.
After a brief court hearing on Tuesday morning, Ms. Masih's lawyer, Tahir Naveed Chaudhry, said a medical board had established that she was 14 years old and had a degree of mental disability. "The report establishes that her mental condition does not match her age and physical condition," he said.
That medical finding could help break the deadlock in a case that has outraged human rights groups, embarrassed Pakistan's government and renewed the spotlight on laws that experts say are abused by the powerful to prey on the weak and on religious minorities.
Mr. Chaudhry said he hoped Ms. Masih would be granted bail at the next scheduled hearing, on Thursday, while senior government officials indicated that they were pressing to have the charges droppede.
For now, worries for Ms. Masih's well-being focus on her incarceration at Adiala Jail in Rawalpindi, where Mr. Chaudhry told reporters that he found her "weeping and crying" during a visit last Saturday. Amnesty International has said it was "extremely concerned" for Ms. Masih's safety, noting that some people accused of blasphemy in Pakistan had been killed by vigilantes before their cases reached trial.
Ms. Masih's plight has also prompted concern among conservative Muslim clerics who, alarmed by a spate of recent blasphemy-inspired mob attacks, have united with Christian leaders on the issue.
The police should investigate Ms. Masih's case "immediately and without fear," said Maulana Tahir Ashrafi, the chairman of the All Pakistan Ulema Council, an umbrella group of Muslim clerics, including some from fundamentalist groups. If investigators find that Ms. Masih is innocent, he added, those who instigated false charges against her should be prosecuted.
"In Pakistan, we have one law for both Muslims and Christians," he said. "The government should apply it."
Human rights campaigners said that Ms. Masih's parents were in the protective custody of the minister for national harmony, Paul Bhatti, whose brother Shahbaz Bhatti, the former minorities minister, was shot to death outside his Islamabad home last year.
Hundreds of Ms. Masih's Christian neighbors fled the area once the scandal erupted, fearing for their lives. Last weekend some erected a makeshift church, using branches, on the edge of nearby forested land, where they held prayer services, The Associated Press reported. That structure has since been burned down, and the Christians have been forced to leave the land.
Some 50 families have returned to the neighborhood, said Joseph Francis of the Center for Legal Aid, Assistance and Settlement, which is working to help people accused of blasphemy in more than 100 cases. But, Mr. Francis added, local Muslim shopkeepers are refusing to sell food to Christian families, leaving them dependent on donations from Christian charities.
Human rights campaigners are using Ms. Masih's case to renew calls for changes to the blasphemy laws, which date from the British colonial era and are frequently abused by powerful Muslim clerics to persecute religious minorities or to pursue grudges against fellow Muslims.
But the issue is considered politically toxic, particularly since the assassination of the governor of Punjab Province, Salman Taseer, at the hands of his own bodyguard in January last year. The bodyguard, Mumtaz Qadri, said he killed Mr. Taseer because he had supported changes to the blasphemy laws and because he had supported Asia Bibi, the first woman sentenced to death for blasphemy. Ms. Bibi remains in jail.
If, as the government hopes, Ms. Masih is released this week, there is little chance that she can return to her home, Mr. Francis said.
"It is not possible for her to stay in the same village" because of security concerns, he said, adding that his organization had helped resettle people accused of blasphemy in the United States, Canada, Germany and across Pakistan.
Plans are already being made to relocate Ms. Masih and her family, he said.
Salman Masood contributed reporting.
http://www.nytimes.com/2012/08/29/world/asia/lawyers-seek-release-of-pakistani-girl-charged-with-blasphemy.html
-----------
Nigerian church bans towering headwraps
Monica Mark
28 August 2012
St Theresa's Cathedral Church in Enugu state says the tall, colourful geles are potential security risk
It's an indispensable fashion accessory, worn by every Nigerian woman at some point. Some are never seen without it, including Nigeria's finance minister who calls her modest headwrap her trademark. Others, such as Nollywood actor Abiola Atanda, are known for their foot-high towers at red carpet events.
But a Nigerian church has now banned its congregation from wearing large headwraps, called geles, saying they form a "barricade" when women sit side-by-side and are a potential security risk amid attacks from militant Islamist groups.
Churchgoers who wear geles that seek to reach for the heavens will have their "big headgears" confiscated from next month, the congregation at St Theresa's Cathedral Church in the south-eastern Nigerian state of Enugu have been warned. Other churches are debating whether to follow St Theresa's head start.
"In view of the present security challenges the church has urged women to stop coming to Sunday service with big headgears and bags to enable security men to know when a bomb will be smuggled into the church," Reverend Father Uche Obodoechina said, adding that the headwraps made it difficult to identify people. Catholic churches in Nigeria usually maintain that women must cover their hair during services, which are attended by Nigerians of all ages.
Capable of towering two feet in gravity-defying folds and arcs of lace or stiff jacquard, geles are the crowning glory of traditional outfits typically worn to church and sometimes seen as status symbols based on size alone. Important occasions – of which weddings and churchgoing remain firm favourites – can prompt intricate geles, usually finished off with stone-encrusted sunglasses and flashy handbags. "Women feel naked without their geles on special occasions," said Lagos-based makeup artist Kadiatou Sangare, who often helps women tie elaborate creations.
The crackdown on geles is one of a series of increasing security measures after Nigeria endured a spate of bomb attacks on churches and mosques from militant Islamist group Boko Haram. This year it has targeted at least six churches in northern and central Nigeria, prompting fears it is trying to ignite a sectarian war among Nigeria's evenly split Muslims and Christians. It has never struck a southern Nigerian state.
A military clampdown in recent months has curbed attacks, but church authorities said they were taking no chances.
"It is an unusual move but they must have their own information for doing so," said Monsignor Gabriel Osu of the Catholic archdiocese of Lagos. "Nigerians now are very security conscious and churches especially are very vulnerable. So rather than take chances, they will do anything to minimise the risks to their congregations; they're going that extra mile."
The move has divided opinion among churchgoers.
"It's a good thing," said taxi driver Idowu James. "There is no doubt some people carry big handbags to intimidate people lower down the ladder. Frankly, I don't think church is the right place for exercises in fashion parade."
Others see wearing geles to be as inalienable a right as going to church. "I've never heard such a thing and I don't think women in my own church will abide by that. Most of the week we women are working, so Sunday is the only chance to wear geles and dress up," said Lagos resident Grace George. "We want to look our best when we go to church, and you cannot do that if you expose your head."
Other churches have ramped up security as attacks have led to drops in attendance. Many restrict cars from parking in their vicinity during services. In at least two states – Plateau and Kogi – round-the-clock armed guards have been posted outside some churches.
http://www.guardian.co.uk/world/2012/aug/28/nigerian-church-bans-towering-headwraps
-----------
Heavily made-up girl in a hijab provokes storm of complaints as BBC is accused of insulting Muslims with new sitcom Citizen Khan
By PAUL REVOIR
28 August 2012
Viewers say the programme 'takes the mickey out of Islam' and is guilty of 'stereotypes about Asians'
Comedy series follows the fortunes of a Muslim community leader
BBC1 show was watched by 3.6million viewers
It was probably unlikely that a TV comedy series about a Muslim community leader would pass without comment.
And so it was that in the region of 200 complaints were made to the BBC yesterday after it broadcast the first episode of Citizen Khan.
It was claimed that the programme 'takes the mickey out of Islam', was guilty of 'stereotypes about Asians' and was 'disrespectful to the Koran'.
One scene that particularly provoked anger was where a heavily-made up girl, Mr Khan's daughter, rushed to put on a hijab and pretended to be reading the Koran when her father entered.
The six-part series, which aired for the first time on BBC1 on Monday at 10.35pm, has been created by British Muslim Adil Ray, who also plays the lead role.
One viewer wrote on the BBC's messageboard: 'This is terrible stereotyping, ignorant and just dreadful.'
Full report at:
http://www.dailymail.co.uk/news/article-2194972/Citizen-Khan-provokes-200-complaints-BBC-accused-insulting-Muslims.html
-----------
Nato names 'ambassador for women'
August 29, 2012
BRUSSELS - Nato named Norwegian diplomat , Mari Skare, in a new role created at the N-armed mily alliance to promote the role of women in ending conflict. She is already an envoy to Nato, was named Special Representative for Women, Peace and Security by Secretary General Anders Fogh Rasmussen, an appointment that "demonstrates how much Nato values the unique contribution of women to armed forces and operations and their important role in conflict prevention," he said.
Skare is due to take up her new duties in September.
http://www.nation.com.pk/pakistan-news-newspaper-daily-english-online/international/29-Aug-2012/nato-names-ambassador-for-women
-----------
School blown up in Swabi: Pakistan
August 29, 2012
SWABI: Unidentified miscreants blew up an under-construction government girls' higher second school in Dagai area of Swabi on Tuesday. According to Kallo Khan Police Station sources the miscreants planted two bombs in empty vegetable ghee tins, which exploded with a big bang at around 2.45am. The guard of the school, Hayat Gul, fell unconscious after the explosion . The blasts partially damaged the boundary wall and the building. About 20 government schools have so far been destroyed or damaged by the terrorists in Swabi district.
http://www.dailytimes.com.pk/default.asp?page=2012\08\29\story_29-8-2012_pg7_8
-----------
Dr Afia's illegal detention creating anti-US feelings: Malik
August 29, 2012
ISLAMABAD: Federal Minister for Interior Rehman Malik on Tuesday said that case of Dr Aafia Siddiqui had become matter of great concern in Pakistan and it was creating anti-US feelings amongst masses.
Malik said that Siddiqui's repatriation to Pakistan would create good-will for US in the country.
Speaking to media representatives, the interior minister said that keeping in view of her health, serious sickness of her mother and violation of international rules norms, the US should return Siddqui back home.
Full report at:
http://dawn.com/2012/08/28/dr-afias-illegal-detention-creating-anti-us-feelings-malik/
-----------
Indian woman confined in Pak for 12 yrs
Satish Jha
Aug 29 2012
Ahmedabad : An Indian woman, who married a Pakistani man, has claimed that her husband has locked her up in a room in their house in Karachi for the past 12 years.
"It's been 12 years since I am here, but have always been confined to this house and never stepped out. I have not seen even a tiny part of Karachi. My neighbours have not seen my face and all they know about me is that I am from India. I want to come back. I am scared for the life of my daughters," Shirley Ann Hodges turned Shabnam Khan (39) told The Indian Express over phone from Karachi on Tuesday.
She married Gul Mohammad Khan in 1998 in Ahmedabad, converted to Islam, and changed her name. In 2000, she was taken to Pakistan with her husband assuring that she will be brought back in six months. Shabnam claims to have been living in confinement since then.
"I trusted my husband, that's why I married him defying my family, and agreed to come here. He claimed that he is an Indian and had an Indian passport. He fooled me. I found out that he was from here where his family lives. Before he brought me here. he had visited Pakistan twice," Shabnam said. Her biggest worry is her daughters Chandani (12) and Sanjana (8). Shabnam said her daughters are not allowed to attend school.
Full report at:
http://www.indianexpress.com/news/indian-woman-confined-in-pak-for-12-yrs/994507/
-----------
Faheem's wife elated over his acquittal by SC in 26/11 attack
Aug 29 2012
Mumbai : Yasmin, the wife of Faheem Ansari whose acquittal was upheld by the Supreme Court in the Mumbai terror attack case today, said she was "very happy" with the verdict as the terrorist tag on him has been removed.
"I am very happy with the verdict since it has come from the highest court in the land," an elated Yasmin said.
The "tag of terrorist" on him has been removed, she said.
However, Yasmin did not attend the Supreme Court hearing owing to her domestic pre-occupations.
"I am alone in my house and this news was given to me by Jamiat (the organisation which provided legal help to Fahim)," Yasmin said, adding she is looking forward to meet her husband.
The apex court today upheld the acquittal of two Indians, Faheem Ansari and Sabauddin Ahmed, who were alleged to be co-conspirators in the Mumbai terror attack case.
The trial court and Bombay High Court had also given a clean chit to them in the case.
http://www.indianexpress.com/news/faheems-wife-elated-over-his-acquittal-by-sc-in-26-11-attack/994788/
-----------
Women's commission gets teeth after 12 years
Aug 28, 2012
CHANDIGARH: With the Haryana assembly passing the Haryana State Commission for Women Bill, 2012, to constitute Haryana State Commission for Women, the 12-year-old watchdog body in the state finally got some teeth. A total of five bills were passed during the closing time of Monday's sitting of monsoon session.
The commission was formed in the state on December 12, 1999. But in absence of power, the members as well staff could hardly proceed beyond issuing communications in matters related to violation of women rights in the state. The Bill, proposed to strengthen the State Women Commission, would now provide statutory status to the body. The Act would be called Haryana State Commission for Women Act, 2012, which shall come into force on such date as the government may, by notification in the official gazette notify. The Act would cover the entire state.
Full report at:
http://articles.timesofindia.indiatimes.com/2012-08-28/india/33448947_1_women-act-state-
-----------
Corrie family loses case; deeply troubled over Israel ruling
29 August 2012
HAIFA, Israel: The mother of US activist Rachel Corrie, who was killed by an Israeli bulldozer in 2003, said the family was "deeply troubled" after a court found the Israeli army was not responsible for her death.
And a British peace activist, who witnessed her death first hand, insisted it was "inconceivable" that the driver of the bulldozer which crushed her to death in southern Gaza, did not see her.
Cindy Corrie said the family was "deeply saddened and deeply troubled" over the verdict and insisted that her daughter's death could and should have been avoided.
"We believe that Rachel's death could and should have been avoided," said the white-haired American, her voice breaking with emotion. "We knew from the beginning that a civil suit would be an uphill battle."
Israel, she said, operated "a well-heeled system to protect the military."
"This was a bad day, not only for the family, but a bad day for human rights, for humanity, for the rule of law and for the country of Israel," she added.
Eyewitnesses said the 23-year-old activist was killed by a military bulldozer in Rafah in the southern Gaza Strip on March 16, 2003 where she acted as a human shield with a group of pro-Palestinian activists from the International Solidarity Movement to prevent a house demolition.
Full report at:
http://www.arabnews.com/middle-east/corrie-family-loses-case-deeply-troubled-over-israel-ruling
-----------
URL: https://newageislam.com/islam-women-feminism/female-bomber-kills-islamic-scholar/d/8463