New Age Islam News Bureau
19 Aug 2012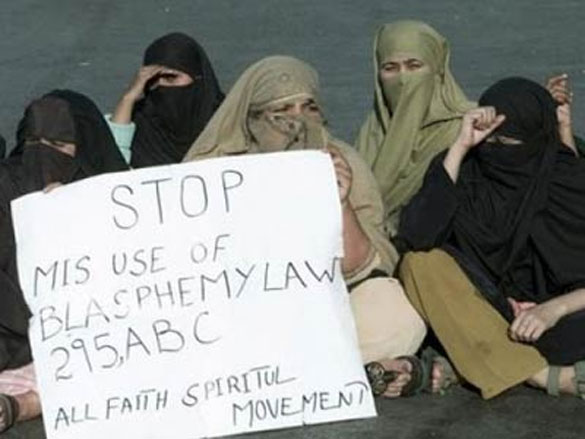 • Pakistani student Aleenah Masood wins kudos
• European Women's Lobby slams Saudi athletes over Olympic dress
• Gender quotas stall Somali parliament process
• Gathering of Muslim, Jewish women is a ray of hope
• Burqa clad women hit the streets in Srinagar
• Breast-feeding literacy as part of Millennium Development Goals
• All the world's a woman's stage
• 'I can still see the horror that made me flee Pakistan - in the haunted eyes of girls raised HERE': Nadira Naipaul exposes arranged marriages and honour killings in the UK
• Holiday in Somalia turns into nightmare
• Pakistan: 848 female medical officers appointed
• Fatima greets wives of Arab and Muslim leaders
Compiled by New Age Islam News Bureau
Photo: 11-year-old girl arrested in Pak on charges of blasphemy
URL: https://www.newageislam.com/islam,-women-and-feminism/by-new-age-islam-news-bureau/11-year-old-girl-arrested-in-pak-on-charges-of-blasphemy/d/8341
-------------
11-year-old girl arrested in Pak on charges of blasphemy
Aug 19 2012
Islamabad : A 11-year-old Christian girl has been arrested in Pakistani capital on a charge of blasphemy after she was accused of burning pages of the Quran, police said today.
Officials of Ramna police station said an FIR had been registered against Rimsha Masih, a resident of Umara Jaffar in Sector G-12 in Islamabad.
The girl was arrested on Friday by personnel from a women's police station after a man named Syed Muhammad Ummad filed a complaint against her.
However, an NGO named 'Christians in Pakistan' reported on its website that the girl has 'Down Syndrome' and had been falsely accused of burning 10 pages of the Quran.
The NGO said other Christians living in Sector G-12 had been "threatened by extremists" who wanted to burn down their village on Friday.
It said some 300 people had left their homes and were in hiding due to the threats.
The All Pakistan Minorities Alliance (APMA) is providing assistance to people who have left their homes.
National Harmony Minister Paul Bhatti, who is also chairman of the APMA, has contacted Islamic clerics and police to bring the situation under control.
Rights activists have urged the government to reform or repeal the controversial blasphemy law, which they say is often misused to persecute minorities like Christians.
Federal Minister Paul Bhatti's brother Shahbaz Bhatti, who was the Minister for Minority Affairs, was gunned down by extremists in Islamabad in March last year after he called for the repeal of the blasphemy law.
http://www.indianexpress.com/news/quran-burning-11yearold-girl-arrested/990082/
-------------
Pakistani student Aleenah Masood wins kudos
August 19, 2012
ISLAMABAD: Discipline of science is not the only road to academic excellence and students of humanities can do equally well provided their potential is effectively harnessed, says Pakistani student Aleenah Masood who has proven her assertion by being selected for the Erasmus Mundus Scholarship 2012 by the European Union.
The student has been awarded this scholarship in the field of social sciences and humanities to study at Lund University in Sweden which is one of Europe's most prestigious universities and Scandinavia's largest institution for education and research, consistently ranked among the world's top 100 universities.
The EU-sponsored scholarship is aimed at selecting and educating brilliant students from all over the world who do not have enough resources to get quality higher education abroad. Aleenah Masood, studying in BS Social Sciences at Shaheed Zulfikar Ali Bhutto Institute of Science and Technology (SZABIST) Islamabad Campus is one of the only two Pakistani students picked under this scholarship out of the huge number of applicants from different public and private sector universities.
She has been selected on the basis of her deep interest and excellent academic record in the subjects of arts. Aleenah who always found science subjects hard to study says parents should not force their children to study in this discipline, as science may not be every student's cup of tea. Even the students of arts can win kudos and our country needs professionals other than scientists, doctors and engineers too, she believes.
What is important, according to Aleenah, is that students should have dedication and they should work hard to achieve excellence no matter whichever discipline they opt for.]
http://www.dailytimes.com.pk/default.asp?page=2012\08\19\story_19-8-2012_pg11_5
-------------
European Women's Lobby slams Saudi athletes over Olympic dress
18 August 2012
European Women's Lobby, the EU's largest umbrella for women's associations, has criticized the International Olympic Committee (OIC) for having allowed Saudi athletes to participate in the games with their Islamic veils, describing this as "masquerade" that was allowed by OIC for "solely political and financial reasons."
The group that seeks to promote women's rights and gender equality criticized "the lamentable exhibition of the Saudi judoka, who first paraded in a black abaya, then wore a sort of nightcap for the qualifying match."
In a statement posted on its website, the group said the participation of women wearing Islamic costumes from 17 countries was "in contradiction to the sports neutrality required by the Olympic Charter."
"How could this be? Well, a new interpretation of the veil, even though claimed to be Islamic by the bearers, makes it a benign cultural sign."
The group said that stereotyping women, as those who wear bikinis at beach volley ball, explains why some Muslim women are inclined to wear the veil. It pointed out to "an Egyptian woman all dressed up in her Islamic costume" and in Beijing Rokaya al Gassra from Bahrein who "had run the 400 meter race wearing a costume covering tightly her body from head to toe."
In contrast, the women's group praised "the splendid image of Tunisian Habiba Ghrita, (silver medallist of 3000 meter steeple race), when she won offered her medal to the Tunisian people and most of all to the Tunisian women."
http://english.alarabiya.net/articles/2012/08/18/232998.html
-------------
Gender quotas stall Somali parliament process
AUGUST 18, 2012
It was agreed one-third of new Somali MPs would be women, but elders say this is a step too far.
The deadline set by the international community for Somalia's transitional government is Monday.
Disagreements about who should be among the 275 members of the next parliament, however, are threatening to delay the political process and destabilise the country.
One of the most controversial issues is over women and their role in parliament.
It was agreed that one-third of Somali MPs will be women, but elders say this is a step too far.
Al Jazeera's Nazanine Moshiri reports from Mogadishu.
http://horseedmedia.net/2012/08/18/gender-quotas-stall-somali-parliament-process/
-------------
Gathering of Muslim, Jewish women is a ray of hope
Aug 17, 2012
How wonderful, amid the daily dose of divisive and derogatory news that usually runs in an election year, to find on the front page of Thursday's Post-Bulletin a quote by Rana Mikati stating, "We are not looking for similarities…we are looking to understand each other."
The article on the Muslim-Jewish women's dialogue group was heartening, refreshing and deserved its place as headline news. I feel proud to live in a community that has such thoughtful, respectful citizens working together for understanding and acceptance of differences.
I was especially pleased to read the connection these women have made with the teenagers in the group. My son also went to elementary school with Elizabeth and Hajra, the lovely young women named, and I am certain that theirs is a perfect example of the thoughtfulness and tolerance that is the hallmark of this next generation.
Thank you to Rabbi Michelle Werner and the women of the B'Nai Israel Synagogue and the Rochester Muslim Community Circle for shining a ray of hope. I pray the Rochester community continues to support and encourage dialogue such as this across all religions, races, cultures, and sexual orientations. It is through this kind of organization and union that we maintain a community of respect, kindness, and peace.
http://www.postbulletin.com/news/stories/display.php?id=1505607
-------------
Burqa clad women hit the streets in Srinagar
Aug 18, 2012
Protests rocked parts of Srinagar over the alleged persecution of Muslims in Assam and Myanmar.
Soon after the Friday prayers chairperson of the radical women separatist group Dukhataran-e-Milat led the march at Abi Guzar in Lal Chowk and invited Muslims of Assam and Myanmar to Kashmir.
Carrying the placards inscribed with slogans against the 'anti-Muslim violence', dozens of burqa-clad women marched near Abi Guzar shouting slogans against the perpetrators. Andrabi also hit out at the Muslim countries for what she called remaining mute spectators to the killings of the Muslims.
"Islamic countries are acting as mute spectators to massacre of Muslims in Assam and Myanmar. The governments of these countries are the lackeys of West and they have not identity of their own", said Andrabi.
Dukhtaran chairperson urged the Islamic countries to shun hipocracy and come to the aid of the Muslims by exerting pressure on Mynamar and India governments to stop the alleged massacre.
Andrabi also asked Muslims of Assam and Mynamar to come to Kashmir for safety purposes. "We will open our hearts and homes for them", she said.
http://www.dnaindia.com/india/report_burqa-clad-women-hit-the-streets-in-srinagar_1729454
-------------
Breast-feeding literacy as part of Millennium Development Goals
Dorothy L. Manalu
August 18 2012
The world has just celebrated its 20th annual breast-feeding week. Initiated by the World Alliance for Breast-feeding Action (WABA), the event took place from Aug. 1-7, with the theme of "Baby-Friendly Hospital Initiative".
Breast-feeding is a challenge anywhere in the world, including Indonesia. Based on UNICEF's State of the World's Children 2011 report, about 44 percent of babies born between 2005 and 2009 received early initiation breast-feeding and 32 percent were exclusively breastfed.
The Indonesian government has issued Government Regulation No. 33/2012 on exclusive breast milk — breast milk without any supplementary food or beverages to a baby for the first six months after delivery — or ASI Ekslusif (ASIX).
The purposes of this regulation is to guarantee the rights of a baby to breast milk for the sake of its health and development, to create secure conditions for mother and baby in the context of breast-feeding, and to increase the roles and support of the family, community, as well as central and regional governments related to the right to exclusive breast milk.
Why exclusive breast-feeding? The World Health Organization (WHO) says that breast-feeding for the first six months of life is the best way of feeding infants to achieve optimal growth, development and health. Every mother may breast-feed her baby, but how many of them understand exclusive breast-feeding?
Full report at:
http://www.thejakartapost.com/news/2012/08/18/breast-feeding-literacy-part-millennium-development-goals.html
-------------
All the world's a woman's stage
Mallika Sarabhai
August 19, 2012
Stockholm in the summer is a totally different city from the winter city I have visited and performed in many times. This is a city of smiles, of light, of shimmering waters, of bars and cafés filled with chattering people spilling onto the streets, of cyclists and myriad languages.
I am here to attend the ninth Women Playwrights International (WPI) Conference –surrounded by most astonishing and invigorating group of talented committed women, bubbling with ideas, filled with zest and the joy of being amongst our own. I have been in women's conferences before, or mostly women's but they have never been with a group made up entirely of creative people. And the feeling is so different.
At the inauguration, current President of WPI reads out a message from Mayor of Buffalo, New York where the first ever conference was held in 1984. It is a declaration. In honour of the continued valuable work of women playwrights, he has dedicated the week of the conference as Women Playwrights Week in Buffalo, and will celebrate it with a series of city-level activities! I find it impossible to imagine such an event happening in any Indian city. All our mayors do is dedicate days and weeks to personalities, real or mythical, that will garner them votes and votebank.
Full report at:
http://www.dnaindia.com/analysis/column_all-the-worlds-a-womans-stage_1729950
-------------
'I can still see the horror that made me flee Pakistan - in the haunted eyes of girls raised HERE': Nadira Naipaul exposes arranged marriages and honour killings in the UK
By NADIRA NAIPAUL
18 August 2012
When I married V.  S. Naipaul and moved to England in 1996, I thought I had left the horror behind.
Pakistan had drained my resolve, and I was tired of fighting a losing battle. To me, England, for all its ills, was the promised land.
Instead, I have found the horror I fled has followed me here. It is all around, eroding the very core of everything Britain believes in.
I see it everywhere. In the haunted eyes of young Pakistani girls, brought up in Britain, who know nothing but a Westernised life: young women who work happily behind beauty counters in our department stores, yet must return home to parents who refuse to emerge from their cultural ghettos.
And who expect their daughters to accept traditional arranged marriages to distant cousins brought up in rural Pakistan.
Full report at:
http://www.dailymail.co.uk/news/article-2190312/I-horror-flee-Pakistan--haunted-eyes-
-------------
Holiday in Somalia turns into nightmare
AUGUST 18, 2012
Sarah, of Somali descent but born in the Netherlands, was 16 when she was forced to marry her uncle in Somalia. After several attempts she managed to escape from Mogadishu last month and go back home. She now lives in hiding in a women's shelter in the Netherlands.
Sarah's mother was pregnant when she fled war-torn Somalia, in 1994. Growing up in a middle-sized town in the Netherlands, Sarah had a pretty carefree youth. But when she was around eight years old, the situation at home became tense.
"I went to a Roman Catholic school, so I didn't wear my hijab in class," says Sarah, who requested not to use her real name. "But my mother felt the pressure to raise me as a proper Muslim girl. So after school I had to wear my headscarf and I was not allowed to hang out with the girls in my class. I wanted to be like my friends; I repelled the idea of being different."
The local child welfare office started to interfere when Sarah was 12. This made Sarah's mother flee once again. She took her daughter to London and its big Somali Muslim community. "There were mosques everywhere, and every single Muslim girl wore hijabs and [other] covering clothes," says Sarah. "I couldn't use my friends as an excuse not to wear these clothes. Still I didn't want to. I refused to wear a hijab. My mother made my life a living hell. She was angry and kicked me out of the house several times."
Forced marriage
Full report at:
http://horseedmedia.net/2012/08/18/holiday-in-somalia-turns-into-nightmare/
-------------
Pakistan: 848 female medical officers appointed
August 19, 2012
LAHORE: The Punjab Health Department on Saturday issued appointment orders of 848 women medical officers on permanent basis, who were selected through the Punjab Public Service Commission last month.
According to the Health Department spokesman, the newly appointed medical officers may visit the Health Department's website: www.health.punjab.gov.pk to ascertain their place of posting.
The spokesman also said that medical officers ought to submit their joining reports through email until August 21
by 4pm.
http://www.dailytimes.com.pk/default.asp?page=2012\08\19\story_19-8-2012_pg13_3
-------------
Fatima greets wives of Arab and Muslim leaders
18 August 2012
Shaikha Fatima Bint Mubarak, Chairperson of the UAE General Women's Union and of Family Development Foundation, has congratulated wives of Their Highnesses and Majesties kings, Emirs and presidents of Arab and Muslim countries.
In her cables, Sheikha Fatima wished them good health, more progress to their peoples and pride and glory to the Arab and Muslim World.
http://www.khaleejtimes.com/nation/inside.asp?xfile=/data/nationgeneral/2012/August/nationgeneral_August306.xml&section=nationgeneral
-------------
URL: https://www.newageislam.com/islam,-women-and-feminism/by-new-age-islam-news-bureau/11-year-old-girl-arrested-in-pak-on-charges-of-blasphemy/d/8341