By Ben Hubbard
October 26, 2013
Hackers defaced their Web site. Delegations of clerics appealed to the king to block their movement. And men claiming to be security agents called their cellphones to leave a clear message:
O, women of the kingdom do not get behind the wheel!
But they did anyway. On Saturday, a few dozen women insisted on violating one of the most stubborn social codes in staunchly conservative Saudi society, getting into their cars and driving, activists said. Many posted videos of themselves doing so to spread the word.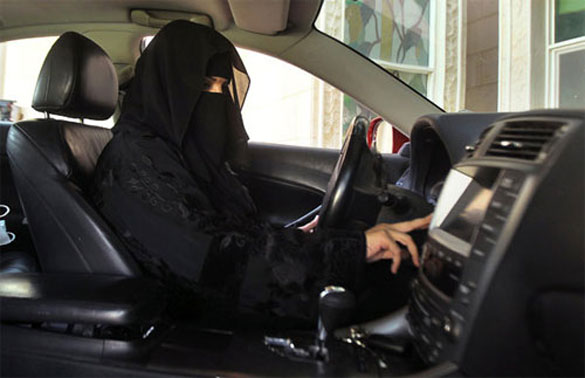 Saudi Arabia is the only country in the world where women are not allowed to drive, despite decades of effort by a few activists.
-------
"We are looking for a normal way of life," Madiha al-Ajroush, 60, a psychologist, said in an interview in Riyadh, the Saudi capital, "for me to get into my car and do something as small as get myself a cappuccino or something as grand as taking my child to the emergency room."
The public call for women nationwide to drive on Saturday was the latest push in a decades-old effort by a small group of activists to exercise what they see as a fundamental human right. Saudi Arabia, a hereditary monarchy, is the only country in the world where women are not allowed to drive.
The fact that the activists have been at it for so long without creating a mass movement or any change in government policy underlines the power of tradition in Saudi society and the tremendous political clout of social conservatives who fear that Westernization or anything that looks as if it will detract from the kingdom's Islamic character, even though malls, high-end shops and fast-food outlets cover the Saudi landscape.
Despite the strong opposition, the women believe that time is on their side. They point to the huge numbers of Saudis who study and travel abroad and return with new perspectives on their culture. They also suggest that the kingdom's youthful population and the tremendous rise of social media will over time make the country more open to change.
But their movement's goal is profoundly modest compared with the Arab Spring calls for democracy that have toppled some Middle Eastern governments and shaken others. They have gone out of their way to avoid anything that looks like a protest, remain deeply loyal to the 89-year-old King Abdullah, and studiously avoid confrontations with the authorities.
"We don't want to break any laws," said Ms. Ajroush, who has been campaigning for the right to drive since 1990. "This is not a revolution, and it will not be turned into a revolution."
When it comes to women's rights, Saudi Arabia remains one of the most restrictive countries in the world. So-called guardianship laws mean that a woman cannot marry, work or travel abroad without the consent of a male relative.
The government does not issue licenses to women, and women have been detained or fired from their jobs for driving in the past. In an effort to at least respect traffic laws, the driving campaign restricted itself to women with licenses obtained abroad.
The call for women to drive on Saturday led to an explosion of comments and arguments in Saudi social media.
The Interior Ministry last week warned against all acts that "disturb the social peace and open the door to discord." A new statement Friday threatened punishment for anyone involved in "assemblies and banned demonstrations calling for women to drive cars."
Some opponents pointed out that Oct. 26 was the birthday of Hillary Rodham Clinton, implying a foreign hand in the planning. Last week, hackers broke into the campaign's Web site, posting insults aimed at a prominent activist and a video in which a man identified as a Zionist calls for women to drive — implying that Saudi's enemies see this as a way to weaken the kingdom.
Religious Figures Have Also Weighed In.
One prominent sheik, Nasser al-Omar, led a delegation of more than 100 sheiks to the royal court in Jeddah to appeal to the king against "the conspiracy of women driving," as he said in a video posted online.
Another cleric, Sheik Mohammed al-Nujaimi, described the campaign as a "great danger," saying it would lead to ruined marriages, a low birthrate, the spread of adultery, more car accidents and "the spending of excessive amounts on beauty products."
"The learned have banned women from driving cars because of the political, religious, social and economic problems it entails," Sheik Nujaimi warned in a statement.
Even some who support the campaign say much needs to be done beforehand: women must be taught how to drive, issued licenses and given legal protections from harassment.
On Saturday in Riyadh, there appeared to be more Western journalists looking for female drivers to interview than women behind the wheel of a car. By evening, activists said they had received videos and messages from dozens of women saying they had driven to support the cause. One artist released a video mocking the restriction, borrowing from a Bob Marley song.
Ms. Ajroush said she aborted her attempt to drive when she and a friend found themselves followed by two men. They sought refuge in a mall, but the men followed them. She bought a yellow toy car and presented it to the men as a gift, but they stormed off angrily, she said.
Mai Swayan, 32, a mother of two who works at a Riyadh bank, was more successful. Early Saturday, she drove to a supermarket, bought milk and drove home. The trip took about 15 minutes, and no one stopped her.
She said she was not concerned about the low turnout but appreciated the support for those women who did drive. Not long after her return home, she was still elated by the experience.
"I'm so proud of myself right now," she said.
Source: http://www.nytimes.com/2013/10/27/world/middleeast/a-mostly-quiet-effort-to-put-saudi-women-in-drivers-seats.html?_r=1&
URL: https://newageislam.com/islam-women-feminism/saudi-arabia-only-country-world/d/14175