By Alina D
December 2, 2011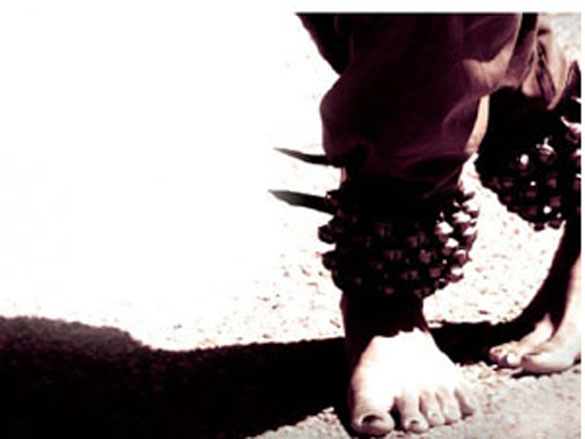 Last week I visited Heera Mandi, Lahore's red light district, which is situated right outside the Badshahi Masjid. Yes, ironic indeed. I didn't actually go because I wanted to, but let me give some background. As a true newcomer to the city, I had to visit the famous beautiful Masjid at least once — I'd been there twice before when I was younger, but its grandeur never ceases to amaze me.
Per a friend's suggestion, my husband and I went to Cooco's Den right outside of the mosque, a beautiful intricately designed cafe that overlooks the Masjid. As we entered the cafe, I saw a pencilled drawing of a group of voluptuous women who had their backs turned and weren't clothed from the waist up. It seemed an odd depiction of typical Pakistani women, until I came to realize that it wasn't. The artist (and owner of the cafe), Iqbal Hussain, grew up in Heera Mandi and created works that showed the women he grew up around and was a child of — prostitutes. As we sat on the roof of the cafe, my husband indicated to a courtyard surrounded by buildings that used to be brothels, and may still be to this day. Built during the colonial era, the buildings were now locked up and shackled. They had a beckoning yet haunting beauty, as if guarding centuries' worth of dark and hidden secrets.
Beyond the courtyard was the red light district, alive with lights, music, and people. I had read about Heera Mandi in the book Moth Smoke by Hohsin Hamid, so I had some idea of what that area was like. However, I've been a sheltered kid most of my life. I grew up in northern California – a pristine, sunny bubble with picture perfect beaches and mountains, and a culture rich with diversity that never takes itself too seriously. I wanted to see it for myself, to see what it was really like.
I'll tell you what it was like. It was sickening.
It was dangerous and disgusting. Trash was piled and rotting in the open, distilled sewerage clogged the pathways, and buildings were crumbling from decay. The police don't bother with regulating the area and if you report that you got mugged or harassed there, they'll turn on you and question why you even went there to begin with. As we walked along the street, my husband pointed to a young man and told me he was a pimp. My jaw dropped. He could have passed for anyone; he looked like he had walked out of Eid Namaz. He had a clean complexion, full black hair, wore a black Topee and was dressed in pressed white Shalwar Quameez with a forest green Dupatta draped evenly around his neck. He looked so fresh, yet so unassuming. He had one arm resting behind his back and was discreetly scanning those passing by, most likely for potential customers or girls to employ. We walked further along and from a distance I could see a group of women gathered on a rooftop. One of the girls saw me and started waving.
"Assume any girl that's lingering on a balcony, doorway, or on a rooftop is a prostitute," my husband instructed.
It was a safe assumption to make. Unless you wanted to make some cash, there was no reason why any girl would be hanging around in the open in Heera Mandi. We turned a corner, and I noticed two boys to my left. They seemed like normal twelve or thirteen-year-olds, but when I looked closely I saw one of them was holding something to his mouth that he'd flick to the ground. He walked with a self-assured swagger like he owned the place. He saw me gape at him and snickered, revealing his decaying teeth. He sauntered off, pointing back at me and laughing with his buddy.
We walked up the road some more, the smells of spicy food mixed with the open sewage emanating around me. I felt someone watching me and looked up to meet the cold stare of a girl my age. She looked down at me from a balcony, her dark hair cropped and in disarray. She wore a jet blue kameez with her sleeves rolled up and gripped the railing, her arms spread out wide and posture leaning in. She wore an expression of listlessness like she'd been standing on that balcony every day of her life for the past twenty-some years. But what struck me most and sent chills down my spine was her gaze. Her eyes bore right through me and were completely empty. As I looked back at her, she continued to stare at me, her eyes pitch black. We walked further up the road and I saw an elder woman sitting on a stoop in front of a building, her arms crossed and resting on her knees. Her hair was in a messy bun and her expression was tired and worn, yet her eyes were alert. She peered at me closely as I walked by her. The way she was guarding the building showed that she could have been a prostitute.
As we made our way back to the main street to grab a taxi to head home, my husband showed me a park that was near the entrance of Heera Mandi. He told me that this park was built by the main guy who ran the district – the "big pimp." He gave a lot of money to local ministers and was friends with some of the politicians, too. Sometimes he's seen strolling in the park, flanked by two girls on his side.
It's hard for me to write this, but it's very real and exists right outside our doorstep. Whether we've strolled through the Badshahi Masjid or Qila before, or eaten delicious chicken karhai from Heera Mandi, we're all connected to this in one way or the other and it needs to be talked about. I'm sad that people here know about Heera Mandi but are immune to its sicknesses. No matter that this is a Muslim country that espouses "Muslim ideals" in its constitution. Too many misguided individuals are focusing on things like heathen Western ideals poisoning our region instead of attacking the real illnesses of our society
Stuff like the economic system that makes young women and girls enter this profession, and keeps them and their daughters in it because they have little way of getting out. If they leave, they'd have to face a very unwelcoming and judgmental public that would be reluctant to take them back into normal society. Stuff like thirteen-year-old kids smoking and doing drugs and no one accounting for them or asking why they're roaming the streets in broad daylight when they should be in school. Stuff like pimps scanning the streets for customers, asking them if they want to "have some fun," or pick up some girls to bring in some dough for themselves. Stuff like those very men giving funds to the government so they can be left alone. Stuff like orphans from the 2010 floods or the 2005 earthquake who are kidnapped and then trafficked into sexual slavery and exploitation under the guise of getting adopted. That's the stuff we should be decrying on talk shows and do something about, whether by making demands from our policy makers, supporting an NGO, or taking the initiative to start our own projects to end the cycles of abuse and exploitation ourselves.
The views expressed by the writer and the reader comments do not necessarily reflect the views and policies of The Express Tribune.
Source: The Express Tribune, Lahore
URL: https://newageislam.com/islam-women-feminism/heera-mandi-street-corner-mosque/d/6054