By Aitzaz Ahsan
March 05, 2018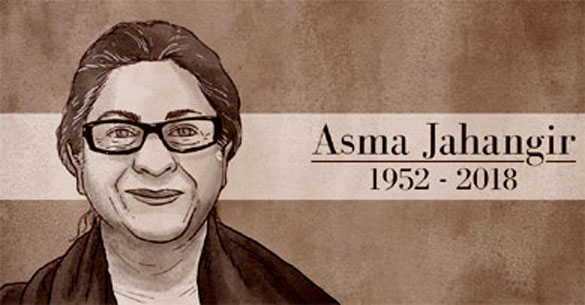 SCORES of columns have been contributed deservedly lauding the courage, perseverance, and unmatched services of the untiring campaigner, the late and universally lamented Asma Jahangir. All aspects of her life have been alluded to in acknowledgement of her great services to society. She made Pakistan proud.
But there was one aspect in her tale of heroism and valour that has entirely escaped elaboration. And those that have mentioned it, have done so fleetingly. Yet that is the side on which the 'Jahangir' of 'Asma Jahangir' lived.
In our society the role of a woman as a domesticated home-bound mother, is chiselled in the stone of tradition and custom. It can only be an exceptional mother-in-law who will not complain to her son about his activist wife. Most will make the point unceasingly. The grievance is that in her activism the wife is ignoring the complainant's grand­children. Even if the husband continues to stand by her, his resolve will be tested by pestering parents.
The parents of Mian Tahir Jahangir, Asma's husband, were of a different mould. And he, too: unique in his attitude, acceptance, solidarity and support.
Mian Fazl-e-Ahmed and his wife, Begum Tahira, both belonged to conservative business families who normally shun politics of any variety.
Mian Fazl's preoccupations were industry and philanthropy, presiding over one of the largest industrial groups in the country, the Premier Group with its flagship, the Premier Textile Mills Lyallpur. But even the time he spent at the Mills, was mainly consumed by his first passion in life: the eradication of tuberculosis from Pakistan.
Then there was the administration of the Mian Mohammad Trust Hospital named after his late father. This 200-bed hospital thrives to this day in the heart of Faisalabad where land is valued as if it were paved with gold. Yet the family, and now Tahir, continue to run it exclusively as a charity hospital with a better environment and services than any other hospital in Punjab. A much-needed nursing institute has been added to it by Tahir.
Tahir's family thus lived in a quiet, peaceful and idyllic haven of their own. Cocooned in luxury, they stepped out only to engage in voluntary and non-profit public service. They had a large circle of friends in Lyallpur and Lahore, none of them politically minded. Agitation was not a word in their dictionaries.
Tahir too, had led a life of luxury. He had had a swimming pool, horse stables and fleets of cars in his father's homes in Lyallpur and Lahore since his childhood. He was an alumni of Aitchison College and Cambridge University. From school to completion of our Master's degrees at Cambridge, (the Tripos), Tahir and I were classmates and friends. But Tahir throughout was the topper: winning the gold medal for the best academic in school in our final year at Aitchison.
Tahir (TJ to friends) was a prince and had been brought up like one. Even when Cambridge closed for as little as a few days, TJ would fly home or to an exotic holiday venue as we, the plebs, slogged on in our digs in a deserted university town. Back in Cambridge, Tahir drove around in an MGB Convertible. In winters he spent time in Switzerland's ski resorts rubbing shoulders with the world's rich and famous. His wardrobe was all from Cambridge's most expensive shop, Arthur Shepherd. He spent sunny days punting on the Cam, the scenic river that gave its name to the town, or speeding around in the MGB, hood down, and blonde hair flying from the passenger seat.
Since he usually ate at the most expensive restaurants, and in elite company, he was witness to the first meeting between Rajiv Gandhi and his future wife, Sonia, as they sat on different tables in The Varsity eatery and Rajiv asked a waiter to deliver a bottle of wine to her as a token of his admiration. The rest is history.
Then in the quiet serenity of the Fazl-e-Ahmed clan entered the whirlwind! TJ married Asma.
Back in Pakistan and focusing primarily on running a family ghee mill in Lahore, the prince married a woman who would always live precariously and on the edge. But he never crossed her path. The entire Fazl-e-Ahmed family, including Tahir's sister Nageen and her husband Ayaz (Jajji), remained, much against their grain, highly supportive. They sought to impose no constraints upon Asma. She had married into a law-fearing business family and brought with her the vigour and pugilistic character of her father, Malik Ghulam Jilani, a political jail bird. They could have perceived her as a bull in the Fazl-e-Ahmed china shop. But they did not.
Each member of the Mian Fazl clan was devoted to Asma's endeavours. Even when she was campaigning for bonded labour, TJ would be explaining to his industrialist friends, business magnates and the elite, how necessary that campaign was. TJ has a sharp sense of humour and a close circle of friends who took time understanding or appreciating Asma's great potential. But he continued to stand by her like a rock. His parents also bore the constant jeopardy of unannounced police raids with unmatched equanimity, never insisting that Asma give up and 'domesticate' herself.
Asma's own children grew up in a world of extreme tension and trepidation not knowing when, and for what, their mother would be attacked or taken to prison. But Munizae, Sulema and Jilani Jahangir also stood steadfast by their mother like rocks on which she could anchor her life. And yet they resolutely made space for themselves. At a young age Munizae is a very competent and nationally acknowledged television anchor. Sulema, an accomplished lawyer has decided to move back to Pakistan to fill the place left vacant by Asma in her law firm, the AGHS. And Jilani Jahangir now runs his father's business of textiles, allowing respite to TJ to pursue his passion for hiking, mountaineering and photography.
Would Asma have been 'Asma' had her in-laws, husband and children been narrow-minded pestering bigots and not as enlightened and broad-minded as they in fact were? They deserve to be acknowledged for what they were.
Source: dawn.com/news/1393269/the-other-side-of-asma
URL: https://www.newageislam.com/islam-women-feminism/the-other-side-asma/d/114493