By Aisha Sarwari
September 21, 2014
Of all the women's rights abuse scandals of the last few years or so, none has had such a high ratio of international shame to utter stupidity as the Jamila Bibi affair. In the stupidity category, let's list out a crucial fact: Jamila is a mature woman in her 60s.
Accused of adultery, Jamila Bibi fled to Canada in 2007 and sought asylum. She now faces deportation from the country after the government rejected her asylum plea. The Canadian government seems to be lifting the protection of the United Nations and deciding to deport her to Pakistan. To a country her lawyer calls "Machiavellian." The international community fears, and rightly so, that she could be stoned to death in Pakistan. On a good day, they say, she could face life imprisonment.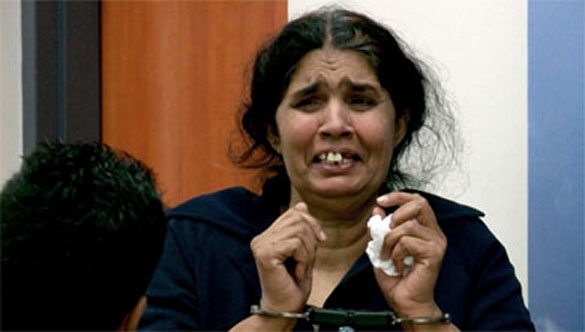 Jamila Bibi sobs as she is deported to Pakistan from the Saskatoon airport Sept. 16, 2014.
--------
In Pakistan, the knee-jerk reaction is to condemn the international community for caring so deeply about the fate of a woman who is accused of sinning. They err on the side of the man, any man, in most such situations. Misogyny is a gross infestation that has silently claimed many women's lives. The Human Rights Commission of Pakistan says 869 women were victims of honour killing in 2013 alone. Particularly in northern areas such as Fata.
But it's not just Fata. Not long ago, in May 2014, a young woman, Farzana Parveen, was stoned to death by her own family outside the Lahore High Court for choosing to marry a man against their wishes. The incident had been a signal to women's rights activists everywhere about the severity of the crisis, in the metropolises as well.
Though there has been no known stoning decree in Pakistan from the courts, the fact that provision exists under tribal law that makes matters complicated. As in the case of Farzana Parveen, sometimes it is enough that it is considered an acceptable practice which has religious basis. The people could act out.
Pakistanis also conveniently assume that all roads from the West, and to it, lead to a corrosion of prudish morality. They feel a perverse voyeuristic pleasure when it comes to accusing women of sin, regardless of the woman's plea in the matter. Between the choice of thinking a woman is of ill repute and that of thinking she is falsely accused, most chose the more entertaining option.
The more measured position is yet to be determined, but ought to be one where we, as a people, ask ourselves why we have these draconian laws in the first place. Given the international outcry over what is seemingly a state overrun by the Taliban, we must also ask ourselves why it is so necessary to cast stones, literally, on the accused. Isn't the world plodding towards abolishing torture and the death penalty? We did in fact evolve enough to get 10 million women into the workforce in the last decade. Women can surely not be weakened to this degree?
The accusation against Jamila Bibi stems from something typical: a family feud over a land dispute. She had a disagreement with her former brother-in-law which turned ugly. As is the case of most legal action involving women, character assassination is not just a tactic it is a proven victory against them.
As much legislation there is on women's rights, there really needs to be a more fundamental introspection into what direction we need to take as a nation. Civilisation beckons us towards a path where women are equal among the sexes. These threats following one's recourse to justice limit women seeking justice in the first place. Whereas the option to character assassinate women emboldens criminals and bullies alike.
It may be a far cry to have a Pakistan where one's right to private life is protected, but we must rally for a Pakistan that does not puree the weak and in this case the old against a blinding need for vigilantism.
Civil society, whatever is left of it, must watch the case carefully and if Jamila Bibi does come to Pakistan, she must be protected under the law and not from the law. For this we will need to scoop out the anachronistic laws that block us from a future where we can connect to the modern world with some semblance of dignity.
Aisha Sarwari is a freelance writer based in Islamabad.
Source: http://tribune.com.pk/story/765234/of-sins-and-stones/
URL: https://www.newageislam.com/islam,-women-and-feminism/aisha-sarwari/jamila-bibi-affair--of-sins-and-stones-in-pakistan/d/99187