Western Female Furies for Jihad
Nikhat Zareen Wins Over Family Resistance and Youth World Boxing Silver Medal
Saudi Doctor Dismisses Cleric's Claim That Driving Cars Hurts Women's Ovaries
An American Non-Muslim Hijabi Shares her Story
Protesters in Upper Nazareth Decry Violence against Arab Women
African Youth Push for Fulfillment of Promises to Women and Girls
Women Mutawifs (Haj Guide) Seek a Bigger Role during Haj
Afghan Rehab Centers Aim To Get Women, Children — and Even Taliban — Off Of Opium
Compiled by New Age Islam News Bureau
URL: https://www.newageislam.com/islam,-women-and-feminism/w-age-islam-news-bureau/girl-selling-business-hot-in-jordan-refugee-camps,-falling-victim-to-rich-saudis/d/13779
------------
Girl-Selling Business Hot in Jordan Refugee Camps, Falling Victim to Rich Saudis
Oct 1, 2013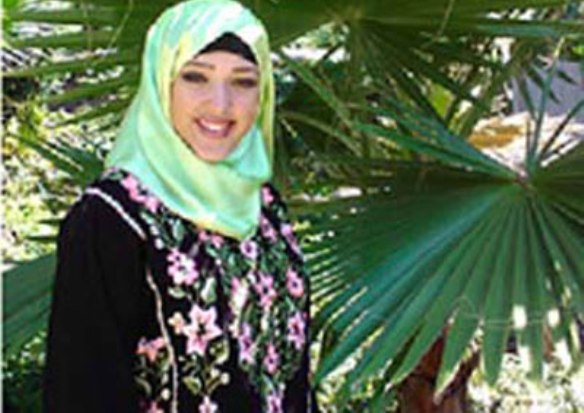 An American Non-Muslim Hijabi
TEHRAN (FNA) - Syrian girls are falling victim to rich Saudi men who are taking their own advantage from the homeless impoverished Syrian families amid the bloody war that the oil-rich kingdom happens to be one of its biggest supporters.
Um Majed's name appeared on the media a few months ago; a woman active in Jordan's refugee camps who calls herself a marriage broker but actually sells Syrian girls to rich men at the highest price they offer, Al-Alam reported.
For many families living in Jordan refugee camps, selling their daughters is the only way to survive.
A German reporter has recently gone to Um Majed, where the girl-selling business is going non-stop, as the war in Syria continues with no hope for the refugees in the sight to be able to go back to their homes.
The reporter says she saw three Syrian girls which were trained at the time by Um Majed how to behave when they are going to be picked.
The girls are waiting to see their Saudi husbands for the first time.
Um Majed calls on them, "I have a Saudi 70-year old who wants to marry a girl no elder than 13, which one of you wants to get to know him?".
"I," one of the girls calls.
Saudis are the most common buyers, paying high amounts of petrodollars for poor girls.
Leila is a 14-year old shy girl who has run away from Syria along with her mother and five other sisters and now her mother has forced her to go through with this marriage.
She says, "I'm not afraid of him, I'm just worried because it is my first time."
16-year old Gazal is another girl who has experienced a two-month long marriage with a Saudi man. She was beaten up and harshly raped for the whole two months.
"I hate myself, I'm tired, and I don't want any man in my life. I don't want any other girl experience what I suffered," she tells the reporter.
The reporter says the demand for buying Syrian young girls is very high and life condition is getting worse for the refugees, which both have caused this painful problem go on.
The surplus of desperate Syrian refugees means marriage has become a buyer's market with some grooms offering as little as $100 cash for a bride.
The legal age of marriage in Jordan is 18 but some religious clerics will marry underage girls for a small fee.
This puts the girls at even greater risk for exploitation because some of Um Majed's clients want a temporary union lasting a few weeks or months after which the girl is returned to her parents.
http://english.farsnews.com/newstext.aspx?nn=13920708001222
------------
Western Female Furies for Jihad
Oct 1, 2013
July 7, 2005. Germaine Lindsay, a British citizen, a Christian who converted to Islam, blows himself up in the subway at Russell Street, in the center of London, causing the death of twenty-six citizens.
His widow, Samantha Lewthwaite, who also converted to Islam, says in an interview released to The Sun: "My husband was a simple and generous man. They poisoned his brain. The last night he entered in the room of Abdullah (the son of 17 months) to kiss him. Then I received a message on the mobile: 'We always will live together'".
Samantha and Germaine met at a pacifist sit-in against the war in Iraq at Hyde Park. "Jamal wanted to become a lawyer for human rights, he was a man of peace, I was a member of Amnesty International, we wanted to change the world, I really thought I had found the best husband", Samantha confessed to the press.
Lewthwait is the perfect symbol of British multiculturalism: white, woman, liberal, with an university education, the wife of a Muslim.
This week, after a long time in hiding, Samantha Lewthwaite reappeared, with the nickname of the "White Widow". The sweetie was involved in the massacre of sixty-seven people in the shopping center of Nairobi, Kenya. She taught Somalian women to become kamikazes for al Qaeda in the horn of Africa.
In September 2012, Samantha's group threw grenades against a hotel of Mombasa, taking the life of three people who were just watching the European soccer tournament.
She posted a poem about her martyrdom, titled "Perhaps the Paradise, tomorrow", on the internet. She writes: "How beautiful is the Jihad, it is alive in Kenya, it is alive in me".
Nothing is left today of the pale daughter of an English soldier, the fan of David Beckham who collected gossip newspapers.
The story of Lewthwait is that of many white and Western women who choose to die for Allah. These women are the product of Western feminism.
Take Nicole Mansfield, an American mother from Flint, Michigan, the single mother of a girl named Triana. Nicole died as "martyr" in Syria fighting against Assad.
The sheik Yusuf al Qaradawi, one of the greatest authorities of Sunni Islam, justified this wave of female fighters: "The participation of women in the operations of martyrdom is one of the most laudable actions of devotion".
It all began with the Palestinian Arab kamikaze Wafa Idris. To her mother, Wafa had said: "See you later. I am go going the work". But Wafa reached Jaffa Street in Jerusalem to detonate herself.
Chechnyan women are terrorizing the Russians by participating in suicidal missions. They call them "black widows". In the terrorist attack against the Theater Dubrovka in Moscow, half of the terrorists were women.
In the Netherlands the "sisters of Allah", such as Soumaya, planned to kill the Dutch-Somali dissident Ayaan Hirsi Ali.
Malika El Aroud, "the chief propagandist of the holy war in Europe", is the widow of the Tunisian Abdessater Dahmane, one of the bombers who killed the Afghan leader Ahmed Shah Massud on the eve of the 9/11 attacks. Malika lives in a small town in Belgium and every month receives seven hundred euro of unemployment benefits from the generous Belgian welfare department.
There is also the Turkish journalist Defne Bayrak, the wife of Human Khalil Abu Milal Balawi, the Jordanian doctor who killed seven agents of the CIA in Afghanistan. Defne wrote books like "Bin Laden: That Guevara of the East". "I am proud of my husband, martyrdom is a priority of my family", this woman said.
There is Aafia Siddiqi, the Pakistani scientist graduate of the Massachusetts Institute of Technology,condemned for having tried to kill American officers at the moment of her capture in 2008 in Afghanistan.
Aafia is like Colleen Roses and Jamie Paulin-Ramirez, nicknamed by the American media "Jihad Jane" and "Jihad Jamie", two American women, bleached blondes, who participated in a plot to kill Kurt Westergaard, the Danish author of the well-known cartoon of Mohammed.
In the Belgian town of Monceau-sur-Sambre, at number 33 Avenue De l' Europes, lived the first European woman who killed herself for Allah. Muriel Degauque also killed many Iraqi soldiers near Baquba, sixty kilometers north of Baghdad.
These women are like Fusako Shigenobu, "the queen" from Japan, who never regretted having killed dozens with her "red samurais". In May 1972, her commandos killed 26 Jews at Israel's Lod airport.
In September 1977, the famous poet Jean Genet published an article titled "Violence and Brutality" in Le Monde newspaper , in which he distinguished between the negative "brutality" of the Federal Republic of Germany and the positive "violence" of the terrorist Communist band Baader-Meinhof.
Then, the talk was of "the red witch with the kefiah", Ulrike Meinhof. Now it is the the turn of "the white witch of jihad", Samantha Lewthwait.
We are still fighting the mad ideology of these deat- lovers who divide the world, as Ulrike Meinhof said, between "the pigs" and "the human beings". The Islamists now say "sons of pigs and monkeys".
Samantha is like Erna Petri, married to a senior SS officer, who was returning home after a shopping trip in town when she saw six naked boys huddled in terror by the side of the road. She had heard about some Jews who had escaped from a train taking them to an extermination camp. Erna took the youngsters home, calmed them down and gave them food. Then she led six of them into the woods, lined them up on the edge of a pit and shot them one by one in the back of the neck.
The last photograph of Samantha in western clothes is from the time she attended the Grange Secondary School. That girl poses for the camera in a white blouse and black tie. Then she vanishes into her burqa and declares war on the world of her father, a soldier who fought terrorism in Northern Ireland.
These converts to Islam executed people in Kenya if they didn't know the name of Mohammed's mother, just like Erna Petri did in the woods with the six Jewish children.
Oh, my sick sick Europe.
http://www.israelnationalnews.com/Articles/Article.aspx/13891#.UkqZXNK-pRJ
------------
Nikhat Zareen Wins Over Family Resistance and Youth World Boxing Silver Medal
Ritu Sejwal, TNN | Oct 1, 2013
NEW DELHI: It was an evening walk with her father in Nizamabad, Andhra Pradesh four years ago that eventually led Nikhat Zareen to a Youth World Boxing silver medal in Bulgaria last week.
Strolling with her father at the town's Collector Ground after her Std VIII exams, Nikhat found that all disciplines at the ongoing Urban Games there had women participants, except for boxing.
"Why?" a curious 13-year-old asked her father. "Kyunki kisi ke paas itna dum nahi hai," was father Mohammad Jameel Ahmed's reply. "It was then I decided what I had to do and I told my father that I want to show people that a girl could box too," Nikhat told TOI on Monday.
Smiling, Jameel Ahmed, an estate agent, may have given his teenaged daughter his blessings, but Nikhat's battles had only just begun.
Hailing from a conservative Muslim family, the daughter-father duo found resistance from within their community. "In a Muslim family, they believe girls should not be given the liberty to go out," remembers Nikhat adding, "Our relatives admonish my father, 'Jawaan ladki ko kahan bahar bhej rahe ho?'"
There would be taunts, jibes and sniggers but an undeterred Nikhat would not give up on her dream, even if she was the only girl among a host of boys picking up early gloves at Nizamabad. "I was under a lot of pressure at that time," says the Std XII student at the New Kakatiya Women's College, adding, "Also, it felt a little uncomfortable as I was the only girl. But slowly I got used to it."
Soon, Nikhat was inducted into the Sports Authority of India (Vishakhapatnam) to train under Dronacharya awardee IV Rao. A year later she was being declared as the 'golden best boxer' at the Erode Nationals in 2010.
Soon, the community resistance was a thing of the past. "There are restrictions in the Islamic religion. But, having been a sportsman myself, I believe there is no religion in sports. I tell Nikhat that Mary Kom missed the gold in London Games, but I want you to emulate that in Rio," says Jameel Ahmed, who captained his district team in cricket and participated actively in athletics and football.
At the Collector Ground that day, Nikhat was gently coaxed by her father into trying her had at athletics. She showed a natural flair for it and the next day newspapers flashed Nikhat's pictures as the upcoming talent from the state. Encouraged , the father began giving her athletics coaching and she finished fourth at the state level.
But she was destined for the ring, even as she pursued athletics for a year and half. "I discussed it with her, told her she needs to be bold and strong, and a punch can damage your face," remembers the father. Nikhat agreed and within three months she won at the state level.
Since then there has been no looking back. Her father accompanies her to camps and tournaments. "I watch her diet and most importantly want to see that she's training well. I like to tell her weaknesses after bouts and discuss with her how to improve. She feels encouraged in my presence. It will be a 'two-man-show'. From next year I will travel with her for international meets too," he says.
Meanwhile, Nikhat waxed casual about her silver win. "In Bulgaria, the final wasn't tough. It was equal and I gave it my all. My next target is to win at the Youth Olympics in China," she says.
http://timesofindia.indiatimes.com/sports/more-sports/boxing/Nikhat-Zareen-wins-over-family-resistance/articleshow/23327892.cms
------------
Saudi doctor dismisses cleric's claim that driving cars hurts women's ovaries
ANI
Oct 1, 2013
Saleh bin Saad al-Lohaidan that women who drive tend to risk damaging their ovaries.
Gynecologist Mohammed Baknah explained that scientific studies have not proven that driving had adverse affects on women's reproductive health.
According to News24, Al- Lohaidan had made the remarks against the protest drive organized by women rights group in the ultraconservative kingdom, and claimed that women who drive suffer from having the pelvis forced upward, thereby hurting their reproductive health.
Head of the morality police, Sheikh Abdulatif al-Sheikh said that there was no text in the documents making up sharia, or Islamic law that barred women from driving.
The report said that hard-line clerics have opposed the protest drive campaign scheduled for 26 October calling on women to drive in defiance of a ban in the ultraconservative kingdom while some clerics have even called on people to harass women who drive. (ANI)
http://www.newstrackindia.com/newsdetails/2013/10/01/186-Saudi-doctor-dismisses-cleric-s-claim-that-driving-cars-hurts-women-s-ovaries.html
------------
An American Non-Muslim Hijabi Shares her Story
Oct 1, 2013
I am an American non-Muslim woman who has chosen to wear the Hijab. Yes, you did read that correctly! I am not conducting an experiment on what the Hijab is like or trying to explore the lives of Muslims. I have made a permanent life decision to only show my face and hands while in public, and I love it!
When I was younger, I found the Hijab to be beautiful, but unfortunately I thought that a lot of the myths about the Hijab were true, and so I was daunted by it. When I started college, I studied Arabic and made friendships with Muslim students in my classes. A few of the girls wore a Hijab, and even though I liked the look of it and respected their right to wear it, I thought that it was oppressive.
Unfortunately, around the same time, I began to notice that some of the men at my university would openly speak about their female classmates as though they were moving pieces of meat. I would often have to hear stories that I rather wouldn't about what these boys would like to do to this girl or that one, and I began to notice their looks. Before entering university, I would catch men looking at me in an inappropriate way from time to time, and I would just ignore it, but after hearing these conversations and feeling their many looks, I couldn't just ignore it anymore.
Is It Really My Problem?
I mentioned how I felt to some of my classmates, and often, I got responses like "boys will be boys," or "it's just their biology, they can't help their behavior." At the time, I bought these responses, and I thought that my discomfort was just my problem. I thought these people had a right to behave the way they were, and I had no right to try and stop them. When I got engaged, all of this has changed.
My fiancé is my soul mate. We met in junior high and were friends for years before we began dating. He had asked me out a few times before then, and even though I turned him down, he always behaved around me in a respectful way. It was because of how he always treated me that I eventually agreed to go out with him. The day he proposed to me is, so far, the happiest day of my life. Once I made the decision to make a lifelong commitment to him and only him, it seemed obvious that no one had the right to treat me like their sex object. Whenever I would notice someone looking at me inappropriately, I no longer felt uncomfortable, I felt outraged! But I still had no idea what I could do about it.
Finally, one day I saw one of my Hijabi friends at school and ran over to say hi to her. She started to walk towards me, and for some reason, I was just struck by her. She was wearing a scarf and an Abaya (long Islamic Dress) like she normally did, but at that moment she looked regal and powerful.
In my mind I thought, "Wow, I want to look just like that." I started researching the Hijab, and I learned more about why Muslims wear Hijab, what makes a Hijab a Hijab, and how to wrap scarves. I watched YouTube videos, browsed online Hijab shops (including Haute Hijab) and the more I saw, the more I was impressed by how these Hijabi women exuded class and elegance. I wanted so much to be like these women, and couldn't get the Hijab out of my mind. I even started dreaming about it!
There were many things I liked about the Hijab. I liked the thought of having so much control over my body and how the outside world saw it, but what I also liked, was how well it fit with my feminist beliefs. As a feminist, I believe that women and men should be equals in society, and that the norm of treating women like sex objects is a form of unequal and unfair treatment.
Women in American society are looked down upon if they don't dress in order to be attractive for others, but I believe that women shouldn't have to conform to some ridiculous and unattainable standard of beauty. The Hijab is a way to be free of that.
However, the way the Hijab best complemented my feminist beliefs was how it was about so much more than women's clothing. As I understood it, the Hijab is about how men and women should interact while in public. Men also dress in a non-revealing way, and both men and women are supposed to treat each other with respect. I was happy to learn that both men and women were expected to be responsible for their own actions, and impressed at how egalitarian the ideals of the Hijab are.
Hijab Is My Decision
At this point, I was certain that I wanted to wear a Hijab, but I had a problem. I was afraid that wearing a Hijab as a non-Muslim would be offensive, and I was too afraid to ask my friends. I found one YouTube video on the subject, and though it said that it wouldn't be offensive, I still wasn't sure. But eventually, after weeks of thinking about it, I finally asked one of my friends. She told me that she wouldn't be offended, and then pointed out that Muslims aren't the only ones who wear headscarves, many Jews and Christians do as well.
I started wearing it off and on for a few weeks after that, and once I felt comfortable I always wore it when I left home. Soon, after I left for an internship in Jordan, I was afraid that the Jordanians would not like that I was wearing Hijab, but quickly after I got off the plane, I found otherwise! When I told people that I was an American non-Muslim, they were excited to see that I wore a Hijab.
People often told me that they thought it was a very good thing that I was wearing it, and some people were touched that I would show such respect to their culture. Best of all, I will never forget the sight of a fully grown man jumping with excitement because I was wearing a Jilbab (long dress covering almost all the body)!
These memories will always bring warmth to my heart, and they give me strength back in the states when I have to deal with angry glares or awkward questions about my Hijab.
Sometimes I will still catch men looking at me in a disrespectful way, but I take joy in knowing that though they may try, they still cannot see what they want to. Because of the Hijab, I understand that my body is my right, and I will be forever grateful to the Muslim women who taught me that
http://www.onislam.net/english/family/your-society/gender-and-society/464685-an-american-non-muslim-hijabi-shares-her-story.html
------------
Protesters in Upper Nazareth decry violence against Arab women
Oct 1, 2013
Approximately 100 protesters attended a demonstration on Monday in front of the state prosecution office in Upper Nazareth to draw the attention of authorities to the issue of violence against women and the need for action against abusers.
A number of Arab-Israeli NGOs, many dealing specifically with women's issues, organized the protest.
The Jerusalem Post spoke with social worker Samah Salaime Egbariya, founder and director of AWC-Arab Women in the Center and a research fellow at the Mandel Leadership Institute, who is deeply involved in women's issues and in aiding victims of violence, such as in helping them deal with the courts.
She complained that police and the state prosecution do not take strong-enough action in dealing with the perpetrators of violence against women in the Arab sector.
Egbariya mentioned that just last month, Kawtar Najar, a mother from the village of Daburia near the northern Israeli town of Afula, had two of her three children murdered by her ex-husband. He also murdered his second wife, who had divorced him, along with their child.
Najar had been divorced for 15 years. She was an independent woman who left an abusive husband, took her children and worked to support herself. She arrived with her surviving daughter Majdolein to the protest.
It was very emotional to see her at the protest, said Egbariya. Najar, according to Egbariya, said she could handle physical pain, which eventually goes away, but the pain of losing two daughters will last for eternity.
The ex-husband thought he owned them, said Egbariya, pointing out that he did not have a criminal record other than serving time in jail for hitting his wife and kids. The story repeated itself with his second wife, and she left him as well. He then lashed out by killing not only his second ex-wife and children, but also his second ex-wife's boss for allowing her to be independent.
The number of complaints by Arab women increases each year, according to Egbariya.
However, she notices some improvement in the way police are handling this issue.
"I believe they are on the right track," she said, adding that the authorities must become more efficient in following up on complaints.
Moreover, Arab society needs to examine itself and solve the problem of domestic abuse against women, she stated. "It is not like 50 years ago. Today women are independent and have higher education."
http://www.jpost.com/National-News/Protesters-in-Nazareth-decry-violence-against-Arab-women-327517
------------
African Youth Push for Fulfillment of Promises to Women and Girls
Oct 1, 2013
Addis Ababa — An appeal has gone out to the world to invest more resources in young people and ensure their human rights in order to promote socio-economic development and growth.
Speakers at the Youth forum preceding the African Regional Conference on Population and Development made the appeal at the opening of the event yesterday in the Ethiopian capital, Addis Ababa.
According to Mr. Faustin Yao, the United Nations Population Fund 's (UNFPA) Representative to Ethiopia, the International Conference on Population and Development in Cairo in 1994 resolved to give attention to the needs and potentials young people, especially girls before the next conference next year. But many of the promises to young people remain unfulfilled, Mr. Yao observed.
"Millions of girls and women worldwide still are without adequate sexual and reproductive health services and universal access to comprehensive sexuality education for young people is yet to be delivered." Also, equal access for the youth to health, education and economic opportunities doubles the potential for development and helps societies to break the cycle of poverty which is still prevalent in Africa, he said.
Similarly, Mr. Hassan Yousif, Representative of the Human and Social Development Division of the UN Economic Commission for Africa (ECA), reminded the gathering that Africa is the youngest continent with a majority of its population below the age of 30 years.
He said addressing their concerns in terms of "education, health, employment, inclusive participation, governance and security, remains one of Africa's priorities." Meeting these needs is crucial to maintaining the region's peace and development, he added.
In her own speech, Noemi Espinoza Madrid, Adviser to the UN Secretary General's Envoy on Youth, urged participants to make concrete recommendations that would form part of the contributions to the ICPD review process. Besides making the youth's voices heard at the UN, she identified developing partnerships to reverse growing unemployment and inequalities among the world's 1.8 billion young people as part of the mandate of the Envoy on Youth.
Participants from UN agencies, civil society organizations joined the 150 representatives of young people from across Africa at the two-day forum. Their recommendations on health, education, employment, participation and peace and security will be shared with government leaders who will gather in Addis Ababa from October 3 - 4.
The purpose of the meeting is to identify the region's critical priorities for addressing gaps, challenges and emerging issues in to accelerate progress towards the goals of the International Conference on Population and Development Programme of Action which has shaped policy particularly in relation to the rights and needs of women, girls and young people in the region for the past 20 years.
The meeting will deliver an African common position on ICPD beyond 2014 and will feed into the UN Secretary General's global report on 2014 General Assembly.
http://allafrica.com/stories/201309301407.html
------------
Women Mutawifs (Haj Guide) Seek a Bigger Role during Haj
Oct 1, 2013
JEDDAH — Women working in Tawafa (Haj guidance) inherited the job from their ancestors, who in the past used to serve pilgrims not in hotels but in their own homes.
In the past Makkah families used to welcome pilgrims at their homes.
Men in the family would accompany pilgrims to the holy sites while women would do the cooking at home and serve pilgrims and clean their clothes.
Some women would even go with men to direct pilgrims at the holy sites. However, women are now more restricted and their tasks are limited only to visiting female patients at hospitals and accompanying women preachers in Makkah, said Mutawif Shadia Koushk.
According to her, women used to be just like male Mutawifs, but increased restrictions have distanced them from real Tawafa tasks and restricted them to basic duties.
"We want the same rights that the men get.
"We opt to serve pilgrims based on rules of Shariah and get training courses as men do."
Koushk has been working in Tawafa for nearly 15 years.
"A few years back, we used to go to the holy sites of Arafat and Mina to give lectures to female pilgrims, but this is not happening anymore."
Wafa Mahdar, a professor at Umm Al-Qura University and founder of Tawafa Without Borders for Women, said women in her generation were used to seeing pilgrims being served at their homes during their early childhood.
The new generation, she said, is interested in Tawafa work through they know that there is nothing lucrative about the profession.
"Young women want to explore this career and I get many new applicants each year from girls aged 18 to 25."
Mahdar believed that Tawafa work has increasingly become a job for men.
Tawafa work, she said, requires Mutawifs to accompany pilgrims to their accommodation, the Grand Mosque and the holy sites.
She said: "Over the last 25 years, women's role in Tawafa has been marginalized and restricted to social and awareness work."
Mahdar and her colleagues have worked on a tawafa program for women that they will show to Minister of Haj Bandar Bin Al-Hajjar for approval.
The program includes taking care of female patients at hospitals, setting up a media and awareness program for pilgrims and introducing pilgrims to Saudi heritage and historic sights in the Western Region.
http://www.saudigazette.com.sa/index.cfm?method=home.regcon&contentid=20131001182193
------------
Afghan rehab centers aim to get women, children — and even Taliban — off of opium
Oct 1, 2013
JALALABAD, Afghanistan — Across the southwestern plateau of this country, opium poppy fields are as much a part of the landscape as the Hindu Kush mountain range is in the north.
Afghanistan produces 90 percent of the world's raw opium, and drug addiction is widespread, even among women and children. But a unique drug rehabilitation center in this conservative Muslim town is trying to tackle the problem.
Muslim traditionalists here consider drug addicts "haram," or forbidden, by Islamic law. Even so, the Welfare Association for the Development of Afghanistan has been embraced by the community and operates with the blessing of the local Taliban.
Nearly 50 percent of the Taliban might be addicted to drugs like opium and hashish, according to Fazal Wahid, an administrator at the center, and their need for help overshadowed their objections.
"I once treated a Taliban soldier at the Wardak men's treatment center. He left clean and eventually made a pilgrimage to Mecca for Haj," Wahid said. "He called us and thanked us for what we had done for him, saying he was able to make the Haj only because of us."
WADAN operates drug rehab centers and programs within all 34 provinces in Afghanistan. Some of the centers are designated solely for women and children, and others for men.
The women and children's center in Jalalabad is primarily funded by the State Department's Bureau for International Narcotics and Law Enforcement Affairs, which, according to its website, funds six residential drug treatment centers for women in Afghanistan.
Officials with that agency said they have no knowledge of treating Taliban at any of the centers they fund in Jalalabad, since they only fund the centers for women and children.
The Jalalabad facility coordinator, Dr. Jahan Noor, said that 40 to 50 addicts apply to the women and children's drug rehab program each month, but there is only space to admit 20 at a time for the intensive, 45-day program. She insists the wait is worthwhile. According to the United Nations Office on Drugs and Crime, in 2010, of the 35 million Afghans, more than 1 million are addicted to drugs. According to the survey, among drug addicts, only 10 percent of Afghan addicts ever receive or seek treatment.
Afghanistan has been producing drugs for decades, but with rampant unemployment at nearly 40 percent and the repercussions of a decade-long war, the survey shows that drug consumption continues to rise.
Despite the negative stigma of opium use and addiction, poppy cultivation is highly valued because of its profitability for farmers, even though it has been banned by Afghan President Hamid Karzai. At $160 to $200 for 1 kilogram of dry opium, it is the country's most lucrative crop. In contrast, a kilo of wheat only pays 41 cents.
One of the goals of the WADAN program is to eliminate the stigma of drug addiction in Afghanistan, so addicts will not be treated as criminals and can openly seek treatment.
"The center is trying to get the community to see these individuals as sick, having a disease like diabetes or high blood pressure," Noor said.
Collateral damage
The most distressing residents at the facility in Jalalabad are children.
On this day, 25 sit around a carpet eating bread and drinking water. Five of them are addicted to opium.
Some have become drug dependent because of their mothers, who often give their children opium for medicinal purposes.
Ignorance about the dangers of drugs and the severe shortage of medical and pharmaceutical supplies in remote villages are at the root of the problem. Opium — at less than a dollar per pellet — is used as a suitable cure for simple symptoms like headaches and the common cold. The result is lingering addiction.
"Sometimes they would complain of stomach pains or other sickness, and I would boil the skin of the poppy [making tea] and give it to them," said Saira, the mother of three of the children, ages 8, 7 and 3. She said she gave it to her children every morning and evening. They were brought to the center by the WADAN outreach team.
UNODC says that 40 percent of addicts in Afghanistan are women and children.
"When I'm using [opium], I neglect the housework and cooking and don't care for the children," Saira said. "But I feel power and comfort and I can sleep."
Getting clean
The rehabilitation program at WADAN has two primary elements: daily counseling and physical detox.
Noor says patients are slowly weened off opium until they have achieved total withdrawal. Withdrawal during the first week is the most difficult.
"We had a patient named Saddiqa who came to the center on the third day of her wedding celebration. Her withdrawal was so bad she was fainting," said Noor. "We had to send a caretaker with her everywhere she went, even to the bathroom."
But Saddiqa was clean by the time she left, and has stayed clean, Noor said, becoming an excellent reflection of the center's work.
Haroon Khadim contributed to this report.
http://www.stripes.com/news/middle-east/afghan-rehab-centers-aim-to-get-women-children-and-even-taliban-off-of-opium-1.243398
------------
URL: https://www.newageislam.com/islam,-women-and-feminism/w-age-islam-news-bureau/girl-selling-business-hot-in-jordan-refugee-camps,-falling-victim-to-rich-saudis/d/13779