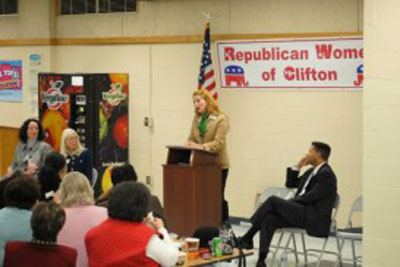 5 Fatwas You Should Know About: Kashmiri Girl Band Not The First!
From Dark Skins to White Masks, the 'Gori' Details Of Women's Quest for Fairness
Republican Women to Discuss Sharia Law, the U N and the Virginia General Assembly
People of Swat Vow to Carry Forward Malala's Mission
Mother's Death Follows Rape of College Girl, in Bangladesh
Jakarta Nanny Charged With Allegedly Smothering Baby to Death
Vigilante exposed: Meet Maria Khan – the new Maya Khan!
Girl band swears off music on Mufti advice
Crucial Questions on Why the All-Girls Band in Kashmir Was Banned
Fatwa against All-Girls Band of J&K: Don't Terrorise Women In The Name Of Religion
Women Forum in Karachi Organises Women Rights Seminar
Pakistan Women Skiers Hope for International Events
Wheels Of Change: Women Cyclists Take over Karachi's Streets
Compiled by New Age Islam News Bureau
Photo: Republican Women to Discuss Sharia Law
URL: https://newageislam.com/islam-women-feminism/kashmir-girl-band-"pragaash"-questions/d/10293
-------------
Kashmir Girl Band "Pragaash" Questions 'Un-Islamic' Tag
5 February 2013
One of the members of an all-girl rock group in Indian-administered Kashmir has queried why they have been described as "un-Islamic" when male bands are allowed to perform.
She told the BBC that their intention was not to disrespect Islam, as alleged by the region's most senior cleric.
The teenager confirmed reports that the group, Pragaash, had disbanded.
Meanwhile, police are investigating allegedly intimidating comments posted on Facebook against the group.
"We will identify them through their IP addresses," a police official told the BBC.
The girls say they have received abuse and hate mail on Facebook since they made their first live appearance at the Battle of the Bands music festival in Srinagar in December.
"Music was our passion. We did not know it was haraam [un-Islamic]," the girl band member told BBC Hindi by telephone on Tuesday.
"There are many artists from Kashmir who are performing. But they did not issue a fatwa against them. They did not stop them... But we are being stopped.
"We respect their opinion and we have quit. But I don't know why we are being stopped," she said.
'Indecent behaviour'
On Sunday the Muslim-majority state's grand mufti criticised the girl band for what he said was indecent behaviour.
"When girls and young women stray from the rightful path... this kind of non-serious activity can become the first step towards our destruction," Grand Mufti Bashiruddin Ahmad said in a statement.
Many others have leapt to the girls' defence, however. Support for a band which has broken with tradition has poured in from all over the state and elsewhere in India, where the story has been headline news.
Jammu and Kashmir Chief Minister Omar Abdullah has promised police will investigate the threats and that the state will ensure their security.
Meanwhile, a well-known Bollywood composer has also offered to help the band.
"Please don't stop making music due to the fear of some random lunatics. It is our duty as custodians of our talent to reach people, and to sing stories of the human soul," Vishal Dadlani said in a post on their Facebook page.
He offered to help the girls with travel and accommodation to Mumbai and pay for their "studio recording, releasing and promotion of an album of your music".
The girls, however, are not planning to take him up on his offer.
"I want to say thanks to music director Vishal, but we do not want to continue. No one is Kashmir is supporting us," the band member told BBC Hindi.
Jammu and Kashmir is India's only Muslim-majority state and has been the scene of a violent insurgency against Indian rule since 1989.
The region has a long history of women dancing and singing in public at festivals and marriages, even though some clerics oppose such behaviour.
http://www.bbc.co.uk/news/world-asia-india-21335186
-------------
5 Fatwas You Should Know About: Kashmiri Girl Band Not The First!
By Ankit Grover
February 4, 2013
The Grand mufti of Jammu and Kashmir Bashiruddin Ahmad on Sunday issued a controversial fatwa against all-girl rock band 'Pragaash'.
The Grand mufti issued the decree in Srinagar, advising members of the rock band to "abandon" singing, termed it as 'un-Islamic' as it is against Islamic teachings and will not help them in playing any constructive role in the society.
"Society cannot be built or developed by doing un-Islamic acts like singing. I have advised these girls and other Muslims to stay within the limits of modesty prescribed for them," Ahmad said.
The decree has resulted in an outpour of support for the all-girl band, which came to limelight in late December last year after their performance at the annual 'Battle of the Bands' competition in Srinagar, had defied the convention by stepping into the male-dominated field of music.
Fatwas have dominated the political discourse in on Islam India throughout the last decade.
Here are five controversial Fatwas in India you should know about:
» In August 2012, militants in Kashmir threatened to throw acid on the faces of women who use mobile phones and don't keep veil.
» In July 2012, Jamaat-e-Islami issued a dress code advisory for tourists in the valley forbidding short or tight clothes and asked the tourism department to enforce the rule.
» In May 2012, the Grand Mufti of Kashmir Bashir-ud-din demanded a legislation to declare Ahmadis as non-Muslims.
» In January 2012, a Sharia court on the behest of the Grand Mufti of Kashmir issued a fatwa against three Christian pastors to leave Jammu & Kashmir for "luring valley Muslims to Christianity".
» In 2006, the Islamist organisation Dukhtaran-e-Millat (Daughters of Faith), lambasted the All-India Muslim Personal Law Board for issuing a fatwa on the dress code of Muslim women, which it said was against the basic tenets of Islam.
http://www.niticentral.com/2013/02/pragaash-not-the-first-5-fatwas-you-should-know-about.html
-------------
From Dark Skins to White Masks, the 'Gori' Details Of Women's Quest for Fairness
By Atika Rehman
February 6, 2013
KARACHI: Sahar Ahmed was 13 years old when she first started smoking. A decade of chain smoking later, her face showed signs of the toxicity that nicotine and tar bequeath: dark lips, spotty skin and pigmentation around the lips. But all this changed when she accompanied her mother to Dental Cosmetologist Dr Tania Shaikh's office for a check-up three months ago.
"When Dr Shaikh saw me, she told me she could give me something that would fix everything." The treatment that followed helped her not only with the skin pigmentation but, according to her, also her drug and smoking addictions and unremitting insomnia.
She was thus introduced to intravenous glutathione injections, the latest instalment in skin whitening procedures on offer at Karachi's most popular skin clinics. While this practice gained popularity in the US and the Philippines in 2007, it came to Pakistan a little over a year and a half ago.
"My mission is to help patients' battle pigmentation," says Dr Shaikh who works at Dr Afzal Lodhi's Clinic and is an advocate for this method. "After a few shots, I can see the skin of my patients lightening. Their dark spots fade away."
She explains that the injections – which are a cocktail of glutathione, Vitamin C and collagen – start taking effect after a few sessions, with one being administered per visit. And if a patient wants a full-body change, IV or intravenous shots are given over a span of a few months. They range from between 10 and 20 depending on how light a patient wants their skin to become.
But Ahmed says her reason for taking these shots was not to lighten her skin. "I told Dr Shaikh that I don't want to become 'white'. She promised me that I wouldn't but that it would help my body Detox and also get rid of pigmentation and marks." Ahmed is now into 10 sessions and her skin, in her own words, is "clear and glowing". She also sleeps without needing medication and has stopped smoking cigarettes or hash. "My lips are back to being pink," she declared.
The treatment is popular. "A considerable majority of patients interested in skin whitening formulae opts for glutathione injections – even men," says Shaikh. She explains that they are sold by distributors within the range of Rs4, 000 to Rs7, 000, with cheaper varieties also available. "It is important to avoid very cheap brands that could cause harm," she adds. "Going to the right practitioner and monitoring dosage is also vital." Glutathione can be taken orally, but the best results are seen when it is given as an intravenous drip. Patients who do not want to attain overall fairness can opt for mesotherapy, in which the shots are administered to dark areas of the face. Mesotherapy only targets facial melanocyte [melanin-producing cells]; it will not affect other parts of the body.
Patients should know, however, that it is not permanent treatment, since even after the sessions are complete, patients may have to get maintenance shots every few months. "It's transient therapy," explains cosmetologist Dr Badr Dhanani, who also prescribes glutathione to his patients. "Nothing can make one permanently white. If there were such a thing, then the president of America would be white – it's every dark person's desire."
While he says he does not "push" these shots and therapies on patients because he considers himself a conservative doctor, he will write a prescription if the patients want it. "It's not a very clandestine procedure – with a prescription, you can go to any hospital and get it," he adds.
While the US Food and Drug Administration confirmed to The Express Tribune that it has not approved glutathione injections for skin whitening, Dr Dhanani says there is nothing to be afraid of. "It works wonders for a few months. So far, the reports are in its favour, saying it is effective and good."
*Patient and client names have been changed to protect privacy.
The need to be gora
"They may not speak about it at first, but it is every woman's dream," maintains Dr Naqiba Munshi of Element Medispa. "They all want to be fair." Dr Munshi also offers glutathione injections at her clinic, but says that they are not given to everyone. "People equate fairness with beauty, and feel that they will get better marriage proposals if they have blemish-free, fair skin. They will do anything to have that and we want to control that obsession," she says. According to her, the majority of patients who come for skin-whitening procedures are women, with some as young as 18 years old. Also, mothers are active in demanding the treatment for their daughters, as the perception is that a fairer complexion can result in a better future for them.
Glutathione – the mother of all anti-oxidants
Hailed by medical experts as the mother of all anti-oxidants, glutathione is a molecule that is naturally present in the human body. But due to poor diet, stress, trauma, medication and a host of other reasons, this life-giving molecule (pronounced "gloota-thigh-own") is depleted and cannot be recycled if the toxic load in our blood stream is too high. Doctors say that the primary reason why this molecule is critical is because it recycles anti-oxidants which help protect our bodies against infections, cancer and toxins. Not only does this molecule act as a detoxifying agent, it also helps strengthen the body's immune system and is important in fighting chronic illnesses.
In a report published in the Huffington Post, physician Mark Hyman, MD described glutathione as "the master detoxifier and maestro of the immune system".
Who should not take this treatment?
While most doctors say that controlled amounts of glutathione injections are not harmful, patients should disclose their medical history before getting a dose.
• People with heart, liver and kidney conditions should not opt for glutathione shots as it could lead to complications such as kidney failure and sinus tachycardia.
• Blood sugar levels must be monitored after the shot is administered, and the patient should avoid being in the sun for a few days.
• High doses of glutathione given to patients with hypersensitive skin may result in the life-threatening Stevens Johnson syndrome.
• Vitiligo patients should not receive glutathione injections for skin whitening.
• Pregnant women and those who are breastfeeding should not opt for glutathione injections.
According to an AFP report published in 2011, the Food and Drug Association in the Philippines warned that repeated injections of the drug could lead to kidney failure, blood poisoning and toxic epidermal necrolysis, in which a large portion of the skin peels off, exposing the human body to many infections.
http://tribune.com.pk/story/503241/postcolonial-complexions-from-dark-skins-to-white-masks-the-gori-details-of-womens-quest-for-fairness/
-------------
Republican Women to Discuss Sharia Law, the U N and the Virginia General Assembly
By James Cullum
February 5, 2013
The Republican Women of Clifton will welcome three distinguished individuals at its February meeting. Dr. Ileana Johnson, the bestselling author of "U.N. Agenda 21: Environmental Piracy" will be joined by Stephanie Reis, the founder of the Omaha ACT for America Chapter and property rights advocate Martha Boneta.
"To preserve freedom in America, we must keep informed about the forces working to destroy our liberty so we can combat them," said RWC President Alice Butler-Short. "Two of those forces are U.N. Agenda 21 and Sharia Law, and our speakers will give us insights into how these are undermining our country."
Johnson, who was born in Communist Romania, is expected to talk about "how billions of unsuspecting people around the world are being manipulated into compliance by a handful of powerful billionaires – the global governance – all in the name of sustainability, smart growth, and saving the environment," according to a RWC release.
Reis is the founder and former leader of the Omaha ACT for America Chapter, and will discuss the treatment of women in Islamic society and how she believes the Hijab is a catalyst for Islamic terrorism.
Boneta, the owner of Liberty Farms in the Northern Virginia village of Paris, was threatened with nearly $5,000 in fines for selling produce and crafts and throwing unlicensed events. Consequently, House Bill 1430, the "Boneta Bill," was proposed in this session of the Virginia General Assembly, and Boneta will provide an update on its status.
The event will be held at 7 p.m. on Wednesday, Feb. 20, at the Fairview Elementary School, 5815 Ox Road, Fairfax Station.
http://fairfaxstation.patch.com/articles/staying-informed-republican-women-of-clifton-to-discuss-sharia-law-the-united-nations-and-the-virginia-general-assembly
-------------
People of Swat Vow to Carry Forward Malala's Mission
Khalilur Rehman Bacha
February 6, 2013
MINGORA, Feb 5: People of Swat have greeted rights activist Malala Yousufzai over successful surgery and said they would carry forward her mission to promote girls education in the region.
Malala, who was shot by the Taliban in October for campaigning for girls' education in Swat, underwent cranial reconstruction and a procedure for a cochlear implant at Queen Elizabeth Hospital in Birmingham in what doctors hoped will be last round of her operations.
Full report at:
http://dawn.com/2013/02/06/swatis-vow-to-carry-forward-malalas-mission-2/
-------------
Mother's Death Follows Rape of College Girl, in Bangladesh
Feb 06, 2013
Teachers and students accompanied by locals formed a human chain on Lalmonirhat-Mogholhat road at Durakuti village in Lalmonirhat Sadar upazila yesterday, demanding punishment to the criminals responsible for rape of a college girl on Saturday and death of her mother on Monday.
The girl, an HSC first year student of a local college, was raped at a house of Durakuti village in Sadar upazila on Saturday, and police arrested the alleged rapist Abdus Sattar, 38, a truck driver, and his alleged abettor Nazma Begum, 28, both residents of the village, on Sunday.
Full report at:
http://www.thedailystar.net/newDesign/news-details.php?nid=268041
-------------
Jakarta Nanny Charged With Allegedly Smothering Baby to Death
Bayu Marhaenjati | February 04, 2013
A 21-year-old nanny was charged with murder after allegedly staging a fake robbery on Thursday in an attempt to cover up the accidental death of her employer's newborn baby in Tanah Abang, Central Jakarta.
The nanny, identified only as "AI," reportedly covered the five months olds face with a sarong when it wouldn't stop crying. She was later shocked to discover that the baby had stopped breathing after she returned from ironing clothes, Jakarta Police' spokesman, Sr. Comr. Full report at:
http://www.thejakartaglobe.com/jakarta/jakarta-nanny-charged-with-allegedly-smothering-baby-to-death/569558
-------------
Vigilante exposed: Meet Maria Khan – the new Maya Khan!
February 6, 2013
Meet Dr Maria Zulfiqar Khan.
She hosts a program called "Baat Say Baat" on Express News, conducts "raids", and is the new vigilante in the Pakistani media market.
In her recent program, she conducted a self-styled raid on a massage center in Lahore, accused it of being a "sex center" and harassed the women there.
Although the police was accompanying her, she took full charge and gave orders to policemen, saying things like "inn ko pakro jee!" (arrest them!), and "ye darwaazay khulwaaein jee!" (get these doors unlocked!).
Full report at:
http://blogs.tribune.com.pk/story/15947/vigilante-exposed-meet-maria-khan-the-second-maya-khan/
-------------
Girl band swears off music on Mufti advice
By Naseer Ganai in Srinagar
Feb 6, 2013
WHAT was meant to be fun, almost ended up destroying their lives! Now one of the three members of the all- girls' rock band — it earned the wrath of Muslim fundamentalists in Jammu and Kashmir — speaking for the first time since the controversy broke out, pledged to stay away from music.
Aneeka Khalid, guitarist of Pragaash, said she never knew that their band would generate so much controversy.
Full report at: Mail Today
-------------
Crucial Questions on Why the All-Girls Band in Kashmir Was Banned
Feb 05, 2013
New Delhi: "Long live Islam, long live India, long live Hinduism, give our country people some broad mind oh almighty, it's urgently needed" and "it's not about few people but masses, what happened to few harm many, discourage for others what we will achieve from all this". These were the messages that appeared on the Facebook page of "Pragaash" - Jammu and Kashmir's first all-girls band - even as those objecting to their singing in public issued a fatwa against the band members.
Full report at:
http://ibnlive.in.com/news/banning-of-jks-allgirls-band-pragaash-raises-crucial-questions/370959-3-245.html
-------------
Fatwa against All-Girls Band of J&K: Don't Terrorise Women In The Name Of Religion
06 FEBRUARY 2013
MANISH GARG
A fatwa issued by the Grand Mufti of Jammu & Kashmir and the slander campaign online against three girls who formed an all-girls band in the State, has forced these musicians to disband and stop singing in public. So, the next time someone from the Muslim community asks for reservations in employment, we must ask them the following questions: First, how can leaders of the community blame others of discrimination when they themselves are not treating their own as equals? Second, when they themselves suppress the women in their community, how can these religious and other leaders lament the so-called suppression of their community by the political and social system of the country? Third, if music is un-Islamic, what do they have to say about Sufi music sung by Muslim women, not just in India but in other parts of the world as well, including in Islamic countries? Music is heard at the Dargahs of well-known Sufi saints across the country. Is that un-Islamic?
http://www.dailypioneer.com/home/online-channel/394-letters-to-editor/125698-dont-terrorise-women-in-the-name-of-religion-.html
-------------
Women Forum in Karachi Organises Women Rights Seminar
February 6, 2013
KARACHI: A seminar was organised by KFC Women Forum (KWF) in collaboration with Business Professional Women South Club to create awareness regarding the rights of women, here at Dr SRA Women's Complex Auditorium on Tuesday. Eminent speakers, including Khanum Gohar Ijaz, Barrister Shahida Jameel, Rukhsana Asghar, CEO Fulcrum, and Afroze Malik, spoke about the rights of women in Islam, new bills passed for women protection, and the way corporate office policies work for women.
Full report at:
http://www.dailytimes.com.pk/default.asp?page=2013\02\06\story_6-2-2013_pg12_9
-------------
Pakistan women skiers hope for international events
By Natasha Raheel
February 6, 2013
KARACHI: The 2011 South Asian Winter Games skiing medalists Aminah Wali and Ifrah Wali fear that lack of international participation may hinder their chances of qualifying for the Winter Olympics 2014 that will take place in Russia.
The sisters, who won gold and silver medals in the South Asian Winter Games two years ago in India, feel that it is high time for the federation to send female athletes abroad for competing in challenging events.
Full report at:
http://tribune.com.pk/story/503030/pakistan-women-skiers-hope-for-international-events/
-------------
Wheels of change: Women cyclists take over Karachi's streets
By Saba Khalid
February 6, 2013
KARACHI: One small step for man, a giant leap for womankind – in Pakistan, at least.
All eyes were on at least 30 Pakistani women who came out on the streets of Karachi on Tuesday to cycle, have fun and make a point.
Although the number of cyclers was far below what was expected (171), the group of 30 women gathered outside Butlers Cafe at 7:30am and rode their bikes all the way from Zamzama to Sea View and back.
Full report at:
http://tribune.com.pk/story/503246/wheels-of-change-women-cyclists-take-over-karachis-streets/
-------------
URL: https://newageislam.com/islam-women-feminism/kashmir-girl-band-"pragaash"-questions/d/10293