Islamic Countries Have Not Spoken On The Issue
Main Points:
1. Church of Sweden had raised its voice against Uyghur forced labour.
2. Pakistan supported China on the issue of forced Uyghur labour.
3. US companies need to verify if the cotton products from China are free from Uyghur forced labour.
4. In the UN Muslim countries sided with China in 2019 on Uyghur issue.
----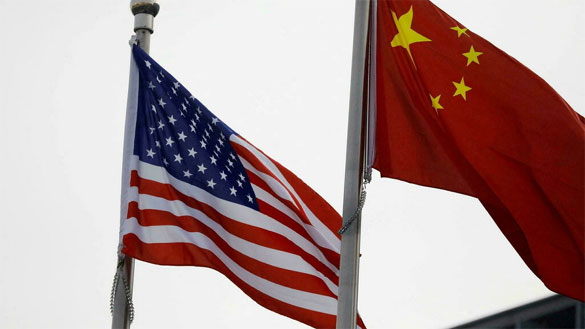 Chinese and US flags flutter outside the building of an American company in Beijing on January 21, 2021. © Tingshu Wang, Reuters
----
By New Age Islam Staff Writer
28 December 2021
The US President Joe Biden signed on the bill banning Chinese forced labour products made by the Uyghur Muslims of Xinjiang province of China. After the passing of the bill, the US companies importing cotton and cotton products from China will have to verify that those are not forced labour products made by Uyghur Muslims who have been detained in detention centres in the Xinjiang province for the last six years. It should be recalled that the Chinese government has detained about one million Uyghur Muslims in detention camps which it calls re-education centres. The Muslims are tortured to abandon their religion and learn Mandarin and communist ideology. Women are tortured and rendered infertile. They are even raped and forced to go for abortion.
The US had termed Uyghur persecution by China as genocide in January this year and had called for boycott of Winter Olympics in February 2022. Earlier, the US imported tomatoes and cotton products from China.
The Uyghur Muslims are forced to work in cotton plantations and in factories without wages. According to reports, about half million Uyghur Muslims are forced to work in cotton plantations. The cotton products made by them are exported to many countries earning the Chinese government huge profits at the cost of the human rights of Uyghur Muslims.
The US has taken this step before the Winter Olympics to be held in January 2022 as a diplomatic effort to pressurize China to prevent Chinese government form human rights violations of the Uyghurs. Unfortunately, Islamic countries have been silent on this issue. It is also to be noted that no Islamic country has commended the US for banning Chinese goods.
On the contrary, some Islamic countries have defended the Chinese oppression of Muslims saying that they do not believe in the incarceration theory of the US. For example, the Pakistani Prime Minister Imran Khan said that he does not believe that cotton products of China are products of forced labour of Uyghur Muslims. He said that it was a propaganda of the US and European countries against China. He also stressed that the cotton trade with China will continue unabated.
The Pakistani trade bodies have also stressed that their trade with China will go on despite the 'US propaganda'. It is to be noted that Pakistan has earlier denied any oppression of Uyghur Muslims in China. Imran Khan had said to a Turkish TV channel two years ago that he had no idea of the Uyghur issue. Saudi Arabi had gone even to the extent of saying that China had every right to take any step against Uyghur for preventing terrorism.
It is a slap on the face of Islamic countries and Islamic organizations which cry hoarse on the issue of blasphemy and issue trade boycott against non-Islamic governments. For example, Islamic organizations had called for French products after the French President Macron had said that Islam was in crisis. Violent protests were held in Pakistan and Bangladesh in which police personnel had been killed by protesters and public property had been destroyed.
But the issue of persecution and forced labour of the Uyghur Muslims by China does not stir their conscience. The Church of Sweden was disturbed by the persecution of Uyghurs and warned importers to abstain from doing trade with China if forced labour was involved.
However, the Muslims countries and Islamic organizations have not issued any fatwa against Uyghur forced labour though forced labour is not permitted in the Quran. The Quran asks Muslims to give fair treatment to prisoners and slaves and does not permit anyone to hold any individual prisoner without any cause. Still the Islamic organizations and fatwa bodies of Islamic organizations of countries like the Egypt and Saudi Arabia have not issued any fatwas calling for economic boycott of China.
Even the Turkish President Erdogan has not spoken anything praising the US step and expressing his country's stand on the issue. Earlier Erdogan showed concern for the Uyghurs and even protested against China leading to bitter diplomatic relations between the two countries. Uyghurs look up to Turkey for help as they are of the Turkic ethnicity. In 2009, Erdogan even visited Xinjiang and termed the persecution of Uyghurs 'genocide'. But much has changed since now.
Erdogan has, it seems, left Uyghurs to their fate for economic and political reasons. Earlier, Uyghurs were granted asylum and resident permits in Turkey but now the Uyghur homer are regularly raided and Uyghurs are deported back to China.
This is because of Erdogan's dream of becoming the powerful leader of the Islamic world and fort that he needs to strengthen his hold in Turkey. The floundering economy has made him look for Russian and Chinese support. This is why Uyghurs do not get the kind of support from Turkey they once did.
The grand mufti of Egypt or Saudi Arabia has not issued any fatwa condemning persecution of Uyghurs and Uyghur forced labour. Islamic countries have not imposed ban on Chinese cotton products to save Uyghurs from forced labour not to speak of making efforts to free them or give them asylum. The Islamic countries have no plan for the solution of the Uyghur problems. Instead, they have turned a blind eye to their persecution. Worse, they defend China on the issue.
The insensitivity of Muslim countries on the Uyghur persecution issue can be gauged from the fact that in 2019, Germany sent a letter to the UN Human Rights Council condemning Chinese persecution of ethnic minorities and calling China to respect the human rights of ethnic minorities. The letter was supported and signed by 39 countries out of which most countries were non-Islamic countries. The list of the countries that signed in favour of the letter is as follows:
Albania, Australia, Austria, Belgium Bosnia and Herzegovina, Bulgaria, Canada, Croatia, Denmark, Estonia, Finland, France, Germany, Haiti, Honduras, Iceland, Ireland, Italy, Japan, Latvia, Liechtenstein, Lithuania, Luxembourg, the Marshall Islands, Monaco, Nauru, the Netherlands, New Zealand, North Macedonia, Norway, Palau, Poland, Slovakia, Slovenia, Spain, Sweden, Switzerland, the United Kingdom, and the United States.
You can see that Islamic countries are promiscuous by their absence. On the other hand Cuba had sent a letter in support of Chinese policies in Xinjiang which was supported and signed by 45 countries. The list of the supporters of China is as follows:
Angola, Bahrain, Belarus, Burundi, Cambodia, Cameroon, the Central African Republic, China, Comoros, Congo, Cuba, Dominica, Egypt, Equatorial Guinea, Eritrea, Gabon, Grenada, Guinea, Guinea Bissau, Iran, Iraq, Kiribati, Laos, Madagascar, Morocco, Mozambique, Myanmar, Nepal, Nicaragua, Pakistan, Palestine, Russia, Saudi Arabia, South Sudan, Sri Lanka, Sudan, Syria, Tanzania, Togo, Uganda, the UAE, Venezuela, Yemen, and Zimbabwe.(The names of Muslim countries are in bold).
In the list of countries that supported Chinese policies in Xinjiang, some prominent powerful Islamic countries are included. Instead of condemning and protesting against the Chinese persecution of Uyghurs, they defended China for their economic and political interests while Christian and non-Muslim countries condemned Chinese persecution of Uyghurs and its overall policy against the ethnic minorities in Xinjiang.
This points to a very disturbing attitude of Islamic countries on the issue of Uyghurs. It is only the non-Muslim and Christian countries and societies that have spoken in favour of the Uyghur Muslims while the Islamic countries and Islamic organisations have chosen to remain silent for political reasons.
URL:
New Age Islam
,
Islam Online
,
Islamic Website
,
African Muslim News
,
Arab World News
,
South Asia News
,
Indian Muslim News
,
World Muslim News
,
Women in Islam
,
Islamic Feminism
,
Arab Women
,
Women In Arab
,
Islamophobia in America
,
Muslim Women in West
,
Islam Women and Feminism