By Sudhamahi Regunathan
Rabia Basri was a trailblazer in her time; she had no hesitation in declaring her intense love for the Divine, writes Sudhamahi Regunathan
Stories of remarkable women include those who demonstrate the courage to stand by their faith despite all odds. Rabia of Basra for instance was among the first ever Sufis. It is said that once, some men of learning and piety came to her and said, "The Most High has crowned His chosen saints with the gift of performing miracles, but such privileges have never been granted to a woman. How didst thou attain to such a high degree?"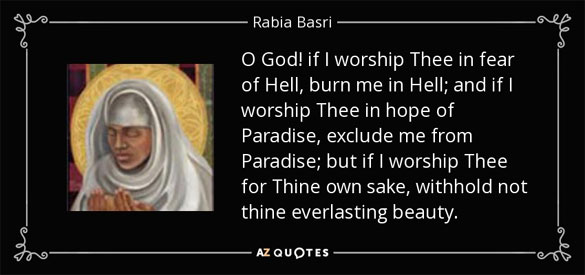 "What you say is true," she answered, "you see, women have never been so infatuated with themselves as men, nor have they ever claimed divinity. Perhaps that's why they are not as visible as you are."
Divine love
This spirited woman, Rabia al-Adawiyya al-Qaysiyya, who is believed to have lived in the early 8th century made significant contributions to Sufism. She introduced the concept of Divine Love. She taught that even repentance is a gift of God, so one need not worry if it would be accepted by Him. She said it is not fear of Hell or punishment that should egg you on to prayer, but love for Him.
I carry a torch in one hand and a bucket of water in the other:
With these things I am going to set fire to Heaven
And put out the flames of Hell
So that voyagers to God can rip off veils
And see the real goal.
The story of Rabia's life is set in difficult times when a famine ravaged Basra. The already poor family was now destroyed and Rabia was sold as a slave and that too, to a hard task master. As night fell and her bones ached, she would sit down to pray.
Servant of god
One night, when her master woke up for some more chores to be done, he saw her praying and everything about her glowed with the presence of the Divine, or so it seemed to him. He immediately realised he was working a very devoted servant of God. He set her free so that she could go in search of the solitude she needed to concentrate on her prayers.
There are many anecdotes about Rabia and the essence of all of them is her acceptance of life as it was. She believed in poverty and self-denial. A follower once made a house for her and offered it to her. She, liked the house, but a moment later said she would not stay there lest she forget her devotion to God in that comfort. Many of her followers sought to alleviate her poverty but she firmly refused, gently asking them if they thought the Lord's memory was something that needed to be invoked.
"Will He forget the poor because of their poverty or remember the rich because of their riches? Since He knows my state, what have I to remind Him of? What He wills, we should also will."
This is not tame resignation but an attitude powered by faith; her acceptance was an act of courage.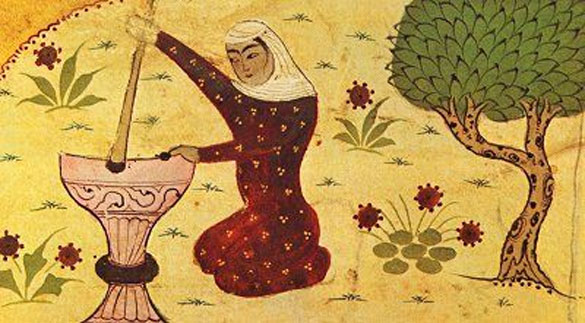 Depiction of Rabi'a grinding grain from a Persian dictionary
-----
Once Rabia had been fasting for seven days and nights and finally when someone brought food for her, a cat upset the bowl of food and it spilt over. Then Rabia, it is said, decided to break her fast with water, when the lamp went out and her jug of water fell from her hands and broke to pieces. Rabia is said to have lamented and asked God what the reason was in His doing so.
Then she is said to have heard a voice that said:
"... O Rabia you have a desire and I have a desire, I cannot combine my desire and your desire in one heart."
She described this in verse later:
I am fully qualified to work as a doorkeeper, and for this reason:
What is inside me, I don't let out:
What is outside me, I don't let in.
If someone comes in, he goes right out again.
He has nothing to do with me at all.
Love for god
Many men tried in vain to enter the heart of this brave woman who stayed single at a time when a woman was seen as someone meant to procreate. She taught love to the exclusion of hatred; when someone asked her if she hated Satan because she loved God so much, she replied, "Where is the space in my heart to hate Satan! It is so full of my love for the Lord." Again, she expressed this in verse:
O my Lord, the stars glitter and the eyes of men are closed.
Kings have locked their doors and each lover is alone with his love.
Here, I am alone with you.
sudhamahi@gmail.com
Source: Times of India
URL: https://newageislam.com/islam-spiritualism/rabia-basri-her-divine-love/d/3743