By Shyam Balasubramanian
Sep 19, 2016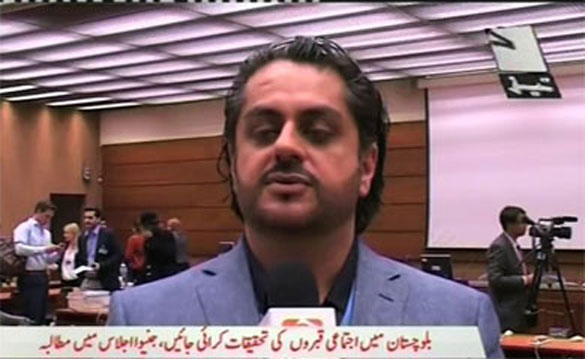 Mehran Marri, a Permanent Representative of Balochistan at the United Nations Human Rights Council
--------
A prominent Baloch activist has attacked Pakistan and China, hitting them where it hurts most - the China-Pakistan Economic Corridor (CPEC). Mehran Marri, a Permanent Representative of Balochistan at the United Nations Human Rights Council (UNHRC), urged the international community to object to the already-troubled CPEC project, a cornerstone of the China-Pakistan relationship.
"China and Pakistan have no legal right to construct any project on Baloch soil. Any construction there is illegal," Marri told news agency ANI, after he raised the issue at the ongoing 33rd Session of the UNHRC in Geneva.
"The international community should object to the construction of this illegal project," he added.
The call that has been raised by Baloch activists for decades has now been effectively escalated, given the simultaneous diplomatic pressure on Pakistan by Baloch activists and India, which is turning up the heat on Islamabad for its continued support to cross-border terrorism.
The raising of the CPEC at an international forum is bound to create discomfort in both Beijing and Islamabad, especially for the Chinese. CPEC is part of China's ambitious idea of 'One Belt One Road' and 'Marine Silk Route'.
The CPEC cuts through the entire north-south length of Pakistan and is aimed at giving China access to the Gwadar Port that it has helped construct on the Balochistan coast. The total cost of the project was projected at $46 billion, but recent reports in Chinese state-run media have hinted concern in Beijing at the "increasing cost of security" and "potential setbacks".
For Pakistan, CPEC is critical. Islamabad looks at the project as a potential to galvanize its sagging economy.
The renewed push by Baloch activists at various international forums comes after Prime Minister Narendra Modi raised human rights violations in Balochistan during his Independence Day speech.
India had also recently taken aim at the CPEC, saying it runs through Pakistan-occupied Kashmir, which belongs to India and has been illegally occupied by Pakistan.
Source: timesofindia.indiatimes.com/world/pakistan/CPEC-is-an-illegal-project-Baloch-activist-tells-United-Nations-Human-Rights-Council/articleshow/54415050.cms
URL: https://www.newageislam.com/islam-and-sectarianism/shyam-balasubramanian/china-pakistan-economic-corridor-is-an-illegal-project,-baloch-activist-tells-unhrc/d/108613