By Mani Khawaja
August 23 08 12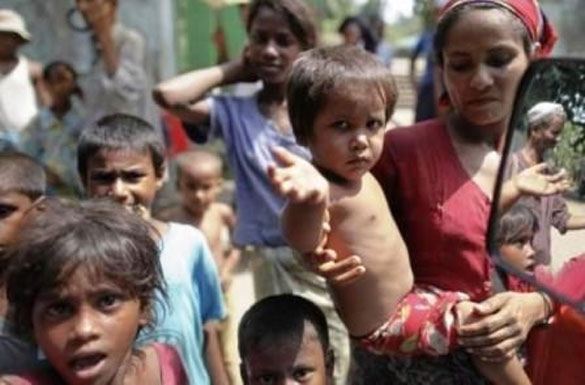 Whilst the Burmese's treatment of the Rohingya is indeed appalling and deserves condemnation, our minorities are living in their very own Burma right here in Pakistan. PHOTO: REUTERS
-------------
As the rest of the country goes about its way, having just celebrated another joyous Eid, spare a thought for a little girl with special needs, languishing in a juvenile jail.
She is probably all alone, and scared. With her condition, she very well might not even know the reason she is in there.
But ask her neighbours, some who are frothing at the teeth to have a go at her, and they will tell you that she deserves to die.
Riftah Masih, an 11-year-old Pakistani girl of the Christian faith, who reportedly suffers from Down-Syndrome, was arrested on allegations that she had desecrated the Holy Quran.
The girl and her mother were severely beaten by an enraged mob that had converged outside their house, while the rest of her family managed to flee. If the police had not intervened, there is no telling what else could have happened.
The evidence against her is scant. The police have reportedly said that while a bag containing several religious documents, some even in Arabic, was found in her possession, there was no Quran.
This revelation, added to the fact that the girl is a minor and perhaps mentally disabled as well, has made no difference to her attackers.
There have been reports that Christian houses in the neighbourhood have been burnt down, prompting the residents to flee the area. But what makes this whole ordeal even more worrisome, is that even if the girl is cleared of all charges and released from prison, there is little chance of her living her life in peace.
Already, an FIR has been registered against a cleric and 175 others who had reportedly approached the police to hand over the girl so that they could burn her alive. The fact that such a thing could even be thought of in any civilised country is truly mind boggling.
But that is the life of an oppressed minority in Pakistan, or so it seems.
It is shameful to say that in a country that was actually founded on the basis of giving a minority population the freedom to practice their religion and live their lives in peace, the people are now guilty of the very same practices that they sought to escape.
How is it that in a country where we supposedly have all the requisite systems in place, such as elected representatives, an independent judiciary, a burgeoning police force and free media that people can still so easily think about taking matters into their own hands without any fear of being held responsible for their actions?
Ironically enough, it is those people who speak up and shed light on such grave injustices who have to brace themselves for the repercussions that follow. What highlights the hypocrisy of our society even more is the way that our nation expresses outrage at the actions of other countries whilst turning a blind eye towards the plight of the downtrodden in our own.
If our people displayed the same fervour and indignation about the mistreatment of minorities in Pakistan as they did about Burma's treatment of its Rohingya population, perhaps things might not be as bad.
Whilst the Burmese's treatment of the Rohingya is indeed appalling and deserves condemnation, our minorities are living in their very own Burma right here in Pakistan.
There has been a shortfall in two major areas that has led to this situation.
The first is a lack of education and understanding. Our people need to be educated about the reasons behind why Pakistan was created, and the sacrifices and contributions that the minorities have made. They need to be educated about the concept of basic human rights – something which is afforded to all not only by our constitution but also by the very same religion that they profess to follow. They need to understand that minorities are our equals and not inferior in any way. The only way to a successful and developed Pakistan is the peaceful and harmonious coexistence of all pillars of our society.
The second is the toothless and inefficient government response to such incidents of fanaticism and discrimination. How can an 11-year-old girl feel safe, when a prominent member of the ruling party was shot dead and his murderer bestowed with garlands, whilst the government wrung its hands?
Until the government doesn't crack down hard on perpetrators of such heinous crimes and their supporters, things will never get any better. People like these should be made an example of, and the law should reign supreme, so that in the future, such people refrain from taking matters into their own hands.
And until that happens, I'm afraid no one is safe – least of all the minorities.
Source: http://blogs.tribune.com.pk/story/13547/blasphemy-and-minority-plight-pakistan-is-no-different-from-burma/
URL: https://www.newageislam.com/islam-and-sectarianism/mani-khawaja/pakistan-is-no-different-from-burma/d/8387