By Benedict Rogers
August 7, 2013
According to its guiding political philosophy, Pancasila, Indonesia is a land of religious tolerance. The country's six recognized religions–Islam, Catholicism, Protestantism, Buddhism and Hinduism–supposedly enjoy equal protection under the law and equal right of worship in the Muslim-majority nation. Pancasila is Indonesia's official ideology: Children nationwide have been taught to believe it since the country's independence in 1945. Pancasila is also a myth.
Although Islam has never been the state religion, radical Islamism is not a recent phenomenon. Indonesia's independence year of 1945 saw the near-passage of the Jakarta Charter, which would have established an Islamic state with Sharia law. It was only through the improvisations of Indonesia's founding President, Sukarno that Pancasila prevailed. Over the past decade, however, radical Islamist voices have grown louder and more aggressive, and as a result they have gained influence over policy makers.
The number of attacks on religious freedom is growing year on year. These include violent attacks on religious minorities, imprisonment of religious leaders, and the closure of Christian churches and of mosques belonging to the minority Ahmadi sect. The Setara Institute, which publishes annual reports on religious freedom, documented 264 violations in 2012, up from 244 in 2011, 216 in 2010 and 200 in 2009.
Apologists paint these events as isolated incidents, largely confined to conservative areas such as West Java and Aceh where Sharia law has been introduced. The ugly truth, however, is that intolerance has spread nationwide. In West Java, East Java, North Sumatra, West Sumatra, South Sulawesi and Lombok, I hear stories of violence and hatred—not one-off incidents, but patterns of intolerance.
In Bekasi, just outside Jakarta, I meet the imam of the Ahmadi mosque. His mosque has been forcibly sealed, but he has chosen to stay inside to prevent the authorities and extremist thugs from taking it over. He tells me: "We want the international community to know what has happened here. We have tried to negotiate with the local government, we have tried to obey the government, but we are asking for solidarity because what is happening here is illegal."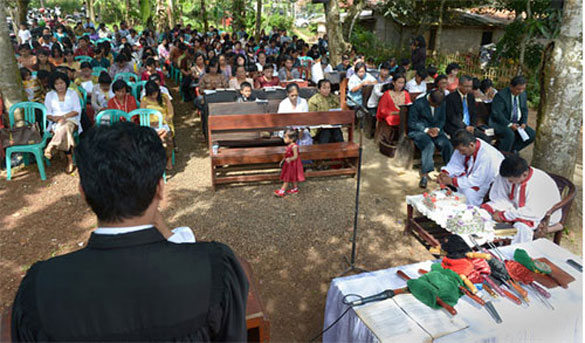 Indonesian Christians worship in the ruins of their church.

Agence France-Presse/Getty Images

------

I go from Bekasi to Tasikmalaya, where the Ahmadi have come under attack in the middle of the night. One Ahmadi man says: "Let the outside world know that we are not safe in our own homes any longer. It is not free anymore for us to believe what we want, to live a normal life, because there is always someone who wants to force us not to believe what we want to believe." A woman adds: "I do not feel safe. I just need one thing: to feel safe."

The voice of the Ahmadi in Indonesia is also the voice of the Shia and the Christian. I visit internally displaced Shias and bulldozed or closed churches. I also meet adherents of indigenous traditional beliefs, who are forced in school to follow one of the six recognized religions and cannot state their traditional religion on their identity cards.

I visit Alexander Aan, an atheist in jailed for his beliefs in Sijungjung, a remote town in West Sumatra. He hands me a note written in pencil which he asks me to smuggle out and publish. "May everything [be] in goodness and happiness," it begins. "I love all. I cannot accept doctrine which separates some people from others. Let's live together in love, fight in love, without violence, but with love and brains."

There are voices of moderation within the Indonesian government who are appalled at the direction the country has taken. But President Susilo Bambang Yudhoyono's administration has done nothing to fight the recent wave of intolerance—and in fact has made the situation worse.

Since he became president, Mr. Yudhoyono has introduced several laws that violate religious freedom. These include the 2006 joint ministerial decrees on construction of houses of worship and a 2008 decree banning the spread of Ahmadiyah Muslim teachings. Together these laws have been used to shut down Ahmadi mosques and Christian churches.

Church leaders have attempted to fight these closings by seeking legal redress. Their cases against crusading local mayors have been rock-solid. The churches ought to be protected under Pancasila, after all, and their leaders hold all the proper operating licenses.

In the two most high-profile cases, those of GKI Yasmin church in Bogor and HKBP Filadelfia in Bekasi, the courts have ruled for the churches at every level, all the way up to Indonesia's Supreme Court. Yet the local mayors continue to bar the churches from opening.

In May, while Shias and Ahmadis were being displaced, Christian churches destroyed and non-Sunni Muslims jailed, Mr. Yudhoyono received an award for religious freedom from a the Appeal of Conscience Foundation in New York. This dubious honor illustrates how most outsiders remain ignorant of the Indonesian government's complicity with extremists.

The challenge for Indonesia's next President in 2014 will be to rein in Indonesia's Islamists and defend its supposed pluralism. Vulnerable religious communities must be protected, unjust laws must be repealed, and perpetrators of violence and hatred must be brought to justice. The international community must hold Jakarta accountable for this change.

The stakes are too high for the myth of Pancasila to remain just that. The world looks to Indonesia to become the Muslim-world model for pluralist democracy it has long promised to be.

Mr. Rogers is East Asia team leader at the international human rights organization Christian Solidarity Worldwide, based in London.

Source: http://online.wsj.com/article/SB10001424127887324522504578653630796700580.html

URL: http://www.newageislam.com/islam-and-sectarianism/benedict-rogers/indonesia's-religious-repression/d/12942