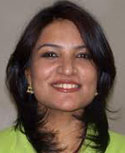 By Tazeen Javed
30 May 2014
Following the announcement and a TV report that Veena Malik wishes to join politics in Pakistan, some of us wondered what route she would take and what political party she would care to join. We had her pondering over her options in an interview published last week in this magazine. I, for one, wanted Veena Malik to get what she wanted and wished that people would forget about her past transgressions like they have done for other male politicians of Pakistan such as Imran Khan, Sheikh Rasheed, Faisal Saleh Hayat, Maulana Sami-ul-Haq (he even earned the not so respectable moniker of Maulana Sandwich because of his shenanigans) and Yousuf Raza Gilani to name a few.
But that was a few weeks ago, things changed drastically following the hunt against Geo after the attack on Hamid Mir and the all-out campaign invoking the blasphemy law against their morning show team for airing a particular song/Quawwali during the channel's live morning transmissions. Veena Malik, her husband Asad Khattak and the host of the show had to leave the country as they were facing threats to their lives for partaking in the supposed blasphemy.
One of the most fascinating and horrifying aspects of this whole fiasco was how social media was used to incite hatred and to ridicule all the people involved in this incident. Not only did pages managed by hate groups fan the flames but regular folks like bankers, students, housewives who apparently used to hang on to every word the morning show host used to say, joined in the vicious attack. It looked as if it was a race to the bottom among all Pakistanis and everyone needed to out-ridicule and out-insult these people on the social media. One cursory look on twitter and Facebook and so many images pop up where Hamid Mir's face is photoshopped on the body of a Hindu priest or Shaista Wahidi is called 'Nangay liberal' for wearing a Burqa while fleeing the country. My personal favourite is one of a visiting card with logos of CIA, RAW and Mossad, Hamid Mir's face and the word 'Agent' in bold print. Talk about being subtle – or NOT.
The majority of those commenting were probably women who were the most avid consumers of Shaista Wahidi's morning show
One of the most recurring sentiment among the people commenting on Facebook was that they were all glad that Veena and Shaista had to flee the country and how Pakistan is so much better off now that these two women are not here and are not spreading their brand of 'Behayaee' and 'Beghairati'. What's most tragic was the fact that majority of those commenting were women who were probably the most avid consumers of Shaista Wahidi's morning show and Veena Malik's performances in Hum Sab Umeed se Hain and Big Boss.
All citizens, no matter how amazing or terrible their citizenship experiences have a very personal relationship with their country. Being told that you are not welcome in your own country because a powerful group perceives you to be anti-state or anti-religion or they just hate you because you want to practice what you believe in is cruel and should be a punishable crime because it is out rightly discriminatory. Unfortunately, everyone is so busy in outshouting the other in condemnation of those who are different or belong to a minority that it has become a valid social activity to collectively revile them at leisure.
Incitement of hatred against a person or a group of people is not something new in Pakistan. If anything, we have developed it as an art form. In the sixties, the hatred was focused against Bengalis, in the seventies, it was against the government of Balochistan and the Ahmadis (they were declared non Muslims in the constitution in 1974), in the nineties, MQM a Karachi-based political party was targeted and military operations against the party claimed many civilian lives who had nothing to do with party politics. In the present day Pakistan, hate speech against Ahmadis and Shias is not only the norm, it actually has gained currency among supposedly non violent Muslims. Seemingly progressive people balk at the idea of interacting with an Ahmadi, making friends with one is almost unimaginable.
In a post 9/11 world, hatred against anything that is perceived to be against mainstream Islam has gained immense popularity in Pakistan. In a race to prove oneself holier than the other religious sect or group, every Muslim is out for the blood of those who do not subscribe to what they consider is the right way of practicing religion. Honour killings citing Hudood as an excuse, random killings citing Blasphemy law as the reason have become so common that people do not even question them. In the land of the pure, a heinous crime like murder gets the makeover of avenging the honour of the family or the honour of the Prophet, the murderer gets garlanded and the victim does not get justice and everyone believes this is how things are supposed to be and there is nothing wrong with the society where murder gets social and legal sanction in the name of religion.
Take the example of two recent murders in Punjab. Rashid Rehman, the human rights activist and lawyer was gunned down in his office for representing a young man Junaid Hafeez in court who was facing blasphemy charges. The opposing council along with members of the clergy had threatened Rehman repeatedly during press conferences covered by the media but following his murder, not a single one of those people were apprehended by the police. Chances are that the officer investigating that case will now be threatened by the same group. If he is smart and values his life, he probably will look the other way and life will just go on for everyone except Rashid Rehman's family and Junaid Hafeez who in all likelihood will not get a lawyer again.
This murder was followed by a fatwa. This time, the fatwa was against a hospital Tahir Medical Center. Yes, we have progressed (read regressed) to the point that we are now issuing Fatwas against buildings, institutions and other inanimate objects. The reason behind the fatwa was that the hospital was run by an Ahmadi charity. As the fatwa also declared any interaction with a 'Qadiani' Haraam, getting free or paid treatment at the hospital was probably a Gunah-e-Kabira. Earlier this week, a heart surgeon flew in from Ohio for a week to conduct free surgeries in that hospital. The problem was that man donating his time and services was an Ahmadi. The fatwa-issuing body probably thought that their target audience may be lured to the said medical centre because there was an American surgeon performing free surgeries so they decided to take that threat away. Dr Ali Mahdi Qamar was shot dead on his second day in Pakistan. People would obviously stay away from that hospital, Islam was saved and some people called dibs on a corner plot in Jannat.
The day is not far when Ahmadis would be required to wear a sign on their bodies like Jews did in Nazi Germany and the people would rejoice in that. What would happen when other groups would be subjected to this kind of criminal discrimination but there would be no one to question the tyranny of conformity?
Source: http://www.thefridaytimes.com/tft/the-republic-of-hate/#sthash.eEETHCBA.dpuf
URL: http://www.newageislam.com/islam-and-politics/tazeen-javed/pakistan--the-republic-of-hate/d/87268