By Robert Fisk
14 July, 2014
ONCE, we used to keep clippings, a wad of newspaper cuttings on whatever we were writing about: Israel, Lebanon, Iran, and Gaza. Occasionally, we even read books. Maybe it's because of the internet, but in most of our reports, it seems that history only started yesterday, or last week.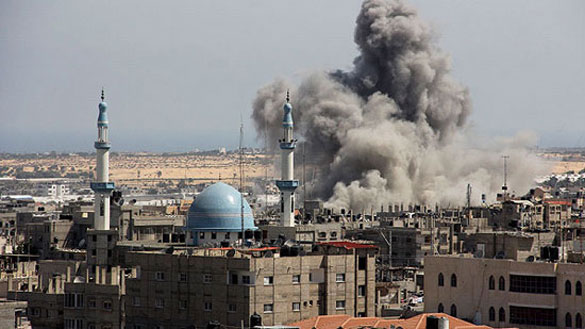 In this file photo taken July 9, 2014, an Israeli missile hits an area in Rafah, southern Gaza Strip. — Photo by AP
-------
For snobs, it's called the loss of institutional memory. We journos seem to suffer from it more than most. Our readers, I suspect, do not. So here we go...
"Israel has ignored mounting international calls for a ceasefire and said it will not stop its crippling assault on Gaza until 'peace and tranquillity' are achieved in southern Israeli towns in the line of Palestinian rocket fire...
Arab delegates have met with the United Nations Security Council in New York, urging members to adopt a resolution calling for an immediate end to the Israeli attacks and a permanent ceasefire." This is from a Press Association report.
Now here's an editorial from the right-wing Canadian National Post: "We [sic] have a great deal of sympathy for the ordinary people of Gaza. Israel's attacks this week on the terrorist infrastructure within the tiny, heavily populated area are undoubtedly extremely hard on them... as Hamas officials and operatives use them as human shields. But remember: all that was ever required to forestall these attacks was for Palestinians to stop their violence against Israelis."
And here's The Guardian: "Yesterday, as three of his children were laid out dead on the hospital floor, Samouni was in a bed upstairs in the Shifa hospital, recovering from wounds to his legs and shoulder and comforting his son, Mohamed, five, who had suffered a broken arm... 'It's a massacre,' Samouni said. 'We just want to live in peace.'"
And, just for good measure, here's Reuters: "Israel expanded yesterday its fiercest air offensive in the Hamas-ruled Gaza Strip in decades and prepared for a possible ground assault, after a three-day bombardment that has killed 300 Palestinians... The [Israeli] planes also attacked the homes of two top commanders in Hamas's' armed wing. They were not there, but several family members were among the seven dead."
And last but not least, here's writer Robert Fulford in the Canadian Post: "Israel has already proven itself the most restrained nation in history. It has set an all-time record for restraint." Now of course you are familiar with everything you've just read above. Since last week, Israel has been bombarding Gaza to prevent Hamas rockets hitting Israel. Palestinians suffer disproportionately, but it's all Hamas's fault.
But there's a problem. The Press Association report was published on Jan 6, 2009 — five and a half years ago! The Post editorial was printed on Jan 2 the same year. The Guardian dispatch was on Jan 6, 2009, Reuters on Dec 30 of the previous year. Fulford's nonsense was published on Jan 5, 2009.
Oddly, however, no one reminds us that today's carnage is an obscene replay — by both sides — of what has happened before, and indeed before that. The leftist Israeli historian Illan Pappe has recorded how on Dec 28, 2006, the Israeli human rights organisation B'Tselem reported that 660 Palestinians had been killed in that year alone, most in Gaza, including 141 children; and that since 2000, Israeli forces had killed almost 4,000 Palestinians with 20,000 wounded. But scarcely has there been a single mention of all of this in a single report on the latest slaughter in the Gaza war.
Why? Why do we as readers — let alone us journos — allow ourselves to participate in what I can only call a collective memory-wipe? Because we are lazy? Because we don't care? Or because we fear that explanations for the recurring bloodletting in Israel might lead readers to search for deeper reasons and that Israel's "friends" abroad might accuse us poor harmless journos of suggesting that Israel — let alone the corrupt Hamas — is engaged in a far more pitiless, infinitely more wicked and obscene war than our bland agency-style reportage suggests?
There's nothing new about memory-wipe. Take this warning of civil war in Lebanon, published in The Independent, no less: "For Lebanon, these are tense times... Since the Alawite community which dominates political power in Syria is in effect Shia and the majority of Syrians are Sunni, it is not difficult to understand the darker nightmares which afflict the people of this region.
If the civil conflict in Iraq were to move west, it could open up religious fault lines from Baghdad to Lebanon... an awesome prospect for the entire Arab world."
Alas, this was written by one R Fisk, published on July 7, 2006 - almost exactly eight years ago.
But just to finish off, here's a Reuters report from Mosul that will sound all too familiar to readers these past few weeks: "Insurgents have set police stations ablaze, stolen weapons and brazenly roamed the streets of Mosul as Iraq's third largest city appeared to be sliding out of control..." A little problem, of course. This Reuters dispatch was filed in 2004 - 10 years ago! On that occasion, it was the US military, not the Iraqi army, which had to recapture Mosul from the rebels (for the second time, by the way).
I'm afraid it's about context, this memory-wipe. It's about the way that armies and governments want us to believe — or forget — what they are doing, it's about ahistorical coverage, and it's about — and here I quote the wonderful Israeli journalist Amira Haas — "monitoring the centres of power".
The question we should be asking — a question many readers and viewers of television have been asking — is: haven't we been here before? And if so, why the repeat performance?
Source: http://www.dawn.com/news/1119033/history-cruelly-repeats-itself-in-the-middle-east
URL: https://www.newageislam.com/islam-and-politics/robert-fisk/history-cruelly-repeats-itself-in-the-middle-east/d/98145