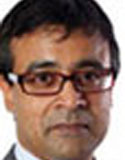 By Praveen Swami
Jul 9, 2013
Leaked to al-Jazeera yesterday, the findings of Pakistan's Commission of Inquiry into the raid which killed Osama will occupy journalists and historians for years. There are some important insights into the way Pakistan functions, though, that haven't got much attention. Here are four
The Inter-Services Intelligence directorate chief, General Shuja Pasha thinks Pakistan is a failing state.
"The DG [director-general] said the reality for Pakistan was not defined by the might of the United States. It was defined by the fact that "we are a very weak state and also a very scared state". "We will take anything and not respond. It all boils down to corrupt and low-grade governance".
The Commission was "faced with not so much a problem of specific individual or institutional failure, but with a problem of collective and system failure". There was "apathy at every level; in every sector of national life". Pakistani society was "deeply penetrated". The media was "practically bought up" and nearly "every one of our elites was purchasable". A US intelligence officer had the gall to say, "You are so cheap… we can buy you with a visa, with a visit to the US, even with a dinner… we can buy anyone". Accordingly, "we are failing state, even if we are not yet a failed state".
The ISI chief confirmed that United States drone attacks are taking place with Pakistan's consent
"… the Shamsi airbase, which was given to the Americans [after 9/11] "for facilitation purposes only" had been "developed to a functional level and was used for Predator [drone] strikes against people in Pakistan". Both "the political and military elite were responsible for this lapse". There was never any trust between the two intelligence organisations, i.e., the ISI and the CIA. There was only an understanding due to overlapping interests…. Regarding any understanding between the United States and Pakistan on the American drone attacks, the DG [director-general] said there were no written agreements. There was a political understanding.
The Americans had been asked to stop such attacks on a number of occasions as they resulted in civilian casualties. However, it was easier to say no to them in the beginning, but "now it was more difficult" to do so. Admittedly, the drone attacks had their utility, but they represented a breach of national sovereignty".
Taliban leader Mullah Muhammad Omar is not in Pakistan. Then again, he might be. Who knows?
"Regarding the possible whereabouts of Mullah Omar, [al-Qaeda chief] Ayman al-Zawahiri and the Haqqani network, the DG said that the Americans knew very well that Mullah Omar and Ayman al-Zawahiri were "not in Pakistan". Even so, they continued to press Pakistan on this account. This was part of their psychological warfare. Nevertheless, the possibility that Mullah Omar and Ayman al-Zawahiri were somewhere in Pakistan could not be entirely ruled out".
The "main agenda of the CIA was to have the ISI declared a terrorist organisation".
The ISI didn't want to get OBL, since that would have upset its Jihadi allies.
"For the ISI to suggest it stopped its own search [for OBL] showed that the US had done so showed both its naïveté and its lack of commitment to eradicating organised extremism, ignorance and violence which is the single biggest threat to Pakistan. The Commission cannot escape the conclusion [that] while the ISI simply took over the search for OBL after the US conquest and occupation of Afghanistan and, later, the investigation of May 2, 2011, it completely failed to track down OBL. There was no real search for OBL, allowing its foreign and domestic critics to allege that its operatives were too close to their assets in the field, who would never tolerate a betrayal of OBL, who for them was an even bigger symbol of heroic resistance to the corrupt West than al-Qaeda itself. The pretence that the ISI leadership was in command was exposed by the fact that they dared not offend their most zealous operatives"
"Even after May 2, the ISI failed to reveal much about the details of OBL's network of support, beyond the two dead Pakistani security guards cum couriers Ibrahim and Abrar, the [earlier] OBL residence in Haripur, and the testimonies of the wives of OBL and the wife of Ibrahim. It has not even located the residences in Quetta, Peshawar, WANA, Swat, Karachi, etc., where OBL and/or his family stayed during their long sojourn in Pakistan"
Finally, some insights into the secret, strangely Gandhi family—like private life of OBL.
OBL was a Spartan dresser, but he did own a cowboy hat": "Before coming to Abbottabad, he had just three pairs of Shalwar-Kameez for summer and three pairs for winter. In addition, he had a black jacket and two sweaters…. When OBL moved about the Compound, he wore a cowboy hat to detect to escape detection from above"
Though OBL's two older wives had post-graduate degrees, they seemed to think the men in TV programmes could see them: Maryam [the widow of OBL's bodyguard] said the Purdah observed by the OBL women was so strict that as soon as their girls reached the age of three, they began to observe it. The ladies of the house would go the extent of observing Purdah from men shown on TV.
No, the OBL kids didn't get anywhere near a PlayStation: "The children of the OBL family lived extremely regimented and secluded lives. OBL personally saw to the religious education of his grandchildren and supervised their play time which included cultivating vegetable plots with simple prizes for best performance"
OBL's widows say the Marines stole their stuff: "Of their belongings, they could find nothing except two or three gold 'biscuits' of ten Tolas each. The Americans had taken away a jewel box with twenty gold biscuits and two gold lockets with emeralds.
OBL wouldn't have got along with Sonia Gandhi: "They [the Marines] also took a purse which contained the will of Osama Bin Laden. Khairiyyah had previously read the will, but did not want to divulge the details. She said it was not political and pertained only to personal and family matters. Other reports suggested that the will said his family should not seek the leadership of al-Qaeda".
Source: http://www.firstpost.com/world/what-we-learn-about-pakistan-from-leaked-osama-bin-laden-report-941871.html
URL: http://www.newageislam.com/islam-and-politics/praveen-swami/what-we-learn-about-pakistan-from-leaked-osama-bin-laden-report/d/12582