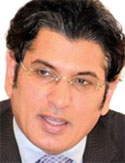 By Mohammed Fahad al-Harthi
21 January 2014
We are facing a shameful reality in the Arab world today. We are reaping what we have sowed with political splits, division of states, and threats against the concept of the state. This is a destructive, not creative chaos.
The religious conflict is the worst of all. It is being employed in a political manner that will mean decades of war and see many generations destroyed. Sectarian strife and religious extremism are the main obstacles for any society's development and progress.
Some in the Arab world placed their bets on the Arab Spring. However, this created bad conditions in the region including failing education systems and skeletal governments that have made past advancements seem non-existent.
What future does this region have if its people live in the past and discuss issues framed by yesterday's ideas?
We are standing still as those around us move forward by forming major strategic alliances, redrawing geopolitical lines and setting up powerful economic blocs.
International Models
We may think that the European Union is the prime example of economic unity, but we forget that significant connections exist between other large markets that are pushing others to the margins. The EU nations are also making advances with negotiations to create the world's largest free trade zone accessible to 800 million people.
The wise leaders of several nations have come to understand the concept of mutually beneficial trade ties. The five fast developing countries of Brazil, Russia, India, China and South Africa have united to become a new, powerful alliance. These countries also have 40 percent of the world's population and by 2050 will become some of the largest economies in the world.
All these international alliances provide economic and political benefits for their members. There is a great deal of political pragmatism at play, with leaders sacrificing their nations' individual aspirations and freedoms for the collective economic benefit of all.
Arab League's Empty Initiatives
In sharp contrast to these new developments, the vision of the much older Arab League has never been implemented, including the much vaunted United Arab Market and the unified taxation system.
This shows the Arab League's failure to organize effectively. It has based many of its projects on emotional and not strategic imperatives. A case in point is the Arab Maghreb Union project, which exists in name only.
Then there is the Arab Cooperation Council involving Jordan, Iraq, Northern Yemen and Egypt, formed on suspicious grounds and exposing itself for being a project stuck in the politics of its time. It took certain important and serious decisions in one session that dismissed people of the region as mere numbers.
After various wars, crises and destruction, the region is discovering that there is a long road ahead. The world believed that if dictatorships fell the door would open for a new democratic Arab region, but these were exaggerated dreams. Democracy is not only about the ballot box but developing a culture of participation, building civil society institutions and respecting human rights.
In comparison to many countries in the Arab world, less developed states elsewhere that had been torn apart by internal wars, conflict, corruption and disputes, were able to reorganize and take their place in the international arena.
Running In Circles
The rise of Mexico, Indonesia, Nigeria and Turkey (MINT) is expected to be announced this year. With a total population exceeding 600 million people, these countries have achieved high economic growth rates.
The income per capita in Turkey, for example, has tripled since 2000. It is expected that, this year, these countries will be among the world's economic leaders.
The world around us is moving forward while we are running in circles, discussing the same issues in the same terms. Growth rates are declining. The Arab citizen either has to struggle to provide a living for his family or risk his life in a boat to migrate. The ambition of the Arab youth is to secure a visa to a foreign country.
The Arab problem is not about resources or population, but how to ensure that the interests of the people are placed above that of regimes. We need political will to create this change.
Nations that prioritize education and teach their young people to be open-minded, believe in dialogue and respect pluralism, reap the benefits of significant development on all levels. Nations that are placing their economies before politics, and using politics to benefit their economies, are the ones succeeding.
Yes, options are available, but people should be prepared to bear the burden and responsibility of making life changing decisions.
Mohammed Fahad al-Harthi is currently the editor-in-chief of Arab News and Sayidaty. A prominent journalist who worked with Asharq Al-Awsat in London and Arab News in KSA, al-Harthi later moved on to establish al-Eqtisadiah newspaper in KSA, in which he rose to the position of editorial manager. He was appointed editor-in-chief for Arajol magazine in 1997. He won the Gulf Excellence award in 1992.
Source: http://english.alarabiya.net/en/views/news/middle-east/2014/01/21/The-Arab-world-s-shameful-reality-.html
URL: http://www.newageislam.com/islam-and-politics/mohammed-fahad-al-harthi/the-arab-world's-shameful-reality/d/35387