By Manimugdha S Sharma
Dec 21, 2020
The stinging criticism of the authorities by city courts while acquitting foreigners accused in the Tablighi Jamaat case has brought new hope for scores of others who have quietly suffered both the pandemic and the ignominy. But people associated with Alami Markaz Banglewali Masjid — where the gathering had happened in March — are seeing it as an "incomplete victory".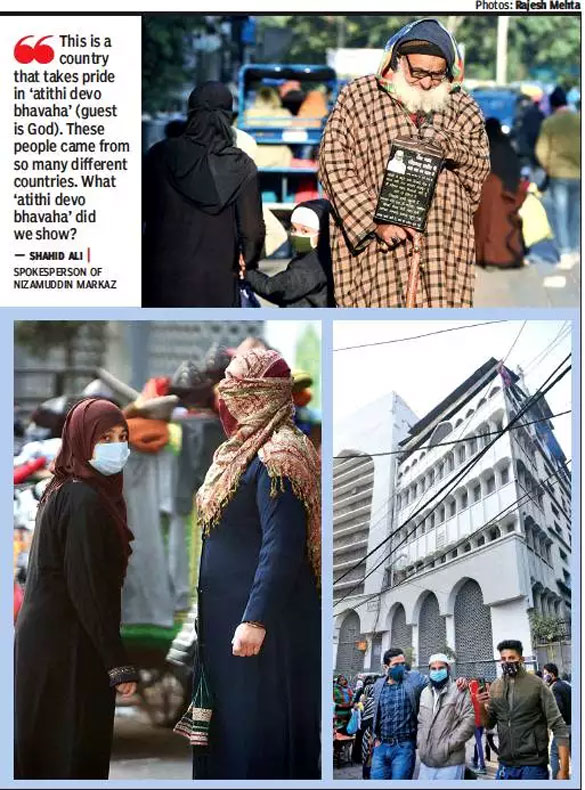 A Muslim people standing near Tablighi Jamaat at Nizamuddin in Delhi on Thursday
------
"Yes, we are happy about the verdict, but this happiness is incomplete without the guilty being punished. We want action against chief minister Arvind Kejriwal as it was his government that first filed an FIR and opened the door for all this negativity," said Shahid Ali, spokesperson of Nizamuddin Markaz. He also demanded strict action against certain sections of the electronic media that had run a smear campaign against Tablighi Jamaat, insinuating that it had indulged in some sort of a "Corona Jihad".
Calling it a blot on India's pluralistic ethos, Ali said that the country's name had been besmirched. "This is a country that takes pride in 'Atithi Devo Bhavaha' (guest is god). These people came from so many different countries. What 'Atithi Devo Bhavaha' did we show?" he asked.
Author Ziya Us Salam wrote in his recent book, 'Inside the Tablighi Jamaat', that since its inception, this was really the first time that the Jamaat had landed in trouble. "For almost 100 years, Tablighi Jamaat, a self-effacing apolitical body, engaged in the spiritual renewal of Muslims, had worked assiduously and quietly. Unknown to most beyond its immediate circle, it ruffled no feathers, held no marches, hosted no press conferences," Salam writes, adding that it had also escaped the Emergency unscathed when Jamaat-e-Islami Hind and Jamiat Ulama-i-Hind had not.

"When the Muslim community was stirred into action during the Shah Bano debate in 1985, the Tabligh expressed no views…Neither matters of Muslim personal law, nor masjid shook them, not even the demolition of Babri Masjid in 1992. The large-scale anti-Muslim riots in Gujarat in 2002 failed to goad the body into action…when Delhi witnessed anti-Muslim violence in February 2020…The Tabligh members…remained occupied with their respective mosques, focusing on internal cleansing to benefit the individual first and the larger Muslim ummah at a later stage," Salam writes.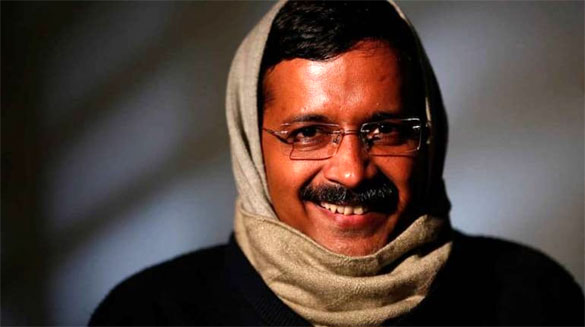 Delhi CM Arvind Kejriwal
------
Advocate Arif Ali Khan, also associated with the Tablighi Jamaat, explained this by saying that the Jamaatis have nothing to do with worldly affairs. "They live above the ground and under the sky. They prepare themselves for the afterlife because that's the real life for us Muslims. They are not interested in this mortal life. They never try to convert people, never take money from people, buying their own tickets, their own food. Even the poorest Jamaatis will pay for their own expenses. And yet, they were accused of being paid agents of Pakistan. Can you imagine how hurtful that is because it's so different from the lives they lead?" said Khan who is an advocate at the Delhi high court.
Nadeem Saifi, who owns an ironworks in the capital and is from the Tabligh, was a little hesitant to speak to this correspondent. "Bohut Bura Huwa (we were wronged)" was all that he said. But his brother, who identified himself as Salim, was more vocal.
Expressing deep anger about the bad press, Salim said it didn't need a court verdict to convince him about the work of the Tabligh. "We were wronged. The entire Muslim community was made the scapegoat. The portrayal of us was so evil that common people started hating us. Is that fair? Tabligh has always confined itself to the community. They don't trouble anyone," Salim added.
Has the court verdict brought closure? "Tabligh Ka Kaam Qayamat Tak Rahega. Namaaz Ada Kiya Jayega, Deen Ka Kaam Hoga. Rukega Koi Nahin (Tabligh's work will be till Judgment Day. We will offer Namaaz and serve our faith. Nobody will stop)," Salim said.
Original Headline: Delhi: Tablighis feel vindicated, say they will stay dedicated to their work
Source: The Times of India
URL: https://www.newageislam.com/islam-and-politics/manimugdha-s-sharma/negativity-around-tablighis-a-blot-on-indias-pluralistic-ethos-delhi-cm-arvind-kejriwal-original-culprit-goaded-indias-rwandan-media-into-action/d/123829
New Age Islam
,
Islam Online
,
Islamic Website
,
African Muslim News
,
Arab World News
,
South Asia News
,
Indian Muslim News
,
World Muslim News
,
Women in Islam
,
Islamic Feminism
,
Arab Women
,
Women In Arab
,
Islamophobia in America
,
Muslim Women in West
,
Islam Women and Feminism