The Tradition Of Political Iftar Parties Was Started By Nehru
Main Points:
1. The tradition of Iftar parties has become popular in India
2. Lal Bahadur Shatri stopped the practice.
3. Indra resumed the tradition.
4. UP CM Bahuguna popularised it in Uttar Pradesh
5. Iftar Parties are disappearing.
-----
By New Age Islam Staff Writer
27 April 2022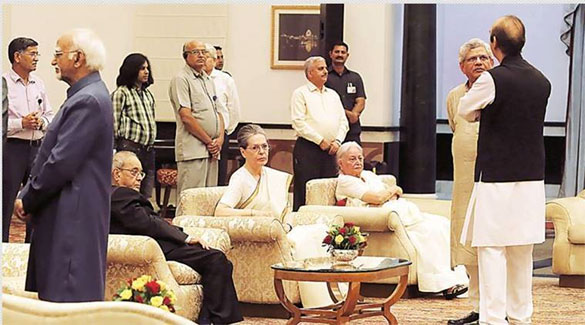 President Pranab Mukherjee, Vice-President Hamid Ansari, Congress chief Sonia Gandhi and party leader Ghulam Nabi Azad, and CPM's Sitaram Yechury at Rashtrapati Bhavan, Friday. (Express Photo: Anil Sharma)
-----
The Iftar party has become a popular cultural event in India. Almost every town and city witnesses Iftar parties during the Ramazan. Nowadays, Iftar parties are held not only by Muslims but also by non-Muslims. Since, hosting an Iftar for the fasting people is an act of virtue earning rewards from God, Muslims do it as a religious practice. Therefore, many Hindus also experience joy by hosting Iftar for fasting Muslims.
In India where Hindus and Muslims have lived together and shared their joys and sorrows for centuries, festivals have also been common cultural events. Muslims join Hindus in Holi, Diwali and Dussehra and Hindus join Muslims in Eid and Ramazan.
Therefore, when Ramazan comes, Iftar becomes a cultural event when Hindus can join Muslims and experience the joy of breaking the fasting. They also want to win the reward for hosting Iftar for a fasting Muslim.
This is the spirit that has made Iftar parties very popular in the diverse society of India. Iftar parties are organised not only by Muslim organisations but also by non-Muslims. Though Iftar is a religious practice but in India, it has taken the form of a multi-cultural event and is called an Iftar Party. For example, a Hindu youth Chandrasekhar Jaddu organised an Iftar party in a mosque for his Muslim friends. He had got married on April 24 this year but his Muslim friends could not join him in the celebrations due to fasting. Therefore, he held an Iftar party for them.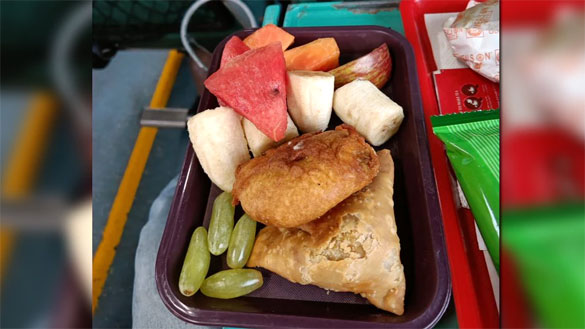 Iftar in Shatabdi Express
-----
A couple of days ago, a train passenger, Shahnawaz Akhtar boarded the Shatabdi Express from Dhanbad. He was fasting. He was surprised when the catering crew presented to him a plate of Iftar minutes before the Iftar time in the evening. Shahnawaz Akhtar was overwhelmed by this gesture of the railways and thanked them.
The famous film actress Rakhi Sawant held an Iftar party for street kids and offered them gifts.
Recently, the team of the TV show Bade Achhe Lagte Hain Part 2 organised an Iftar parry for the team.
These are some of the pictures that show that Iftar party has become an opportunity to reach out to the 'other' and strengthen the social bond between communities.
The Iftar parties are hosted by political parties and leaders as part of outreach programmes to strengthen their rapport with the community. But the tradition of political Iftar parties was started by the first Prime Minister of India Jawahar Lal Nehru. Every year he would invite his friends to the AICC office at Jantar Mantar for an Iftar. Its success inspired the chief minister of Uttar Pradesh Hemvati Nandan Bahuguna to start Iftar Parties in Lucknow.
However, Lal Bahadur Shastri during his tenure as the prime minster, stopped the tradition. It was resumed by Indira Gandhi.
Iftar Parties were also held in Rashtrapati Bhavan where leaders of all parties and prominent personalities registered their presence. But when Dr A.P.J. Abdul Kalam became the President of India he stopped the tradition of holding Iftar Parties in Rashtrapati Bhavan. It would surprise many because as a Muslim, he was expected to hold on to the tradition. But the reason was that he concealed his Muslim identity. Instead of hosting an Iftar party, he distributed the money to the poor. Later Pratibha Patil resumed the tradition. During the tenure of Pranab Mukherji also Iftar Parties were held in Rashtrapati Bhavan.
Though the new generation of the BJP does not encourage Iftar parties, Atal Bihari Bajpayee used to hold Iftar parties and invite Muslim leaders to it. One year, party president Murli Manohar Joshi too organised an Iftar party. BJP's Muslim face Syed Shahnawaz Hussain was the man behind these Iftar parties
In the current social and political atmosphere, Iftar parties are disappearing. Particularly, in UP, the tradition of political Iftar parties is on the wane. Mulayam Singh Yadav, Mayawati and Rajnath Singh used to hold Iftar parties in UP but in the changed circumstances when every Muslim practice is seen from a communal angle, Iftar parties are being ignored even by secular leaders to avoid being labelled pro-Muslim. That's why, this year neither Samajwadi Party's Akhilesh Yadav nor Bahujan Samaj Party's Mayawati have held Iftar parties.
However, Iftar parties have not lost their relevance despite the widening communal divide. In every town and city of India, Hindus still join Muslims in Iftar parties. There are many Hindus who fast during the Ramazan and they feel solidarity with Muslims and experience the same spiritual solace as Muslims do. The cultural bond between the Hindus and Muslims are so deeply rooted that they can not be broken totally.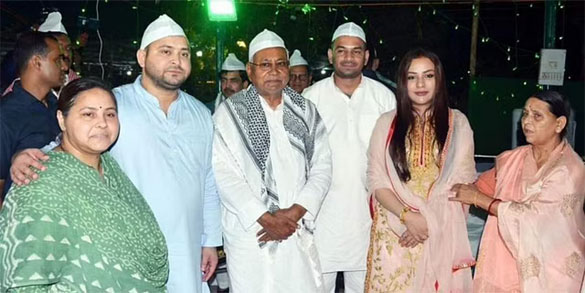 Bihar chief minister Nitish Kumar with leader of opposition Tejashwi Prasad Yadav and other members of family at an Iftar party organised by RJD in Patna. (Photo| EPS)
------
In Bihar the situation has not changed much though. Rashtriya Janata Dal's Tejaswi Yadav and Janata Dal United's Nitish Kumar organised their Iftar parties. Compelled by the political situation, deputy Chief Minister Sushil Modi of BJP also held his Iftar party.
Nitish's Iftar party even stirred a political controversy as it was seen as Nitish's tilt towards RJD
In Rajasthan, CM Ashok Gehlot hosted an Iftar party.
However, the Muslims are divided over the tradition of Iftar parties. One section says that Iftar is associated with fasting which is a religious obligation for Muslims and so it should not be corrupted by making it a political event. They argue that, for promoting cultural bonhomie, Muslims should use the festival of Eid. Eid Milan programmes can serve the same purpose.
Eid Milan programmes are also held in many places but they are not so popular as the Iftar parties. The reason is not known. Perhaps, the spiritual feeling with Iftar is deeper and the non-Muslims are more attracted towards Iftar as by joining their fasting Muslim brethren they want to feel the pain and thirst of fasting.
Another section argues that there is nothing wrong in inviting non-Muslims in Iftar as it serves the purpose of conveying the message of Islam to the non-Muslims.
In the modern multicultural milieu, Iftar parties are indeed a powerful and effective platform for cultural outreach and for strengthening the bond between communities.
URL: https://newageislam.com/islam-politics/iftar-islamic-practice-multi-cultural-/d/126879
New Age Islam, Islam Online, Islamic Website, African Muslim News, Arab World News, South Asia News, Indian Muslim News, World Muslim News, Women in Islam, Islamic Feminism, Arab Women, Women In Arab, Islamophobia in America, Muslim Women in West, Islam Women and Feminism