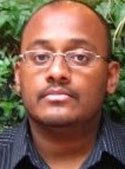 By Amarnath Amarasingam
Dec 03, 2014
Dear Tarek,
Early yesterday, a friend sent me a message linked to a Facebook post you had put up. Unsurprisingly, he attached a "lol" to it. I'm accustomed to your posts, usually calling this or that individual an Islamist or attaching the Muslim Brotherhood label to some harmless and well-meaning Muslim organization in Canada. Then there are the occasional bizarre posts -- a cell-phone photo taken in secret at a café of a woman in a Hijab who is showing "a little too much butt crack" -- followed by your meandering thoughts about her hypocritical nature. As Canada's very own fake-outrage machine, most of us ignore your statements or shake our heads at them in disgust.
This particular post, however, didn't sit right with me, and I felt I had to respond. Muhammad Robert Heft, founder of Paradise Forever, a Muslim support organization in Toronto, had posted a photo from a speaking engagement with Christianne Boudreau, the mother of Damian Clairmont, the young Muslim convert who died fighting in Syria in January 2014. The picture shows the group holding up their pointer finger for the camera with the caption, "ISIS has tried to hijack the symbol for One God but it was never theirs to begin with." Fairly harmless, right?
Not for you, Tarek. For you, it was once again a sign of nefarious activity, done secretly under our noses by the very people "claiming" to help the country. "Looks like an ISIS victory salute, right here in Toronto!" you wrote, after posting the picture for your 20,000 Facebook followers. "What is truly sad about this photo," you continue, "is the fact the mother of Canadian jihadist Damian Clairmont who was converted to Islam and then sent to the Islamic State to die, was also asked to give the ISIS salute. In this picture Christianne Boudreau is standing third from left."
"This is flat out outrageous!" one of your Facebook friends commented. "Shame on Christianne Boudreau," another writes.
Is it really shame on her, though? Is this not an utterly cheap and calculated ploy on your part? Are you honestly telling me that you don't know better than this? You have, one should remember, written two books on Islam. As someone with a large following, a radio show, and as someone who frequently appears on television, don't you think you have a responsibility to educate instead of mislead, a duty to be honest with the thousands of people you reach with your megaphone? A month or so after two attacks on the Canadian homeland, why slyly and nonsensically demonize two of the most vocal and active individuals currently working to find ways to protect our youth?
While Damian was in Syria, Christianne had been desperate for ways to get him to come home. After seeing Heft on television talking about deradicalisation, she sent him an email. He called her back within ten minutes, at 1:30 in the morning. Christianne, the same woman you are trying to protect from the dreaded "ISIS finger" is enormously indebted to someone like Heft. "Over the course of time, he made himself available to me at any time of day or night even if I just needed to talk and supported me through conversations that I would have with Damian over the phone," Christianne tells me. "At that time, I had absolutely no one to turn to or have help me. He didn't ask for one single red cent and continued assisting me and listening to me whenever I needed him. There should be more people in the world like him."
When I asked Christianne about your recent crusade (is that the right word?) against their deradicalisation initiatives, she was initially at a loss for words. But, then she found them: "Instead of finding positive solutions or assisting in any efforts, he finds it easier to put down those that do everything they can to help others. I really feel sorry for him," she says. "These kinds of outrageous slander and hurtful comments are what helps drive our children towards horrible paths. Not only that, but they separate and divide everyone as Canadians and puts them in boxes of fear."
I'm not going to lie; you've created quite a little following for yourself. And sharing a couch with the silver-haired Glenn Beck. I mean, what a dream, am I right? But, in the area of radicalization, you have said very little of substance and have contributed even less. In fact, you do a lot of damage, especially since the only "proof" you have marshalled against someone like Heft is an evil finger. By that logic, every Hindu priest donning a swastika is a Nazi supporter. Heft, just to take your most recent enemy, has done more to prevent young men from joining ISIS than you ever have, and more families call him for support when their children are becoming radicalized than will ever call you. Why do your best to work against these efforts? Maybe, just maybe, you can sit this one out?
Sincerely,
Amarnath Amarasingam
Amarnath Amarasingam is a SSHRC Postdoctoral Fellow, Dalhousie University
Source: http://www.huffingtonpost.com/amarnath-amarasingam/an-open-letter-to-tarek-f_b_6254610.html
URL: http://www.newageislam.com/islam-and-politics/amarnath-amarasingam/an-open-letter-to-tarek-fatah--can-you-sit-this-one-out?/d/100393