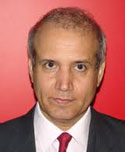 By Abdulrahman al-Rashed
1 April 2014
Muslim Brotherhood supporters and deposed President Mohammad Mursi supporters are certainly fooling themselves to think Turkey's Prime Minister Recep Tayyip Erdogan will achieve miracles for them.
When the Iranian-related scandal was exposed in Turkey, they became worried they might lose the support of the prime minister and be orphans without him. They finally breathed a sigh of relief when Erdogan's Justice and Development Party (AKP) won the local elections held on Sunday. While these elections weren't important, the victory was a psychological triumph for Erdogan and those who support him.
Losing Friends, Gaining Enemies
Erdogan has become bad tempered perhaps because, as his friends say, he has been in power for over 11 years. He's become impatient, restless and quick-tempered. He's become less capable of tolerating criticism and bolder in leading in an authoritarian manner. His rivals are not the only ones complaining about him. His party members and the closest people to him are also unhappy.
Abdullah Gul, Turkish president and Erdogan's partner at establishing the ruling part, separated himself from the prime minister's decision to block Twitter and YouTube. Despite that, Erdogan remains the party leader and it is normal that he comes under great pressure.
Is the successful, smart leader ruthless? Or is it that he has been in power for too long. Or does he love power to the point where he now suffers from megalomania?
Some believe Erdogan's best trait is his courage which enabled him to compete and govern and later marginalize the military then restrain it. Some believe he has lost his temper , describing his rivals as "insects" and his paranoia grows that Twitter is conspiring against him and that YouTube is behind "despicable" acts against him.
Erdogan was enraged after an old video of a military meeting in which he discussed attacking Syria was leaked and published on YouTube. His bad-tempered reactions have subjected him to local criticism and international mockery.
Erdogan Shows His Teeth
The prime minister leads a country that was considered a perfect model everywhere, even in the West. Despite the fact people were divided on him – which is normal -- he was viewed as a modern Muslim leader running a successful civil state.
As news of his government's trade with the Iranians came out, a huge controversy erupted and of course he lost his mind. Between the initial justification that the trade was legitimate to then denying it altogether, the controversy against Erdogan and his party increased. Someone close to him has said that Erdogan's problem is that after all his time in power, he now feels that he's capable of doing anything.
He has been capable of taming the military institution and of keeping high-ranking generals in jails or at home. He achieved all this thanks to investigators and judges, whom he later accused of working for his former ally Islamist leader Gulen. Now he is not fighting just his rivals, but also his friends.
His feeling of invincibility is what led him to a confrontation with everyone. The descriptions he made against his Arab rivals - such as those he made against Egyptian presidential candidate Abdel-Fattah al-Sisi when he described him as authoritarian - apply to him. But at least Sisi did not prevent the Brotherhood from protesting and he did not block Twitter and YouTube.
Too Many Enemies
Erdogan has been engaged in many verbal battles which at the beginning helped him gain popularity but eventually increased the number of his enemies. And recently, he's angered 10 million Turkish Twitter users after he blocked the service under the excuse of protecting Turkish national security. They all know that Erdogan's only concern is to prevent his rivals from tweeting against him. Erdogan has also embarrassed his fans, even the Arab fans who used to raise his photos to anger their leaders. They now think he is less tolerant, harsher and that there are many skeletons in his closet.
Despite all that, we are aware that Erdogan is behaving like any politician would, appealing to people's sentiment and trying to gain popularity. His problem now is that his rivals are too many. Turkey needs some sort of peace with itself and with its neighbors. If Erdogan wins the presidential elections, it will take a lot of work to fix his Turkey's foreign relations.
Abdulrahman al-Rashed is the General Manager of Al Arabiya News Channel. A veteran and internationally acclaimed journalist, he is a former editor-in-chief of the London-based leading Arab daily Asharq al-Awsat, where he still regularly writes a political column. He has also served as the editor of Asharq al-Awsat's sister publication, al-Majalla. Throughout his career, Rashed has interviewed several world leaders, with his articles garnering worldwide recognition, and he has successfully led Al Arabiya to the highly regarded, thriving and influential position it is in today.
Source: http://english.alarabiya.net/en/views/news/world/2014/04/01/Erdogan-s-win-will-not-save-the-Muslim-Brotherhood.html
URL: http://www.newageislam.com/islam-and-politics/abdulrahman-al-rashed/erdogan's-win-will-not-save-the-muslim-brotherhood/d/66384