By New Age Islam Staff Writer
28 September 2023
He Was Released After Five Months Of Captivity To Serve A Threatening Message To Other Journalists Of Pakistan
Main Points:
1. Journalists in Pakistan are threatened, harassed, abducted and killed regularly.
2. Pakistan ranks 150 in the World Press Freedom Index out of 180.
3. 53 Pakistani journalists have been killed from 2012 to 2022.
4. Journalists Sajid Hussain and Arshad Sharif were killed in exile.
5. Sami Ibrahim was abducted and released after six days.
-----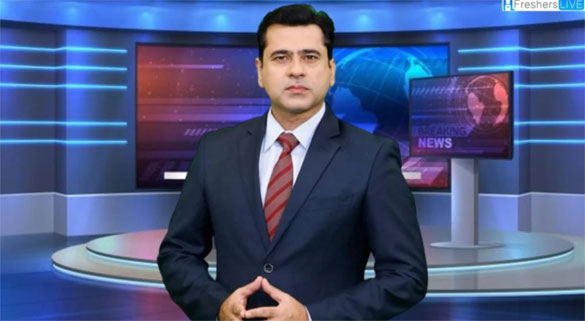 Prominent journalist Anchor-person Imran Riaz Khan has returned home safely after being missing for nearly five months
-----
Imran Reyaz Khan, the young Pakistani journalist known for his pro-Imran Khan views has returned from his captivity under the Pakistani police and agencies after five months. He had been abducted from Sialkot while on his way to the airport as he was trying to flee the country to avoid arrest in the aftermath of the May 9 countrywide violent protests. He was arrested on May 11 and was kept in an unknown place and released on September 26.
His release and safe return was a matter of great relief for the media community as well his family because in Pakistan, abducted journalists seldom return alive. But unfortunately, his safe return was not a cause for rejoicing or celebration. His health is in a terrible condition: he has lost 22 kg of weight, his hair has turned white and he can't speak fluently. His speech has been affected the most. He has become very thin and people who have hugged him say they felt his bones.
Prior to his arrest, he had received threats and had expressed his fears that he might be arrested any time. He had also said that he had received the threat that he would not be able to speak. But he had not anticipated what they had meant. Now that he has lost speech, it has become clear what the establishment meant. They have made him speechless.
In the last five months, the courts intervened and ordered the IG, Punjab to find Imran's whereabouts and ensure his release but the Punjab police feigned ignorance and denied any knowledge of his whereabouts. They also said that his location was found in Afghanistan.
The political analysts have said that Imran Reyaz Khan might have been meted out mental torture more than physical torture. Imran himself said that he was not allowed to see the sunlight for five months. He was also not allowed internet or newspapers. He did not know that the Shahbaz Sharif government had gone.
Imran Reyaz Khan's case shows a new trend in the persecution of journalists in Pakistan. He has been allowed to return in a miserable and pitiable condition for him to serve as a message to the journalists: Beware or you will face the same fate. For a print journalist, his pen is his most effective tool and for a TV or YouTube journalist, his voice or speech is his most precious tool. When he is deprived of it, he is a living dead. The establishment did not kill him. It only took away his power of speech and left him at his home.
His fate has instilled fear among other journalists of Pakistan.
The threats to the life of journalists are not new in Pakistan. It has ranked 150 out of 180 in the World Press Freedom Index. Pakistan has become a real killing field of journalists. Only in the last ten years, 53 journalists have been killed in Pakistan and the perpetrators were convicted in only two cases.
Balochistan, Sindh and Punjab are the provinces where most of the killings have taken place. Journalists receive threats from the government as well as non- state actors for their reporting on corruption, misgovernance, terrorism and sectarianism. They are harassed, threatened, abducted and even killed. Many of them are removed from their job under pressure of the government. No government is a saint. They were harassed and threatened in both PML -N and PTI governments. However, the intensity and magnitude of persecution of journalists increased during the last tenure of Shahbaz Sharif from 2022 to 2023.
For example, Ilyas Samoo of Sindh was arrested for reporting on flood affected areas of Thatta exposing the failure of the administration in providing relief.
Jameel Farooqui of Bol News was arrested for his anti-state statements. Waqar Satti was charged with blasphemy and defamation. The Shabaz Sharif government cancelled the license of Bol News for telecasting news of the opposition PTI.
This kind of harassment has compelled many journalists to refrain from reporting on politics, crime, terrorism, governance and religious extremism.
After the May 9 violent protests, the crackdown on journalists intensified. They were booked under sedition and terror charges. Shahin Sehbai, Wajahat Sayeed Khan, Moeed Peerzada, Sabir Shakir, Adil Raza and Syed Haider Raza were charged with sedition. They had to leave Pakistan to avoid arrest or are already living in exile. Arshad Sharif, a journalist living in exile in Nairobi was killed. His family claim that the Pakistan government was involved in his killing. Another journalist in exile Sajid Hussain was killed in Sweden some time back. It shows that the Pakistani journalists are not safe even in exile from the long hand of Pakistan's government.
Though journalists from exile do not belong only to Pakistan, their number is increasing. Journalists from South Asian, African and central Asian countries have taken asylum in North American and European countries to avoid threat to their life and therefore a new genre of journalism and media called exile journalism and exile media hs emerged.
Sami Ibrahim was abducted and released after six days in July.
About the condition of Journalism in Pakistan, Furqan Khan writes in the South Asian Voice:
"In the past past decade, limiting the press has been done using different means including new legal mechanisms, physical coercion, violence against journalists, and media blackouts. While politicians may promise to improve press freedoms out of office, the press environment has continued to weaken over successive administrations. For instance, the PML-N promised to enact a journalists' protection law in its 2013 election manifesto but this remained on hold throughout its tenure until 2018. Instead, in 2016, Pakistan's National Assembly approved the Prevention of Electronic Crimes Bill (2015), which allowed for "sweeping censorship of the internet" and was criticized especially for giving substantial power and discretion to enforcement agencies. That same year, Pakistan was ranked among the 10 worst countries for internet freedom and fourth among the 10 worst countries for journalists. 157 attacks on journalists were reported between May 2017 and April 2018 during the last years of the PML-N tenure. Earlier, there were also armed attacks on senior journalists Hamid Mir in 2014 and Cyril Almeida in 2016. Almeida was "barred from leaving the country" following his report on a civil-military row in what famously became known as the "Dawn Leaks."
Pakistan has not only failed on the economic and educational front but has also failed to uphold the values of freedom of expression and democracy. Journalists are the most affected and persecuted group because they engage directly with the government and expose corruption, protest against injustice and the highhandedness of politicians. The case of Imran Reyaz Khan has marked a new low in the persecution of journalists in Pakistan.
URL: https://newageislam.com/islam-media/imran-reyaz-pakistan-battered-journalism/d/130770
New Age Islam, Islam Online, Islamic Website, African Muslim News, Arab World News, South Asia News, Indian Muslim News, World Muslim News, Women in Islam, Islamic Feminism, Arab Women, Women In Arab, Islamophobia in America, Muslim Women in West, Islam Women and Feminism