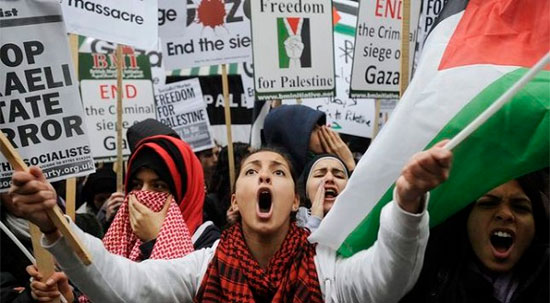 Are We Supposed To Stop Caring About Palestine?
By Sara Pirzada
Gaza attacks: Lethal warnings
By Eyal Weizman
No Exit from Gaza: A New War Crime?
By Richard Falk
Casualties of Two Wars on Terror: Gaza, Egypt and Israel
By H.A. Hellyer
Living In Gaza as the Bombs Fall - My Story
By Omar Ghraieb
Gaza Stands Alone
By Talal Salman
-----
Are We Supposed To Stop Caring About Palestine?
By Sara Pirzada
July 13, 2014
Blood seeps from a man's face, his features rendered unrecognisable by the beating he took from that merciless iron rod a few days back. A baby is snatched from the arms of his mother and mercilessly killed under the pretence that he might have ended up becoming a 'terrorist' in the future. Fathers are slain, brothers are tortured and mothers, sisters and daughters are raped. This is how an average day looks like for a Palestinian.
And now, their land is being trampled upon by a bully of an establishment that is bombing it continually and endlessly. What was once a glorious country has been stripped of all its sanctity; it has been transformed into a bleak battlefield. A haze of fire and gun-smoke hangs over the region, stifling those within, muffling their desperate plea for help to the rest of the world.
After all these atrocities, they ask us why we hate Malala Yousafzai.
Sitting in a Starbucks café, sipping lattes, watching Malala address the UN General Assembly, celebrating 'Malala Day' and cheering at the news of Malala's nomination for the Nobel Peace Prize 2013, they wonder how utterly ridiculous Muslims can get. This is a brave soul who took a bullet to her head and came out undaunted, stronger and more powerful than ever. Why the backlash?
If only these Western people knew about their naivety.
When you witness strangers taking multiple bullets to their heads, their chests, their legs and their arms, you grow desensitised to the plight of one girl hit by a single bullet. You automatically direct all your sympathy to those people who are being massacred and butchered on a daily basis.
We don't hate Malala, understand that. We just have more people to be concerned about.
What we do hate are the hypocritical standards of these 'peace-loving', award-giving and aid-sending people. They recognise the valour and courage of the girl who was shot by terrorists yet they ignore the multitude of innocent lives taken away in Palestine.
She was flown abroad for treatment, given the highest honours imaginable and declared an iconic girl. But what about the mothers, daughters and wives who have seen their worlds tarnish every day, because one group of people want to grab hold of their land? Why they were not saved? Why was aid not provided to them? Why aren't their losses recognised, let alone honoured?
Her story is inspiring, yes, but theirs is utterly tragic. She is writing books of glory while they are jotting down their last wishes, not sure if they will be alive tomorrow. Her story was heard by the entire world; why are their voices being muffled then?
Israel decides to carry out massive airstrikes against the Palestinians, this time leaving them bereft of the little Gaza strip they possess. The bombings intensify and the gun-shots increase in frequency. Israelis argue that it is merely in retaliation to the attacks by Hamas. They are on the offensive side. Armed with weapons of mass destruction, nuclear power and a tremendous army force, the Israelis are the victim – that's what they say. They aim 'to restore peace and quiet to the citizens of Israel' and they plan to do this by killing dozens of people every day.
As reported by the Voice of America, after the wreckage of close to 560 sites that Israel said its warplanes had hit since the operation began early Tuesday, Yuval Steinitz told Israel Radio that there is a lot more to come.
What sort of inhumane retaliation is this? Is Israel on a vendetta to finish off Palestinians for good?
I don't know the entire history of Palestine, nor do I intend to get into the technical geographical boundary debate. All I know is these are two countries out to get vengeance, and in the process, they have both stooped to what has got to be the lowest point of deterioration mankind has ever experienced.
And what does the rest of the world do? Watch the FIFA World Cup 2014, for it comes every four years and cannot be missed.
I ask the religious authorities, is Islam really only about praying and fasting?
Is attaining piety more important than addressing the pleas and shouts of our Muslim brethren?
Is it limited to performing Hajj in the month of Zilhijj and Umrah in the month of Ramazan?
I ask our religious scholars, has Islam changed now? Does our religion no longer value human life? Is the Muslim world supposed to sit back silently and let Israel crush the innocent civilians of Palestine?
However, this is not about religion anymore. It has transcended to include the core concepts humanity hinges on – love and hate. And right now, hate is getting all the attention. Israel is killing hordes of people and the world is still putting the blame on Palestine. On what level of human intelligence is this considered acceptable? We have many instances of people who have been to Israel, who have seen the tyranny taking place there first-hand and they all pinpoint only one villain in this woefully tragic story – Israel.
On a fundamental level, what exactly is a person supposed to do? Note that I say person and not Muslim. I address our governments, our charismatic leaders, our religious authorities, the United Nations and every other organisation possessing a semblance of power… what's a person to do? Stop caring? Blind oneself with trivialities like football? Enjoy lavish Iftars in the name of religion while our fellow brethren get brutally murdered?
Well, if that's what we are supposed to do, then I must commend our progress; for that is all that we have been doing ever since this breach against humanity has been in play.
Source: http://blogs.tribune.com.pk/story/23206/are-we-supposed-to-stop-caring-about-palestine/
-----
Gaza Attacks: Lethal Warnings
By Eyal Weizman
14 Jul 2014
On the night of January 9, 2009, the Salha family was sleeping, and Gaza was under attack. They were woken by a loud bang at 3am: a missile, fired at the house, entered through the roof, and landed in one of the rooms. What the family did not know was that this was a warning. From that moment of impact, they had just three minutes before the house would be destroyed.
After moments of terrified confusion they began to leave. A first group managed to escape but as the second group reached the bottom of the stairs, a bomb struck the building, killing six of them: Randa, 34; Fatma, 22; Diya, 13; Rana, 12; Baha, 7; and Rola, 1.
These are the findings of an investigation, one of several produced for a UN inquiry into drone strikes by Forensic Architecture - a project based at the Centre for Research Architecture at Goldsmiths, University of London. We interviewed the surviving members of the Salha family in Gaza by satellite link from Al Jazeera's London offices, and built a 3D computer model of their home with them. Our work was an attempt to reconstruct what happened between the warning shot and the lethal shot. The architectural model provided an aid for the recollection of events obscured by time and trauma. It was evidence intended to counter the Israeli Army's version of the event and the legitimacy of its "law fare".
In fact, Israel has been using warning tactics for many years. They started as phoned-through messages, informing people that they had minutes to collect their belongings and vacate the building before it was bombed. Finding that they couldn't always get through, however, the Israeli Army began to use so called "roof knock" strikes. These involve the firing of a low- or non-explosive missile - usually from a drone - at the roof of a building that is to be destroyed. A bomb that devastates the building follows the missile a short time later.
Five years later, neither the tactics, nor the consequences have changed. Since the ongoing offensive on Gaza began, human rights groups in the strip have reported one warning shot that resulted in the death of a six-year-old child, Abdel Rahman Khattab, in Bouba, on July 10; another attack, on the home of Odeh Ahmad Mohammed Kaware, where a warning missile was followed by a bomb that killed seven people, including five children. In another incident, a warning missile injured two women and an infant in Rafah.
Having run out of distinct government buildings or pieces of military infrastructure to bomb, the majority of what Israel is now targeting in Gaza are civilian homes - and the bodies are piling up. Israeli spokespersons, anxious to present themselves as seeking to minimise civilian casualties and as acting within the bounds of international law, now repeatedly explain that the Israeli Army gives warning before it attacks civilian buildings. But it is the warnings that allow the Israeli Army to attack them at all, and the warnings that are now responsible for the mounting death rate.
Israeli military lawyers argue that if residents are warned, and do not evacuate, then they can be considered legitimate collateral damage. Under this interpretation of the law, the civilian victims become human shields. This is a gross misuse of international law. It is illegal to fire at civilians, even if the intention is to warn them. It is ridiculous to ask them to understand, in the commotion and chaos of war, that being shot at is a warning - and it is outrageous to claim that this is undertaken to save their lives.
International law should protect civilians. In Gaza, it is being abused in order to enable attacks where attacks should not be undertaken at all.
Very often both journalists and commentators - even those sympathetic to the Palestinian plight - are lost for words when asked to explain what is wrong with warnings. Would you rather, the Israeli Army insinuates, that it uses no warnings at all? How, after critiquing indiscriminate and inaccurate strikes, to protest tactics whose entire logic is to be more precise in choosing between perpetrators and bystanders?
To be asked to choose the lesser evil from a limited set of choices is a fallacy. Those posing lesser-evil dilemmas are always those in power and the problem is always concerned with the death and fate of others.
At the Salha family home there was no weapon cache, no militant headquarters. The Israeli Army simply made a mistake, and later admitted as such. Yet when the few surviving members of the Salha family petitioned the Israeli court for compensation, their case was curtly dismissed. The judge explained that Israel was not liable to consequences resulting from an act of war, and ordered the Salha family to pay the court the costs incurred in bringing the case.
Today in Gaza, the combination of the technology of precision strikes with the legal tactics of warning allows the expansion of the depleted bank of targets and the proliferation of violence. From the air, Israel has started destroying - after warnings of course - not only places it claims are weapon caches but also the houses of Hamas' field command. Now the target list seems to have extended even to include attacks on hospitals. On July 11, four warning missiles were fired at the Al Wafaa hospital, close to the Israeli border.
With this combination, the Israeli Army has found a tool to enable it to strike targets it should not be striking at all - targets of little military effect, in built-up areas that house many civilians. Since it now has such a tool, the Israeli Army will go on using it until somebody forces them to stop. Confronting Israeli tactics of warning is now a matter of utmost urgency.
Eyal Weizman's work on drone strikes, Forensic Architecture, and the architecture of the Israeli occupation are featured in the documentary The Architecture of Violence, as part of the upcoming Rebel Architecture series.
Source: http://www.aljazeera.com/indepth/opinion/2014/07/gaza-attacks-lethal-warnings-2014713162312604305.html
-------
No Exit from Gaza: A New War Crime?
By Richard Falk
Jul 15 2014
The civilian population of Gaza is trapped in an overcrowded war zone with no form of exit. This situation reveals a serious gap in international humanitarian law
As the hideous Israeli assault on Gaza, named Operation Protective Edge, by the IDF enters its second week, overdue international appeals for a ceasefire fall on deaf ears. Bibi Netanyahu tells the world that no outside pressure will alter Israel's resolve to reach its military and political goals to disable Hamas for the indefinite future. The purported justification for such aggression is to make sure this time that Israelis will never again have to seek shelter from Hamas rockets, which could require a prolonged military campaign combining ground forces with a continuing air and naval assault.
Leaving aside the debate on causes and justifications, the civilian population of Gaza, estimated to be about 1.7 million with women and children comprising 75% of the total, are trapped in an overcrowded war zone with no apparent exit from terrifying danger. Even if families are lucky enough to avoid direct physical injury, the experience of screaming jet fighters attacking through the night, targeting and surveillance drones overhead day and night, sustained naval artillery barrages, not to mention the threatened ground invasion combine to create a continuous horror show. It has been repeatedly confirmed by mental health specialists that these realities act as a trauma inducing phenomenon on a massive scale with prospects of lasting psychological damage, especially to children.
With these elements in mind, the idea of fulfilling the basic objective of international humanitarian law to protect civilians caught in a war zone is being violated by Israel, although not altogether. Israeli officials claim that leaflets dropped on some intended targets are giving residents a few minutes to vacate their homes before they are reduced to rubble, although this is hardly enough to satisfy the obligations of an Occupying Power under international humanitarian law. In a further escalation of the attacks, perhaps the prelude to a ground invasion, residents of northern Gaza are being told to flee the area, and tens of thousands have apparently done so.
Hamas is said to be urging these same people not to leave their homes, dismissing Israeli threats as intimidating propaganda. Cynically interpreted, Hamas appears to be informing Israel that if they go ahead and invade, there will be many Palestinian civilian casualties, and the shock of such carnage will help eventually swing the international balance of opinion strongly in their favor.
The entrapment of the Gazan population within closed borders is part of a deliberate Israeli pattern of prolonged collective punishment that has for the past several years been imposed on Gaza. This amounts to a grave breach of Article 33 of the Fourth Geneva Convention, which qualifies as a potential Crime Against Humanity. The clarity of criminal intent is further disclosed by Israel's willingness to allow 800 or so Gazans who have dual citizenship and hold a foreign passport to leave Gaza by entering Israel at the Erez Crossing, including 150 holding American passports.
No other residents of Gaza have the option of leaving, whether disabled, sick, elderly, or young. The civilian population of Gaza is denied the possibility of seeking refugee status by fleeing Gaza during this time of intense warfare, and there is no space available that might allow Palestinian civilians to become internally displaced within Gaza until Protective Edge ends.
In countries such as Iraq and Syria we grieve appropriately for the millions becoming refugees or 'internally displaced,' compelled by the dangers of the raging conflict to seek refuge somewhere in the country that is removed from the war zone. We can sense the extremity of the humanitarian tragedy in Gaza by realizing that these people whose lives despite being acutely jeopardized, have no place to hide from the brutalities of war. The whole of the Gaza Strip is a war zone. Gazans who have endured many mortal threats and a siege that has lasted many years, are currently at a moment of extreme hazard, and yet have no possibility of seeking temporary safety as refugees by crossing an international border.
The idea of internal refuge is almost inapplicable given the ferocious nature of Protective Edge that has spared not one corner of the tiny and overcrowded Gaza Strip. To be sure, in response to Israeli warning to leave tens of thousands of Palestinians are fleeing south from north Gaza. At present writing, an estimated 17,000 Palestinians have obtained refuge in the 20 UN-run schools situated throughout Gaza. UNRWA is doing its heroic best to handle these desperate people but its buildings have limited space and lack the facilities to handle properly this kind humanitarian emergency–insufficient bathrooms, no beds, and not enough space to meet the demands.
This is not the first time that this exit challenge has been posed in Gaza. Back in 2008-09 and 2012, Israeli launched major military operations in Gaza, and the issue of the entrapped civilian population was brought to the attention of the UN and the international community, a challenge met with silent irresponsibility. The encirclement of Gaza by Israeli controlled crossings and fences, even aggravated as compared to the past by an Egyptian political leadership that makes no secret of its hostility to Hamas, is catastrophic in the risk it poses to the totally vulnerable Gazan social reality.
For some perspective, it is useful to recall that just prior to the Kosovo War in 1999, up to a million Kosovars crossed into Macedonia to escape anticipated NATO air strikes and because of a credible fear of an imminent ethnic cleansing campaign carried out by Serbian forces then controlling the country. As soon as the war was over and Serbia abandoned Kosovo, these refugees returned, having safely navigated the dangers of the war. In Libya, too, the international community meaningfully responded in 2011 to the urgent crisis of an entrapped civilian population. In the Libyan crisis Security Council members talked piously about relying on the emergent norm of international law known as the Responsibility to Protect, or R2P, that validated intrusion on Libyan sovereignty by way of a No Fly Zone that was established to protect the civilian population of Benghazi facing the vengeance of Gaddafi's forces.
This 2011 intervention has been much criticized because the humanitarian justification was converted into a regime-changing intervention that raised many objections, but what is relevant here is that the UN and the member governments of the Security Council acknowledged their responsibility to do something to protect a civilian population unable to remove itself from a combat zone. It should not be forgotten that humanitarian appeals seem much more effective when the country in question is perceived to have strategic value, especially large oil deposits.
This makes the UN and international failure to act unforgiveable with respect to the people of Gaza, so often severely threatened with dangers that approach genocidal thresholds. Even so the UN and its leading member governments turn their heads and look away. This exhibits either a sense of helplessness in the face of Israel's military juggernaut or even more disturbingly, a silence that can be construed as tacitly blessing this infernal entrapment of innocent and long suffering people.
International law has little to say. International refugee law avoids issues associated with any right to escape from a war zone or duty of the belligerent parties to provide civilians with an exit and/or a temporary place of sanctuary. International humanitarian law offers little more by way of protection to an entrapped people, despite the seeming relevance of the Fourth Geneva Convention devoted to the Protection of Civilians in Time of War.
There is accorded to foreign nationals a right of departure with the onset of war, including even repatriation to an enemy country, but no right of nationals to leave their own country. And the generalized obligation of an Occupying Power to protect the civilian population is legally subordinated to its security needs, including military necessity, and so is generally of little practical use.
What is evident in relation to the entrapped civilian population of Gaza is that no legal obligation exists to provide for safe havens either within the country experiencing the warfare or beyond its borders. At minimum, this horrible cauldron of violence and vulnerability reveals serious gaps in international humanitarian law, as well as the collapse of moral constraints on belligerent violence. Such a situation urgently calls for a supplemental international agreement in the form of a treaty protocol to the Geneva Convention conferring a right of exit to civilians entrapped in a war zone. There is also a need to make the denial of the right of exit a species of war crime within the purview of the International Criminal Court.
It should also be considered whether there should be conferred a right of internal displacement, imposing an obligation of the territorial government or insurgent actor both to respect enclaves set aside for displaced persons and to allow departure from war zones so as to take advantage of internal displacement. There are complications that need to be addressed including whether the territorial government or occupying power can invoke security considerations to deny exit and displacement rights to those about whom there are suspicions.
For the present it is enough to observe that the civilian population of Gaza finds itself totally entrapped in a terrifying war zone, and that the UN and neighboring governments have refused to accept responsibility to offer some form of humane protection. It is one aspect of the dual unacceptability of the Israeli military operation from a moral perspective and of the failure of international humanitarian law to lay down suitable rules and procedures that respect the human dignity of civilian innocence so entrapped.
Richard Falk is an international law and international relations scholar who taught at Princeton University for forty years. In 2008 he was also appointed by the UN to serve a six-year term as the Special Rapporteur on Palestinian human rights. (This article was first published in Middle East Eye – www.middleeasteye.net)
Source: http://www.palestinechronicle.com/gaza-yet-another-israeli-miscalculation/#.U8YAY5RdU4U
-------
Casualties of Two Wars on Terror: Gaza, Egypt and Israel
By H.A. Hellyer
15 July 2014
The people of Gaza, it seems, are the victims of two examples of the "war on terror," including Israel's, where the state seems to have identified the entire Palestinian population of Gaza as a party to that "war on terror" (and the party that will pay the price). But also, the people of Gaza are victims of another "war on terror" – Egypt's. And the consequences of that are going to plague Gaza and the Palestinians for quite some time.
For the past year, Egypt public discourse on Palestinians has been fairly clear. Hamas, which rules the Gaza Strip, is the Palestinian offshoot of the Muslim Brotherhood – and even before Mohammad Mursi was removed from power - it had been portrayed tremendously badly in much of the Egyptian private and public media. That has not changed in the past year, on the contrary, Hamas is mentioned in rather unflattering terms in court cases and so forth.
Beyond Hamas, Palestinians have suffered from rather poor representation in a substantial proportion of the private media. The suggestion being: Palestinians resident in Egypt are disproportionately supportive of the Brotherhood. That type of representation has diminished in recent months, as the more rabid elements of the "war on terror" narrative have seemingly fatigued after peaking but the after effects are still evident. The people of Gaza are being made to pay an awesome price for the faults of Hamas, as mentioned, and they are now causalities of two "wars on terror."
Rafah Border Crossing
On a security level, the legal Rafah border crossing between Gaza and Egypt remains closed. At the same, the illegal tunnels underneath the border, which have allowed some relief for the people of Gaza, are being targeted by Egyptian state forces. That process of closing the tunnels did not begin the past year and even under Mursi's own Muslim Brotherhood rule, the tunnels were being flooded with sewage. Certainly, however, that process has intensified since his ouster from power.
In principle, there are few who can legitimately argue that the tunnels are legal – they are an infringement of sovereignty and allow for the creation of an illegal economy, with all of the repercussions that entails. Yet, one has to ask: why, especially if the tunnels are closed, has Egypt insisted on closing the Rafah crossing?
It's for that reason that a series of Egyptian political parties have come out and said that Rafah should be permanently and indefinitely opened – not just when the people of Gaza are under such duress from the Israeli bombardment. Indeed, even under this barrage, the crossing has only been opened very intermittently, leaving scores of Palestinian civilians to fend for themselves.
One should keep in mind that over the past few days, Israel has advised some 300,000 Palestinians to leave the entire northern area of the Gaza Strip while it carries out its bombardments. Gaza, however, is not a huge, sprawling landmass, where it is easy for populations to relocate temporarily. It is the most condensed population center in the world. If Palestinians have to evacuate the north, it's not quite clear where they are expected to go and if Egypt can provide temporary shelter, one wonders why it wouldn't.
No Easy Access into Egypt
A common argument has been that if the Palestinian population is allowed easy access into Egypt, it may not be allowed back, which would thwart Palestinian aspirations to a state that includes the Gaza Strip. More widely, that's a mode of thinking that has traditionally energized many Arab states' policies towards Palestinian refugees and it's caused many Arab states to erect special barriers against the naturalization of Palestinian refugees.
But the argument is difficult to uphold. Palestinian refugees with American citizenship have not given up their political rights within the Palestinian cause, for example. When it comes to opening Rafah, the argument is just as flimsy – Egypt and the Palestinians, not the Israelis, control the Rafah crossing. The Palestinians are certainly not likely to close off the crossing to Palestinians who wish to re-enter.
The only viable argument is a security one – that if the Rafah crossing is open, radical militants may seek to enter Egypt to conduct terrorist activities against the Egyptian state, or use the Sinai as a front against Israel. That is a threat that may indeed apply. During this latest assault on Gaza, there have been reports of attempted rocket fire into Israel from Sinai – of course, there is no indication of whether or not those operations led by Egyptians or Palestinians. Other reports indicate that in the past, Palestinian radicals have linked with Egyptians radicals in the Sinai and with the radical narrative that positions the Egyptian state as waging a "war against Islam" after the deposal of Mohammed Mursi; it's not beyond possibility that Palestinian radicals (and other nationalities) might perceive Egypt as another arena in the realm of "jihad."
Having said that, the security argument is not a reason to hold all of Gaza hostage due to the possible threat from a small minority. Especially under these conditions, Egypt holding the Rafah crossing closed is akin to implementing a prison sentence –a prison that is currently being bombarded on the one hand, resulting in more than 150 dead, and partially governed by a right-wing Islamist group on the other.
The security threats are reasons to implement appropriate checks and entry measures; they are not reasons to simply close the border. Indeed, if one is to judge this very cynically, the complete closing of the border may actually increase the potential threat to Egypt's security. The possibility that Palestinians will increasingly just view Egypt as a party to their suffering is very real and it also encourages them to simply line up behind Hamas, as they may see no one else who is likely to stand by them.
Dr. H.A. Hellyer, non-resident fellow at the Brookings Institution, the Royal United Services Institute, and the Harvard University Kennedy School, previously held senior posts at Gallup and Warwick University.
Source: http://english.alarabiya.net/en/views/news/middle-east/2014/07/15/Causalities-of-two-wars-on-terror-Gaza-Egypt-and-Israel.html
-----
Living In Gaza as the Bombs Fall - My Story
By Omar Ghraieb
July 16, 2014
The last two nights have been terrible. So many explosions have occurred close by that there is now a constant ringing in my ears.
But I can't complain too much, especially when entire families around me are being killed. We have become refugees in our own country.
Many families have left their homes in the north seeking refuge in UNRWA schools (not that it's safer or anything, Israel bombed them during Operation Cast Lead). An estimated 4,000 people left everything behind to seek peace, but that is nowhere to be found in Gaza.
No place is safe for us anymore.
A multi-storey house was bombed. Nineteen people were killed and more than 50 others injured. Imagine suddenly losing your entire family one day. Imagine losing your mom, and your dad, and your siblings. And your relatives, and your neighbours…
A week into Operation 'Protective Edge' – or persistent Israeli aggression in Gaza – I can feel a shift. It turns out you can adapt to even something like being under siege.
In Palestine: Fighting a biased narrative
At first we were in a state of denial, but we have begun adjusting. Now we are practically used to it.
Yesterday, people were leading a nearly-normal life in broad daylight, which sort-of confused me. I was sad, happy, frightened, bewildered, all at the same time. I feel on edge, disjointed.
Here is a list of the types of explosions I have categorised during this war:
1- Sudden blast. Just a huge big "kaboom" out of nowhere.
2- Hearing a missile cutting through the air, and again the "kaboom".
3- Hearing a missile falling and then the ground shakes.
4- Tank shelling.
5- Warships shelling.
6- Apaches missiles.
7- And finally, the gigantic F-16 rocket. That is, if you're lucky enough to just hear it without being killed.
This might sound crazy, but we all favour type '2'.
We prefer to anticipate death instead of getting blown up without warning. It is safer, though not actually safe. If you hear a missile falling, you're considered lucky – it's near you but not targeting you.
Every time the phone rings, you assume you'll get a call from the Israeli army to evacuate your house (again, if you're lucky). Otherwise, they may also utilise their new brand of "warning missiles". That's right, they'll bomb your house with a warning missile, giving you 1-3 minutes or less to leave.
Many houses got bombed with no warning missiles, resulting in a huge number of causalities.
There's nothing the bombing has spared: houses, mosques, medics, hospitals, ambulance centers, cemeteries, farmlands, coastline, boats, cars, motorbikes, buses, residential areas, banks, schools, colleges, universities, you name it. According to UNRWA, about 70 per cent of the fatalities are civilians, of which 30 per cent are children.
It is depressing, but this is my life now.
I still can't get over the bombing of our three cemeteries in Gaza. And also the handicap association. Even handicaps aren't spared. Three handicapped females have been killed in the assault so far.
I have been holed up inside the house for a week now.
I miss the outside.
Every morning when I hear the birds chirping and see the sun slowly filling the streets, I miss being out there. I miss the beach, the freedom of movement and of choosing whether to go out or stay in.
I miss my favourite places here, and my friends. I miss the streets and how I feel when I walk on them. I miss walking around.
Life was never normal here, ever, by any means. But whatever 'normal' did mean before the current spate of Israeli attacks has changed now.
It hurts when you see children die; living, breathing people turning into dead bodies, into numbers...people I have known.
Every day, you live through the fear of losing a loved one. It is nerve-wracking.
The house is actually shaking as I write this.
Explosions continue in the background, literally like in a movie, except I'm not watching this, I'm actually living it.
On that note, I end, but not without a huge shout out to all the protesters around the world supporting Gaza.
We love you.
And a big thank you to medics, nurses, doctors, and journalists on-ground. And everyone who risks their lives for the sake of others.
'Hero' is too clichéd a word, you all deserve a much better definition.
Until next time.
Let's see what the eighth day brings to us. I hope I live to see it.
From Gaza with hope,
Omar Ghraieb
Source: http://www.dawn.com/news/1119400/living-in-gaza-as-the-bombs-fall-my-story
------
Gaza Stands Alone
By Talal Salman
July 15, 2014
This note is inspired by the significant coincidence that has repeated itself time and again: Does Israel use the World Cup as a periodic date for its wars on Arabs, whether in Lebanon (1982), Gaza (2002, 2006), Lebanon again (2006) and Gaza once again (2010) and then Gaza for the fourth or fifth or sixth time (2014)? It doesn't matter as long as the world, including the Arabs, does not dare hold it accountable. International and Arab organizations and committees have issued statements of denunciation and moral condemnation that are devoid of meaning. That's the best they could do.
Sadly, the main Arab fronts were shut down, whether through unilateral reconciliation and departure from the field that almost equates to treason in any case, regardless of its justifications, or through preoccupation with the local situation and its burdensome concerns. Such concerns have drowned many countries in civil wars warning of achieving calamitous results that the Israeli enemy failed to achieve, the easiest of which was the division or fragmentation under the banner of the Islamic State — the "leader of the faithful" — or its conquering caliphs.
The Egyptian president pulled his jaded country out of the field. He was afraid of victory and chose unilateral reconciliation. Egypt is now drowning in its own dangerous internal problems, which led to two amazing revolutions that toppled tyranny twice. However, for several complicated circumstances, these revolutions could not put it back on track as a competent leader for the whole Arab nation in the battles for liberation and to build a better future.
Moreover, the war in Syria and against it — which has exhausted the Syrian state, shattered its lands and displaced more than a third of its citizens inside the country and abroad — is now outside the actual field of confrontation with the Israeli enemy. It will be a while before Syria comes back to this field, and it will take it as long to return to itself and to its irreplaceable role in any battle related to liberating the Arab nation's will, starting with its lands.
Iraq turned from a powerful entity embodied by a competent and capable army into one burned by strife and threatened with racial, ethnic and sectarian division.
This is how the competent Arab forces capable of confronting the Israeli enemy turned from a source of inspiration into a heavy burden that distracts the nation from its goals and throws it into a spiral of dangers that go beyond politics to sectarianism. This is more dangerous for the Arab nation's future than Israel.
As for Lebanon — whose Hezbollah militants achieved a significant victory, backed by the people and army, when it won the Israeli war and the legend of the insurmountable army in 2006 — Israel will never forget this defeat, and it is probably getting ready to take its revenge from Lebanon and its resistance at any opportunity.
Gaza's jihadis aborted the recurring Israeli wars on Palestine's Gaza Strip, which is under siege by land, air and sea, in what resembles an undeclared partnership between some Arabs and the Israeli enemy. Today, Gaza stands alone once again and continues to fight, armed with its people who are impoverished, starving and under siege. In the grip of the blockade, the Palestinian people still confirm their ability to persist and confront on their lands, using their right to live and some support from parties that still see in the reconciliation with the enemy treason to the Arab nation's objectives of liberation and right to a dignified life.
Defeat is not a fate. The Arab nation has always promptly responded to the call for self-determination and liberation. It is a luxury to judge the victorious on his victory under the pretext that his declared political slogan conflicts with the general orientation of the liberation movement. The Palestinian people in Gaza have all fought persistently and offered all the financial support and weapons they could offer to militants who faced the Israeli aggression. They achieved an amazing victory that proves the following: The Arab nation is empowered. The simple and extremely poor people, many of whom have lost their houses and source of living, still have things to give. The defect is in the leaders above who fight among each other over power, even if their countries have to pay the price with their own existence. Slogans are not the source of determination, but rather the will of simple and good people.
Waging civil wars with sectarian slogans and building states with parties struggling over power will lead neither to victory over Israel nor to liberation.
Source: http://www.al-monitor.com/pulse/politics/2014/07/arab-nation-internal-conflicts-syria-iraq-lebanon-gaza.html#ixzz37YbxRPBI
URL: http://www.newageislam.com/islam-and-the-west/new-age-islam-edit-bureau/world-media-on-israeli-attacks-on-gaza/d/98126