Complied by New Age Islam Edit Bureau
23 July, 2014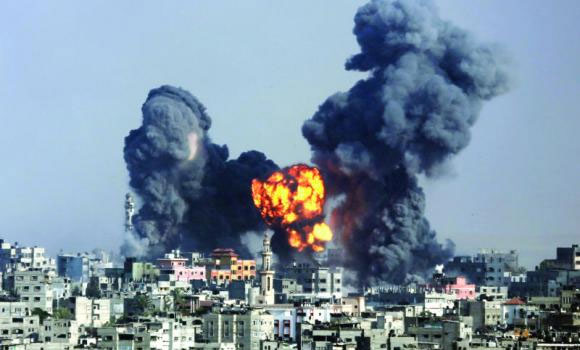 Smoke and fire rise following an Israeli strike in Gaza City on Tuesday. Strikes pummelled a wide range of locations along the coastal area. (AP)
Articles:
Fighting Jihad for Israel
By Hanine Hassan
Gaza's Resistance Will Not Be Crushed
By Ramzy Baroud
An Urgent Open Letter To Sisi, You Can Save Palestinian Lives!
By Abdallah Schleifer
Gaza's Right to Defend Itself
By Mustafa Akyol
Anti-Arab Sentiments in Israel Show No Signs of Abating
By Orlando Crowcroft
All Talk, No Action: A Message To Those Who 'Support' Palestine
By Octavia Nasr
Who Is Hamas Fighting For?
By Khairallah Khairallah
Egypt's Sisi Holds Hamas' Fate in His Hands
By Shlomi Eldar
Israel Strives To Face Hamas Terror Tactics
By Ben Caspit
Diary of an Israeli War: A Day in Gaza under Israeli Attack
By Haidar Eid
Operation Protective Edge: Myths and Realities
By Farhana Syead
-----
Fighting Jihad for Israel
By Hanine Hassan
July 22, 2014
Her name is Katie. She is from the Netherlands, and chose to serve in the Israeli navy instead of remaining in her country.
Will her government label her and the rest of the hundreds of Dutch youth serving in the Israeli military asjihadstrijders (jihad fighters), the name given to the hundred or so that went to Syria? Katie, a Dutch-
Israeli dual citizen is after all a jihadist in occupied Palestinian lands.
Israel's genocidal campaign in the Gaza Strip is entering its second week. The death toll has risen to more than 600, with thousands more injured and displaced - alongside arbitrary arrests, the demolition of family homes and a policy of apartheid towards Palestinians both in the West Bank and within the state of Israel. What's more, these war crimes are directly supported by the recruits from Europe and the United States that land at Ben Gurion airport throughout the year.
The notion of Europeans and Americans serving in the Israeli army isn't new.
Before the creation of the state of Israel, thousands of western volunteers were recruited by the Zionist movement - in a process named Mahal or volunteers from abroad to take part in Zionist military operations in Palestine during the British Mandate.
In the 1948 war, as many as 4,000 World War II veterans from the US, Canada and Europe carried out military operations against Palestinians, serving the Zionist project with their expertise in warfare, artillery, naval and aerial combat.
A Bigger Role than Fighting
Within the historical context of western support for the Zionist project, it wasn't the number of Mahal combatants that was significant. The role of foreign recruits was to be found in the political and demographic transformation of Palestine.
The late Israeli Prime Minister, Yitzhak Rabin, later attributed the successful outcome of the war to the support of foreign fighters: "They came to us when we most needed them, during those hard and uncertain days of our 1948 war of independence."
In supporting and developing Israel's military power, these western recruits deliberately contributed to the ethnic cleansing of Palestinian towns, the dispossession and depopulation of Palestinian communities, and the massacres inflicted on them.
But Mahal recruitment did not end with the creation of the Israeli state. It continues to this day.
Thousands of volunteers, from more than 40 countries, stream to Israel to serve in all branches of the Israeli military - many in combat units. The online Mahal recruitment programme ostensibly aims to "defend" Israel and strengthen the connection of these volunteers to the Israeli military. Non-Israeli nationals of Jewish descent can join the ranks of the armed forces for an 18-month tour and be in the same front-line combat units as Israeli conscripts, including those operating in the occupied Palestinian territories.
Support Groups
Around 100 British nationals are currently serving in the Israeli army. It's a significant number. British mothers even have support groups to exchange experiences of having a child serving in the Israeli military.
In 2009, Baron Ahmed of Rotherham asked Britain's House of Lords, the UK parliament's upper chamber, whether any British citizens were serving in the Israeli military or its reserves.
Lord Malloch-Brown, minister of state at the Foreign and Commonwealth Office, responded, "Other than press reports, the UK government does not possess information about whom the Israeli government have called up to serve in the Israel Defense Forces or the Israeli Defense Reserves, including any dual nationals. Only the Israeli government would have this information... Anybody who has broken the fourth protocol of the Geneva Convention deserves to meet justice in some court or another." So much for the oversight of the British intelligence and security services.
In April 2014, a British parliamentary report outlined - in 246 pages - counterterrorism approaches towards British Muslims fighting in Syria, Somalia and Afghanistan. Nowhere did it mention the threat of indoctrinated British citizens returning home from serving in the Israeli military. Nor did it mention that serving in an occupying army remains a crime in violation of the Foreign Enlistment Act 1870, which criminalises British citizens who serve in the armed forces of another country.
Recruitment
The Mahal network spans the globe. Max Steinberg and Sean Carmeli were two US citizens enlisted in the Israeli military. They were taking part in the Israeli ground offensive in the Gaza Strip which resulted in the deaths of at least 70 Palestinian civilians in Shujayea when they came under fire. The US State Department announced their deaths on July 20. And yet recruitment continues.
In May 2014, the Israeli embassy in Paris informed the local Jewish community of the arrival of a representative of the military who would give a lecture on their recruitment policies, "followed by a question and answer session".
In November 2013, a Ukrainian citizen that had served for six years in the Israeli army stated nonchalantly on a Ukrainian television show that she had killed Palestinian children with full immunity from European and Ukrainian law - since Israeli law does not apply when Palestinian children are killed.
Approximately 5,000 Jews carry the title "Lone Soldier" - given in Israel to volunteers from abroad, new immigrants or orphans who have served in the Israeli army. Lone soldiers receive special rights and benefits, such as financial assistance, help with housing and time to visit family abroad.
In May 2014, the Tel Aviv Lone Soldier Center, where lone soldiers can relax and unwind together, was opened thanks to funding from a Dutch NGO named Israel Actie, which is affiliated to the Amsterdam Sar-El branch. Sar-El are civilian volunteer groups who undertake non-combat work for the Israeli military. Jews, non-Jews, and non-Israelis - eligible from the age of 16 - can volunteer their time, money and efforts, wearing army uniforms, to reinforce the Israeli military.
It is represented in more than 30 countries and hundreds of volunteers join each year.
Israel is applying outright treachery in its recruitment of young Jews worldwide, through tens of programmes. Israel Experience is a Zionist project that aims to create new allies for Israel. It targets western youngsters from the age of 13, recruiting them for what appears at first to be a programme of fun and amusement. But these children end up in a simulation, spending between one and six weeks exposed to guns, reproducing military manoeuvres and receiving "educational" classes on Zionism and the Israeli military.
Entertainment also features on the side. These indoctrinated children are then sent back to their parents and countries as advocates to justify occupation, apartheid and the defence of Israel at all costs. Israeli recruitment programmes have different dimensions but one and the same goal: the strengthening of the Israeli army and the networks of the state's mindless supporters.
Complicit In War Crimes
The power dynamics of European countries is a game of constant duplicity. Western intelligence services turn a blind eye to citizens that decide to wear the Israeli military's uniforms and occupy Palestinian lands and resources, and commit war crimes in violation of international law.
Apparently, in the eyes of Israel and its western allies, having Jewish roots is adequate justification to defend an illegal occupation of territories - while it is unacceptable for Palestinians to resist the illegal expansion of Israeli settlements and theft of land and water resources. In its recent offensive on Gaza, Israeli troops have shown no respect for human lives and have breached the laws of armed conflict, indiscriminately attacking civilians and targeting civilian homes and institutions.
There are many faces to the Israeli occupation, some of which are well-known, and some of which are hidden. The indirect reinforcement of the Israeli army with European and American soldiers is one such opaque form of complicity.
If European leaders are serious about preventing international fighters crossing their borders, or returning home with weapons training and a grudge to bear, they should pay equal attention to all European fighters taking part in conflicts across the Middle East. European governments have a moral duty towards Palestinians. They have to stop the flow of European killers deliberately involved in crimes against humanity.
Israel has turned the Gaza Strip into an experimental laboratory for its high-tech weapon industry and chemicals. It is the obligation of the international community to sanction Israel, and enforce a military embargo in light of the Israeli violations of human rights.
Hanine Hassan is a PhD candidate at Columbia University. Her research focuses on the long-term effects of humiliation as a tool of oppression by Israel in the occupied Palestinian Territories.
Source: http://www.aljazeera.com/indepth/opinion/2014/07/jihad-israel-201472272438651885.html
-----
Gaza's Resistance Will Not Be Crushed
By Ramzy Baroud
22 July 2014
On the 13th day of Israel's so-called Operation Protective Edge, stories of entire families collectively pulverized, women and children keenly targeted by Israeli soldiers saturate the media. Until now, 430 Palestinians have been killed, mostly women and children; and 18 Israeli soldiers were killed at the hands of the Resistance. In Shejaiya, elders, mothers and children scrambled for cover as shells mercilessly rained down, stealing the souls of countless innocents.
The destruction is overwhelming, and everywhere, Palestinians lament there is nowhere that is safe. Regardless, resolve is strong and the people of Gaza will not surrender.
The resistance movement in Gaza is often misrepresented intentionally at times, and at other times innocuously. In the heat of the information battle that has ensued since Israel unleashed its latest war many facts and essential context have gone missing.
Historically, Gaza has been a hub for uninterrupted popular resistance since the ethnic cleansing of Palestine at the hands of Zionist militias, and later the Israeli army, in 1947-48. An estimated 200,000 of Palestine's then nearly 800,000 refugees were forced there, with most enduring squalid and humiliating conditions.
Despite the shock of war and the humiliation of defeat, Gazans fought back almost immediately. There was no Fatah, no Hamas, and no siege, in comparison to its current definition, and Gazans didn't organize around any political factions or ideologies. Rather they assembled in small groups known to Gazans as Fidayeen — freedom fighters.
These were dispossessed refugees still unaware of the complexity of their political surroundings, and the Fidayeen were mostly young Palestinian refugees fighting to return to their home. But their operations grew bolder day by day. They would sneak back into their towns, which then eventually became part of Israel, with primitive weapons and homemade bombs. They would kill Israeli soldiers, steal their weapons and return with the new weapons the second night.
Some would secretly go back to their villages in Palestine to 'steal' food, blankets and whatever money they had failed to retrieve in the rush of war. Those who never returned received the funerals of martyrs, with thousands of fellow refugees marching with symbolic coffins to graveyards. Hundreds never returned and few bodies were ever recovered.
Following every Fidayeen strike, the Israeli Army would hit back at Gaza's refugees, inspiring yet more support and recruits for the growing commando movement.
The prowess of those young refugee fighters was on full display in November 1956, when Israel invaded the Gaza Strip and large swathes of Sinai following the Suez Crisis. Egyptians fought the Israeli Army with much courage, but the Palestinian garrison based in Khan Younis, now a major target in the latest Israeli war, refused to surrender.
When the fighting was over, Israel moved into Khan Younis and carried out what is now etched in the Palestinian collective memory as one of the most horrific mass killings in Gaza's history, a massacre of 124 men and boys in the Rafah refugee camp known as Al-Amiriyah School Massacre
"The victims were herded into the school under the batons of the soldiers," reflects Dr Ahmed Yousef, in a recent article. "Those who survived the beatings were met with a hail of bullets and the demolition of the building over their heads. The bloodstains stayed on the school walls for years to remind us children of Israel's crime."
Yousef, then a child in a brutalized Rafah, would later become a top adviser to Hamas' first Prime Minister Ismael Haniyeh in Gaza. His article, originally published in Arabic, was entitled: "The resistance will not surrender... we will be victorious or die."
Are there any surprises in how the past is knitted both to Gaza's present and future? It should also be of no surprise that Palestine's resistance today, the Izz Al-Din Al-Qassam Brigades, was formed by a small group of school kids in the central Gaza Strip.
These were poor refugees who grew up witnessing the brutality of the occupation, and the abuse it invited into their daily lives. (The group adopted the name of Izz Al-Din Al-Qassam, an Arab preacher who fought British colonialism and the Zionist forces until he was killed by British forces in a Jenin orchard in 1935.)
The first young men who started Al-Qassam were all killed shortly after the inception of their group. But what they started has since become a massive movement of thousands of fighting men and woman which, as this article was being written, were keeping Israeli forces in northern Gaza at bay.
Resistance in Gaza, as in any historical inevitability, can never be interrupted. Successive Israeli governments have tried extreme measures for decades before the so-called Operation Cast Lead of 2008-9.
After the 1967 war, Ariel Sharon was entrusted with the bloody task of "pacifying" the headstrong Strip. Then the head of Israel's Defense Forces' southern command, he was nicknamed the "Bulldozer" for good reason.
Sharon understood that pacifying Gaza would require heavy armoured vehicles, since Gaza's crowded neighbourhoods and alleyways weaving through its destitute refugee camps were not suited for heavy machinery. So he bulldozed homes, thousands of them, to pave the way so tanks and yet more bulldozers could move in and topple more homes.
Modest estimates put the number of houses destroyed in August 1970 alone at 2,000. Over 16,000 Palestinians were made homeless, with thousands forced to relocate from one refugee camp into another.
The Beach Refugee Camp near Gaza City sustained most of the damage, with many fleeing for their lives and taking refuge in mosques and UN schools and tents. Sharon's declared objective was targeting "terrorist infrastructure." What he in fact meant to do was target the very population that resisted and aided the resistance.
Indeed, they were the very infrastructure he harshly pounded for many days and weeks. Sharon's bloody sweep also resulted in the execution of 104 resistance fighters and the deportation of hundreds of others, some to Jordan, and others to Lebanon. The rest were simply left to rot in the Sinai desert.
It is the same "terrorist infrastructure" that Sharon's follower, Benjamin Netanyahu, is seeking to destroy by using the same tactics of collective punishment, and applying the same language and media talking points.
In Gaza, the past and the present are intertwined. Israel is united by the same purpose: Crushing anyone who dares to resist. Palestinians in Gaza are also united with a common threat: Their resistance, which, despite impossible odds seems likely to intensify.
Just by taking a quick glance at the history of this protracted battle — the refugees versus the Middle East's 'strongest army'— one can say with a great degree of conviction that Israel cannot possibly subdue Gaza. You may call that a historical inevitability as well.
Ramzy Baroud (ramzybaroud.net) is an internationally-syndicated columnist and the editor of PalestineChronicle.com
Source: http://www.arabnews.com/news/605741/columns
-----
An Urgent Open Letter To Sisi, You Can Save Palestinian Lives!
By Abdallah Schleifer
22 July 2014
Egypt can and must open the border crossing point with Gaza to provide temporary refugee relief while guaranteeing Egypt's own security from Gaza and Sinai based terrorists.
The Palestinians in Gaza are in a dire situation. Hamas refused your ceasefire proposal and with the discovery of special "reserve" tunnels from Gaza directly into Israel, that are now being activated so that Hamas units can infiltrate directly and stage surprise attacks on Israeli settlements or soldiers. For its part, Israel is much less likely to accept a revived ceasefire offer until it has finished house-to-house searches in certain Gaza neighbourhoods. This phase could take days.
It is also possible ground fighting could move even deeper into the centre of Gaza as it did in 2008-09, as sentiment grows in Israel that the only way to avert the eventual reconstruction of tunnels and rebuilding of rocket-storage and launching facilities is to clear out any resistance in the Gaza Strip. An alternative or even complementary goal, to seriously seek a two-state solution peace settlement with the recently created Palestinian unity government is obviously not on this Israeli government's agenda, in my view.
What Egypt Can Do
United Nations facilities within Gaza are already swamped with Palestinians fleeing battle zones - often upon last-minute Israeli advance warning and despite reported Hamas efforts to keep the unarmed civilian population in place to defy the Israelis.
It is impossible for Palestinian civilians to flee directly into the advancing lines of Israeli troops, who in the 2008-09 conflict were so trigger-happy they killed Palestinian civilians moving towards them under a white flag try to flee the combat zone.
But here is what Egypt can do, taking full note of security problems in the Sinai:
First of all, the Egyptian Army could undertake the crash construction and manning of a vast temporary refugee camp in the Sinai, adjacent to the Rafa Crossing Point from Gaza similar to those quickly thrown up emergency refugee camps world over. It should include a large number of latrines quickly dug, drinking water tanks with spigots and shower areas, field kitchens and huge field tents that can sleep hundreds.
At the crossing, a very large number of security teams should quickly check refugees and their luggage (one suitcase or bag per person) to ensure that armed elements conceivably with ties to the Sinai Islamist militants are not allowed in.
To prevent Hamas units from setting up rocket launchers on the Gazan side, close to the crossing point, Egyptians troops could temporarily move across the border for a few hundred yards to ensure a neutral zone on the Gaza side. Both Israel and Hamas might object but such a modest intrusion that is not seeking combat and on a humanitarian mission would be obvious to both Israeli and Palestinian publics, as well as to the rest of the world.
It is to be understood that as soon as a ceasefire is finalized and implemented the camp will be closed down and the tens of thousands who will no doubt have taken refuge will be escorted back into Gaza.
Aside from the most basic humanitarian gesture of saving Palestinian civilians fleeing the combat zones, setting up this camp will demonstrate that while both Israel and Hamas are indifferent to the fate of the non-combatant Palestinian civilians trapped and dying in the widening combat zone, Egypt is not.
Abdallah Schleifer is a veteran American journalist covering the Middle East and professor emeritus at the American University in Cairo where he founded as served as first director of the Kamal Adham Center for TV and Digital Journalism. He is chief editor of the annual publication The Muslim 500; a senior fellow at the Foreign Policy Research Institute (USA) and at the Royal Aal al Bayt Academy for Islamic Thought (Jordan.) Schleifer has served as Al Arabiya Washington D.C. bureau chief; NBC News Cairo bureau chief; Middle East correspondent for Jeune Afrique; as special correspondent (stringer) , New York Times and managing editor of the Jerusalem Star/Palestine News in then Jordanian Arab Jerusalem.
Source: http://english.alarabiya.net/en/views/news/middle-east/2014/07/22/An-urgent-open-letter-to-Sisi-you-can-save-Palestinian-lives.html
-----
Gaza's Right to Defend Itself
By Mustafa Akyol
July/23/2014
As I sat down to write this piece, the so-called "Operation Protective Edge" by the Israeli army had killed at least 425 Palestinians in the Gaza Strip. The majority of these casualties were civilians, including more than a 100 children, according to the figures by The New York Times. In return, some 13 Israeli soldiers were killed in addition to two Israeli civilians.
Had a Martian descended on our Earth right at this time and looked at these numbers, he would probably conclude that a shockingly unfair battle was going on. Had he spoken English, he would probably be further surprised by another level of unfairness: the way planet Earth's prominent political leaders framed the conflict. One of them, a famous human being named Barack Obama, for example, had only spoken about "Israel's right to defend itself," only to add:
"No country on earth would tolerate missiles raining down on its citizens from outside its borders."
Hearing this, our Martian friend could wonder why the inhabitants of Gaza had to tolerate missiles raining down from outside their borders – especially when these missiles were a 100 times deadlier than those rained down on Israel. If Israel had the "right to defend itself," in other words, then why does Gaza not have the same right and receive confirmation from Mr. Obama or other masters of the blue planet?
If the answer to that question would be that Israel is a sovereign state that enjoys a seat at the United Nations, but Gaza is not, then things would probably become even more interesting for our Martian friend. He could check human sources, such as Wikipedia, to see why Israel enjoys statehood, while Palestine does not: Palestine never became a state, because Israel simply never allowed it to become one!
After seeing all this, our Martian friend would begin to grasp the nature of the ugly game in our Social Darwinian planet: Here, the mighty rules and their might creates rights for them. That is why only the mighty, and not the downtrodden, can enjoy "the right to defend itself."
Personally speaking, however, I am of the naive persuasion that rights – such at the right to life – are absolute, regardless of the might behind them or the lack thereof. That is also why I value every single human life, whether it is Arab or Jewish. That is the reason why I have been against all attacks on Israeli civilians, such as suicide bombings or indiscriminate missiles. Similarly, I have always condemned anti-Semites, including a few bigoted idiots in Turkey who recently dared to argue, "Hitler was right."
I condemn Israel's ruthless bombardment of Arab civilians with the same spirit. Publicity terms like "collateral damage" don't blind my eyes, especially when the damage is nothing but predictable and recurrent. I know, after all, that "terrorism" is perpetrated by not only non-state actors, but also states. Israeli General Oren Shachor even offered "Terrorism 101" logic when he unabashedly said: "If we kill their families that will frighten them."
That is why, in my view, the poor Gazans have a right to defend themselves as much as their mighty neighbours do. I just think they should rely on not military might, but the civil and thus moral high-ground that will highlight their rightness, just like the way Mahatma Gandhi did in the face of British colonialism. Then the Gazans could help even the most blinded human beings, many of those who live in Washington, to realize and become ashamed of the staggering.
Source: http://www.hurriyetdailynews.com/gazas-right-to-defend-itself.aspx?pageID=449&nID=69469&NewsCatID=411
-----
Anti-Arab Sentiments in Israel Show No Signs of Abating
By Orlando Crowcroft
July 21, 2014
When Israeli police finally confirmed one week ago that the murder of 17-year-old Mohammed Abu Khdeir had a "racist, nationalist motive" it only proved what everyone in Israel and Palestine had known for weeks.
The identities of several of the men who killed Abu Khdeir — abducting him from outside his home in Shuafat, East Jerusalem, taking him to a remote forest and burning him alive — are still under gag order in Israel, but it is known that two are just 16 and the ringleader, Yosef Chaim Ben David, the only man identified so far, was 29.
Israeli police say that the three men in custody — there are three others free on bail and thought not to have been actively involved in the murder — recreated the murder for police, and admitted that on the morning of July 2, following the funerals of three Israeli teenagers the previous day, "they went out looking for an Arab to kill".
The Abu Khdeir case feels like a long time ago now, with more than 500 Palestinians dead in Gaza since Israel began its bombardment of the strip.
The Abu Khdeir family will be considered terrorist victims, meaning that they will receive benefits offered to Israeli victims of terrorism, but the family is sceptical that the men will be tried at all.
Abu Khdeir's father, Hussein, said even after the murder that the men would claim to be insane; indeed, local media reported this week that two of the men would be submitting insanity pleas.
But the racist, nationalist undercurrent that the Abu Khdeir murder represents shows no sign of abating in Israel. In recent weeks, peace rallies in Tel Aviv, Haifa and Jerusalem have been attacked by right-wing extremists, chanting "Death to Arabs".
On Saturday, hundreds of rioters were dispersed with water canon in Haifa after attacking peace campaigners.
Meanwhile, on July 12, violent fanatics attacked a peace rally in Tel Aviv after police rushed to shelters during a rocket siren.
In recent days, only large numbers of police posted at rallies in Habima Square have managed to keep the growing mobs at bay.
Many of those on the streets — or increasingly making their views known online — are teenagers or in their twenties, underscoring the growing popularity of right-wing politics among young Israelis.
Their generation grew up during the second intifada and since then the separation wall and siege of Gaza has reduced interaction between Jews and Arabs. Most young Israelis will only encounter Palestinians as young IDF conscripts posted to the West Bank or, more recently, battling Hamas in Gaza.
"There seemingly is greater receptivity for those sentiments here in Israel (and) I think part of it is about the second intifada," said David Sheen, a Canadian researcher focused on far right parties in Israel.
"When you go back to before that there was more interaction between Israelis and Palestinians. If you were in a group of people 20 years ago and somebody said: 'Kill the Arabs', or something like that, at least someone in your group would say: 'That's not cool'."
Mr Sheen has, in recent weeks, exposed cases of young Israelis using Twitter or other social media to call for the murders of Arabs.
This follows a number of scandals after the kidnapping of three teenage Israelis in June, when one page called for killing "one terrorist an hour" until they were found.
For Haggai Matar, 30, an Israeli political activist, it is important to distinguish between the internet trolls and those who can actually shape public opinion.
"It is worth trying to see with the internet who are your regular loonies and whose writing has more effect. Take the organiser of the demonstration" in Tel Aviv on Saturday, he said. The man in question was an Israeli rapper named Yoav Eliasi — known as 'The Shadow' — who urged right wingers to join him in protesting a peace rally in Tel Aviv's Habima Square last week.
"When he calls people to arms it is not as important as a politician but it is worth more attention than just your average nut, sending death threats," he said.
This was seen after the rally, when dozens of right wingers attacked the peaceful protest. Mr Eliasi wrote on his Facebook page: "Together we're a force against the real enemy among us, the radical left, and thanks to my guys who are apparently called the lions, and thanks to the IDF, all this is for you!"
But critics also point out that the surge of fanaticism, which has intensified over the past month, comes against a political backdrop of the most right-wing government the country has seen in years.
Naftali Bennett, a member of Benjamin Netanyahu's cabinet, said last year that he had "killed lots of Arabs… and (had) no problem with that".
The foreign minister, Avignor Lieberman, branded a prominent Arab politician in the Knesset as a "traitor" after she was arrested at an anti-war rally.
"I agree that the 100 people coming to these events… shouldn't be given all the attention, they don't deserve it. I think the bigger problem (is)… the more established side of this phenomenon: high-ranking politicians inciting against the left," said Mr Matar.
Michael Stephens, deputy director of Royal United Services Institute in Qatar and a former Jerusalem-based analyst, believes that the perceived rise in right-wing politics in Israel dates back to the country's 2006 war with Hizbollah, and painful memories among Israelis of the government's handling of it.
"The general tone of Israeli discourse has become more defensive, and more aggressive in dealing with security issues, particularly with regard to Hamas and Hizbollah," he said.
"Israel and Israelis in general have moved right because there doesn't seem to be an answer to the problems they have — the left tried and failed."
Meanwhile, division is growing among Israelis tired of the repetitive and increasingly brutal wars in Gaza and those on the right, who hate the leftists almost as much as they do Arabs.
At a peace rally in Tel Aviv on Saturday, a young former soldier turned peace campaigner paced up and down at the entrance to Habima Square. On the other side of the street, 100 far-right protesters were held back behind police barricades.
Suddenly, three young women approached the soldier and began to scream at him, calling him a traitor and a terrorist before they were dragged away by police. "I just want to have a dialogue," said the soldier, as one of the women, wild-eyed, shouted and waved an Israeli flag in his face before being pushed by police back towards the swelling ranks of right-wingers.
Their chant: "Let's turn Gaza into a car park!" hung in the air on the sticky summer night.
Source: http://www.thenational.ae/world/middle-east/anti-arab-sentiments-in-israel-show-no-signs-of-abating#full#ixzz38GRumXit
-----
All Talk, No Action: A Message To Those Who 'Support' Palestine
By Octavia Nasr
22 July 2014
I'm sick and tired of the pretenders who say, "Palestine is the compass," and ignore the actual abuses the Palestinians have been enduring at the hands of occupiers, jailers and hostile hosts.
I'm not talking only about what Israel is doing to the Palestinians; I'm also talking about the fact that Palestine – in all its millions of versions (because after decades of conflict, displacement and loss, each Palestinian has his or her own version) - and Palestine is searching for its own compass especially as no Arab nation has given it a viable example or support to exist as an independent nation.
Palestinians are bleeding and want to finally rest in peace. Even Hamas wants peace. For the only time in my life I joined an online campaign called "We are all Palestinians" simply because I believed that peaceful people remain quiet for too long and allow the bullies to yack exclusively and nonstop. This gives the impression to the outside world that we are all in agreement and therefore we become labelled as "terrorists" and "violent" and we give others reason to attack us repeatedly and without mercy.
Palestine Is Not the Compass
Palestine is not the compass. Palestine is the excuse for the failures of those who hide behind this slogan. What do you call these people calling for further escalation in Gaza? How about they fight for the right of a third generation Palestinian refugee to be treated decently instead? They can't teach Palestinians anything about government, infrastructure, or budgets. They can't give Palestinians hope, strength, moral support, vision or freedom, because they have none.
Think about that next time you flap your lips to say, "Palestine is my compass." Compass for what? Where are you trying to go and need Palestine to guide you? Drop the farce already and help bleeding and broken Palestine and the hundreds of thousands of Palestinians imprisoned in refugee camps for seven decades - that's almost a century! Better yet, light a candle for the souls of the innocent Palestinians who perished for no fault of their own.
The conflict will soon enter its centennial and Palestinians still live in camps lacking basic human rights while the pseudo-intellectuals and their blind followers applaud and shoot their celebratory guns at the capture or killing of an Israeli soldier.
Israel dehumanizes Palestinians no doubt, turning them into numbers and simple statistics. But what these hot-headed "thinkers" who incite violence do, leads to more pain for Palestinians; and with the lazy, violent "non-doers" who cheer them, they take the dehumanization of Palestinians one step lower, by turning their death and dignity into insignificant numbers!
Multi-award-winning journalist Octavia Nasr served as CNN's senior editor of Middle Eastern affairs, and is regarded as one of the pioneers of the use of social media in traditional media. She moved to CNN in 1990, but was dismissed in 2010 after tweeting her sorrow at the death of Hezbollah's Mohammed Fadlallah. Nasr now runs her own firm, Bridges Media Consulting, whose main aim is to help companies' better leverage the use of social networks.
Source: http://english.alarabiya.net/en/views/news/middle-east/2014/07/22/All-talk-no-action-A-message-to-those-who-support-Palestine.html
------
Who Is Hamas Fighting For?
By Khairallah Khairallah
22 July 2014
In 2006, Israel launched a war on Lebanon. It was a war that aimed to weaken Hezbollah which had started to work towards tightening its grip on Lebanon to fill the vacuum resulting from the Syrian military's withdrawal.
During the July 2006 War, Druze leader Walid Jumblatt used to continuously ask a very simple, yet complicated, question – to whom will Hezbollah present its "victory?"
After halting military operations and issuing U.N. Security Council Resolution 1701, which among its many items stipulated the Lebanese army's deployment throughout the South and the "Resistance's" withdrawal towards inside Lebanon, it turned out that the victory which Hezbollah achieved was two-fold.
The first aspect is linked to Iran as it developed into a major player in the Lebanese "arena" after it was just a partner at managing it. I believe that Iran has for many years sought to transform Lebanon into one of its colonies and thus use the country as a bargaining chip when negotiating with the United States.
The second and last aspect is mainly linked to spreading misery in Lebanon, leading it backwards and isolating it from its Arab surrounding. In my view, Hezbollah's formation of a cabinet headed by Sunni figure Najib Miqati was part of this.
This, I feel, synchronized with persistent attempts to reassign the Syrian regime some sort of role in Lebanon. Following the 2006 July war, Syrian president Bashar al-Assad exploited the so-called victory of the resistance and attacked Arab leaders in a way that I can only describe as obscene.
In my view, Hezbollah managed to exploit its supposed "victory" in the 2006 July War. It was primarily a victory over Lebanon and the Lebanese people. Hezbollah stood over a corpse called Lebanon and flashed the sign of victory. He who reads the content of the UNSCR 1701, which Hezbollah agreed to, will understand why Israel also considers the 2006 July War as a victory of its own as well.
Back To the Present
Who will Hamas present its "victory" to in the war of summer 2014?
So far, the Hamas movement, which triggered the war Israel was expecting, has achieved a set of aims that I believe it is gearing towards. Firstly, it embarrassed Egypt. Egypt's endeavour to halt the Israeli aggression makes Egypt look like it's seeking to deter the "resistance" in Gaza.
This is how it looks, at least on the surface. And the question must be asked, does Hamas, and those who stand behind it, think that the continuation of the Gaza war will have repercussions inside Egypt and thus serve the Muslim Brotherhood? All the while, it seems that Hamas also seeks to embarrass the Palestinian Authority which no longer has anything to say, especially amidst this Israeli brutality. I believe that the authority thinks that Hamas aims to benefit as much as possible from a hostile Israeli policy that only believes in perpetuating occupation - a policy that obstructed negotiations and turned Palestinians into false witnesses to the fait accompli the PA is trying to establish on Palestinian territories.
The Palestinians are paying a high price for the terrorism Israel is practicing. However Palestinian bloodshed seems to be the least of Hamas' worries. After the Gaza war, I believe that Hamas considers itself the major player in Palestine. But is this the case?
Hamas Folded the Page
Hamas folded the page of Palestinian reconciliation but all that happened is that Hamas escaped its internal crisis and turned it into a Palestinian crisis. It transferred this crisis to the West Bank - that is to the national authority and Fatah which appeared more exposed than ever as well as incapable of influencing events.
But again, to whom will Hamas present its "victory," dripping of Palestinian blood, to? It's clear that this war is a part and parcel of a bigger game that goes beyond Gaza. What signifies the size of this game is the amount of missiles which were delivered to Gaza. In addition to this, there's the continuous focus on Egypt for the purpose of dispersing its powers. Is there another aim for the recent terrorist operation which was carried out by a gang at the borders with Libya and which killed 30 Egyptian military personnel? I believe that this gang is linked with Hamas.
In all cases, what has been exposed is not only Hamas' deep crisis and its lack of concern regarding what the Palestinian people are subjected to, it is also clear, to me at least, that Israel is short-sighted and only aims to invest in occupation.
Such a policy only serves Hamas and others who, like Hamas, are willing to sacrifice the Palestinians. In my mind, those who exploit the Palestinians and their cause only care about embarrassing Arabs in general and the Palestinian Authority in particular.
Such a policy, it seems, only serves Hamas and others who, like Hamas, are willing to sacrifice the Palestinians to serve those who want to exploit the latter. Those who exploit the Palestinians and their cause only care about embarrassing Arabs in general, I feel, and the Palestinian Authority in particular.
Will Hamas present its victory to those people - i.e. those helping it dig tunnels and those who supply it with missiles and all sorts of support?
It will probably do so, especially considering Israel's treatment of Palestinians. Since when is working to perpetuate occupation a political policy? Since when is it viable to believe that cancelling out other people can be a basis of political policy? Does extremism lead to anything else but more extremism in a region on the brink of explosion?
Khairallah Khairallah is a Lebanese writer who has previously worked at Lebanon's Annahar newspaper; he then moved to London and began writing political columns in Arabic language newspapers, including Al-Mustaqbal and Rosa El-Youssef.
Source: http://english.alarabiya.net/en/views/news/middle-east/2014/07/22/Who-is-Hamas-fighting-for-.html
------
Egypt's Sisi Holds Hamas' Fate In His Hands
By Shlomi Eldar
July 22, 2014
US Secretary of State John Kerry, who's in Egypt this week to advance a cease-fire between Israel and Hamas, received his fair share of criticism from Israelis during the failed negotiations with the Palestinian Authority for believing that a quick agreement could be reached between the two warring parties. Now, he's about to discover that arranging an acceptable cease-fire is no easy feat, either.
Hamas and Israel are caught in the grip of a bitter strategic struggle, intended to rewrite the rules of the game, rules that were shaped in the wake of the Hamas coup in Gaza and honed during the IDF's two previous operations in Gaza, Cast Lead and Pillar of Defense. Many, including the US administration, are having a hard time understanding the suicidal motives and moves of Hamas at this stage, as revealed during Operation Protective Edge. Not only did it enter into a military adventure fully aware that it was taking on an Israeli force that is many orders of magnitude larger, more sophisticated and better equipped. Its conduct vis-à-vis Egypt is also difficult to understand, as it is the one country that could possibly save Hamas from complete collapse.
Hamas rejected the Egyptian outline for a cease-fire bluntly and decisively, in all channels at its disposal. By doing so, it signalled to Israel — practically forced it — to enter Gaza in a far-reaching ground operation. The results of this ground incursion, involving tens of thousands of reservists as well as tank and infantry forces, with the Israeli air force in absolute control above, will be devastating to Gaza and to Hamas. And yet, there can be no doubt that the regime in Gaza took that into consideration. Although the military wing, Izz ad-Din al-Qassam, hopes to harm Israeli soldiers in the densely populated Gaza territory and even anticipates abducting soldiers, those are not the main reasons that Hamas coerced Israel into sending a massive force into Gaza.
From the moment that Operation Protective Edge began, Hamas made an important strategic decision that changed the rules of the game by leaving itself with just two options. It would either ensure that the border crossings would be reopened, thereby allowing Hamas to continue controlling the Gaza Strip, or it would willingly give up the burden of government but go down in a blaze of glory, leaving a lasting impression of sacrifice and heroism. More precisely, Hamas decided to fight its last battle, a battle of life or death.
When Hamas was offered a cease-fire that did not ensure that the movement would survive and maintain full control over the Gaza Strip, its military wing intensified its barrage of rocket fire against Israel. It began operating the "death tunnels" that had awaited this fateful day, and forced Israel to order the launch of a ground incursion into the Gaza Strip territory.
But the suicidal behaviour exhibited by Hamas was hardly limited to an intense desire for a full frontal clash with Israel on the battlefield. It could also be seen in the movement's arrogant diplomatic attitude toward Egypt. Hamas' spokesmen claim that they regard Egypt as an unacceptable mediator. That was why they contemptuously rejected the Egyptian outline for a cease-fire. Yes, the outline ensured a cease-fire, but it ignored every single one of the conditions set forth by Hamas to ensure its survival.
It's worth noting the fact that Egyptian President Abdel Fattah al-Sisi was willing to have his country take on the role of mediator with the group, even though Hamas has been outlawed in Egypt as a terrorist organization, is surprising in itself. But instead of taking advantage of this opportunity, hoping that this was just the start — a signal to Hamas that it could possibly improve its relationship with the Sisi regime, Hamas preferred to close the window cracked open by the Egyptians. It went so far as to spit in Egypt's face by turning instead to Turkey and Qatar, two nations that Israel views negatively in this role, and whom it would never be prepared to accept as mediators.
The desire expressed by Hamas that Qatar serve as mediator in the negotiations is based on the assumption that the Gulf state would feel a sense of responsibility for the outcome of the agreement, thus taking fate of Gaza on its shoulders. The rich emirate would pour money into Gaza, saving Hamas.
Here, too, however, Hamas got caught up in the illusion and made a big mistake. The Egyptian government regards Qatar as the fount of all evil because of its sympathetic attitude toward the Muslim Brotherhood. Furthermore, the anti-Egypt line, which is now a clear agenda item for the Al Jazeera network, makes it all the more unlikely that Egypt would open its door to Hamas, in this case by opening the Rafah border crossing.
Any cease-fire agreement, no matter who advances it, cannot be implemented without Egypt's approval. Sisi is the only person who can order the opening of the Rafah border crossing to allow food, raw materials and energy — items that would save Hamas from total collapse — to enter the Gaza Strip. If Sisi persists in being stubborn by not opening the crossing, there is no way Hamas can survive as a movement. Even money from Qatar won't help. Hamas undoubtedly recognizes that without the opening of its border crossings it has no chance of surviving, even if an immediate cease-fire is declared, all the fighting stops and the movement's leaders somehow manage to survive the campaign.
An analysis of Hamas' behaviour during the military operation, its preparation for the "mother of all operations" and its rejection of all the options with Egypt indicates that Hamas has actually adopted a suicidal approach intended to release it from all the obligations of government that it failed to meet. If it is defeated, even if it can claim a handful of point-specific victories, Hamas will live on in Palestinian history as a symbol of heroism.
This and only this will ensure the movement's survival into the future. The survival of Hamas is now dependent on refashioning the ideology that suffered during its years in power. Opponents of Hamas in the Gaza Strip accused it on numerous occasions of obfuscating its symbol and its banner — jihad against Israel — because it preferred the sweet benefits of power. Releasing itself from the constraints of government through jihad will restore not only its lost honor, but also the main reason for its existence. Jihad was and remains a way of life in Hamas, but apparently, it has also become the one drug that can keep it alive. Hamas failed miserably as a political movement because it failed to find the middle road between jihad and national responsibility.
As a movement it was forced to succumb, to declare cease-fires with Israel, and in so doing, to lose the very reason for its existence, at least according to its electorate. Then it ran out of options. The moment of truth has arrived. It's time to decide. Hamas has made the cold, calculated decision that even if its Izz ad-Din al-Qassam militants succeed in harming Israelis and launching painful strikes against Israel on the battlefield, there is still no assurance that it could assure the continuation of its government. Its future as a movement in power is uncertain. On the day that a cease-fire is declared, regardless of whether Israel can claim total or partial victory, it will be clear to all that the death and destruction that descended upon Gaza could not provide it with what is most important of all: money to pay salaries.
Furthermore, even if Qatar does pour hundreds of millions of dollars into the "rehabilitation of Gaza" once the campaign is over, the money will be of little value if the border crossings remained sealed.
As such, with Hamas approaching the moment of truth, the question its members must ask themselves is: What do we give up? Should they abandon jihad, a concept that flows through Hamas' very veins and ensures its future as a movement? Or should they abandon their role as a political movement in power, realizing that it cannot possibly meet its obligations in this capacity, and that power has turned out to be the one thing that will ultimately bring about its demise? Without giving up one or the other, there is no way that Hamas can survive.
Hamas made a very calculated decision when it chose to use all means at its disposal to force Israel to enter the Gaza Strip. It can now sing its swan song to the sounds of war.
There is now just one leader who can save Hamas from total collapse. This person is Sisi, and he's watching everything unfold from a safe distance, as if it were a summer blockbuster. If Kerry makes him an "offer he can't refuse," maybe he will be good enough to toss Hamas a lifeline.
Source: http://www.al-monitor.com/pulse/originals/2014/07/hamas-egypt-al-sisi-opening-crossing-points-gaza-israel.html#ixzz38GYo8XIf
-------
Israel Strives To Face Hamas Terror Tactics
By Ben Caspit
July 22, 2014
On July 21 around 7 a.m., IDF soldiers hit the footpaths of Nir Am, a kibbutz located a few hundred meters from the Gaza Strip border. The soldiers passed through all the houses, knocked on every door and checked with the residents to make sure that everything was OK. They went to great efforts to check the alleyways, day care centers, hothouses and grounds of the entire kibbutz.
Meanwhile, the residents were instructed to lock themselves in their homes, bolt the doors and not open them to anyone. Half an hour earlier about 15 Hamas terrorists had appeared on the scene, dressed like IDF soldiers: the same uniforms, the same equipment. They emerged from a tunnel a few hundred meters away and ambushed the large IDF force that faced them. They succeeded in killing an officer, Lt. Col. Dolev Keidar of blessed memory, and three of his soldiers before the terrorists were eliminated by an aircraft, a tank and IDF infantry forces. Now, the mission was to check whether any terrorist had survived to infiltrate the kibbutz and carry out a terrorist act for bargaining purposes: to kill as many civilians as possible and try to abduct some to take back to Gaza through the same tunnel.
A TV photographer living in the kibbutz photographed these searches and stopped near one of the houses. Inside, behind the window, stood an elderly woman. She did not seem frightened — on the contrary. The photographer was well acquainted with the woman. She is a Holocaust survivor, a "graduate" of the Nazi death camps in Europe who immigrated to Israel, helped found the state and participated in the establishment of the kibbutz. And now, toward the end of her life, she finds herself hiding — again — from the horror of new, fresh forces who have decided to kill her.
"Take care of yourselves," she told the soldiers, "Thirteen IDF soldiers were killed, all of them are my sons," she added.
On the morning of July 21, the IDF casualty count totalled 13 slain soldiers. On the next morning, it reached 25. The army haemorrhages blood but so far, it has succeeded in blocking the wave of infiltrations into Israel through the terror tunnels. These tunnels were dug over the course of years under our very noses and extend from inside of Gaza, mainly the Shajaiya neighborhood, to access thriving, full-of-life Israeli villages.
By the way, all of these villages are located within the well-known, international Green Line borders of Israel. Let me remind anyone who might have forgotten: Israel left every last inch of Gaza in July/August 2005 as part of the disengagement. This was the late Prime Minister Ariel Sharon's intriguing experiment that failed. Israel left in order to extend its hand in peace, and examine what happens with the Palestinians when they are liberated. And indeed, since then they have accumulated 8,000 rockets of all ranges, including the radius of Tel Aviv; they have dug dozens of tunnels to facilitate acts of terror (to date, 25 terror tunnels have been found, of which Hamas has already used five to attempt to enter Israel, each time foiled). They established a navy and a small fleet of mini, remotely piloted vehicles. They have become a trained, hate-filled murder machine that prepared 25,000 jihad fighters yearning for the opportunity to carry out suicide bombings on the State of Israel's southern fence. But the main thing is that US Secretary of State John Kerry announced that he is coming to the region to "spare innocent civilians."
Lt. Col. Dolev Keidar was part of the IDF command's crème de la crème. He assumed his last position, in which he was killed, only a week ago: infantry battalion commander in the IDF's prestigious officer training school of international repute. On Monday morning, a few hours after the incident, I patrolled the area with another officer, a brigadier general. This officer had been a veteran brother-in-arms to Keidar. The sector patrol we took was really the general's personal scouting mission in the footsteps of his slain friend. The previous evening, Sunday, the two met by chance on the site in which the terrorist act took place the following morning. Keidar told the high-ranking officer that he planned on stay outside in the field that night, with his soldiers.
"There is an alert that they will try again to infiltrate through some tunnel during the night," said Keidar. "I'm planning on remaining here. We can't allow them a successful infiltration into an Israeli village."
It was around 6:30 a.m. when they came. Keidar and his soldiers were the first to confront them. "I know what he was thinking afterward," said the senior officer, his eyes misting. "He told himself, 'It's either me or Nir Am. We are the only ones who stand between these murderers and the kibbutz.' That's why he stormed on. That was Dolev."
Israel is now sobering up. We must hope that the world will also go through the same sobering process, though it may already be a little too late. The entire region is awash with Hamas-type organizations. The Islamic State is dismantling Iraq and Syria while conducting mass slaughter of Shiites only because they are Shiites. Ansar Bait al-Muqaddas is ruining the Sinai Peninsula while Jabhat al-Nusra is burning up Syria. Next to them is the Islamic Jihad, with whom we are already well acquainted, with the addition of local Salafist organizations such as the Popular Resistance Committees in Gaza. What characterizes these groups is that each time a new movement pops up, it is more extreme, murderous and bloodthirsty than its predecessors.
A few weeks ago, even before the current cycle of violence began (as a reminder, the current round of violence was fuelled by the abduction and murder of three Israeli youths in the Etzion settlement bloc), I attended a background briefing by the head of the Southern Command, Gen. Sami Turgeman. Those were relatively quiet days. Rocket fire from Gaza was the usual dribble, to which hundreds of thousands of residents of the environs had become accustomed over more than 10 years. Here a Qassam, there a Grad rocket, occasionally a few mortars. These were launched for no particular reason, of course, just for the hell of it. An entire generation of Israeli children grew up there, in the Gaza Envelope villages, where they never knew a truly quiet life — life that did not require maintaining a constant state of readiness to run like crazy to a protected space. They were born after these recurrent cycles of violence started.
Turgeman told me about the tremendous resources invested by Hamas in its attempts to fortify itself. He talked about tunnels. He said that thousands of Gaza residents are, at any given moment, digging a giant network of tunnels enabling them to enter Israel, bypassing the IDF. The goal is to perpetrate as many civilian murders and massacres as they can, and if possible to abduct Israelis and bring them to the Strip. The Gazans know very well that Israel's weak spot is kidnapped soldiers or civilians, and they do everything to obtain them.
Turgeman described a harsh reality. One day, he said, it will explode in our faces. And that is exactly what happened two weeks ago. Hamas was revealed as a mini superpower that swelled up on our border with tens of thousands of fighters, an underground city below Gaza and cavities and tunnels that extend underground over scores of kilometers. These tunnels allow senior Hamas figures to live secure, comfortable lives while their exhausted civilians remain aboveground. Hamas, unlike Israel, does not build shelters or protected spaces for its civilians. Throughout all of Gaza there is no awareness of civil protection, and for good reason. In Gaza, the civilians are the human shields for the rockets launched at Israel. When the IDF warns the civilians and asks them to vacate a specific region that they intend to attack, Hamas forces them to remain. Not long ago, 20 rockets were discovered in one of UNRWA's elementary schools. This is the reality that Israel faces, the reality in which it must function. While the world does not yet understand this, it is on its way to comprehending it. Unfortunately, this road will be long and difficult.
Source: http://www.al-monitor.com/pulse/originals/2014/07/hamas-protective-edge-tunnels--dolev-keidar.html#ixzz38GZ0ydGn
-------
Diary Of An Israeli War: A Day In Gaza Under Israeli Attack
By Haidar Eid
21 Jul 2014
I sit in my apartment in Gaza City for days and nights, watching the sky turn grey with thick smoke during the day, and bright yellow and orange in the darkness of the night. The grey and yellow and orange are courtesy of Israeli bombs, missiles, shelling, drones - gifts from the people of the United States to the people of Gaza. We don't want your gifts, we want our land, our birthright. And because Israelis want it too, we must live in an open-air prison, be the target of your "best" pilots, be dehumanised so that you can kill us and blame us for making you kill us!
6pm Saturday, July 19 It is summer in Gaza, Ramadan. Families should be together, sitting on the rooftops, having Iftar, cutting open a red, juicy watermelon, eating roasted pumpkin seeds, shelling nuts, going to the mosque, staying awake late into the night, praying. It is the time to take our children to the beach, to tease them for being too clever, if they got very high marks and to tease them for not being very clever, if they did not get high marks. It is the time to visit family in Sheikh Radwan, in Rafah, in Khan Younis, to have iftar with brothers and sisters, and nieces and nephews. But we dared to leave our homes for the last 12 days.
We have to confess to our children that we cannot observe Ramadan like everyone else. We are Palestinian, so our lives are different, must be different. Their lives must be different. They have land that the Israelis want. They are different; they have Israelis in their lives. They are the goyim, the unwanted other, the Native American, the nigger of the American South, the kafir of South Africa.
6:30 pm Saturday, July 19 The Palestinian Resistance demands that Egypt opens the Rafah crossing permanently. There's a story to tell to our children: Why is the Rafah crossing closed today? Why has it been mostly closed since 2006? Isn't Egypt an Arab country? Aren't Palestinians Arabs or is it that Gazans aren't Arabs? How do we explain this to the children of Gaza?
To the five-year old whose legs are being amputated as I write this: Does she know that the Rafah crossing was closed before she was born? Does she know that she had to lose her legs just because she is Palestinian, and lives in Gaza, and Israel is very, very scared of her? So scared that they had to shell her house 10 times in quick succession? So scared that this amount of fire power is the only thing that will stop her from scaring the Israelis?
7 pm Saturday, July 19 Two colleagues from Al Aqsa University, Jamal, Nasr and Khaled Nasr, have lost their two sons! RIP our lovely boys. How do I face your parents? How do your parents face tomorrow? And how many Israeli colleagues sympathise with us?
8pm Saturday, July 19 More than 100 Palestinians killed in Gaza in 48 hours! Our population is only 1.8 million. This is a massacre! They are insane. This is ethnic cleansing. World, wake up!
9 pm Saturday, July 19 Bolivian President Evo Morales calls what is happening in Palestine a genocide. Some are saying that it should be investigated. There is no need to investigate if the Israelis do not punish the instigators and perpetrators of genocide! Judge Richard Goldstone detailed the guilt of the Israeli army in 2008-2009. No one was held accountable or punished. The Gaza Docket of the 2008-2009 atrocity was given to the South African government who could act in terms of the Rome Statute. No one was held accountable or punished. Words are meaningless when 60 are killed in one day, when children have legs amputated, and when they sit alone in the dark, and cry next to the dead bodies of their parents.
10 pm Saturday, July 19 Massive protests in London in support of Gaza. I tell friends there that they should demand nothing less than the expulsion of the Israeli ambassador, military embargo, and sanctions against Israel! That is the only way to stop the ongoing genocide of Palestinians - the holocaust of the 21st century! The horror!
Midnight Saturday, July 19 A black, dark summer night. No water, no electricity. The smell of smoke and fear and panic fills the night. The relentless sound of Israeli shelling: thump, thump, thump. All night long. Huge explosions in the east of Gaza, Shujayea the only mistake of the people there is that they live right next door to Israel and they follow the wrong religion! So they must endure multiple explosions all night long. Ambulances are not allowed in. The Red Cross does not go in - too dangerous. So what will the people there do? Sit with their injured and dead? That sound of non-stop explosions - it drives us mad with anger, with fear, with despair. How many are dying? How many are in pain? Where is the world? They told them to run away from there because they are going to attack, but where do you run to in Gaza? The borders are closed. It is the Israelis who want the borders closed, but it is also the Israelis who say "run away"!
2 am Sunday, July 20 Summer in Gaza. We should be walking on the shores of the beautiful Mediterranean, enjoying the cool breeze now that the sun has gone down. Young people should be playing night football, commiserating with those who supported Brazil in the World Cup, retelling every moment of excellence in Colombia's games, insulting those who supported Germany, making Spain's supporters the butt of a thousand jokes. Young people should be dancing dabkhe, staging theatre shows, planning Eid.
But this is Gaza under Israeli bombardment and young people here have to hold tight onto the hands of their young siblings, while at the same time checking that the road is clear, that the sky is clear. Sometimes they must carry a mother, a grandmother, a baby, and they must run, run, run, quick before the drones see us! Quick before an Israeli filled with hate pulls the trigger, quick before an American-made missile blows us into the sky so that we become part of that big, yellow flame that lights up the dark, Gaza night.
4am Sunday, 20 July Can't sleep, thinking about the people being attacked. F16s are flying almost next to my window! With every explosion, I wonder, who? How many? What is their state now? Who is gone? Who is left? Where will it end? I know what death tastes like now.
8am Sunday, July 20 Another sleepless night! The Israelis will not allow the Red Cross into Shujayea! And the bombings continue with no one to pick up the bodies on the streets, no one to help the injured. Thousands of families walking into Gaza City from the north, from the east, walking away from the approaching Israeli army. Is this 1948 or is it 1967?
Palestinians are again walking away from a murderous Israeli with a death weapon in his/ her hand, ready to kill to take another 20 metres of land away from us. A hundred people, 200 people, 1000 people - a small price Israelis think, to get another 20 metres of the precious land of Palestine. They love our land but they hate us. Why did they come here then? Why did they not stay in the western civilisation that they value so much? Why did they come to the land of the dark Arab, the land of the peasant olive farmer, the land of the fedayeen that they created by their presence here?
10 am Sunday, July 20 The question from the media to Palestinians: Israel is saying that its defence forces try to avoid civilian casualties, and that it warns civilians before any military action in their neighbourhood. Answer from us: This is not downtown Manhattan or London, with trains, buses, planes to take us from here to anywhere we would like to go!! We are under siege, have been since 2006, with the support and complicity of the United States, United Kingdom, the castrated United Nations, the socialist government of France which is refusing to let their citizens protest in support of Palestinians under Israeli bombardment. They have not allowed doctors to enter Gaza, doctors from Malaysia, United Kingdom, Turkey, many countries. Human beings who empathise with us, who want to stop the blood, ease the pain; stitch the gaping holes in our bodies.
12 noon Sunday, July 20 17 children, 18 women, 14 elderly (so far) in Shujayea, among 60 dead. Today the Israeli war machine butchered 104; the number of those injured in Gaza so far is 3000. There is no gauze in the hospitals, no painkillers, no anaesthetic for the operation, no beds, no sleep for the doctors, no silence for the injured.
3 pm Sunday, July 20 Random shelling and air strikes across the Gaza Strip. Eight killed in my neighborhood, Remal.
5:40pm Sunday, July 20 The words of Mark Regev reach my unbelieving ears. I look outside and see huge mountains of thick grey smoke, the same smoke that has engulfed Gaza for the last 12 days, the same smoke that has blocked out the sun and the blue Mediterranean Sea for the last 24 hours. This spokesman of the apartheid Israeli regime is justifying the killing of Palestinian civilians in Shujayea because the most "moral" army in the world dropped pamphlets to tell people to leave their homes before they bombed. "Leave your homes or we will kill and rape you" - that's what the Haganah and the Stern Gang told my parents in 1948; my parents died dreaming of returning to their Zarnouqa. There was no satellite television then, no Facebook, no Twitter, no cell phones, no way to tell the world what was happening to them. So much technology, so much communication, so many words, so little action, so little change. Gaza oh my Gaza! Palestine, oh my Palestine! My land of sad oranges!
8pm Sunday, July 20 Another evening, another hour of Israeli bombardment of the Gaza Strip. Will Beit Hanoun and/or Beit Lahia, in the north, witness the second massacre tonight? BBC and CNN are not calling what has happened a massacre?! How many should be killed in order to convince the editors in London and New York to call it a massacre? What if their children were to be slaughtered by apartheid Israel? Would that change their "neutrality"?!
Should we accept an Egyptian ceasefire initiative calling on us to surrender to Israel? A ceasefire that will result in the continuation of the siege? An initiative that calls our resistance to occupation and apartheid "hostilities"? Why are people dying? For the status quo to remain as is?
No!
Gaza, the Sharpeville, the Guernica of Palestine will become our Saigon! We cannot afford despair!
Haidar Eid is an associate Professor at Al-Aqsa University in Gaza.
Source: http://www.aljazeera.com/indepth/opinion/2014/07/diary-an-israeli-war-2014721102859370216.html
------
Operation Protective Edge: Myths and realities
By Farhana Syead
Jul. 22, 2014
THE ongoing violence on civilians in Gaza under "Operation Protective Edge" is raising several questions among the people around the world. The traumatised Palestinian children, their dead bodies, as well as the destruction, shown in the media sadden us immensely.
War is nothing new for Palestinians. Children who are six years old in Gaza are facing war for the third time. This time, Operation Protective Edge is killing more civilians than ever. In much of the North American and western European media reporting on the current Israeli attack, a common issue is that Hamas has also shot some rockets towards Israel. But none of these rockets hit any targets, and how come no Israeli has lost his/her life because of them?
According to the UN Security Council, some 400 Palestinians, a majority of them civilians, including women and children, have been killed and more than 1,600 injured since July 8 as a result of some 1,900 Israeli strikes on Gaza from land, air and sea. Additionally, more than 1,800 Palestinian homes have been destroyed or damaged.
Against this backdrop, it is easily understood that it is a myth that Palestinian fighters alone are to blame for the ongoing military offensive in Gaza. It is also a myth that the war between Hamas and Israel was triggered by the murder of several children, Israeli and Palestinian, in recent weeks.
It should also be noted that Israel's offensive against Gaza is taking place at a time when international diplomacy is distracted by the escalation of conflicts in other regions (e.g. Ukraine and Iraq). Besides, since the last war in 2012 when Cairo had a government sympathetic to the Palestinian cause, a great deal has changed. Hamas has since lost that support like the Muslim Brotherhood. Thus, Israel knew it was high time to strike.
The death toll in the current round of hostilities can be regarded as a reflection of the asymmetry of power between the fourth strongest army in the world and a virtually defenseless civilian population. In the name of destroying Hamas, Israel actually wants to justify its atrocities on Palestinian civilians.
The poster "Where do Gaza Terrorists Hide Their Weapons?" is a paradigmatic example in this regard, where houses, mosques, schools, and hospitals are legitimate targets because they are presumed to be weapon depositories. During every attack on Palestine, Israel tried to legitimatise it by blaming Hamas and justifying its attack against terrorists.
If we look into the past, we can see that the operations aimed at the Palestinian Islamist militant group Hamas caused huge loss of lives and property of Palestinian civilians. Take the example of "Operation Cast Lead" in 2008. During this operation, 300 civilians including men, women and children died. In addition, hospitals, schools and even mosques were destroyed.
Amnesty International termed Israel's atrocity as war crime. The goal of this all-out aggression was to take revenge on Hamas which, according to Israel, was able to shoot rockets into the Jewish state. In this scenario, it should be noted that the rocket named "Qasas," which is alleged to be used against Israel, is nothing in front of Israeli rockets. In this way, Israel always seeks to take extreme kind of revenge against Palestine.
The unresolved Middle East problem shows that Israeli Prime Minister Benjamin Netanyahu and his right-wing coalition have never believed in -- or sought to establish -- a viable two-state solution. Their sole interest continues to be consolidation of Israeli occupation of the West Bank and East Jerusalem while maintaining the siege on Gaza. For Netanyahu, it is far easier to attack Gaza -- in the name of fighting Hamas -- than it is to sign a peace agreement with moderates such as Palestinian Authority President Mahmoud Abbas.
It is pertinent to say that the aforementioned issues along with support of the US for Israel in all its atrocities indicate the mismatch between the declaratory posture of Israel in bombarding Gaza and the reality. It is also ironic that the United Nations has failed to stop the atrocities. The Security Council, once again, failed to uphold its Charter duties and implement its resolutions regarding the Palestinian-Israeli conflict. The Council's failure to adopt a resolution condemning Israeli military aggression in Gaza and the protection of the Palestinian people is clear.
It is very unfortunate that the civilised nations of the world are reluctant to take a firm stance against the brutality committed by Israel. There are many ways to face Hamas. But the way Israel has adopted clearly shows that destroying Hamas is not its only intention. Israel's action is definitely a violation of human rights and a war crime. Thus, it is the duty of the international community, which always raises its voice against human rights violations around the world, to stop the world's worst crimes.
Farhana Syead is MSS student at the Department of International Relations, University of Dhaka.
Source: http://www.thedailystar.net/op-ed/operation-protective-edge-myths-and-realities-34300
URL: http://www.newageislam.com/islam-and-the-west/new-age-islam-edit-bureau/world-media-on-gaza-and-israel---part-5/d/98257