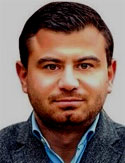 By Jerry Maher
7 February 2017
Those who fiercely oppose US President Donald Trump's statements these days are the Iranian lobby, which has influenced the former Obama administration, and its allies affiliated to the lobby and terrorist projects across the world.
Trump's recent tweets about Iran confused the latter as it is unaware what these stances will lead do and whether these tweets are nothing but mere statements or will they lead to military decisions and operations to confront Iran's intervention in Syria, Yemen and Iraq and its provocation of countries in the region, particularly the Arab Gulf which the Trump administration views as a strategic ally. The Trump administration is also obliged to support the Gulf in confronting Iran's expansion and terrorist militias.
Barack Hussein Obama's presidential term has ended. During this time, half a million Syrians fell martyrs. The Assad regime and its allies killed the Syrian people to protect them from being imprisoned twice. They justified their murder via the excuse of protecting worn out shrines that house nothing but bones – shrines that in the best case scenario are for being visited.
Terror Designs
The aim of these shrines, however, are to strengthen sectarian affiliations and collect money to fund terrorist plans for the Vali-e-Faqih who aims to fulfil the dream of his predecessor Khomeini and raise the flag of Iran in Arab capitals, mainly Damascus, Sanaa, Baghdad and others.
Now that Obama's term has ended, we look forward to a better future with the new American administration, which according to information I have attained from figures who are close to it, is working hard to limit Iran's capabilities and expansion and its acts of going too far against other countries and American allies. Trump recently lambasted Iran in a Twitter post and said: "Iran is playing with fire. They don't appreciate how 'kind' President Obama was to them. Not me!"
Sectarian Militias
After Iran and its allies have caused the death of tens of thousands of Syrians, Yemenis and Iraqis, there is now an American administration that is strict in its decisions to confront the expansion of the regime and its sectarian militias in Lebanon, Iraq and Yemen and to protect the stability of Bahrain and Gulf countries which suffer from Iran's attempts to support terrorism and nurture plans that contribute to igniting sectarian struggle in the region.
All these ambitions are being confronted by the Decisive Storm Operation, which King Salman bin Abdulaziz launched to confront Iran's expansion and its designs in Yemen and the Gulf in general.
Don't let anyone delude you into thinking that Trump's era is the second face of Obama's policy. Be certain that Trump's term will mark a new phase in besieging Iran, limiting its expansion and eliminating its sectarian project that aims to destabilize the region.
----
Jerry Maher is a journalist based in Europe and founder of Radio Sawt Beirut International.
Source: english.alarabiya.net/en/views/news/middle-east/2017/02/07/Trump-s-decisions-and-operation-Decisive-Storm-to-end-mullahs-dream.html
URL: http://www.newageislam.com/islam-and-the-west/jerry-maher/trump's-decisions,-operation-decisive-storm-to-end-mullahs'-dream/d/109993