By Jafar Kazmi
5 Oct 2016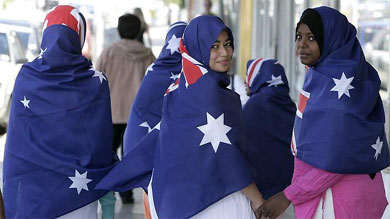 Young Muslim women model Australian flag hijabs for national Harmony Day. (AAP)
In the early 1970's, my father, Kamil, disembarked from a plane he'd boarded in Tehran onto the tarmac at Kingsford Smith Airport, near Botany Bay. As he made his way through customs, in an uncomfortable and ill-fitting suit, he felt alone and unsteady, overwhelmed by the magnitude of the decisions that had led him here.
Dad stepped out of the airport, took off his jacket and felt the sun on his face. He wandered around aimlessly for a few minutes, not sure what to do in this new country, until another traveller noticed him and asked him if he was ok. Dad explained that he was brand new to the country and his fellow traveller arranged a lift to the train station and helped him buy a train ticket. The stranger bought Dad a bag of Twisties, waited with him at the train platform, engaged him in conversation and made sure he was on the right train. As Dad waved goodbye to his new friend from the train window, my father knew he had arrived home.
Dad never met that person again, but over the years he always recounts the story with relish. To him it is what he loves so much about Australia. To Dad, Australia is a country populated by mainly kind, openhearted people. Dad is Muslim and knows this to be true.
I work as a union organiser, for the National Union of Workers, working to empower workers in many different industries, including low-paid and, often, underpaid workers. It is a privilege to work with members to help them work together and fight for a fair deal. It is rewarding to teach someone the skills to win and watch them succeed.
I was born in 1982 to two Muslim parents. I was brought up as a Muslim and consider myself a practicing Muslim. My parents gave me values of compassion, strength, intelligence, a commitment to justice and a love of cricket. I don't know how many of these values came from their upbringing in India, how many came from Islam and how many came from their life in Australia. I am Australian, I am Muslim and am proudly both.
I am confronted by the fact that, increasingly, on worksites I hear negative talk around migrants and specifically around Muslim migrants. I regularly hear comments implying that Muslims are less interested in and less capable of integration, that Muslim culture is incompatible with Western values and even that Muslims hate Australian society.
My mother, Tanvir, came to Australia in the late 1970's. She was barely 18, had never left her home, India, before and struggled being so far away from her family. Sometimes I think how hard it must have been for her, coming to this alien country with no family or support networks aside from my father. Mum remembers how strange the Australian twang sounded to her; she struggled to understand exactly what people were saying. Eventually Mum completed her HSC and got a job as a computer analyst. Mum got to know her new society and culture and felt part of the community. She has for my entire life been a fighter, very outspoken and extremely confident. I find it hard to imagine her any other way. Mum has lived in Australia for nearly twice as long as she lived in India.
To me the story of how we as a nation are responding to Muslim immigration is a story about feelings. The feeling that the way we are being treated generally is unfair. With increasing job insecurity, the impossibility for so many to own their own homes and growing wealth inequality, it is unsurprising that people are feeling afraid, angry, and like Australia is an unfair place.
People feel powerless in the face of insecure, precarious work, and are struggling to make ends meet. Wealth inequality, the fear of losing everything if shifts get cancelled and being deprived of the basic security that allow any of us to make meaningful decisions are tearing our communities apart, making people angry and afraid and unsure what to do with these powerful feelings.
It is those who treat people like numbers rather than human beings with rights and needs that are to blame. It is the private equity investors who treat our lives as fodder in their endless quest to create profit. It is Liberal governments which systematically dismantle our social safety net, forcing us to be thankful for increasingly menial jobs while simultaneously increasing corporate welfare. It is ultimately those who refuse to share any of their wealth through paying their fair share of taxes, disenfranchise us from any meaningful say in the direction of our lives.
A narrative of fear of the other – of Xenophobia – has long been a part of Australian public discourse, but migrants have enriched our economies and communities, a point that George Megalogenis makes in his work 'Australia's Second Chance'. Chinese, Italian and other migrants were all treated with prejudice when they came to make their homes here, but fear gave way to friendship and we are rightly proud of our multicultural nation and should stand firm to defend what it is that gives Australia its identity as a great place to live.
We mustn't let fear divide us, and we must stand together so all Australians – no matter where they have come from – can live in a fair country where people feel empowered to make real decisions about their families' futures.
Jafar Kazmi is a National Union of Workers organiser, dealing with workers across a number of industries.
Source: sbs.com.au/news/article/2016/10/05/comment-we-must-stand-together-fair-australia
URL: http://www.newageislam.com/islam-and-the-west/jafar-kazmi/we-must-stand-together-for-a-fair-australia/d/108763