By Igor Bobic
29/07/2016
The father of a Muslim American war hero who brought the Democratic National Convention to its feet on Thursday night with his impassioned rebuke of Donald Trump and his anti-Muslim rhetoric has a message for supporters of the GOP nominee concerned by the recent uptick of terror attacks around the world: the way to defeat terrorism is by uniting America, not dividing it.
"Today the global menace is terrorism. What is the solution? If military is the solution, military would have already done it. Military is not the only solution," Khizr Khan told The Huffington Post in an interview on Friday. "To really eradicate terrorism is to join hands, not build walls and exclude each other. That is not a solution. That is adding fuel to the fire."
Pakistan-born Khan, 65, appeared on stage at Wells Fargo Arena, the site of the Democratic convention, with his wife, Ghazala, at his side. He spoke of the heroism of his son, Army Capt. Humayun S.M. Khan, who was killed in action in Iraq in 2004 by an advancing vehicle loaded with hundreds of pounds of explosives. The 27-year-old soldier, who was born in the UAE, ordered his unit to halt while he walked toward the vehicle, saving the lives of his fellow soldiers from the ensuing explosion.
"If it was up to Donald Trump, he never would have been in America," he said.
Khan then addressed Trump directly, unleashing a searing critique of his proposal to ban all Muslims from entering the United States.
"Let me ask you, have you even read the U.S. Constitution? I will gladly lend you my copy," Khan said, pulling a copy of the document from his pocket and holding it up in the air.
"You have sacrificed nothing and no one," he added.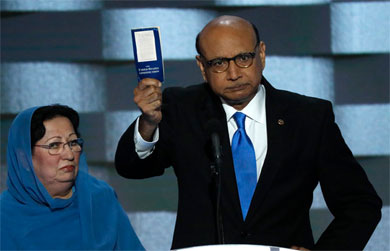 Khizr Khan, whose son, Humayun S. M. Khan was one of 14 American Muslims who died serving in the U.S. Army in the 10 years after the 9/11 attacks. (MIKE SEGAR/REUTERS)
Last week, Trump said he was expanding his proposal to ban immigration of Muslims into the U.S. to include countries "compromised by terrorism." The Manhattan real estate mogul has said such steps are needed in the wake of terror attacks in France, San Bernardino, California and Orlando, Florida.
Reflecting on his speech at his hotel room a few hours after Hillary Clinton accepted her party's nomination for president, Khan said he was humbled he could take part in such an historic moment.
"It is a moment of pride for all of us that a minuscule person like myself would stand and address a convention," he said. "I feel very humbled and very grateful. This is a great moment in American history. That gesture, that action, symbolized how the free world works, how democracy works."
Khan said he was inspired to speak in part by the U.S. Constitution, which he accused Trump of violating "every time he opens his mouth." He called the Bill of Rights and the protections laid out in the 14th Amendment, in particular, his favourite portions.
"That's where the constitution comes alive," he said, adding that he was a little embarrassed he showed the country how poorly he maintained it by carrying it in his pocket.
But it was the prospect of a Trump presidency that truly worried Khan. He warned that if the brash businessman is elected in November, the country would face a constitutional crisis like it has never seen before.
"Can you imagine him issuing an executive order? Who would follow that executive order? Which police department would go, 'Alright folks we're throwing you out,'" he said. "What a chaos it will be. Which sheriff will there be to execute those orders? 11 million people? How would you throw them out of here? Will we bring the army to expel these people?"
Still, Khan remained hopeful that Republican leaders would come to their senses and reject their nominee before it was too late.
"They're going to begin to realize, either he doesn't mean what he preaches," he said, "or he just doesn't understand most of it."
Igor Bobic is Associate Politics Editor, The Huffington Post
Huffington Post Editor's note: Donald Trump regularly incites political violence and is a serial liar, rampant xenophobe, racist, misogynist and birther who has repeatedly pledged to ban all Muslims ― 1.6 billion members of an entire religion ― from entering the U.S.
Source: huffingtonpost.in/entry/khizr-khan-donald-trump-muslim_us_579ac886e4b0e2e15eb551c5?utm
URL: http://www.newageislam.com/islam-and-the-west/igor-bobic/father-of-muslim-american-war-hero--we-cannot-defeat-terror-by-dividing-america/d/108124