By Hannah Allam
November 13, 2013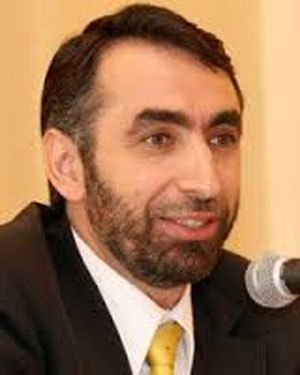 With his trim, gray-flecked beard, crisply ironed clothes and genteel demeanor, Mohamad Bashar Arafat hardly cuts a controversial figure.
Yet his public appearances draw visceral reactions – from hearty welcomes to sneering disdain – depending on how the audience views a Muslim cleric who for a decade has worked with the U.S. State Department as a quiet, informal envoy to the Islamic world.
Through public diplomacy programs, Arafat has traveled to at least 26 countries in a role he sees as his patriotic duty as an American and his religious duty as a Muslim imam. His roots in Damascus, where he was born and studied before emigrating in 1989, make for a third facet to that role now as diplomats, congregants and friends ask him, "What should the U.S. do about Syria?"
Detractors, on the other hand, would prefer he keep his answers to himself. They regard him as, at best, a token and, at worst, a sellout – an apologist for the invasions, occupations and drone strikes that define recent U.S. policy in the Muslim world. At nearly every public event, in the United States and abroad, there are whispers and sometimes even chants: "FBI imam!" "Spy!"
At some mosques he's been told, point-blank, "You're not welcome here."
The State Department sent him to Tanzania in 2007 – at the height of bloodshed in Iraq – but canceled a first appearance when an angry mob blocked his car from driving up to the mosque where he'd been invited to lead prayers. The next day, with a Tanzanian police cordon outside, Arafat appeared at another event and again was greeted with boos when he arrived. This time, he took the stage and launched into his signature response to Muslims who charge that he's being used by the U.S. government to detract from bad policy.
His counterargument comprises verses from the Quran, parables from the life of the Prophet Muhammad and pop-culture references – all delivered in the friendly, even tones of a preacher who's out to convince audiences the world over that the most effective way to work for improved U.S. relations with the Muslim world is through dialogue between policymakers and the public.
"You have to understand that being an American doesn't mean I have to agree with every aspect of my country's foreign policy," Arafat told the crowd in Tanzania, he recalled one recent day. "But we can talk and we can express our views in a civil way, a democratic way. And that's how we make a change."
In hours of conversation, at the Pentagon's Iftar dinner in the holy month of Ramadan, at a public event at his mosque in Silver Spring, Md., and over tea at the year-old office of his Baltimore-based nonprofit, the Civilizations Exchange & Cooperation Foundation, Arafat never wavered from his belief that his best hope of changing the perception of Muslims is by working closely with the U.S. government.
His close partner in this work is his American wife, Kimberly, with whom he has four children. He has another three children from a previous marriage that ended in divorce.
"It's not really fair to focus on the bad – certain aspects of foreign policy or certain aspects of American society – and not show also the good things happening in America," Arafat said. "And that's our responsibility as Muslims in America, to tell these stories. We have 8 million Muslims living in America, and they have certain privileges you won't see anywhere in the Arab or Muslim world."
He also acknowledges weaknesses in U.S. engagement with the Muslim world – an overreliance on drones over dialogue, for example. He said he'd never received talking points from the State Department during his U.S.-sponsored travels and that, on more than one occasion, he'd differed publicly from his embassy hosts. He pointed out that he was doing interfaith work on his own for a decade before the 9/11 terror attacks, which spawned a demand for moderate American Muslim voices as a counterweight to extremist vitriol.
"Fighting terrorism requires also discussion with hard-liners on the ground, to have these debates. You cannot fight terrorism only by drones and by killing. You have to have discussion and you have to have dialogue, and that's something that requires funding," Arafat said. "I said once in Washington – it was 2003 – if you can spare the money of one F-16 and spend it on these public diplomacy programs, you will have way more results than only fighting."
Arafat traces his change-from-within stance to his birthplace, Syria, where he became an acolyte of then-Grand Mufti Ahmed Kuftaro, the highest-ranking Sunni Muslim cleric in the country.
Arafat's business-minded family bristled at his decision to pursue a path in religious studies, but he was drawn to the way Kuftaro subtly criticized the regime of then-President Hafez Assad, the father of current leader Bashar Assad, whose forces are fighting rebels in Syria's brutal civil war.
Critics remember Kuftaro, who died in 2004, as a loyalist to the Assad dynasty. Arafat counters that the mufti was more complicated and nuanced than that. He credits Kuftaro with drilling into him the importance of reaching out to other religions in order to correct the negative image of Muslims in the West. Kuftaro made a trip to the United States in 1966 for interfaith work at a time when such ventures were rare.
"He used to tell us that one of the most damaging failings is that our scholars didn't speak English. He would always say, 'I wish I spoke English.' That's why I learned English," Arafat said. "I still remember what he said about 1966, when he came to America: 'If I had spoken English, I wouldn't have come back to Syria.' "
For years, Arafat accompanied the grand mufti on his international travels, even after Arafat had immigrated to the United States, where he was hired as an imam for the Islamic Society of Baltimore and became a U.S. citizen. In the 1990s and early 2000s, he founded or co-founded mosques and Islamic centers in Maryland. He also taught Islamic studies at local colleges, served as the campus imam for Johns Hopkins University for a decade and was Muslim chaplain for the Baltimore Police Department from 1998 to 2006.
The 2001 terrorist attacks on the World Trade Center and the Pentagon put radical Islam under worldwide scrutiny, and Arafat said it was time to work even harder on two fronts: improving Islam's image in the West and curbing the spread of extremism in Muslim communities.
His earlier interfaith work had laid the foundation for the first part; Arafat was introduced to State Department officials in 2002 through a Roman Catholic cardinal friend he'd done interfaith panels with for years.
"The next thing I know, there's a phone call from the State Department saying, 'Can we speak with you?' " Arafat recalled.
In no time, he was giving talks to diplomats who were heading to the Muslim world and advising a then-fledgling State Department program called YES, for youth exchange and study, which brought teenagers from throughout the Muslim world to study in the United States. Arafat's group helped administrators, students and host families navigate thorny issues such as attending church, wearing the head scarf and dealing with Christmas.
A couple of years later, he also began to travel abroad under State Department auspices, through a program for international speakers that's administered through U.S. embassies.
The State Department didn't respond to queries seeking comment on Arafat's work. But his visits have received high praise from State Department officials, whose descriptions of his programs are included in once-classified diplomatic cables that were published by the anti-secrecy group WikiLeaks. Cables mentioning Arafat came from embassies throughout the Arab world, but also from Indonesia and Austria, among others. The correspondence also supports Arafat's recommendations for U.S. funding of education and exchange programs.
A 2005 cable from the U.S. embassy in Manila said Arafat's interactions with Filipino Muslims showed "a tolerant, progressive vision of Islam." There was a cable describing in detail the showdown at the mosque in Tanzania, where protesters blocked Arafat's car. Instead of deterring U.S. efforts there, the 2007 cable said, the incident "only reinforced the importance of our sustained outreach to promote religious tolerance and understanding between the U.S. and Tanzania's Muslims."
And a 2005 cable from the U.S. embassy in Cairo described plans for al Azhar University, one of Islam's most influential learning centers, to host Arafat as "the first embassy-sponsored speaker in recent memory to deal directly with religious extremism." The visit exceeded expectations, according to a follow-up cable.
"In purposeful, persuasive Arabic cadences, Bashar preached respect for Christianity and Judaism, promoted a positive view of Islam in America and called for increased exchanges between the United States and the Islamic world," the cable read. "Media coverage was overwhelmingly positive, and rural religious students flocked to him like a rock star."
The second part of Arafat's post-9/11 strategy – combating extremism from within the community – is proving trickier. The problem is that he's a reformist, and the stodgy, rarefied world of Islamic scholarship is resistant to change. He calls for new curriculums in Islamic seminaries, where, he complains, the teaching of jurisprudence has barely changed "in hundreds of years." He wants Muslims to travel widely, learn different languages and move beyond superficial contact with the West.
"Come inside America and hold forums with churches, with synagogues, with mosques, on a grass-roots level, because those are the people who are going to call their congressman and those are the ones that are going to bring those issues to Washington," Arafat said. "This has been our weak point throughout our recent history. Our politicians in the Arab world always come to Washington, but they don't have programs on the grass-roots level to educate the average American."
Particularly controversial is his view that Muslim interfaith work should expand beyond just fellow "people of the book," as Islam deems Christians and Jews. Arafat's eye is on Asia, home to some of the world's fastest-growing economies but also to religions that other imams shun because they consider them polytheistic or idolatrous. Arafat said that mentality meant Muslims would be left behind with the rise of China and other Asian superpowers.
"Really, today, it's hurting us, this idea that they are infidels, not Muslims. Guess what? They've been non-Muslims since the time of Prophet Muhammad, peace be upon him," Arafat said. "But I want us to grow with them, know them and also compete with them. How can we have a better Nokia, a better Samsung?"
He speaks easily and at length about his travels throughout Asia, Africa and Europe. But he becomes reticent and guarded when the topic is closer to home: the war in his native Syria.
Partly out of concern for his relatives in Damascus and partly because the topic is so sensitive, Arafat doesn't like to offer his opinions on the conflict there, which has continued for more than two years with a death toll of more than 100,000.
What he will say about it is that he's "completely against the way those extremists have been operating in Syria." He's referring to al Qaida and affiliated jihadists who, in his appraisal, took an indigenous protest movement and turned it into something far more dangerous to Syria and the world. He advises Syrians, he said, to "make sure that the solution remains within the Syrian people and not to listen to or allow those infiltrators to take the lead."
The war has spiraled so far out of control that even Arafat, whose career is built on dialogue between rival forces, worries that it's too late to talk. There are times, he said, when he can't make it to the end of battlefield videos or bring himself to look at photos of the carnage. As soon as the opposition took up arms, it lost its moral superiority, Arafat lamented.
He returns to his mantra: If it spares lives, work within the system to change realities, and don't expect an overnight success.
"Even if it takes longer, it's worth it. Today we're not properly interpreting death. We teach so much dying for the sake of Allah, but we don't teach living for the sake of Allah," he said. "The Quran taught us both, but, unfortunately, a lot of people today teach one way. They teach how to die, but not how to live, peacefully, how to coexist, and to change peacefully. And slowly."
Source: http://www.kansascity.com/2013/11/13/4616815/americas-muslim-cleric-confronts.html
URL: http://www.newageislam.com/islam-and-the-west/hannah-allam/state-dept-muslim-cleric-confronts-questions-of-loyalty,-identity/d/34536