By H A Hellyer
January 15, 2015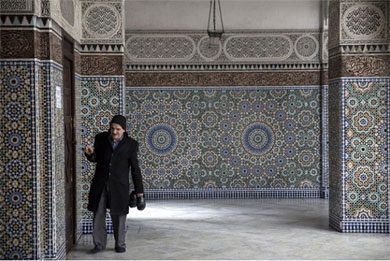 The attacks in Paris were designed to divide Europe's Muslim and Christian communities but both have lived alongside each other for centuries, as this Paris mosque shows. Photo: Dan Kitwood / Getty Images
In the aftermath of the Paris attacks, western observers have had harsh words to say about European Muslim communities. Ann Coulter, the right-wing pundit declared on Fox News that, maybe, it was a time for a "pause in Muslim immigration" to Europe. Pegida, a German group, has intensified its campaign against what is sees as the "Islamisation" of Germany. Meanwhile, Panorama, the UK current affairs programme, recently aired a show titled The Battle for British Islam. Everywhere, it seems, the question of how Islam and Europe can coexist is being raised.
A few years ago, I published a book called The 'Other' Europeans: Muslims of Europe. It took several years to write, but it only scratches the surface of the Muslim European story. It's commonplace to talk about the input of Muslim Spain to European history. There is much to teach about that period, not least the contribution of Spanish and Portuguese Muslims to Europe's Renaissance.
But there is far more Muslim influence to see in European history. While some politicians have been keen to define contemporary European society as rooted in only a Judeo-Christian framework, even the most cursory reviews of history would disavow that perception.
In southern Europe, Muslim Spain is well known, but Muslim Sicily is not. It was ruled by Muslim leaders for more than 150 years, beginning in the 9th century.
Roger I conquered Sicily at the end of the 11th century, and unlike other parts of Europe, where the Christian Reconquista meant an end to the existence of Muslim communities (and often Jews as well), Roger and his successor, Roger II, continued to rule over Muslim communities for many decades.
In northern and Eastern Europe, Muslim communities have existed for centuries. The Tatar communities of Lithuania, for example, date back to at least the 14th century, when the Lithuanian Duke Witold took many Tatars as prisoner. Even after these Lithuanian Tatars lost their language, Islam continued to be a force of unity for them, through to the present day.
In Poland, there were many more Muslims – a 1631 census listed more than 100,000.
More than a century later, many of their ancestors swore on the Quran to fight for Polish independence in 1795, and opposed the Russians in 1830 and 1863 during the uprisings – a history that earned them respect and a favoured place in the country.
No historical overview of Muslims in Europe would be complete without considering the long period of Ottoman administration in the south-east of Europe. But there are other, less well-recorded chapters of history as well.
Take the UK, where the historical links are extensive. Records indicate that the king of England in the 13th century had considerable contact with the Sharif of Morocco – with some reports that at one point, he wrote to the Sharif discussing marriage with his daughter.
Another historian notes that for his role in the Magna Carta rebellion, an Englishman who is recorded as "Master de London" was banished. When he returned to Europe, he had converted to Islam, and was instrumental in spreading his new-found faith on the continent.
Even during the 19th and 20th centuries, many well-known converts to Islam can be found in the UK. The most famous of these in the Victorian era was Abdullah Quilliam, who was even recognised by the then Ottoman Sultan. Quilliam was quintessentially English, as were the members of the community of believers he led. There were others still, such as Murad Rais, formerly Peter Lyle, an Admiral in Nelson's fleet in the 19th century. There is scarcely a country in Europe today that does not have such individuals in its history books, if one looks deep enough.
The same remains in contemporary history. Yusuf Islam, the musician formerly known as Cat Stevens, converted in the 1980s. Lord Stanley of Alderly, Lord Headley, Lord Khalida Hamilton-Buchanan – those are just a few of the members of the House of Lords in the UK who converted to Islam.
Director of Research at the Paris Institute of Astrophysics, Bruno Guiderdoni, is another noted Muslim on the continent, as is the famed Cambridge University lecturer, Timothy Winter, recognised throughout the Muslim world for his wisdom.
The temptation is strong, particularly after a tragedy such as the Charlie Hebdo attack, to recreate our realities as so separate, between Muslim and non-Muslim, the West and Muslim communities. But that's simply not historically accurate.
There is a long and vibrant history that is dynamic and very real, that shows these communities were – and are – intertwined.
When the likes of right-wing Dutch politician Geert Wilders, for example, says he wants "less Islam" in Europe, he is denying his own heritage and history. For, indeed, without Islam, writing our history as Europeans would be very difficult indeed.
Dr HA Hellyer is an associate fellow of the Royal United Services Institute in London, and the Centre for Middle East Policy at the Brookings Institution in Washington, DC
Source: http://www.thenational.ae/opinion/comment/history-tells-us-that-europe-and-islam-can-coexist
URL: http://www.newageislam.com/islam-and-the-west/h-a-hellyer/history-tells-us-that-europe-and-islam-can-coexist/d/101105