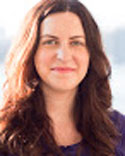 By Elise Czajkowski
July 8, 2015
Comedy has long been used by outsiders to ease the worries of a distrustful society, and Muslim stand-up comedians in New York are no different. A coming three-day comedy festival will spotlight their perspective, but their recent efforts to counter Islamophobia through humour have had mixed results.
Last year, when the comedians Negin Farsad and Dean Obeidallah bought ad space from the Metropolitan Transportation Authority, the aim was to have their posters go up on subway platforms in October. After long negotiations over content and font choices, they received approval from the authority in March for installation on April 28. But the ads never appeared. On April 29, the authority adopted a policy that banned political ads outright.
Negin Farsad and Dean Obeidallah in a scene from their road-trip docu-comedy "The Muslims Are Coming!" Credit Vaguely Qualified Productions
The decision came in the wake of legal disputes over other ads by a pro-Israel group, the American Freedom Defense Initiative that were seen as anti-Muslim. Although Ms. Farsad and Mr. Obeidallah said their posters were partly meant to counteract those ads, the main goal was to show Muslim Americans as ordinary people with a healthy sense of humour through tongue-in-cheek "warnings" — e.g., "The ugly truth about Muslims: Muslims have great frittata recipes." The posters also would have advertised their 2013 docu-comedy, "The Muslims Are Coming!" which followed Ms. Farsad, Mr. Obeidallah and other Muslim comedians as they toured the United States.
Now Mr. Obeidallah is hoping for a better reception with what is being billed as the first Muslim comedy festival in the United States, the Muslim Funny Fest, which opens on July 21 in New York. Mr. Obeidallah, who hosts a weekly radio show on Sirius XM and writes a column for The Daily Beast, organized the three-day event with the stand-up comic Maysoon Zayid, known for her popular TED Talk "I Got 99 Problems ... Palsy Is Just One."
The two became friends in the early 2000s. "She was the only other Arab-American Muslim comic I knew," Mr. Obeidallah said on Tuesday. In 2003, they started the New York Arab-American Comedy Festival to showcase Arab comedians and to counter hostility after the Sept. 11 attacks. It will return for its 12th year this November.
In recent years, they said, they began to feel it was their faith as much as their ethnicity that set them apart, so they decided to host a separate event featuring professional Muslim comedians from various ethnic backgrounds.
Ms. Zayid and Mr. Obeidallah perform regularly for a variety of audiences. "We didn't start doing the ethnic comedy and Muslim comedy until we felt our community was under siege and that we could no longer just step onstage and be treated as an equal," Ms. Zayid said in a phone interview.
The opening event will be at New York University's Grand Hall in Greenwich Village. No alcohol will be offered. "I thought it'd be nice to do a night where alcohol isn't served, so that people who are far more conservative than I am still feel comfortable coming out," Ms. Zayid said. The second two evenings will be at an uptown comedy club, the Comic Strip.
Religion has been a favourite topic in stand-up for decades, and organizers say the festival will be no different. "We're not censoring any of the comics," Ms. Zayid said. "They can talk about whatever they want. We're not telling anyone, 'Oh, this is a Muslim comedy festival, so you can't talk about the fact that you love bacon sandwiches.' "
Meanwhile, Ms. Farsad, who is also a filmmaker, and her studio, Vaguely Qualified Productions, are continuing their fight about the subway ads. They sued the transit authority in June, alleging breach of contract and free-speech violations. Glenn Katon, a lawyer for Muslim Advocates, a legal advocacy group that is representing Ms. Farsad, said Tuesday that the delays in getting the posters approved suggested there was "gamesmanship involved."
Even under the new rules, he said, the ads do not violate the authority's new policy, which prohibits ads about "disputed" political, religious or moral issues; Ms. Farsad and Mr. Obeidallah say their posters are meant only to be funny.
"You can't really dispute comedy," Mr. Katon said.
A spokesman for the authority, Kevin Ortiz, declined to comment on pending litigation but said the authority was "pleased" with a court ruling in June that allowed it to refuse political ads.
Ms. Farsad would not discuss the authority's broader policy change on ads. "I just know that we should be able to tell our own story, and our story is that Muslims are hilarious," she said.
It was this feeling, she said, that inspired her and Mr. Obeidallah's documentary. It is an upbeat film about integration and tolerance that mixes stunts — like a "Hug a Muslim" campaign — with efforts to dispute oft-repeated narratives, such as the idea that Muslims want to bring Sharia law to this country.
Mr. Obeidallah said that hostility toward Islam is stoked when terrorist organizations like Al Qaeda and the Islamic State, also known as ISIS, dominate the news, while most Americans don't personally know Muslims who could offer a different image. He begins his radio show by telling his audience, "I want to be your Muslim friend."
"The reality is that myself and people like Maysoon and Negin, no one will ever accuse us of being bad," he said. "They'll say, 'You're one of the good ones,' but they say it like we're the exception, and that ISIS is the actual norm. But they're the exception. They're not the mainstream Islam. We are."
Source: http://www.nytimes.com/2015/07/09/arts/countering-anti-muslim-hostility-with-jokes-via-ads-film-and-a-festival.html?emc=eta1&_r=0
URL: http://www.newageislam.com/islam-and-the-west/elise-czajkowski/countering-anti-muslim-hostility-with-jokes,-via-ads,-film-and-a-festival/d/103824