BBC News
24 November 2013
Related Articles:
EDL Named In A Third of Anti-Muslim Abuse Claims Online, Tell Mama Report Says
The Rising Scourge of Anti-Muslim Hatred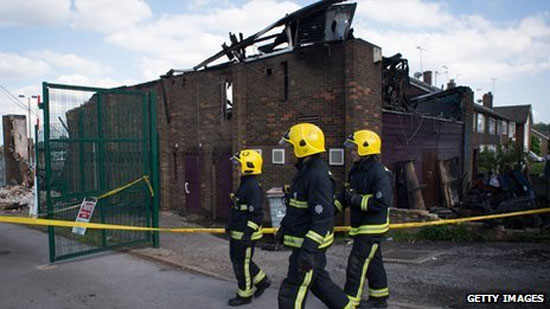 Threats to attack and burn mosques have been reported to Tell Mama
The police are failing to investigate hundreds of cases of anti-Muslim hate messages on the internet, according to a government-funded monitoring group.
Tell Mama, which records anti-Muslim attacks, says it recorded 1,432 cases of abuse in the last 22 months.
But Tell Mama has told the BBC it has only had a response from the police regarding 70 cases.
The Association of Chief Police Officers said it was working to address the concerns expressed by Tell Mama.
After recording details of the abuse, Tell Mama (Measuring Anti-Muslim Attacks) reports directly to the Association of Chief Police Officers (Acpo) hate crime reporting system.
The group - which was set up two years ago - told the BBC 5 live Investigates programme that the police response has been poor and last month it wrote a letter to the Acpo president Sir Hugh Orde, complaining about the lack of action.
It cited two prolific social media users who promote their anti-Muslim beliefs daily.
Fiyaz Mughal is the founder of the interfaith Faith Matters organisation, which runs Tell Mama.
"It is worrying for us, given that the number of call-backs and subsequently the number of investigations that have moved forward have been extremely small in comparison to the volume of hate crimes we have sent in to police forces," he said.
"They go from harassment and abusive name-calling right the way through to threats - threats to come round to somebody's house and harm them, threats to attack or do something to a mosque, threats even to burn a mosque.
"That's the level of what we are passing through and there have been numerous occasions where we have sent information about direct threats to mosques, which frankly we haven't heard anything about. That is worrying."
Social Media Abuse
One 25-year-old woman victim told 5 live Investigates she was targeted by a man who posted a photograph of her on Twitter and called her an ugly Pakistani.
His followers commented on her appearance and there were racist overtones in many of the messages. He tweeted that "he lives very close to her" and a supporter of the English Defence League identified where it was.
But when she reported the matter to the police they said they could not do anything.
She told the BBC: "I made a statement and the police said it was quite difficult to do anything because it's quite difficult to prosecute someone when it comes to online abuse.
"They told me the evidence was no longer there, that it was difficult to identify who he was and there was just so much online abuse. The police said they'd be in touch but that was a week ago and I still haven't heard anything."
Anyone posting an offensive comment online can face charges under the Communications Act, or be charged with inciting racial or religious hatred.
The Crown Prosecution Service published guidelines in the summer on prosecutions involving social media and it set a high threshold for prosecution. Simply being offensive, shocking or disturbing is not enough.
But the CPS said any messages that amount to a credible threat of violence, a targeted campaign of harassment against an individual or which breach court orders should be "robustly prosecuted".
Acpo said reports of online hate messages were sent through to individual forces to investigate. Acpo has no role in monitoring how those forces handle those cases - that is a matter for each chief officer.
Supt Paul Giannasi, a member of Acpo's hate crime group, said: "The huge increase in the reporting of hate material on the internet has presented major new challenges for the police. We have met with Tell Mama and have discussed their concerns. In response, we have worked with forces to develop an audit process so senior officers can analyse how their forces are responding to these and similar reports. When it is circulated it will allow all areas to monitor their own performance.
"Acpo and the College of Policing have also developed new guidance to colleagues about how to respond to these issues. We have heard the concerns of Tell Mama and we are working with them to address their concerns and improve communications."
He said some forces had problems keeping on top of the sheer number of reports coming in and, because many social media companies were based in the US, there were also difficulties in securing evidence such as details of the IP address, which identifies the computer of the alleged perpetrator.
Acpo has its own website for reporting hate crime and the police urged anyone who thinks they are a victim of hate crime to report it.
Source: http://www.bbc.co.uk/news/uk-25057246
--------
EDL Named In A Third of Anti-Muslim Abuse Claims Online, Tell Mama Report Says
By Jessica Elgot
July 04, 2013
Victims of far-right Islamophobic abuse and attacks cite the English Defence League in a third of cases, according to new research.
Researchers who looked at data collected by anti-Islamophobia monitor Tell Mama said that there was a "troubling picture of low-level anti-Muslim harassment: incidents in the workplace, in the street, between neighbours and particularly online, which may not always hit the headlines but can still have an emotionally distressing, and in some cases devastating, effect on people's lives and their communities."
The research found that the majority of abuse directed at Muslims offline was not, however, linked to any organised far-right movement.
Members of the extreme far right group the English Defense League
The EDL is the far-right organisation that is most implicated in disseminating anti-Muslim hate online, the report said.
Of 434 incidents of online abuse, 300 were linked to a far-right movement, and 147 of those were linked to the EDL - a third of all online anti-Muslim incidents.
Based on 2012-2013 data collected prior to the murder of Drummer Lee Rigby in Woolwich, which sparked a series of anti-Muslim attacks and demonstrations, the researchers at the University of Teeside found that of the online incidents, where the bulk of attacks occur, it is the EDL, rather than the BNP, that was specifically named in 49% of cases.
"Such is the growth of 'online hate' that a 2009 compendium of web-hate sites, games, and chat rooms ran to more than 160 pages," the report said.
"The EDL, in particular, views online activity as central to its organisational identity. Facebook is the favoured mode of communication between EDL supporters.
"Online expressions of anti-Muslim sentiment have reached significant proportions, with 74% of incidents reported to Tell Mama taking place online compared to 26 per cent being committed in the physical world."
For Fiyaz Mughal, the founder of Tell Mama, the stats mean that the Muslim community is becoming more vigilant about reporting online Islamophobia, and he wants government and social media to intervene.
"Where as once people might have just blocked abusers, changed accounts or shut down social media as a reaction to abuse, now they are reporting it," he said.
When online hate is reported, EDL supporters/sympathisers have been identified in 147 of cases, the CXF (Combined Ex-Forces) in five, the JDL (Jewish Defence League) in four, and the BNP just two.
Mughal said: "The BNP are not active online. People switch their online allegiances all the time, from BNP, to EDL, even to Ukip, generally to the movement the media is giving the most attention to."
Offline incidents that were reported were mainly street based (55%) with 18 per cent taking place at mosques and other Islamic institutions and 13% at workplaces and schools.
Of the reported offline offences the majority of victims were female and, of these, over 80% were women who were easily identifiable as Muslim, i.e. wearing the hijab or niqab.
The researchers also found that most Muslims, 63%, who reported to incidents to Tell MAMA did not report abuse or attacks to the police.
"Compared to other minorities vulnerable to hate crime, Muslims are treated differently," the report's authors said. "While LGBT communities, for instance, are portrayed in police discourse as vulnerable to hate crime, and policy is focused on building trust with these communities, Muslims are not generally portrayed in such a straightforward manner.
"Although they are seen as vulnerable to hate crime, the primary focus has been on their vulnerability to extremism or radicalisation. The police, therefore, face a dilemma: should they adopt 'hard' or 'soft' engagement strategies in dealing with Muslim communities?"
Mughal says he wants to combine the results with the research done by the Community Security Trust, which monitors anti-semitic hatred and attacks, to urge government and social media sites to take action.
"When you speak to Twitter or others, they don't want to know. you have to go to them with this bulk of evidence, and ask government to take it on too. There's an All-Party-Parliamentary-Group on Islamophobia, which is practically defunct. We have to give them real meaty evidence that they can work on."
Source: http://www.huffingtonpost.co.uk/2013/07/04/edl-named-third-muslim-online-abuse_n_3545409.html
----------
The Rising Scourge of Anti-Muslim Hatred
By Fiyaz Mughal
March 12, 2013
A five-year old girl sent flying from the bonnet of a car, left unconscious in the road by a hit-and-run driver. A pregnant woman watching her husband being beaten up by her neighbour's boyfriend, their children terrorised by constant abuse. A family forced from their home in Nottinghamshire, leaving behind graffiti and a ham-wrapped cross on their doorstep. Or a young woman who had faeces thrust onto her hijab in a south London street.
All these and more are just some of the 632 (and rising) cases reported during the first year of 'Tell MAMA', the UK's national anti-Muslim hate crime project, which my organisation Faith Matters runs. We suspect that these are just a fraction of the total number of anti-Muslim incidents affecting ordinary Muslims up and down the country.
Our work within TELL MAMA reveals a disturbing picture of low-level anti-Muslim harassment: incidents in the workplace, in the street, between neighbours and particularly online, which may not always hit the headlines but can have a devastating effect upon peoples' lives. From the internet, to the workplace, the street and even houses of worship, too often Muslim women and men are becoming the target of vicious, sometimes violent, abuse.
Anti-Muslim prejudice has real and corrosive impacts on the individual, on families, communities and ultimately on our trust between each other. At the recent Community Security Trust (CST) dinner held in Central London, the Home Secretary, Theresa May MP made clear that those who promote hate and who cause division in our societies should understand that the values of fairness, freedom and justice will not be eroded. That is why we commend her, and those politicians who, one year ago, backed the launch of Tell MAMA: the secretary of state for the department for communities and local government, Eric Pickles MP, Andrew Stunell MP, Baroness Sayeeda Warsi and the deputy prime minister, Nick Clegg MP.
We are still in our infancy but have been successfully supporting victims of anti-Muslim prejudice since that launch in March 2012. Our initiative is based on the successful model built over 20+ years by the CST, which collects data on anti-Semitism, provides support for its victims, and protects and trains the wider Jewish community.
Findings
Our project reveals some disturbing findings. The majority of Muslims being physically attacked, harassed or intimidated because of their faith are women, according to MAMA's figures - and those doing it are white men increasingly likely to be linked to far-right groups.
Three-quarters (74%) of incidents reported to MAMA took place over social media (Twitter, Facebook, etc), but there have also been attacks on mosque buildings, against pregnant women and 'visible' hijab (veil) wearers, even children and pensioners in their 80s.
In one incident recorded in Nottinghamshire, a family was forced from its home; in another, a five-year-old girl was run over. High-profile figures such as journalist Jemima Khan have also been subject to online threats picked up and reported to the police by MAMA. Extreme violence featured in 23 of the cases.
The majority of those physically attacked on the street were Muslim women, wearing either the hijab (covering their head out of religious beliefs) or niqab (full face covering). Over half (58%) of cases involved female victims. These street based incidents seemed mostly 'random' in nature, according to victims, and often took place where interactions with others were common: at schools, using a taxi service, etc.
Visibly-identified far-right British National Party (BNP) or English Defence League (EDL) members were linked to over half (54%) of all incidents. Our work has led to the arrests of 21 far-right EDL supporters, with over 40 incidents reported against EDL leader 'Tommy Robinson' alone. Eighteen prosecutions have taken place, although we would like the police and CPS to do much more in this area (only two police forces - the Metropolitan Police and City of London Police - record Islamophobia as part of their crime statistics).
Background
So what is going on? More and more research is appearing which suggests we've underestimated the scale of Islamophobia. As academic Matthew Goodwin and YouGov revealed a few days ago (in research about the English Defence League and the 'counter-jihad' movement), just 23% of people said that Islam was NOT a threat to Western civilisation. A mere 24% thought Muslims were compatible with the British way of life (with nearly half of people disagreeing that Muslims were compatible). Perhaps most disturbingly, nearly half of people polled thought there would be a clash of civilisations between Muslims and other Britons.
Now the Association of Chief Police Officers has, for the first time, started to disaggregate hate crimes reported to police in 2011. Early indications are that 50 to 60% of reported religious hate crimes were anti-Muslim, according to a speech Baroness Warsi gave at MAMA's inaugural dinner this January.
Wider Myth Busting
There is no conflict between being 'British' and being 'Muslim'. A full 83% of Muslims said they were proud to be British, compared to 79% of Britons overall. Millions of Muslims fought for the Empire. Yet recent history shows us what happens if we allow our fears to run unchecked. Demonisation of 'the other', misguided beliefs that Muslims are somehow a monolithic block, unchecked lies that Islam is a violent religion wishing to 'take over', or that British Muslims wish to abuse white girls, must be challenged.
It is a scourge which has direct implications for peace and security within all communities and we are calling on the police to do more to tackle this shameful wave of fear and prejudice. Whilst we acknowledge that resource cuts have taken place, we also understand that cuts do not necessarily mean the quality of service to victims should fall. Indeed, this is something the home secretary herself has reiterated. Victims of hate crimes must be kept informed about their cases and 'hate crime' should become a central focus for Police and Crime Commissioners as they shortly implement their policing plans.
The issue of far-right activism and 'broadband extremism' needs to be brought into the domain of the Home Office rather than the Department for Communities and Local Government, too, which works on the 'softer' end of issues affecting communities. A major policy shift is needed here. We need a review as well on the decision to make online-hate prosecutions more difficult, which the DPP Keir Starmer announced late last year.
The Muslim community must show some leadership here, of course, and make sure it is engaging through its leaders with wider society. Muslims must not tolerate those who call for intolerance or hatred towards secular Britons or other faiths, or promote evils such as homophobia. But Islamophobia and anti-Muslim hated is something we must all take responsibility for, before the situation escalates out of control.
Source: http://www.huffingtonpost.co.uk/fiyaz-mughal/islamophobia-anti-muslim-hatred_b_2853468.html
--------
URL: http://www.newageislam.com/islam-and-the-west/bbc-news/uk-police--failing-to-investigate-anti-muslim-abuse-/d/34583