By Ghulam Ghaus, New Age Islam
27 May, 2014
"The path of love is such, that he, who treads on it, loses his name and identity. Love is all-embracing and all-pervading: the lover's heart is a fireplace of love. Whatever comes in it is burnt and becomes annihilated. There is no fire greater in intensity than the fire of love. The sign of true love is manifested in obedience to and the fear of the Friend"1 said Hazrat Khwaja Moinuddin Chishti (ra), encouraging peace, tranquillity and countering every kind of violence, intolerance, terrorism, fanaticism and supremacism. To extinguish the fire of terrorism, hate and prejudice by the fire of love was the most important role of Khwaja Moinuddin Chisti (ra) in the Indian subcontinent.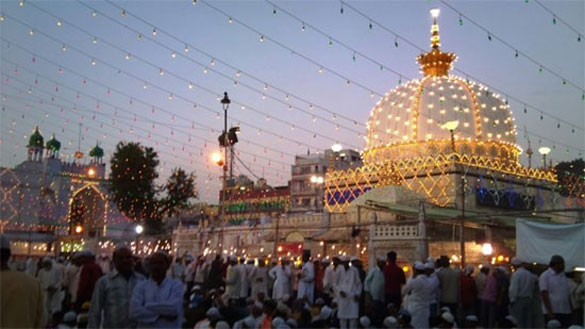 Hazrat Khwaja (1139-1236), also known as Khwaja Sahib or Gharib Nawaz ra (the benefactor of the poor) is the fountainhead of Islamic spiritual and Sufi movements in India and Pakistan. He is said to have been drenched in love to Allah Almighty, gaining the prospect of divine pleasure, serving and providing the entire humanity with his spiritual bounty. His goal was not to proselytize anyone; rather he conquered the hearts of people around him. Muslims, Hindus, Sikhs, Buddhists, all experienced his spirituality; thus many of them themselves converted, transformed and awakened.
It was Khwaja Gharib Nawaz (ra) who taught his disciples to adopt a liberal attitude towards other religions. No hate, no violence, no extremism, and no kinds of terrorism are what we find the most in his teachings. This was the reason that everyone regardless of religion admired him and even till today Muslims and non-Muslims from far-flung areas come in a large number to visit his holy shrine. As a result, the peaceful interaction between Muslims and non-Muslims, especially Hindus is at the zenith in India.
All Sufi Sheikhs created an atmosphere of Hindu-Muslim amity, but the most prominent of them was the 13th century missionary, Khwaja Gharib Nawaz (ra). His teachings involved love to God Almighty, service of humanity, peace and harmony, personal evolution of human being; which helped India become the country of peace and love to a greater extent.
The highest form of devotion, Khwaja Gharib Nawaz (ra) taught his disciples, was "to redress the misery of those in distress, fulfil the needs of the helpless, and feed the hungry". Thus he always taught us to love all humanity regardless of religion, culture, caste and creed. A very much cited example in this regard is that after the victory of India, Muhammad Ghori offered precious gifts to Gharib Nawaz (ra) which he did not accept and said, "Distribute these gifts among the poor of Ajmer." Muhammad Ghori obeyed his order and came back to say, "I want to serve you too". Hazrat Khawaja Gharib Nawaz (ra) said, "Wealth is a great mischief of the world. Even if it were a good thing, I would not have looked towards it." Thereafter, he is reported to have made only one request to Muhammad Ghori: "Appoint Gobind Raj Chauhan, the son of the slain Prithvi Raj Chauhan the governor of Ajmer so that the conquered Hindu community accepts the rule of the conqueror Muslim community from their heart". Muhammad Ghori obeyed his request. Hazrat Khawaja Gharib Nawaz (ra) was a prolific writer. Over 10,000 couplets in Persian are ascribed to him. But most of his writings have unfortunately been lost. The teachings of Khwaja Saheb have been recorded in several books on mysticism. The essence of teachings is based upon love, brotherhood, peace, integrity, river-like generosity, sun-like affection and earth-like hospitality.
As awareness on the biographical sketch of Khawaja Sahib (ra) has shown, he transformed hatred into love. Shadi Deo, the most learned of that time, along with colleagues and followers came to face Khwaja Sahib (ra) with bad intentions. But Khawaja Sahib's one look changed their hearts and Shadi Deo fell on his feet. Most of them repented and accepted Islam. Shadi Deo was named as Saad. The terrifying magician Ajay pal Jogi launched tireless magical attacks on Khwaja Gharib Nawaz (ra). However, all his efforts went in vain and finally he too repented and accepted Islam. He was named as Abdullah.
We may start wondering how Khawaja Sahib (ra) lonely defeated their violence and changed them into peace-loving men. This grand success was merely because of his own inherent spiritual strength based upon characteristic qualities of Islam that enamoured the then people. As historical study has shown, he had no armies, nor did he come in a bid to conquer any Indian territory. His intention was pure. His simple message of peace, universal love and harmony penetrated even the stoniest of hearts. His affectionate look silenced the then bitterest enemies. His spiritual power amazed everyone and defied his fiercest adversaries who came in order to harm him. He adopted non-compulsive ways with the true spirit of the Holy Qur'an, which says:
"There is no compulsion in Din (Religion). Surely, the guidance has been evidently distinguished from error. So he who rejects false gods and believes in Allah has grasped such a firm handhold that will never (possibly) give way. And Allah is All-Hearing, All-Knowing" (2:256)
To sum up, it is suffice to quote the last sermon that Hazrat Khawaja Mu'inuddin Chishti (ra) delivered to his followers, teaching them peace, brotherhood, love to God Almighty and all humanity, truth and thus countering hate, prejudice and terrorism:
"Love all and hate none. Mere talk of peace will avail you naught. Mere talk of Allah and religion will not take you far. Bring out all of the latent powers of your being, and reveal the full magnificence of your immortal self. Be surcharged with peace and joy, and scatter them wherever you are and wherever you go. Be a blazing fire of truth, and be a soothing balm of peace. With your spiritual light, dispel the darkness of ignorance; and spread goodwill, peace, and harmony among the people. Never seek any help, charity, or favours from anybody except Allah. Never go to the courts of kings, but never refuse to bless and help the needy and the poor, the widow, and the orphan, if they come to your door. To serve the people is your mission. Carry it out dutifully and courageously, so that I, as your Pir-o-Murshid, may not be ashamed of any shortcomings on your part before Allah almighty and our holy predecessors in the Sufi order (Silsilah) on the Day of Judgment" 2
Reference:
1. 'Daleel ul Aarefin' compiled by Hazrat Khawaja Qutubuddin Bakhtiyar Kaki (RA)
2. http://www.islam786.org/silsilaechistiya.htm#
A regular columnist for New Age Islam, Ghulam Ghaus is an Alim and Fazil (Classical Islamic scholar) with a Sufi background. He has completed the classical Islamic sciences from a Delhi-based Sufi Islamic seminary Jamia Hazrat Nizamuddin Aulia Zakir Nagar, New Delhi with specialization in Tafseer, Hadith and Arabic. He completed his Alimiat and Fazilat respectively from Jamia Warsia Arabic College, Lucknow and Jamia Manzar- e- Islam, Bareilly, U.P. He has graduated in Arabic (Hons) and is pursuing his M.A in Arabic from Jamia Millia Islamia, New Delhi.
URL: https://newageislam.com/islam-spiritualism/khwaja-gharib-nawaz-(ra),-khwaja/d/87204