By Arab News Staff
4 October 2014
The Mount of Mercy or Jabal Al-Rahma is the place where Prophet Muhammad (peace be upon him), delivered his all-encompassing farewell sermon 1,425 years ago, which still serves as the guiding light for Muslims and humankind.
Jabal Al-Rahma is a granite hill. At its 70-meter peak is a platform, in the center of which is a white pillar that can be seen from afar. The hill has a cluster of boulders with deep crevices in it, with some perched quite precariously. Many have been artificially reinforced and supported by iron rods.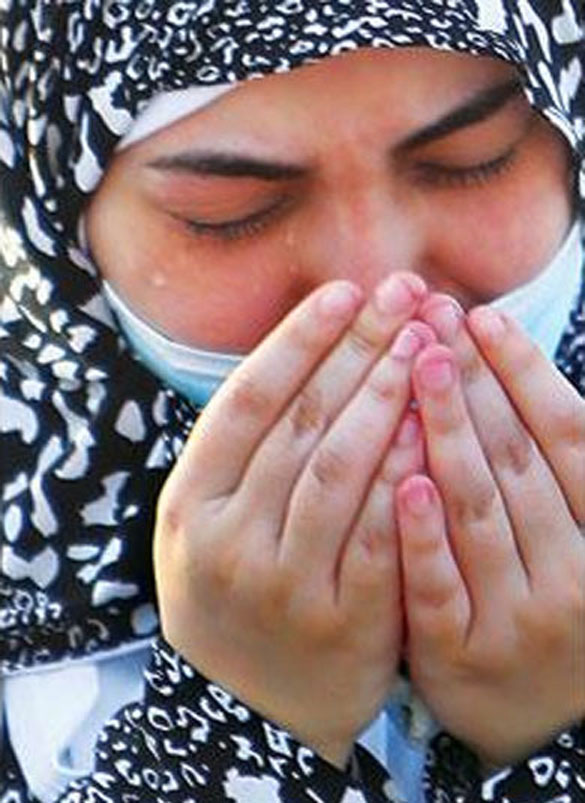 HUMBLE SUBMISSION: With tears streaming down her cheeks, a pilgrim seeks Allah's mercy. (AN photo by Fahd Al-Ahmari)
-------
On the Day of Arafat on Friday, it was as if the hill itself was draped in white as thousands in their ihrams climbed up to be as close as possible to the pillar. This dramatic scene, of this moving sea of humanity, was among the highlights of Arab News' coverage.
The mount was ringed by very polite security forces officers who had earmarked entry and exit points to control the flow of pilgrims.
Pilgrims were reciting verses from the Holy Qur'an with tears rolling down their cheeks, or had their arms stretched out in prayers and supplications. Others, apparently tired from their long journey, slept with their prayer beads in their hands.
At the foot of the Jabal Al-Rahma, the government has erected big billboards stating that the Prophet (pbuh) did not climb it and pilgrims therefore do not need to do so. Some pilgrims had scribbled the names of their loved ones on the rocks and the white pillar. The instructions clearly state that this should not be done. The instructions are in many languages, including English.
The scenes at Jabal Al-Rahma were indescribable and moving, especially of fragile old women struggling to climb the mount. An elderly Moroccan pilgrim, Fatima Jalloul, her face deeply furrowed, told Arab News: "I want to take memories of this place and share them with my grandchildren. I am storing all these images in my mind."
For Jalloul, performing the Haj is a dream come true. "In Morocco, the pilgrims are selected by drawing lots. I was among the lucky ones to be here. You cannot imagine my happiness," she said with a wide angelic smile.
When it comes to describing the scene at Arafat, no one has done better than Lady Evelyn Cobbold, the Englishwoman who became a Muslim and took the name of Zainab. Every year, Haj reporters recall her words to describe the standing at Arafat, or Wuquf in Arabic.
"It would require a master pen to describe the scene, poignant in its intensity, of that great concourse of humanity of which I was one small unit, completely lost to their surroundings in fervour of religious enthusiasm," she wrote in her Haj journal decades ago. "Many of the pilgrims had tears streaming down their cheeks; others raised their faces to the sky that had witnessed this drama so often in the past centuries. The shining eyes, the passionate appeals, the pitiful hands outstretched in prayer moved me in a way that nothing had ever done before, and I felt caught up in a strong wave of spiritual exaltation. I was one with the rest of the pilgrims in a sublime act of complete surrender to the Supreme Will which is Islam."
Source: http://www.arabnews.com/saudi-arabia/news/639621
URL: https://www.newageislam.com/islam-and-spiritualism/arab-news-staff/haj-pilgrims-in-'sublime-act-of-complete-surrender'/d/99383