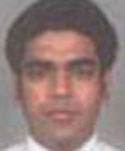 By Tushar Ranjan Mohanty
Research Associate, Institute for Conflict Management
It's a good day in Karachi when only five or so people are killed because on average it would be eight to 10 a day.
- Zohra Yusuf, Head of the Human Rights Commission of Pakistan (HRCP)
On January 17, 2013, the Muttahida Qaumi Movement (MQM) Member of Provincial Assembly (MPA), Syed Manzar Imam, was killed, along with three of his guards, by six militants at Hyderi Chowk in the Orangi Town area of Karachi, the provincial capital of Sindh.
On January 1, 2013, militants had attacked an MQM rally in Karachi, killing four persons and injuring another 50.
Claiming responsibility for both the attacks, the Tehrik-e-Taliban Pakistan (TTP) 'spokesman', Ehsanullah Ehsan, in a statement from an undisclosed location, declared, on January 17, 2013, that TTP cadres had targeted the MQM workers and that more attacks were likely to follow.
Though the MQM has lost at least 222 activists in Sindh in terrorism related violence in the last two years (87 in 73 incidents of killing in 2011 and 135 in 2012 in 116 incidents), there was no direct claims by the TTP preceding the January 2013 attacks. These two attacks, consequently, are to be assessed against the backdrop of the TTP's November 3, 2012, decision to 'deal with' the MQM and free the people of Karachi of its 'suppression'. Significantly, on November 2, 2012, MQM chief Altaf Hussain had called for a countrywide referendum against the TTP. The MQM's media centre stated that the party was going to ask a simple question to Pakistanis on the ballot paper, "Do you want a Pakistan of Quaid-e-Azam or a Pakistan of Taliban?" The MQM is in an alliance with the ruling Pakistan People's Party (PPP) in the Provincial Government.
While the MQM's open declaration has earned the TTP's wrath more recently, Awami National Party (ANP) activists in Sindh continued to face the brunt of TTP's violence through year 2012. According to the South Asia Terrorism Portal (SATP) database, the total number of ANP cadres killed over the past two years stood at 38 in 2012 and 43 in 2011, with TTP as the prime suspect in all these killings. However, there is an altogether different reason for TTP's ire against ANP. The surge in attacks against the ANP in Karachi can be traced back to the Army's operations in Swat (Khyber Pakhtunkhwa, KP) in 2009. It was under an ANP regime in KP that the SFs had expelled TTP militants from Swat Valley. Recently, after the killing of Bashir Ahmed Bilour, Senior Minister for Local Government and Rural Development in KP and also a senior ANP leader, on December 22, 2012, the TTP 'spokesman' for Dara Adamkhel and Khyber Agency in Federally Administered Tribal Areas (FATA), Mohammad Afridi, had warned that ANP and MQM were the prime targets of his group.
Meanwhile, Karachi, as in the previous years, bore the brunt of heightened terrorist activity in Sindh. Partial data compiled by SATP indicates that, out of 1,553 terrorism-linked fatalities in the Province, including 1,318 civilians, 118 Security Force (SF) personnel and 117 militants, in 1,105 incidents of killing the Province witnessed in 2012, only 23 fatalities (all civilians) in eight incidents of killing took place outside Karachi. [According to the Citizens-Police Liaison Committee (a civic organization that works in partnership with the Karachi Police) report of January 8, 2013, 2,124 people were killed in Karachi in 2012.] In 2011, out of the 1,211 fatalities, including 1,082 civilians, 61 SF personnel and 117 militants, in 496 incidents of killing, only three fatalities (all civilians) in two incidents of killing took place outside Karachi.
There was an increase of 28.24 percent in terms of overall fatalities in 2012 as compared to 2011. However, a spike of 93.44 percent was registered in the SFs category, while terrorist and civilian killings went up by 72.05 and 22 percents respectively in Sindh.
Terrorism Related Fatalities in Sindh: 2010- 2013
| | | | | |
| --- | --- | --- | --- | --- |
| Years | Civilians | Security Force Personnel | Militants | Total |
| 2010 | 777 | 61 | 158 | 996 |
| 2011 | 1082 | 61 | 68 | 1211 |
| 2012 | 1318 | 118 | 117 | 1553 |
| 2013 | 109 | 14 | 6 | 129 |
| Total* | 3286 | 254 | 349 | 3889 |
Source: SATP, *Data till January 27, 2013
Sindh witnessed as many as 38 major incidents (each resulting in three or more fatalities), including three outside Karachi, in 2012, as against 29 in 2011 (all in Karachi). Three suicide attacks (all in Karachi) were recorded in 2012, the same as in 2011 (all in Karachi); however, the resultant fatalities decreased from 17 in 2011 to 12 in 2012. Similarly, though the number of incidents of explosion increased from 46 in 2011 (31 in Karachi alone) to 77 in 2012 (59 in Karachi alone), the resultant fatalities registered a decline, from 62 in 2011 (all in Karachi) to 42 in 2012 (40 in Karachi alone).
Sectarian violence recorded a steep hike in 2012. While there were 13 fatalities (12 in Karachi alone) in 12 incidents of sectarian violence in 2011 (11 in Karachi alone), 2012 saw 151 fatalities (145 in Karachi alone) in 91 incidents of sectarian violence (88 in Karachi alone).
Summing up the deteriorating security scenario of the city and TTP's role, Zohra Yusuf, stated, on January 3, 2013:
The TTP used to come to Karachi for R and R or to get treated in the hospitals here... or maybe for fundraising. But now they've got a foothold and they want to entrench themselves and take over here.
Despite this unabated violence in the Province, centred around Karachi, the authorities remain in denial. Indeed, Sindh Chief Minister (CM) Syed Qaim Ali Shah stated, on January 20, 2013, that "one or two target killings in a big city like Karachi were not an issue". Claiming further that the situation in Karachi is not as bad as portrayed by the media, he pointed out that murders in Karachi were on the rise over "different other issues" (sic). The CM it seems was unaware that Karachi had the unfortunate distinction of being the worst-affected District in the terror-raven country. Indeed, fatalities in Karachi alone are just under the total fatalities for the Provinces of Balochistan (954) and KP (656), combined.
In fact, 25 key al Qaeda and TTP-linked terrorist outfits have literally taken this port city hostage. These include five factions of the Lashkar-e-Jhangvi (LeJ) [LeJ-Al Alami (International), Qari Zafar group, Qari Shakeel group, Akram Lahori group and Farooq Bengali group]; three factions of TTP ['Commander' Waliur Rehman group (from South Waziristan), Badr Mansoor group (from North Waziristan) and Mullah Fazlullah group (from Swat)]; Sipah-e-Sahaba Pakistan (SSP); Sipah-e-Mohammed Pakistan (SMP); Sunni Tehreek (ST); Daawat-e-Islami (DeI); Harkat-ul-Mujahideen (HuM); Harkat-ul-Mujahideen - Al Alami (HUMA); Jaish-e-Mohammad (JeM); Jamaat ul Furqaan (JuF); Harkat-ul-Jihad-al-Islami (HuJI); Tehreek-e-Nafaz-e-Shariat-e-Mohammadi (TNSM); Jundallah; Tehrik-e-Islami Lashkar-e-Muhammadi (TILM); Lashkar-e-Islami (LeI); Mehdi Militia (MM); Hezbollah; Kharooj; Tawheed Brigade (TB); Al Mukhtar Group; and Punjabi Mujahideen.
Most of these groups generate funds through extortion and kidnapping for ransom. According to the Karachi Police, 1,160 incidents of kidnapping/abduction were reported in 2012, as against 1,035 in 2011. 53 cases of abduction for ransom were reported in 2011, rising to 72 in 2012. [For both the years, the data is for the period between January 1 and September 15, and likely reflects significant under-reporting, since silent compliance is often the rule in most such cases].
Apart from these terrorist formations, a number of local criminal gangs, affiliated to these outfits, have also been involved in extortion. The failure of the Police and administration to curb these groups has made Karachi a playground for extortion. The most feared of all such criminal groupings is the Lyari Gang, led by Uzair Baloch, operating in Karachi's Lyari area. Islamabad launched a 'grand operation' against gangs in Lyari area on April 27, 2012, but reports suggest comprehensive failure of the initiative. The Lyari Gang continues to control the areas of its dominance till date. The Gang reportedly has the covert support of the ruling PPP, and the operation was just an eye-wash to control the political ambitions of the People's Aman Committee (PAC), the political face of the Lyari Gang.
Bank robberies have also extensively been used by both terrorist and criminal formations for revenue generation. According Sindh Police and the Criminal Investigation Department (CID), TTP was found to be involved in 131 bank robberies since 2008 [till November 9, 2012] in Sindh. Terrorist formations were involved in at least 28 bank robberies in Karachi alone, between 2009 and 2011. Khurram Bari, Superintendent of Police (SP), Special Interrogation Unit (SIU), which interrogates suspects linked to terrorism or terror-financing cases, disclosed, on May 12, 2012, "Several activists of TTP ... have confessed to Police that they have committed bank robberies to provide money to the organisation."
SF action is, moreover, vehemently opposed. Senior Superintendent Police (SSP) of the Anti-extremist Cell of CID, Chaudhary Aslam noted, "The CID has arrested 721 militants and over 143 gangs related to the TTP in the city since 2008. They attacked my house in retaliation [September 19, 2012]. The officers working against the Taliban in Karachi are under constant threat. There was a suicide attack on one of our SSPs [Senior Superintendents of Police (SSP)] too." The SSP Malir Rao Anwar's convoy was targeted in the attack on April 5, 2012, and four persons were killed.
Karachi, with a population of 18 million, has only 31,861 Policemen, yielding just 177 Policemen per 100,000 people, an abysmal ratio for a major urban concentration, particularly the financial capital of the country, with overwhelming problems of security. Indeed, the overall Police population ratio for Sindh stands substantially higher, at 263 per 100,000. The Police population ratio for Lahore, to take an urban comparison, is 343/100,000. Urban concentrations, globally, tend to have significantly higher police-populations than rural areas.
Given the current security scenario in the Province at large, and Karachi in particular, and Islamabad' reluctance to discontinue the patronage that it has extended to armed and extremist political, ethnic, sectarian and criminal formations, it is unlikely that Karachi well get any relief from the rising wave of violence in the foreseeable future.
Source: South Asia Intelligence Review
URL: http://www.newageislam.com/islam-and-sectarianism/tushar-ranjan-mohanty/sindh--deepening-crisis--terrorist-formations,-criminal-gangs,-failure-of-the-police-have-made-karachi-a-playground-for-extortion/d/10186