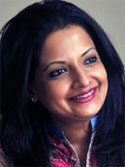 By Reema Abbasi
16 October 2014
The great Nobel Prize has come to represent a sad paradox for Pakistan and its two laureates.
In the country's worst political times, riddled with upheavals, bloodshed and controversy, Malala's Nobel Peace Prize is a cause celebre and a ray of hope.
Two elements spell out the irony of her accolade.
First, she cannot return to her homeland. Therefore, Pakistan can neither be home to its famed daughter, nor can the award come to the country.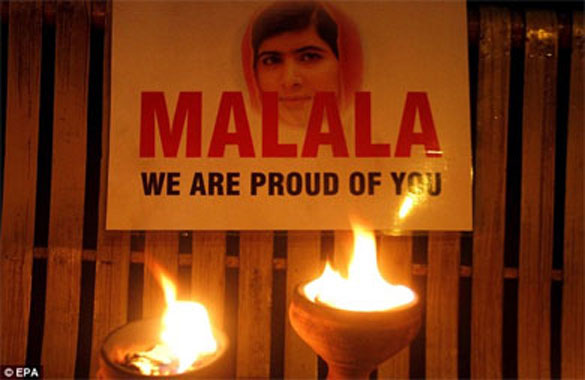 Pride in Pakistan's daughter: For some, the honour for Malala was a source of hope and happiness
---------
Second, her country could not protect her then and cannot protect her now, despite its ongoing war on terror.
However, Malala has brought joy and courage to her people – there was mass jubilation at her award in Swat, and in all corners of the province of KPK.
There were cake-cutting ceremonies, rallies, and distribution of sweets, as well as avowals by little girls to pursue their exemplar's cause of education and her resolve to be fearless.
Even so, there are voices calling for a hatchet job on the youngest laureate from Pakistan – the social or rightist media and Taliban groups called her an 'American agent', or an 'actress' bent on sullying her nation's name.
Tragically, she is not Pakistan's first Nobel-winning pariah. Her predecessor was Dr Abdus Salam, who won the physics prize in 1979. Also in exile when his Nobel honour was announced, Salam, an Ahmadi, left Pakistan when the Bhutto regime decided to pass an edict that declared Ahmedis as non-Muslims.
Today, his pioneering work in subatomic physics, his prediction of the 'God particle' or Higgs Boson, and his Nobel, failed to keep him alive as a hero in his land.
Salam's triumphs have been erased from official archives, and his only relic is a defiled sepulcher.
So, as Imran Khan's proclamations of justice rage on, here's the rub: does he have the courage to launch 'I Am Malala' in Peshawar?
Reema Abbasi is a Karachi based journalist and columnist
Source: http://www.dailymail.co.uk/indiahome/indianews/article-2796373/stay-away-malala-pakistan-doesn-t-want-nobel-heroes.html#ixzz3GNOGq3Np
URL: https://www.newageislam.com/islam-and-sectarianism/reema-abbasi/stay-away,-malala--pakistan-doesn-t-want-its-nobel-heroes/d/99561