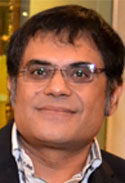 By Raza Rumi
O2 Jan 2015
In an unprecedented expression of support for religious minorities in Pakistan coming from a religious group, the Pakistan Ulema Council (PUC) demanded equal rights for the country's minorities and stern action against forced conversion of Sindh's Hindu girls to Islam at a conference in Lahore on December 30.
The council is headed by Allama Tahir Ashrafi, a cleric known for his liberal views without compromising on his Deobandi beliefs.
In a resolution at the end of the conference, the participants said the Pakistani government had the responsibility to protect the lives, wealth, honor, dignity and places of worship of all its citizens regardless of their faith.
They said forced conversion of Hindu girls to Islam and their forced marriage with Muslim men was not in line with the teachings of Islam or the morals of the Pakistani society, and asked the Supreme Court to investigate the phenomenon.
Amidst questions in the social media about the role of hate speech in the recent killing of an Ahmadi in Gujranwala and similar attacks in the past, Tahir Ashrafi said Deobandi clerics believed in the Pakistani constitution (which declares the community non-Muslim) but had never called for their killing.
An atmosphere of peace, love and forbearance can only be fostered by giving minorities their due rights throughout the world, said a statement at the end of the conference, also calling for an ongoing global interfaith and inter-sect dialogue.
Religious leaders at the conference also demanded an honorary Nishan-e-Haider – Pakistan's highest military award – for the principal and the more than 130 students of the Army Public School in Peshawar who were slain in cold blood in the tragic terrorist attack by Taliban on December 16.
"Today's conference expresses full solidarity with the family members of the victims of Peshawar attack and demands the government to arrest the culprits and expose their sponsors," a statement made available to reporters said. But clerics at the conference said it was inappropriate to malign religious seminaries, such as Madrasa al Arabia, and mosques or linking all of them with terrorism. Citing the statement of Interior Minister Chaudhry Nisar Ali Khan that only 10 percent of madrasas are liked to extremism and terrorism, they demanded the government make their names public.
In his speech Allama Tahir Ashrafi said madrasas were guarantors of peace in the country. Maulana Muhammad Ali Sherazi said an education system given by Christians was a conspiracy against Islam, which had become a victim of the west. "True education is spread through religious seminaries, which are the fort of Islam," he added.
A speaker read out a message by President Mamnoon Hussain. "Islam is the religion of humanity and peace," it said. "Our forefathers presented a peaceful face of Islam to the world, and today's religious scholars should also play their role in this regard."
Source: http://www.thefridaytimes.com/tft/protect-minorities-says-pakistan-ulema-council/
URL: http://www.newageislam.com/islam-and-sectarianism/raza-rumi/protect-minorities--pakistan-ulema-council/d/100807