By Marlo Safi
October 16, 2018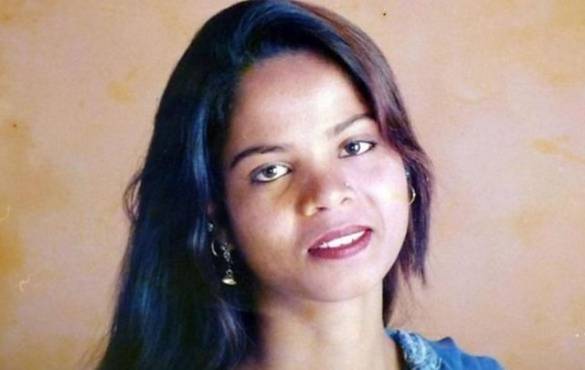 Photo: Asia Bibi
--------
Accused of blasphemy, Asia Bibi has languished on death row in Lahore since 2010.
In Pakistan, a Christian mother of five who was accused of blaspheming the Prophet Mohammed in 2009 awaits the decision that will mark her fate — but even if she is granted clemency, Islamic hardliners stand prepared to act on their threats against her life and that of the justices who will decide.
Asia Bibi was accused of saying that Jesus Christ died for her sins and "what did Mohammed ever do for you?" after she took a drink of water from a well and offered some to others, only to be told by her Muslim coworkers that the well was for Muslim women only and that they wouldn't drink from a container used by a Christian. She was accused of blasphemy and has languished on death row since 2010.
This week, the world is awaiting the Pakistan Supreme Court's decision in Bibi's appeal of her death sentence, and many people, including her lawyer and husband, are optimistic that she will be acquitted. But if she is, radicals affiliated with extremist groups such as Tehreek-e-Labaik Pakistan (TLP) will, they say, paralyze the country. They have encouraged protests and violence against the court's justices should they ensure her release.
Humanitarian groups have followed the issue closely since 2010, to alert the world to the human-rights infringement, but the international outrage that the sentence had sparked inflamed radical Islamists in Pakistan who use the blasphemy law to garner support. For defending her in court, her lawyer requires security at all hours at his home.
In Lahore, Pakistan's second-largest city, hundreds of protesters gathered, and "Hang infidel Asia" could be heard being chanted. On Twitter, #HangAsiaDefend295C is trending among religious extremists who advocate Bibi's execution. The end of the hashtag refers to 295-C of Pakistan's penal code. The section was added by an act of parliament in 1986, making it a criminal offense to speak of the Prophet Mohammed derogatorily.
According to Open Doors USA, Pakistan is the world's fifth-worst country for Christians to live in, owing to the persecution they face there. It ranks as worse than Yemen, Iran, Saudi Arabia, and even Egypt, whose Coptic Christian community faces regular threats from Islamists and has suffered from a series of church bombings in the last few years.
"She is spending her life praying with a very strong faith and is reading the Bible every day," Bibi's husband Ashiq Masih said in an interview at St. Columba's Church in England, where he and the couple's daughter are being aided by the Catholic charity Aid to the Church in Need. "She feels when she is praying, Jesus is encouraging and supporting her."
As Bibi's family awaits the decision, expected to come this week, her husband and daughter ask the world for their prayers.
"She also wanted to deliver a message to the international community that they must remember her in their prayers," her husband added. "These prayers will open the door of the prison, and she will be released very soon."
Marlo Safi is a Collegiate Network Fellow with National Review.
Source: nationalreview.com/2018/10/islamists-vow-to-kill-a-christian-woman-if-a-pakistan-court-acquits-her/
URL: https://www.newageislam.com/islam-and-sectarianism/marlo-safi/islamic-hardliners-vow-to-kill-aasia-bibi-and-the-justices-if-they-acquit-her-of-blasphemy-charges/d/116647