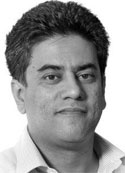 By Kamal Siddiqi
September 5, 2017
On August 15, 2015, I had the pleasure of standing at the shrine of Bahadur Shah Zafar in Yangon. Attending a seminar as fellow of Stanford University's Centre for Democracy, Development and Rule of Law (CDDRL), it was all very fascinating. The mazaar was a highlight — here was buried the emperor of what was once one of the largest empires in the world. A handful of people had shown up to offer their respects. There was little to remind us of what was once a world power, only some faded pictures on the walls and some of the emperor's own poetry.
The year 2015 was the year of hope in Myanmar. Meeting political workers and people from different occupations, one got some idea of the hardships endured at the hands of the military. By then the winds were blowing in favour of Aung San Suu Kyi, the mercurial opposition leader, who eventually wrested power from the military high command. And even in that circle, the Burmese never acknowledged the plight of the Rohingya community in the Arakan province.
The Rohingya are Muslim. They go against the concept of Burmese nationalism which was introduced by another military strongman, Ne Win. Other communities will tell of the terrible times when they were forced to leave Rangoon (now Yangon) in the '60s because they did not fit in.
For the Rohingya, the Burmese answer is simple — they are Bangladeshis. Under a consistent policy, the Arakan province and all those areas where the Rohingya have been living for generations, have been neglected and left to decay. The Rohingya themselves have been targeted, attacked, violated and pushed into Bangladesh, which Burma claims is where they came from.
For Suu Kyi to support such a policy is unacceptable. For any sane country to target and murder innocent people on grounds that they are outsiders cannot be condoned. And yet, this is exactly what has been happening for the past several decades.
The first Rohingya to arrive in Pakistan came in the '60s escaping the marauding men of General Ne Win. The Ayub Khan government welcomed this first intake and settled them near Landhi in what is now called Burmee Colony.
While the Muslim world has watched largely in silence, Pakistani Nobel laureate Malala Yousafzai has tried to awaken the world's conscience. She said in a statement that she has seen "pictures of small children killed by Myanmar's security forces." Even though these children attacked no one, their houses were burnt to the ground, she added.
Malala also called upon Myanmar to give citizenship to Rohingya Muslims because it is the country they were born in. "If their home is not Myanmar, where they have lived for generations, then where is it?"
Fed up with waiting, this year the Rohingya took matters into their own hand. On August 25, fighters from a small militant group, the Arakan Rohingya Salvation Army, staged surprise raids on 30 police stations and an army base in Rakhine State, where many Rohingya live. The attacks, in which 110 people died, including 10 policemen and many of the militants, triggered a crackdown by Burma's military.
Witnesses said soldiers torched villages and sent thousands of Rohingya fleeing across the Naf River to Bangladesh, which is already home to about 400,000 Rohingya refugees who have fled Burma in recent years. Desperate to escape the retaliation, Rohingya took to flimsy vessels poorly equipped for rough waters.
This conflict is already finding sympathisers. Turkey's foreign minister has urged Bangladesh to open its doors for Rohingya Muslims fleeing violence and offered to bear their expenses. Vying for leadership of the Muslim world, Turkish President Recep Tayyip Erdogan has found a cause he can use to win the minds of Muslims all over.
Of course in this the real challenge is to the government of Prime Minister Sheikh Hasina. If the Rohingya are to take up an armed struggle, there are groups in Bangladesh that would happily supply them with weapons. This in turn would lead to increased militancy in Bangladesh. This is what happened when Mujahideen in Afghanistan were armed via Pakistan, how Syrian fighters got help through the Turks.
The Burmese government must see the folly of its ways. The Rohingya must be given their rights otherwise there is a chance that this armed separatist activity will not only spread but find support and funding. And before you know it, it will become another flashpoint for the world.
Source: tribune.com.pk/story/1497853/genocide-and-beyond/
URL: http://newageislam.com/islam-and-sectarianism/kamal-siddiqi/rohingya-muslims-in-myanmar--genocide-and-beyond/d/112433