By Haq Nawaz Khan
Nov 12, 2018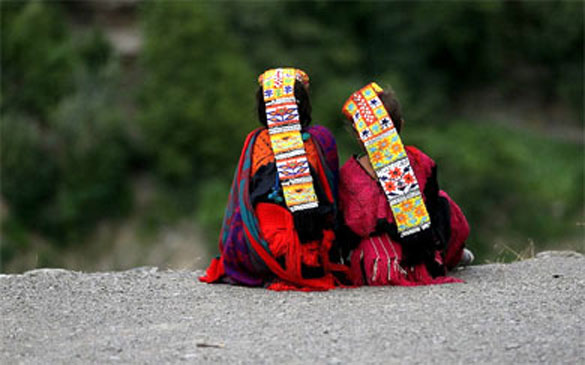 Kalash girls sit while traditional clothes in Bumburet, Pakistan, in August 2016. (Metin Aktas/Anadolu Agency/Getty Images)
--------
For centuries, a small community of fair-skinned, blue-eyed people known as the Kalasha have inhabited a remote valley in northwest Pakistan, farming and raising animals.
Legend has it that their roots go back to Alexander the Great, whose forces passed through the mountainous region in the 3rd century B.C. But scientific studies describe them as a having "enigmatic" and "complex" origins, possibly being the first migrant group to reach the Indian subcontinent from Asia.
The Kalasha people, who speak a unique dialect, have no written religion or places of worship. Instead, they hold ritual celebrations of seasonal change every spring and fall, with colourful costumes and dancing that have long attracted visitors to their alpine home.
In recent years, however, a new outside influence — Sunni Islam — has started seeping into the valley, changing its way of life and dramatically reducing the number of non-Muslims. In the past three years, according to local surveys, 300 Kalashas have converted, reducing the number of non-converts from about 4,100 to 3,800. Local leaders fear their culture may be swallowed up and vanish.
The pace of conversions has accelerated, especially among young people, with Kalasha girls marrying Muslims and Muslim teachers urging students to convert. There also has been a boom in the construction of mosques, with at least 18 now in the valley.
"After hundreds of years, we have been turned into a minority on our own land," said Shah Feroz, 27, a volunteer teacher in this hillside town of wooden chalets and steep lanes, located in Khyber Pakhtunkhwa province.
The religious inroads have become entwined with land disputes, especially over large tracts of forest that Kalasha communities own jointly as a matter of tradition. Last month, one court case over land rights reached the Supreme Court of Pakistan, which instructed the provincial courts to review the issue and report back in one month.
Last summer, the Kalasha gained their first-ever voice in government. Wazirzada Khan, 34, a political activist from the valley, was named to the provincial assembly under the law reserving seats for minorities. His nominator was Imran Khan, then a political leader in the province and now Pakistan's prime minister.
"The Kalasha are the indigenous owners of the land, forests and mountains. We need laws to preserve our community," Wazirzada Khan said. Kalashas who convert to Islam "do so willingly," he added, but the community "should be declared a national heritage with special status."
Other Kalasha activists said they were historically disdained by Muslims as "infidels," along with a separate group of Kalashas in Afghanistan's Nurestan province across the border.
Akram Hussain, 34, a social worker, described himself as "the sole Kalasha survivor in my family" after his mother died and his father married a Muslim woman.
"When a Muslim teacher warns you that you're an infidel and will be burned in hell, a kid can't evade this threatening influence," he said. "I was told by my Muslim teachers to read [Islamic verses] that say it is compulsory to become a Muslim. But we don't pressure our youths about our Kalasha beliefs."
Feroz noted that all students in mixed schools are taught Islamic studies. On a recent morning, in the sixth-grade girls' class at one local school, all Kalasha and Muslim students were reciting Koranic sayings. Feroz said community leaders want a substitute subject, such as ethics, to be taught.
"If you start reading Islamic subjects as compulsory from beginning through university level, then you will be influenced by Islamic teachings," he said.
In recent years, the Kalasha have attracted European researchers and support, resulting in community benefits including a school that teaches the Kalasha dialect. But some visiting foreigners have also been victims of criminal and insurgent attacks.
According to local leaders, in 2002, a Spanish researcher living in the valley, Jordi Magraner, was found dead with his throat slit, along with two local residents. In 2009, a Greek scholar who helped build the Kalasha School, Athanasion Larounis, was kidnapped by Afghan Taliban forces but eventually freed and returned to Greece.
There have been other episodes of violence attributed to cross-border Taliban intruders. One farmer said two goat keepers had been brutally killed and thousands of goats stolen. "When we ask, we are told that the militants came from Nurestan," he said.
Yet the larger clash here is the competition between a long-dominant culture with relaxed, secular values and an aggressively expanding faith with strict rules and conservative moral views.
The Kalasha grow grapes and offer free wine to visitors at festivals, where men and women dance together.
They also mourn their dead by dancing and leave them inside coffins above the ground, weighted down by stones with their valuables, though lately they have started burying them because of robbers.
One Kalasha farmer complained of hate speech broadcast through local mosque loudspeakers.
"We don't make wine to sell, and we don't force people to drink," said Shahi Gul, 50, a mother of six. "We are blamed by the local clerics as using wine to tempt Muslim youth, which is not true. We do this as it is allowed in our religion and culture."
Gul, whose sisters and niece converted to Islam, said she worries about the conversion of so many young Kalashas, especially through marriage. She said girls are "easily converted" by Muslim visitors who woo and marry them.
"We don't force our children over marriage," Gul said. "When a Kalasha girl wants to marry a Muslim, she accepts Islam and shifts to a Muslim family."
Jamroz Khan, a Muslim cleric in the valley whose grandfather converted to Islam 70 years ago, considers Kalasha customs to be wicked, but he said no one in the valley has been converted by force.
"We do our preaching and convince them they should come to the right path," he said. "We teach them that they are practicing infidelity by mixed gatherings, dancing and using alcohol. We ask them to stop these infidel practices."
Khan noted with pride that several decades ago, "there was not a single Muslim family here, but now half of the village has accepted Islam," he said. "All praise to Allah, we are preaching to convert all."
To Lali Gul, a Kalasha woman who sells traditional costumes and caps, the spread of Islam across the valley will be hard to stop. Muslim tourists, she said, bring money as well as take brides. When her daughter met a Muslim visitor and converted to marry him, she did not try to dissuade her.
"We are free and open-minded people. We don't interfere in our children's decisions to be a Kalasha or Muslim," Gul said. "But our community is shrinking. I fear that very soon, there will be no Kalasha left in this valley."
Pamela Constable in Islamabad contributed to this report.
Source: washingtonpost.com/world/asia_pacific/an-ancient-community-in-pakistan-fades-as-conversions-to-islam-take-a-toll/2018/11/11/a5187be6-dd22-11e8-8bac-bfe01fcdc3a6_story.html
URL: https://www.newageislam.com/islam-sectarianism/kalasha-community-pakistan-fades-conversions/d/116871