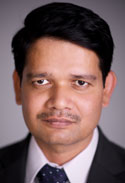 By Tufail Ahmad
12th December 2013
A religious war is raging on two sides of India's borders. To the west, Pakistan is inching closer to a jihadist takeover, metamorphosing into a Sunni version of what Shia Iran became after the 1979 Islamic Revolution. To the northeast, Bangladesh is sinking into a religious-political war of murder and hate. Both countries illustrate how mixing religion and politics in public life mutilates an average man's intellectual capacity to grasp what a good society should look like. People are used as fuel for advancing religion.
In the two countries, minority groups like Hindus, Christians, Shias and Ahmadi Muslims are being systematically murdered. In Pakistan, not a day passes when a Shia Muslim is not killed. In Lahore, a 72-year-old Ahmadi Muslim was recently jailed for reading the Quran. In Bangladesh, members of Jamaat-e-Islami are attacking Hindu homes, laying siege to the streets and killing rivals. In March, Daily Ittefaq of Dhaka carried an article, warning: "A power is rising slowly in Bangladesh; it violates our liberty and life. It violates our very existence. The adversary is not a man but an ideology."
The violence raging on India's borders is not random; it is predictable, part of a pattern, originating from an ideological narrative about Islam. The narrative can spill over into India, home to a large Muslim population. Indeed, Indian clerics are already waging a Pakistan-like hateful campaign against Ahmadi Muslims in Punjab, Delhi and Andhra Pradesh. As the largest religious outfit of South Asia, Jamaat-e-Islami is the lead movement responsible for sowing an exclusivist and hateful narrative. In Pakistan, it led a violent campaign in 1953 against Ahmadi Muslims, who are now declared non-Muslims.
Founded in 1941 by Sunni theologian Maulana Abul A'la Maududi, Jamaat-e-Islami defined Islam as an all-encompassing way of life and began nursing, like other religious groups, a vision of an Islamic state that would regulate all spheres of life. For historical reasons, it split into organisationally autonomous units, now functioning in India, Pakistan, Bangladesh and Kashmir. Not for the first time in its history, Jamaat-e-Islami is undergoing a crisis of legitimacy in people's eyes, especially in Pakistan and Bangladesh.
On November 4, Pakistan's Jamaat-e-Islami leader Syed Munawar Hasan described Hakimullah Mehsud, the Pakistani Taliban chief killed in a drone strike, as a "martyr" for waging "jihad against enemies of Islam". Despite criticism from the Pakistani military and people, Hasan reiterated the argument, also noting that Pakistani soldiers killed in the war against terrorism cannot be called martyrs. Hasan's description of terrorists as martyrs mirrors the ideological narrative nursed through past seven decades by Jamaat-e-Islami and other religious groups.
Recently, journalist Amir Mir recorded how Al-Qaeda terrorists have been routinely captured from the homes of Jamaat-e-Islami leaders in Pakistan. In 2002, Khwaja brothers, who belonged to Jamaat-e-Islami, admitted sheltering Al-Qaeda leader Yasser Al-Jazeeri. In 2003, Khalid Sheikh Muhammad, the mastermind of 9/11, was captured from the home of a Jamaat-e-Islami leader in Rawalpindi. In 2003, Terrence Thomas, an Australian Al-Qaeda militant held in Karachi, used the house of a hockey player whose wife is a Jamaat-e-Islami member. In 2004, Attaur Rehman—an official of Islami Jamiat Tulaba (IJT), the student wing of Jamaat-e-Islami—was involved in an attack on an army general's motorcade in Karachi. Dr Akmal Waheed and Dr Arshad Waheed, who were arrested in the case, were working for Al-Qaeda and belonged to Pakistan Islamic Medical Association, a Jamaat-e-Islami affiliate. Recently, Al-Qaeda members were arrested from an IJT member's hostel room in Punjab University. On November 29, IJT member Abdur Rehman was among terrorists killed by a drone in Waziristan.
Over the years, Jamaat-e-Islami has supported violence against minority sects, military dictators of Pakistan and jihadist groups while operating as a political party. In the 1971 war for Bangladesh, it created two paramilitary groups, Al-Badr and Al-Shams, which were involved in the killings of Bengali intellectuals and political activists. Several top Jamaat-e-Islami leaders including Delwar Hossain Sayeedi, Muhammad Kamaruzzaman, Abdul Kader Mullah and Ghulam Azamare among those convicted of the 1971 war crimes by a tribunal in Dhaka this year. Now, a Bangladeshi court has declared Jamaat-e-Islami illegal, banning it from politics. Some writers like Taslima Nasreen supported the ban saying it is practically a terrorist group.
In India, Jamaat-e-Islami would have followed a similar trajectory, but India's thriving democracy has forced it to stay on the path of pluralism. One thing it cannot do is to try to impose its ideology on India's unwilling society. However, about five per cent of Jamaat-e-Islami members in the middle ranks do nurse an extremist orientation but the leadership is working within the wider framework of Indian democracy and pluralism, especially by doing educational and humanitarian work, says Dr Ishtiaque Ahmed, who teaches at Jawaharlal Nehru University. He says Jamaat-e-Islami has in fact taken steps to participate in politics by floating the Welfare Party of India. Ahmed notes that despite ideological unity, Jamaat-e-Islami in India has done well for itself by dissociating from its counterparts in Pakistan, Bangladesh and Kashmir.
On a recent visit to Dhaka, Syed Haider Farooq Maududi, son of Jamaat-e-Islami founder Maulana Maududi, argued that a democratic state should stay away from religion, observing that "religion is for the people and people are not for religion". Arguing that religion should stay within the personal life of individuals, he said: "The holy Quran does not talk about politics, it rather talks for the person so that one can become better. Political interpretation of religion always brings destruction in the society." It is clear the war in Pakistan and Bangladesh underlines an urgent need for separation of religion and politics—a precondition for a free society, a challenge for Islamic nations across the world and a lesson politicians in India too need to learn.
Tufail Ahmad is director of South Asia Studies Project at the Middle East Media Research
Source: http://www.newindianexpress.com/opinion/Separate-Politics-From-Religion/2013/12/12/article1940603.ece
URL: https://newageislam.com/islam-politics/separate-politics-religion/d/34830