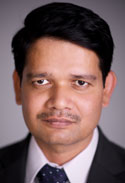 By Tufail Ahmad
November 28, 2013
In a November interview, external affairs minister Salman Khurshid, recognising that "on-the-ground reality and the results of our meetings" with Pakistani leaders are "very disappointing," argued nevertheless that India should give Pakistan "the benefit of the doubt." His statement reveals a lack of clarity in New Delhi about an important neighbour, as factors about doubt or hope about Pakistan are missing.
A year before Pakistan was created, Mr X of the US embassy in Moscow, later identified as George F Kennan, wrote a long telegram outlining how circumstances and the Bolshevik ideology were interacting to shape the internal behaviour and external relations of the Soviet State. While this interaction proved untenable, terminating in the USSR's breakup, a similar interaction between circumstances and Nazaria-e-Pakistan — ideology of Pakistan, or ideas connected to Islam and taught to Pakistanis about their national identity — appears enduring.
In his new book Magnificent Delusions, former Pakistani ambassador to the United States Husain Haqqani catalogues an array of delusional policies from Pakistan's early days, revealing how US engagement with Islamabad has throughout failed to arrest Pakistan's slide towards jihadism.
There is a recent pattern: each peace effort is followed by a terror attack. AB Vajpayee's friendship treaty led to the Kargil War; General Pervez Musharraf's peace moves under US pressure brought about the 26/11 Mumbai attacks; Nawaz Sharif's talk of peace was answered by an attack on the Indian consulate in Kandahar and incursions into Kashmir. Islamabad's use of jihadis emanates from the practice of Nazaria-e-Pakistan, configured to transform Pakistan as Madina-e-Saani, or second Madina, which being the first Islamic state under Prophet Muhammad. Like the Bolsheviks, Pakistani leaders cater to ideology and are impervious to the logic of reason.
For India, the newer threat is Pakistan's sponsoring of the Indian Mujahideen. While Muslims are being falsely implicated on terror charges in India as the real culprits escape, it is equally true that Indian Muslims are being recruited by the ISI and its Jihadi branches. As the US exits Afghanistan, Pakistan will have an excess of jihadis, more so as Sharif courts the Taliban. And: while the ISI-controlled militant groups in the past, the Pakistani State has sunk into a new reality in which the ISI must itself become part of the Jihadi infrastructure.
The Indian republic cannot be a natural ally of a vibrant Jihadi state. India's engagement with Pakistan must be contingent upon improvements in Pakistan's domestic conduct. India must freeze bilateral talks for the next 10 years during which Pakistan will hold two elections, hopefully ensuring the transfer of power without military interference. Over the next decade, Pakistan and India should evolve a non-political agenda through informal channels on the shared future of their peoples regarding environment, trade, water, education and media.
Before talks, it must be told to create greater democratisation in its society: by re-writing its constitution to permit Hindu and Christian Pakistanis to become heads of the State, quashing the law mistreating Ahmadis as non-Muslims, reforming blasphemy laws to annul the death penalty, and so on. Pakistan must undertake test-case legislative reforms, enabling it to become a respectable member of the international society of states.
A less-than-democratic Pakistan will continue to be India's tormentor. After Khurshid's statement, one hopes that India does not, like the US, get into a delusional relationship with Pakistan.
Tufail Ahmad is director of South Asia Studies, the Middle East Media Research Institute, Washington DC
The views expressed by the author are personal.
Source: http://www.hindustantimes.com/news-feed/columnists/india-must-stop-being-delusional-about-pakistan/article1-1156503.aspx
URL: https://newageislam.com/islam-politics/india-stop-being-delusional-pakistan/d/34632