Time Magazine, August 2, 1971
December 16, 2013
This is an extract of the above titled article published in the Time magazine on Monday, August 2, 1971
Over the rivers and down the highways and along countless jungle paths, the population of East Pakistan continues to hemorrhage into India: an endless unorganised flow of refugees with a few tin kettles, cardboard boxes and ragged clothes piled on their heads, carrying their sick children and their old.
They pad along barefooted, with the mud sucking at their heels in the wet parts. They are silent, except for a child whimpering now and then, but their faces tell the story. Many are sick and covered with sores. Others have cholera, and when they die by the road-side there is no one to bury them.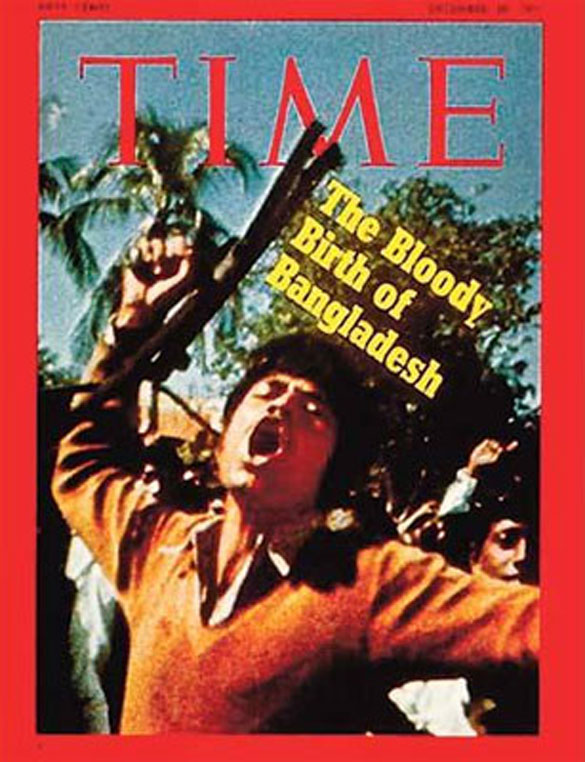 Photo- Wikimedia
-------
The Hindus, when they can, put a hot coal in the mouths of their dead or singe the body in lieu of cremation. The dogs, the vultures and the crows do the rest. As the refugees pass the rotting corpses, some put pieces of cloth over their noses. The column pushing into India never ends, day or night.
It has been four months since civil war broke out between East and West Pakistan, and the refugees still pour in. No one can count them precisely, but Indian officials, by projecting camp registrations, calculate that they come at the rate of 50,000 a day. Last week the estimated total passed the 7,500,000 mark.
Should widespread famine hit East Pakistan, as now seems likely, India fears that the number may double before the exodus ends. Hundreds of thousands of these are still wandering about the countryside without food and shelter.
Near the border, some have taken over schools to sleep in; others stay with villagers or sleep out in the fields and under the trees. Most are shepherded into refugee camps where they are given ration cards for food and housed in makeshift sheds ...
Cordon of Fire
The evidence of the bloodbath is all over East Pakistan. Whole sections of cities lie in ruins from shelling and aerial attacks. In Khalishpur, the northern suburb of Khulna, naked children and haggard women scavenge the rubble where their homes and shops once stood.
Stretches of Chittagong's Hizari Lane and Maulana Sowkat Ali Road have been wiped out. The central bazaar in Jessore is reduced to twisted masses of corrugated tin and shattered walls. Kushtia, a city of 40,000, now looks, as a World Bank team reported, "like the morning after a nuclear attack."
In Dacca, where soldiers set sections of the old city ablaze with flamethrowers and then machine-gunned thousands as they tried to escape the cordon of fire, nearly 25 blocks have been bulldozed clear, leaving open areas set incongruously amid jam-packed slums.
For the benefit of foreign visitors, the army has patched up many shell holes in the walls of Dacca University, where hundreds of students were killed. But many signs remain. The tank-blasted Rajarbagh Police Barracks, where nearly 1,000 surrounded Bengali cops fought to the last, is still in ruins.
Millions of acres have been abandoned. Much of the vital jute export crop, due for harvest now, lies rotting in the fields; little of that already harvested is able to reach the mills. Only a small part of this year's tea crop is salvageable. More than 300,000 tons of imported grain sits in the clogged ports of Chittagong and Chalna.
Food markets are still operating in Dacca and other cities, but rice prices have risen 20% in four months. Fear and deep sullen hatred are everywhere evident among Bengalis.
Few will talk to reporters in public, but letters telling of atrocities and destroyed villages are stuck in journalists' mailboxes at Dacca's Hotel Intercontinental. In the privacy of his home one night, a senior Bengali bureaucrat declared: "This will be a bitter, protracted struggle, may be worse than Vietnam. But we will win in the end."
Source: http://www.dhakatribune.com/bangladesh/2013/dec/16/pakistan-ravaging-golden-bengal#sthash.BLlJBanB.dpuf
URL: https://www.newageislam.com/islam-and-politics/time-magazine,-august-2,-1971/pakistan--the-ravaging-of-golden-bengal/d/34882