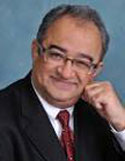 By Tarek Fatah
March 28, 2013
There are many ways to demean an institution. At times it's the defacing of a war memorial, but at other times the insult is inflicted in a manner that goes largely unnoticed until someone points it out.
One such incident, that went largely unreported, has caused anger and frustration among many Canadians. These ordinary Joes and Janes increasingly feel they are losing their voice in this country in face of ethnic politics and vote banks that are facilitating the rise of mediocre politicians with little vision of the future.
On March 23 a foreign flag was flown over city halls in at least two Canadian cities to celebrate religious apartheid. On that day our own Maple Leaf had to play second fiddle.
The Maple Leaf is no ordinary flag. Its values are best reflected in the words of Maurice Bourget, the Speaker of the Senate who, on February 15, 1965, the day our new flag was raised for the first time, said:
"The (Maple Leaf) flag is the symbol of the nation's unity, for it, beyond any doubt, represents all the citizens of Canada without distinction of race, language, belief or opinion." Canada is among a handful of countries around the globe whose flags embrace values not rooted neither in race nor religion, tribe nor territory, but rather the universality of human rights.
There are times when this magnificent symbol of our nation has to share space with flags of nations that represent the exact opposite of who we are and what we stand for. I have seen it at the United Nations in the company of the Saudi and Chinese flags, countries that represent oppression with an unapologetic racist approach towards citizenship.
Protocol demands we pay respect to these flags even if they represent tyrant kingdoms and supremacist theocracies.
But it is unacceptable when the Maple Leaf is unnecessarily forced to share space with symbols of tyranny and genocide.
That is what happened on March 23 in Windsor and Markham. Our Maple Leaf was forced to share space with a flag that symbolizes the institutionalizing of religious discrimination; the flag of a country that has produced more terrorists and anti-western hatred than any other nation in the last ten years-Pakistan.
While our Maple Leaf stands for citizenship "without distinction of race, language, belief or opinion," the flag of Pakistan has green section that represents the country's majority Sunni Muslims. Next to it is a white bar hosting the flag post that represents the country's 'Kafirs', the infidel non-Muslims?
For 65 years the world and Canada have witnessed the systemic and institutional persecution of Christians, Hindus, Sikhs, Ahmadi and Shia Muslims in Pakistan.
In spite of this, some Pakistani-Canadians lobbied municipal politicians to host a 'Pakistan Day' celebration with the hoisting of the Pakistani flag over city hall. For a fistful of votes the mayors complied and MPs and MPPs blindly followed.
In Markham, hundreds of other Pakistani-Canadians protested against the event, claiming there was no point celebrating Pakistan when hundreds are dying in racial and religious strife.
Had the flag been flown of one of our allies that share our liberal, secular democratic values, this wouldn't be an issue.
But not Pakistan.
The country that gave refuge to Osama Bin Laden; that committed genocide in Bangladesh; that hosts the Taliban, where 'apostates' are beheaded and school girls shot; whose constitution expels entire communities from their faith and where tens of thousands of Shias and Baloch are being massacred, should not be allowed to hoist its flag anywhere in Canada outside their embassy.
Author and activist Tarek Fatah writes a regular column for TORONTO SUN
Source: http://www.torontosun.com/2013/03/28/why-fly-pakistani-flag-in-canada
URL: http://www.newageislam.com/islam-and-politics/tarek-fatah/why-fly-pakistani-flag-in-canada?/d/11148