By Talmiz Ahmad
Feb 27, 2018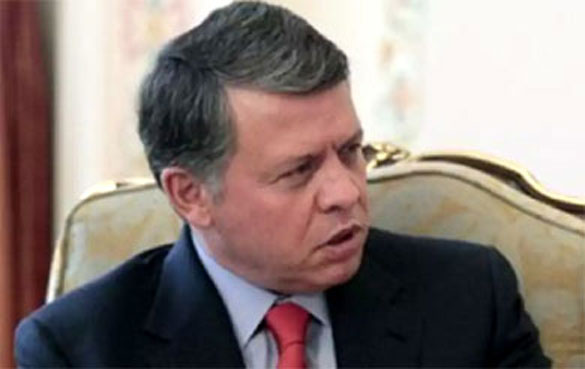 Jordanian monarch King Abdullah II
-------
After a quick interaction with Prime Minister Narendra Modi in Amman, when he was on his way to Ramallah two weeks ago, Jordanian monarch King Abdullah II, will arrive in New Delhi today, at a time when Jordan and indeed all of West Asia are in acute crises.
Jordan shares borders with six countries — Israel, Palestine, Egypt, Saudi Arabia, Syria and Iraq — and thus is affected by developments in its turbulent neighbourhood. As the historic custodian of Islamic sites in Jerusalem now under Israeli occupation, it is also central to the Israel-Palestine issue, particularly since over half its citizens originate from territories that are now part of Israel or occupied by it.
Since the upheavals caused by the Arab Spring from 2011, Jordan has been in the grip of serious domestic and regional confrontations where its concerns relating to extremist Islam at home have coalesced with conflicts in neighbouring Syria. Jordan now views all Islamist groups in monolithic, undifferentiated terms, failing to distinguish moderates from the extremists.
Thus, it sees all its frequent agitations against unemployment and corruption as an existential Islamist threat to the royal order. This has had the effect of pushing several of its marginalised youth to extremist groups involved in the Syrian conflict. In 2014, there were over 2,000 Jordanians among foreign fighters in Syria, holding not just rank-and-file but even leadership positions in Al-Qaeda-affiliated Jabhat al-Nusra. Some of them went across to the Islamic State in 2014-15, though this was reversed later.
These links with jihadi groups have empowered Jordan's security organisations, principally the General Intelligence Directorate (GID), that have acquired a reputation for setting up a police state in the country and creating a climate of fear, while enjoying near-total freedom from accountability.
The Syrian conflict has saddled Jordan with nearly a million refugees, while opening it to attacks by extremists along the southern border with Syria. Its role is complicated by the fact that in Syria it has to engage with a variety of competing players — the Assad government, Iran, Russia, Israel, the US — and motley groups such as the Hezbollah, numerous Syrian militia and jihadi cohorts.
In July 2017, the US and Russia agreed to set up a de-escalation zone at the Syria-Jordan border, which in November was followed by the tripartite Memorandum of Principles (MoP) that included Jordan. While this has brought relative peace to this region, Jordan remains concerned about the presence of Iranian militia and Hezbollah at its border. It was particularly alarmed by the military confrontation between Israel and Iran on February 10 that was defused by a Putin-Netanyahu telephonic conversation.
Both the US and Russia are seeking close ties with Jordan. On February 14, US secretary of state Rex Tillerson signed an MoU with Jordan, pledging to provide $1.275 billion every year for five years for economic and defence support, a 27% increase over the previous agreement.
A day later, King Abdullah met Putin in Moscow. Their close ties and cooperation on maintaining the de-escalation zone have meant a more accommodative Jordanian posture towards the Assad regime, even as Russia is said to be seeking an extension of Jordanian influence in southern Syria as a buffer between Iran and Israel, while Russia works to bridge the mistrust between the two countries.
In India, King Abdullah will brief Modi on the regional security scenario, but, in keeping with the Indian approach of maintaining ties with West Asian countries that are firmly bilateral and transactional, the principal focus will be on economic cooperation, particularly on increased involvement of the Indian corporate sector in promoting national development projects in Jordan and promoting employment.
However, the two leaders will also exchange views on how youth can be protected from radicalisation and measures that states and societies can take to counter the allure of religious extremism. They will discover that the most effective instrument against radicalisation is sustaining a pluralistic society and providing inclusive economic participation to all sections to all its citizens, without discrimination.
Source: hindustantimes.com/opinion/king-abdullah-ii-in-india-economic-cooperation-and-countering-radicalisation-high-on-agenda/story-sFnYwqDwZN5Oo25VZRgLpO.html
URL: https://www.newageislam.com/islam-politics/king-abdullah-ii-india-economic/d/114442