By Tahir Malik and Irfan Ghauri
July 5, 2018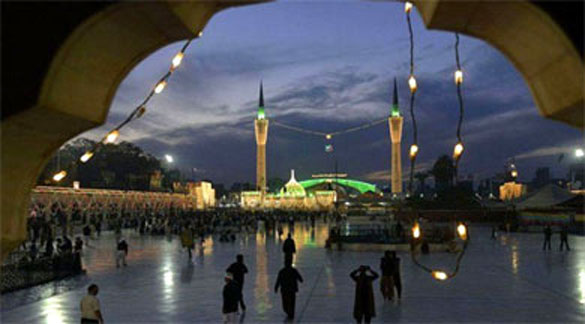 Shrine of Data Ganj Bakhsh, Lahore. PHOTO: AFP
-----
Shrine 'Gaddis' and political parties in Punjab have been intertwined in a mutually dependent relationship for decades. However, the influence of the shrines progressively reduces as one move up from impoverished south to more affluent central and north Punjab.
In South Punjab, the political parties bank their fortunes on Pirs, the opposite is often true in constituencies of central Punjab where most shrine families have to bargain and form alliances with political parties to retain their political influence.
The situation further changes as one moves further north. Besides other socio-religious factors, evolving political economy in these areas has changed the shrine influence in these areas.
In the face of such changes, distinguished spiritual lineage has not remained a sole guarantor of electoral success. The pir has to adapt to the changing circumstance through intelligent political moves to remain relevant.
In the regions with growing middleclass along towns and villages near Grand Trunk road the choice of party platform has become a crucial decision for poll contestants.
There is also variation within these regions. In central or South Punjab, the political authority of Pirs is stronger in rural constituencies and regions where religious and landed power coalesces.
The relationship between 'Sajjada Nasheen' and 'Mureeds' has traditionally been based on a stable exchange that involves both spiritual and material domains.
Apart from offering religious intercession, the Pirs have been providing a wide range of services; food for the poor, healing touch for the ill, talismans for the superstitious and dispute resolution for conflicting parties. Where religious and landed power has blended the 'mureeds' remain economically dependent on the pir, who has been in control of economic resources.
According to a research by Dr Adeel Malik of Oxford University, out of 598 shrines across Punjab, custodians of 64 are directly involved in politics. On per capita basis, there is no significant difference in shrine density between northern and southern Punjab. However, there is a significant difference in the extent of influence the Pirs of two regions enjoy in contemporary politics, the research shows.
While shrine families of South Punjab continue their dominance in local, provincial and national politics, many shrine families in central Punjab – in Sargodha, Pakpattan, Sahiwal, Vehari, and Mandi Bahauddin – directly take part in the elections. However, over the years these families have been challenged by the newly emerged businessmen led upper middle class.
For majority of Pirs a permanent foothold in the corridors of power is an essential means for survival.
Hereditary succession is a predominant norm among religious shrines and intra-family conflicts are common. In such conflicts, the family member with superior political connections and more access to state resources is considered de facto heir to the spiritual throne.
Shrine guardians enjoy group solidarity based on shared material interests and a common spiritual ground; their interests often consummated through nuptial bonds. Many of Punjab's noted shrine families are related through a complex web of marital ties that supersedes their political affiliation and local interests.
Such marital ties have a larger political significance, since they allow the involved parties to tap into complementary networks of powers and help to expand both families' reach and influence.
One such example is Gilani Syeds of Multan, the family of former Prime Minister Yousaf Raza Gilani has nuptial bonds with shrine families of Jamal Din Wali in Rahimyar Khan, Hujra Shah Muqeem in Okara, Makhad Sharif in Attock, Golra Sharif in Islamabad, Pir Qatal in Jalalpur Pirwala, Sandlianwali in Peer Mahal, Khairpur Tamewali and Pir Pagara in Sindh.
Marital connections are also strategically formed to consolidate relationship with landed elite, businessmen and members of civil service. However, very few politically influential shrines in north and central Punjab have been capable of securing electoral success entirely on their own strength.
Most are dependent on the strength of factional alliances and party votes.
Many shrine families have lost their political worth for a number of reasons. A pertinent example in this regard is shifting fortunes of family of Sir Mehdi Shah of Gojra near Faisalabad.
He had been leading shrine aristocrats in British era but his successors have subsequently found it difficult to break the electoral barrier, managing at best small time district level elections.
The shrines of Mianwali district which in the British era district gazettes was recognised as being influential are no longer able to decisively shape electoral outcomes.
Rapid urbanisation, independent and new sources of income, small and medium enterprises, increasing access to social and conventional media have been among the factors in depleting influence of Pirs.
Other factors such as connectivity, education and migration have been playing important role in challenging traditional structure of their authority.
In constituencies where Pirs are not strong enough to win elections on their own, they engage in a bilateral political exchange of sorts where they solicit support of each other's candidates.
For example a Pir, running for the provincial assembly, would support party candidate running for a National Assembly seat. Similar exchange is common in local government elections where candidates are fielded as part of a panel, where a pir can be nominated for a slot in exchange for his support to other candidates in the panel.
Such transactional bargaining is particularly prevalent in central and western parts of Punjab where growing number of shrine families are awarded tickets for provincial assembly in exchange for their support for party candidates in related constituencies. With their well-established networks shrine elite figure prominently in this calculation and enjoy a natural advantage in such electoral bargaining.
Changing circumstances also become another factor for relevance of Pirs in political arena.
One such example in Pir Sial from Sargodha, who had significant political clout and electoral presence in the district but became more prominent due to his stance taken after emergence of scandal with regard to change of in lawmakers oath regarding finality of Prophet-hood (pbuh).
Sialvi exhorted the PML-N government with deadlines and subsequently many parliamentarians of the ruling party including Ghulam Bibi Bharwana from Jhang and Dr Nisar Jutt from Faisalabad resigned. This shows Pir Sialvi has considerable clout in many National Assembly and provincial assembly seats.
In this month's general elections, Pir Sialvi has announced support for the PTI. The PTI Chairman Imran Khan the other day visited him to seek his support in the elections. The candidates amongst his followers who had contested 2013 elections on the PML-N ticket at various constituencies are now contesting on the PTI tickets in Sargodha and neighbouring districts of Jhang, Chiniot and Faisalabad.
At NA-88 former religious affairs minister Pir Amin ul Hasnat himself an influential Pir and follower of Pir Sialvi was reluctant to contest elections on the PML-N ticket. Former ruling party had to change candidate in Bhera against Nadeem Afzal Chan, now a PTI candidate. Pir Sialvi's nephew Pir Naeem Sialvi is himself contesting from NA-92 on the PTI ticket.
In Rawalpindi division Pir Jami of Golra Sharif has issued written instructions to supporters to support the PTI in the upcoming elections.
In NA-58 Gujjar Khan constituency, support of Bhangali Sharif Shrine can tilt the election result from one candidate to another. When Raja Pervaiz Ashraf of the PPP was the prime minister, he visited the shrine many times and gave developmental grants to the shrine from his discretionary funds.
In this election the Pir of Bhangali Sharif is supporting his candidature. In neighbouring Jhelum district the custodians of shrine of Jalal Pur Sharif have contested and won many elections in the past. Pir Hasnaat and Pir Barkat were the JUP parliamentarians in the past.
Pir Anees of Jalalpur Sharif was an aspirant of the PTI ticket for provincial assembly. The party denied him and fielded its spokesman Fawad Chaudhry on both national and provincial assembly seats. For the PTI's candidate securing support of Pir Anees will be crucial to win polls as in the last year's by-elections the PML-N candidate Raja Matloob had won the contest by a narrow margin.
Traditionally Pirs have been considered trusted intermediaries between state and its subjects, the leading shrines of Punjab have historically acted as important nodes of rural power structure. Allies of Mughals, tolerated by Sikh rulers, and appeased by the British, majority of the shrine families of Punjab have never remained out of favour and this trend continues to a varying degree even in 2018.
Source: tribune.com.pk/story/1750028/1-income-increases-pir-power-wanes/
URL: https://www.newageislam.com/islam-politics/pir-power-punjab-allies-mughals/d/115757