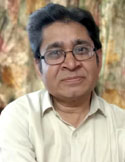 By Sumit Paul, New Age Islam
10 June 2022
1. Daste-Khizaan Ne Uss Ko Wahin Badh Ke Chun Liya
2. Jo Phool Gir Pada Nigahe-Andaleeb Se
3. Ahle-Sukoon Se Khel Na Ae' Mauje-Imbisaat
4. Ik Din Ulajh Ke Dekh Kisi Badnaseeb Se
5. -Shakeel Badayuni
(The hands of autumn picked up the flower that fell from the sight of the nightingale/Oh, the waves of delight, don't play with peace-loving people, rather play with someone who has witnessed the turmoil of life).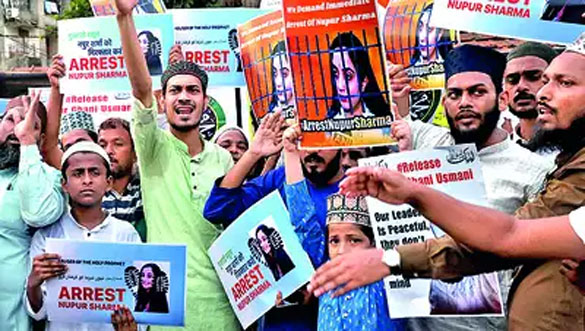 Photo: The Times of India
----
Shakeel's aforementioned quatrain is germane to the current goings-on. Here, I'm not gloating over Nupur Sharma or Jindal's ' misfortune.' I'm not one to gloat over the ill-fate of even my sworn enemies, let alone those I never even had a word with. My point is different. The whole murky episode has many takeaways and a moral lesson for all. That you cannot corner a person or community for a long time. General Jagjit Singh Arora, the Eastern Commander and main architect of India's overwhelming triumph over Pakistan in 1971 War, told BBC that he was sure that the plight of the Bengalis of the East Pakistan (now Bangladesh) wouldn't go abegging and the way Pakistanis ill-treated the Bengalis (though they were also Muslims but spoke Bangla; ethnicity is often stronger than religious bonds and ethos) for an inordinately long time, will eventually backfire on them (Pakistani Army, mostly comprising Punjabis). The haughtily supercilious Lt. General A A K Niazi (later stripped of his rank) finally surrendered with 93, 000 Pakistani soldiers and Bengalis got a country, Bangladesh, for themselves.
To cut the matter short, "Inn Allah M'a As-Saabireen" (إِنَّ اللّهَ مَعَ الصَّابِرِينَ)-Allah is with those who keep patience. Sooner or later table is turned. Milton said the same in his poem, ' On His Blindness,' "They also serve who only stand and wait." There's a Yiddish proverb, "Belne'z Asi Ken Mizaaf "(Wait and watch how the oppressor falls eventually).
There's no denying the fact that Muslims were at the receiving end for quite a long time. They were reduced to Gentiles and Heathens in recent times. My innocent Muslim newspaper vendor, who comes from Camp area, 6 km from my place, just to deliver an Urdu paper was stopped and beaten by the society members and they also questioned me: Padhe-Likhe Aadmi Hokar Bhi Aap Urdu Akhbaar Kyon Padhte Hain? (Why do you read an Urdu daily despite being an educated person?) As if Urdu is the language of uneducated people!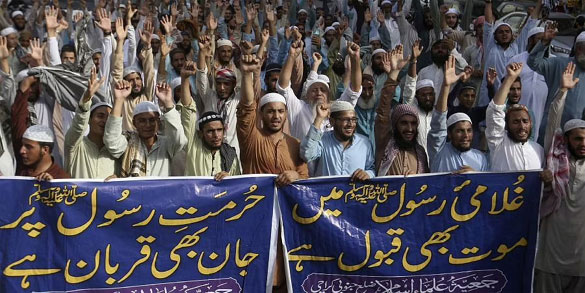 People chant anti-India slogans to condemn the derogatory references to Prophet Muhammad in Karachi, Pakistan, Monday. (Photo | AP)
----
Muslims were being harassed at the drop of a hat. In other words, it wasn't a dichotomy between Hindus and Muslims, but a Draconian Droctomy (Dutch for one sect or section being too oppressed).
When audacity is not thwarted at the initial stage/s, it degenerates into open affront, opined the French General Charles D Gaulle. Exactly the same happened, when the lady in question went on to insult Muhammad, Prophet for the Muslims. That was the last straw on the camel's back and also the final nail in the coffin.
Things wouldn't have been so bad, had such loudmouths been stopped long ago. What was the use of waiting for the volcano to erupt like the Mount Vesuvius and engulf the whole nation just like the Vesuvius swallowed Pompeii and Herculaneum in the 79 CE? India could have avoided the international backlash had these characters been caged in and not unleashed. We all learn the hard way. Persian mystic-poet Jami articulated it so well, "Before abusing someone, remember you can be slapped along with the return abuses." So, whatever happens, happens for a reason.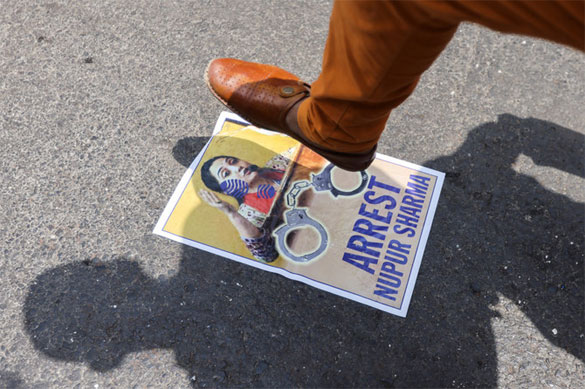 An angry activist stomps on a poster of Bhartiya Janata Party (BJP) official in Mumbai, India, on June 6, 2022, during a protest against her blasphemous comments on Prophet Mohammed. (REUTERS/Francis Mascarenhas)
-----
It's time for both the communities to introspect and live amicably. You cannot live abusing and humiliating the other one all the time. Tang Aamad, Ba' Jang Aamad (English equivalent: Even a worm will turn at last). Remember, what Jigar Moradabadi said, "Un Kā Jo Farz Hai Vo Ahl-E-Siyāsat Jāneñ /Merā Paiġhām Mohabbat Hai Jahāñ Tak Pahuñche." Disseminate love. It'll come back manifold. We've had enough of these Hindu-Muslim sqabbles and skirmishes.
----
A regular columnist for New Age Islam, Sumit Paul is a researcher in comparative religions, with special reference to Islam. He has contributed articles to world's premier publications in several languages including Persian.
URL: https://newageislam.com/islam-politics/moral-lessons-nupur-sharma-episode/d/127213
New Age Islam, Islam Online, Islamic Website, African Muslim News, Arab World News, South Asia News, Indian Muslim News, World Muslim News, Women in Islam, Islamic Feminism, Arab Women, Women In Arab, Islamophobia in America, Muslim Women in West, Islam Women and Feminism