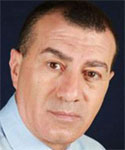 By Shlomi Eldar
January 22, 2018
"I call on all world nations, to all who are able and have the influence, to pressure those ruling Gaza, to pressure Hamas, to accept responsibility for their actions and the lives of their people." President Reuven Rivlin issued this appeal Jan. 21 while touring Israeli communities bordering Gaza with Deputy Chief of the General Staff Maj. Gen. Aviv Kochavi. The president's call reflects a new assessment by Israeli security analysts that the Gaza Strip is nearing economic collapse. It is also an expression of the bind Israel is in, having imposed a closure on Gaza more than a decade ago and standing by helplessly in the face of its dangerous repercussions.
Senior Israeli defence officials expressed grave concern Jan. 15 that unemployment of around 50% among young Palestinians, along with the dead end in reconciliation talks between Hamas and Fatah would result in an explosion with security, environmental and health implications for Israel.
An additional indicator of how dire things have become is the declining number of supply trucks entering the Gaza Strip from Israel through the Kerem Shalom border crossing. Two years ago, some 2,000 trucks entered each day. Last year the number was down to 1,000, and last month it barely reached 400. The explanation lies in the sharply reduced purchasing power of Gaza's 2 million besieged residents, and the number of trucks reflects the bare minimum required to keep them alive.
"You're talking about purchasing power and I'm telling you that we're talking about dying and death," says a Gaza journalist who spoke with Al-Monitor on condition of anonymity given the ban by Hamas on Palestinian contacts with Israelis. The journalist is in his 50s. He has been through two Palestinian uprisings against Israel and numerous military clashes between Gaza and Israel, and he has covered the distressing circumstances of Gaza's residents before the closure and since. His descriptions of recent days are a painful outcry to the world. "It doesn't get any worse than this; there's nowhere lower to go. It's worse than life in the Middle Ages," he says. "People are hoping to die because death is preferable to the life they are leading in Gaza."
Like all Gaza Palestinians, he blames Israel for the situation. Israel, on the other hand, blames the Islamist Hamas movement that has ruled Gaza since ousting Fatah in 2007. It ignores the findings of the state comptroller, who wrote in 2017 that Israel had never seriously examined the implications of its siege on Gaza and never made serious attempts to resolve the dangerous standoff.
Transportation Minister Yisrael Katz has been trying for more than two years to advance a grandiose plan to build a port for Gaza on an artificial island across from its coast. The port could be used to bring food and other vital supplies into the Strip, but Prime Minister Benjamin Netanyahu and Defence Minister Avigdor Liberman have consistently rejected the idea. Absent a fundamental, inherent solution to the problem, the Israel Defence Forces civil administration (for the West Bank and Gaza) keeps offering panaceas that are about as useful as an aspirin to a terminally ill patient.
For the past few months, as reported here, the professional echelons in Israel's military have been suggesting that Gaza residents be allowed to work in agricultural communities in Israel's south, but Liberman nixed this initiative too. They are now proposing that Israel ease the passage of Gaza merchants into Israel in light of the declining number of those coming to Israel for trade purposes.
A recent report by Gisha, an Israeli nongovernmental organization dedicated to freedom of movement for Palestinians, indicates that Israel tightened its closure in 2017 and the situation of Gaza residents had deteriorated. The report claims that the decision on tougher measures against Gaza was adopted without any public discourse and implemented without advance warning.
Even as President Rivlin was warning about Gaza's economic collapse, Israel's Coordinator of Government Activities in the Territories Maj. Gen. Yoav Mordechai posted a video clip showing senior Hamas official Mahmoud al-Zahar telling al-Quds TV station that the economic situation in the Strip had pushed his movement into renewing its ties with Iran. Mordechai views Zahar's remarks as an admission of failure by Hamas in running the Strip and ensuring the well-being of its residents. But there's another way to look at it. Israel, which repeatedly warns against Iran's growing influence in the region, has received proof that its Gaza closure policy — the one adopted without serious debate and unchanged for over a decade — brought Iran closer to its southern border.
"Israel is facing paradoxes and contradictions like no other country," a security source told Al-Monitor on condition of anonymity. "On the one hand, the regime [in Gaza] aspires to annihilate Israel and threatens its security, and on the other hand it abandons its residents and Israel is blamed."
Meanwhile, Hamas has been dealt another severe blow — this time, in its underground tunnel project. Hamas has invested tens of millions of dollars in digging the tunnels as a military threat to Israel and a smuggling avenue from Egypt to bring in supplies and ease residents' distress. It turns out that Israel has developed technological means enabling it for the first time to locate the tunnels. Four have already been destroyed.
When President Rivlin pointed the finger of blame at Hamas, he was speaking for the country's top military echelons that have been imploring the countries of the world to extricate Gaza from the impact of the closure that Israel itself imposed. But this call, like all the other proposals being raised now to deal with the starvation and despair in the enclave, are by way of being too little and probably too late.
Shlomi Eldar is a columnist for Al-Monitor's Israel Pulse. For the past two decades, he has covered the Palestinian Authority and especially the Gaza Strip for Israel's Channels 1 and 10, reporting on the emergence of Hamas. In 2007, he was awarded the Sokolov Prize, Israel's most important media award, for this work.
Source: al-monitor.com/pulse/originals/2018/01/israel-palestinians-reuven-rivlin-gaza-strip-hamas-closure.html#ixzz5554q3iBc
URL: http://www.newageislam.com/islam-and-politics/shlomi-eldar/israel's-hamas-dilemma/d/114039