By Senge Sering
April 28, 2014
Gilgit-Baltistan (GB) – a Himalayan region in dispute between India and Pakistan – is a paradox representing an impoverished and disenfranchised people living in an area of high geostrategic importance in South Asia.
The region holds immense economic value for Pakistan which heavily relies on its rivers for irrigation. Furthermore, the mountain passes of Gilgit-Baltistan represent the sole land access route to China, Pakistan's only friend and principle ally in the region.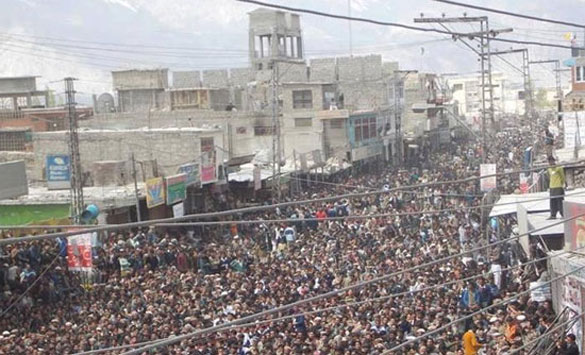 Protesters, demanding political rights including the right to food, near Independence Square in Skardo, Gilgit-Baltistan. Credit: Awami Action Committee, Gilgit-Baltistan
----------
Despite its importance or perhaps because of it, Gilgit-Baltistan is dubbed the last colony in the world. Locals facing economic and political stagnation blame Pakistan for coupling the region with Kashmir and denying them the right of citizenship.
Given the local economy's reliance on tourism, the last thing that the people of Gilgit-Baltistan can afford is pandemonium and street protests.
Yet, the last few weeks have seen chaos and unrest in Gilgit-Baltistan as hundreds of thousands of people poured into the streets chanting slogans and staging economic shut down to challenge the writ of the government.
An estimated crowd of fifty thousand people gathered in Gilgit's Garhi Bagh Square alone. Prominent political leaders, including advocate Ehsan Ali, Nawaz Naji, Molana Sami, Babajan Hunzai, Safdar Ali, Manzoor Parwana, Mohammad Javed and Agha Ali led the protest, which despite its record-breaking numbers remained peaceful. Reports of sedition charges against the leaders and deployment of paramilitary to discourage gatherings have also been documented.
The protests started on March 10, when Peoples' Action Committee (AAC) of Gilgit-Baltistan, a conglomerate of 22 nationalist, progressive and religious groups called for a complete economic strike. Protesters, setting aside religious, ethnic and political differences, thronged the streets in response to the call.
Many did so in protest of the killing of seven individuals from Diamer who were killed on March 1 while defending their land against Pakistani encroachers. The death of these locals gives new urgency to the need to restore the state subject rule which was abrogated in 1974 in order to change the ethnic make-up and tighten Islamabad's control in the region.
One of the demands of AAC is the reinstatement of subsidies on wheat and other provisions. The AAC's position is that, as a disputed area, Gilgit-Baltistan should receive subsidies from Islamabad to offset the economic lack of development which results from political and commercial limbo. More than half of the population of Gilgit-Baltistan lives below the poverty line and relies on subsidies on provisions to ensure food security.
The AAC's demands are spelled out in an 11 point charter, which includes an end to illegal machinations by multinational corporations to exploit local mineral resources including uranium, copper and gold which harm lawful local owners. They also ask for the revival of cross-Line of Control (LOC) travel between Ladakh, Gilgit-Baltistan and Afghanistan's Wakhan belt to enhance trade and reunite families divided by the conflict.
They oppose the levying of taxes until the region is granted constitutional rights and political representation. They seek reforms to reduce political corruption, unemployment and poverty. They ask for royalty and adequate compensation for on- going large hydro-dams projects. They also demand the federal government to constructively resolve the border dispute between Gilgit-Baltistan and the Pakistani province of Khyber-Pakhtunkhwa.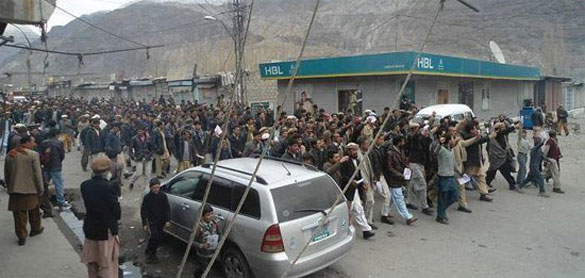 Complete economic shut-down in Gilgit as protesters march to Garhi Bagh Square for sit-in. Credit: Awami Action Committee, Gilgit-Baltistan
---------
The latest report suggests the Pakistani government has agreed to restore wheat subsidy.Islamabad may not agree to all the demands of AAC but one positive outcome of recent events is that it has aligned people of various religious and linguistic groups onto a single platform. AAC believes that it will continue to represent the struggle of a nation that longs for an end to alienation, suffocation and persecution.
The people of Gilgit-Baltistan must maintain their unity and discipline if they intend to pursue this noble dream.
Senge H. Sering is the President of Institute for Gilgit-Baltistan Studies and hails from a Tibetan speaking region called Baltistan (Baltiyul), which has been declared a disputed area between India and Pakistan by the United Nations. There are about 600,000 Balti people residing in India and Pakistan who profess Islam and speak archaic Tibetan. Read other articles by Senge.
Source: http://www.sharnoffsglobalviews.com/gilgit-baltistan-protests-281/
URL: https://www.newageislam.com/islam-and-politics/senge-sering/gilgit-baltistan-protests--images-from-the-tahrir-square-that-the-world-missed/d/76808