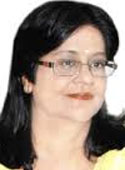 By Sandhya Jain
December 22 2016
The Allahabad High Court's comments, declaring triple Talaq unconstitutional and violative of the rights of Muslim women, has confounded the confusion over divorce among Indian Muslims as divorce for Muslim men and women are governed by two different archaic laws of the colonial era.
Incredible as this sounds, Muslim men can seek divorce under The Muslim Personal Law (Shariat) Application Act, 1937 and cannot approach the civil courts; Muslim women can seek divorce under The Dissolution of Muslim Marriages Act, 1939.
There is no common law under which Muslim men and women can seek divorce. This incongruous situation has made legislation on a common civil code an urgent necessity, as the status of divorce in Muslim society has now fallen in a shadow zone.
The Muslim Personal Law (Shariat) Application Act, 1937, decrees that a Muslim husband cannot go to a civil court for divorce and must divorce only under this law. The divorce may be effected by unilateral utterance of triple Talaq, which ends the marriage instantly. As this is not considered an ideal method of divorce, the morally correct course for a Muslim husband is to approach a court, but here his application for divorce is inadmissible. Triple Talaq may also be sent via a letter, PHONE call, video or internet.
The other alternative under Shariah is to deliver Talaq over three consecutive months, during which period reconciliation may occur. However, lawyers advise the triple Talaq route because if a Muslim husband opts for the second path, he will surely face a dowry harassment case, according to Islamic scholar, Tufail Ahmad.
The Dissolution of Muslim Marriages Act, 1939 empowers Muslim women to take, but not to give, divorce. A Muslim woman can get seek dissolution of her marriage by approaching Islamic clerics, or by going to a court against her husband. Since divorce is frowned upon in Indian society, most Muslim women choose to first file a dowry harassment case, which courts are increasingly finding are frivolous and motivated in society at large.
The Allahabad High Court has brought matters to a head. It is now up to the Supreme Court, Union Government, scholars and civil society to resolve the issue.
Fortunately, a draft blueprint for a uniform civil code /universal bill of rights for citizens has recently been prepared by Islamic scholar and modernist, Tufail Ahmad, and two concerned citizens, Satya Prakash and Siddharth Singh (not members of any political party), who were motivated by the common desire to protect Muslim women and their children from the disruptive consequences of whimsically uttered words.
Guided by the constitutional promise of Article 44, which exhorts, "The State shall endeavour to secure for the citizens a uniform civil code throughout the territory of India", the trio have tried to remove a festering sore in the social fabric; this can now serve as the basis for a nationwide debate on the uniform civil code.
The UCC deals a direct blow to the hitherto unchallenged authority of Muslim Ulema and fundamentalists like the All India Muslim Personal Law Board (AIMPLB), and comes close on the HEELS of Muslim women activists taking up cudgels against triple Talaq and polygamy. With the apex court admitting their plea against triple Talaq, and the Government of India supporting the justice of their cause, some drastic reforms in the area have become inevitable, especially after the Allahabad High Court ruling.
Ahmad and his colleagues felt that no political party would undertake to bell the cat and prepare the first draft, but that political parties, NGOs, lawyers, judges, sociologists, political analysts and concerned citizens might be agreeable to comment upon a draft presented by neutral citizens. While it is understandable that political parties should prize the Muslim vote-bank above justice for individual citizens, it is shameful that social activists and human rights activists have for dodged the issue of uniform civil code, while loudly proclaiming their secular credentials.
While many communities and groups in India have lived by their personal laws since 1947, these have increasingly veered towards progressive laws passed by Parliament from time to time. Pressure from the Christian community forced Government to pass legislation to bring Christian laws on adoption and divorce at par with those of the majority community.
Unfortunately, the Muslim community leadership was adamant to maintain its exceptional status and rejected the opportunity provided by the Shah Bano judgement. This has created the peculiar situation in which it appears that a uniform civil code will infringe the personal laws of only the Muslim community. The truth is that the Muslim Ulema repulsed the NATURAL drift towards an egalitarian society.
The new GENERATION of Muslims is no longer in awe of the clergy. Having suffered unspeakable horrors due to triple Talaq and Nikah Halala, Muslim women have decided to fight back. Others have joined the fight to bring the community into the national mainstream and ensure that their religious identity does not subsume their fundamental rights. The authors, who released their document via the social media on November 30, clarify that the word "uniform" in the UCC is not meant to homogenise the lifestyles and identities of Indian citizens (a common bogey against the UCC), but to ensure that their fundamental rights to equality and liberty are protected by the Indian State.
The draft UCC goes to the heart of the problem by asserting (clause 2) that the fundamental right to religion and beliefs must be available to the individual and not to communities and organisations. This is the only way in which the rights of Muslim citizens can be protected in individual cases before courts.
Recall that Shah Bano was rendered voiceless when Ulema and other 'leaders' objected to the verdict granting her a modest alimony; it has taken more than three decades for Muslim women to seek to redress the injustice. As a logical corollary, this clause also demands that in cases involving an individual's rights, the State or courts shall generally not accept interventions from organisations and groups of religious NATURE.
Dismissing the bogey that UCC will endanger religion-specific rituals of marriage, the draft (clause 3) asserts that post-marriage, disputes involving divorce, joint property, child custody and alimony should be decided under one law, overriding personal laws. Taking the contentious issue of polygamy head-on, it states that no person can remarry before divorce obtained through a court of law, and that parallel courts run by religious groups must be deemed a criminal offence. This is a powerful blow for women's dignity.
Continuing in this vein, the document challenges the unequal inheritance code intrinsic to Muslim personal law where girls get only one-fifth of the share of brothers in the father's estate, and asserts (clause 5) that all persons, irrespective of gender, religious persuasion or sexual orientation, shall (a) inherit equal share in ancestral/parental property, (b) have equal right to adoption and will not bring up the adopted child as per their religious beliefs, and (c) shall have equal right to succession. It adds that there should be no tax benefits to individuals or groups for reasons of religious and other identities.
This clearly needs some tweaking. Currently, the law gives all children equal rights to ancestral property, but not to property built by parents from their own earnings, and this distinction should be maintained, especially when children are wilfully negligent of old parents and even try to grab their property. The right to adoption – denied in Islam – would be a boon to childless couples; but parents must have the right to raise the child in their own culture and religion.
Consistent with its quest for human dignity, the document insists (clause 12) that the use of words that describe individuals or groups in a discriminatory and hateful manner (e.g. Bhangi, Chamar, kafir, Munafiq, etc.) must be made a criminal offence. While the sentiment is unexceptionable, and words like 'b—–' are already banned in public discourse, the word 'Chamar' (leather tanner) is not necessarily so, and 'Chamaria' is even today used as a surname. It is also a little over the TOP to ban every word (e.g., 'kafir') while standing up for freedom of speech and opinion. Some leeway is in order, or some fine Urdu poetry could be lost to us.
One valuable suggestion in the draft is that Parliament, State legislatures and courts (clause 4) should not make laws or issue orders based on religious scriptures of any community, in keeping with the secular NATURE of the Republic, and that the Constitution should be the source for such orders and for further legislative improvements. This is pertinent as the Supreme Court recently sought to know if triple Talaq is an intrinsic part of Islam and the Koran (though many Islamic countries have intervened in this matter), and the Government of India too took a stand on the basis of its understanding of the Koran.
On the flip side, the document contains some suggestions that, though worthwhile, do not merit inclusion in the uniform civil code. These include the fundamental right to education (clause 1) till the age of 18 (that is, class XII), which education will not include religious education imparted through theological institutions (madrasas).
The unfettered right to freedom of thought and speech (clause 6) which the State cannot curtail except when there is imminent danger to the sovereignty and territorial integrity of India falls under other provisions of the Constitution. Freedom from restrictions on books, magazines, movies, newspapers and the like with retrospective effect from January 26, 1950 does not pertain to the civil code as such, and possibly seeks removal of an existing ban on some books. Off hand, one could think of Satanic Verses, Nine Hours to Rama, etc.
The uniform application of rule of law to every citizen (clause 7); custodial detention up to a maximum of 24 hours (clause 8) without a charge-sheet being filed in a court of law; financial transparency of political parties (clause 9), are not relevant to a uniform civil code.
The right to buy, sell or transfer land throughout the territory of India (clause 10) seems aimed at Article 370 of the Constitution, and the demand that all children born in the territory of India, including Gilgit Baltistan which is part of Jammu and Kashmir (clause 11), should have automatic right to Indian citizenship are part of a larger political discourse.
Ahmad's UCC is timely as the Government of India has, for the first time, opposed triple Talaq, Nikah Halala, and polygamy before the Supreme Court, on grounds of gender justice and the overriding principle of non-discrimination, dignity and equality.
However, an IMPORTANT lacuna is the failure to mention alimony to a divorced wife, including child support for school and college going children. It may be recalled that the Rajiv Gandhi Government passed The Muslim Women (Protection of Rights on Divorce) Act, 1986 to nullify a Supreme Court ruling granting a modest alimony to a destitute Muslim woman, Shah Bano. This law must be quashed at the earliest.
The issue of whether or not a husband should provide for his divorced wife indefinitely, and how much support he should extend to children from the relationship, is complicated and deserves deeper reflection. Ahmad himself favours a complete ban on alimony; but that is a matter courts should decide on case by case basis. His plea for de-recognition of the grandiosely titled All India Muslim Personal Law Board, a private NGO registered in 1973, stands on firmer ground. The AIMPLB endorses Sharia counts and runs a legal system parallel to the Indian constitution.
The Allahabad High Court has thrown a monkey WRENCH into the system of divorce among Muslims. Ahmad's position paper on a civil code or bill of right that gives citizens the rights and dignity they crave is both timely and worthy of serious debate.
Sandhya Jain is a political affairs commentator and author
Source; abplive.in/blog/investigation-dealing-with-many-complexes-of-uniform-civil-code
URL: http://www.newageislam.com/islam-and-politics/sandhya-jain/dealing-with-many-complexities-of-uniform-civil-code/d/109468