By Sam Jones
6 December 2013
Three members of a self-styled "Muslim Patrol" vigilante group have been jailed for harassing, intimidating and assaulting people on the streets of east London while claiming they were enforcing Sharia law.
A judge at the Old Bailey had heard that Jordan Horner, 19, Ricardo MacFarlane, 26, and a 23-year-old man who cannot be named for legal reasons, had terrorised a couple for walking through Bethnal Green holding hands, told a woman in Stepney that she would be punished in "hellfire" because of the way she was dressed, and attacked a group of men who were drinking in Shoreditch.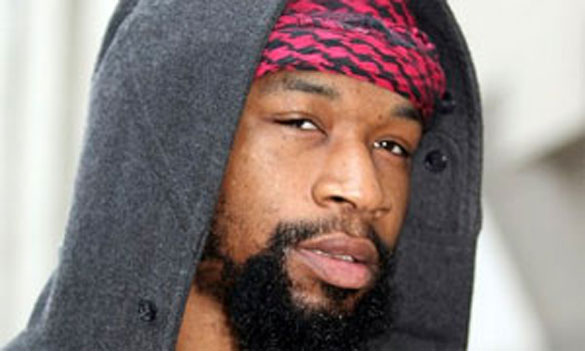 One of the three members of 'Muslim Patrol', Ricardo MacFarlane, outside the Old Bailey. Photograph: Ed Willcox/Central News
-----------
Horner – who has previously said he wants to bring Sharia law to Britain – was jailed for a total of 17 months after pleading guilty to two charges of assault and two charges of using threatening words and behaviour.
MacFarlane was sentenced to 12 months in prison after pleading guilty to affray, while the 23-year-old received a six-month sentence after pleading guilty to affray.
Passing sentence on Friday, Judge Rebecca Poulet QC told them that while Islam was a peaceful religion, their conduct was "unfortunately anything but".
"One of the many good things about living in Great Britain is the tolerance and respect members of the public generally show to one another's religious beliefs, his dress or his chosen way of life.
"When, on occasions, a person shows their intolerance of another individual, whether by aggression or violence and in such a way as to cause real fear to the individual, then the law can be invoked to protect that individual."
The judge said that her sentencing powers were restricted because the prosecution had chosen not to prefer religiously aggravated offences.
The court had been told that Horner and the 23-year-old man drove alongside Joshua Bilton and Anna Reddiford in Bethnal Green and yelled at them through a megaphone.
Horner shouted: "Let go of each other's hands. This is a Muslim area!"
The couple initially believed it was a joke but the group repeated the warning until they let go of each other's hands.
When they started holding hands again a few minutes later the car re-appeared and blocked their path until they let go.
Two weeks later, on 6 January this year, Horner and MacFarlane attacked a group of men drinking in the streets of Shoreditch.
They said that they were there to "enforce Sharia law" in "Allah's land", and shouted: "Kill the non-believers".
Horner then punched two of the group, hitting James Forward in the jaw and knocking out Patrick Kavanagh with a punch to the head.
A week later, Horner and the 23-year-old confronted another couple, Clare Coyle and Robert Gray, walking in the street in Stepney. The 23-year-old accused Coyle of dressing inappropriately in a Muslim area and that she would be punished in "hellfire".
Horner filmed the incident on his mobile phone and called Clare Coyle a "slag". She told him: "This is Great Britain. I can dress how I wish."
In the video, which was later uploaded to YouTube, the group can be heard shouting: "You need to control this area and forbid people from exposing themselves outside the mosque. Remove yourselves now. Muslim Patrol. Move away from the mosque. Don't come back. We don't respect those who disrespect God."
Horner, who changed his name to Jamal Uddin, was jailed for six weeks in July this year for assaulting a photographer and causing £3,000 of damage to a car in an attack in Walthamstow. He was also seen putting up posters across east London "banning" alcohol.
Source: http://www.theguardian.com/uk-news/2013/dec/06/muslim-vigilantes-jailed-sharia-law-attacks-london
URL: https://www.newageislam.com/islam-and-politics/sam-jones/muslim-vigilantes-jailed-for--sharia-law--attacks-in-london/d/34770